Seeds collection / Colección de semillas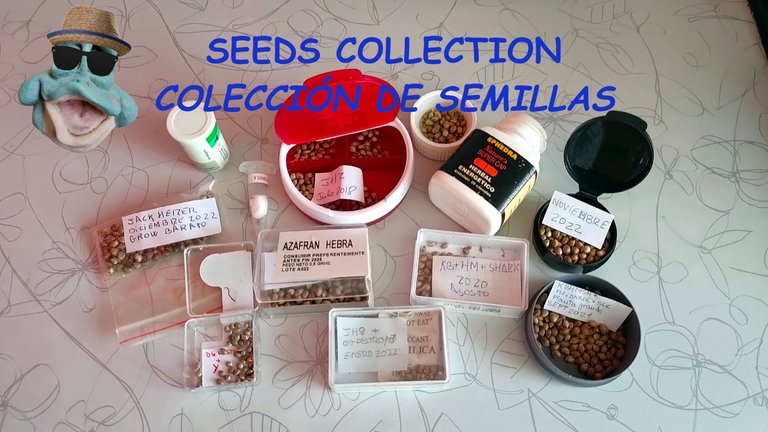 Hello cannabis culture lovers. As the weather forecast for this week here said that temperatures were going to rise to 32-33ºC (89.6-91.4ºF), I put some seeds in water with the intention of planting them tomorrow or the day after tomorrow. I have started germinating the ones with the label that says November 2022. I don't know what mix of varieties they have. I know that they are from a male that escaped me and from several females from the same box that I don't know what mix they were either.
Hola amantes de la cultura cannábica. Como la previsión meteorológica para esta semana aquí decía que iban a subir las temperaturas hasta los 32-33ºC, puse en agua algunas semillas con la intención de plantarlas mañana o pasado mañana. He comenzado germinando las de la etiqueta que pone noviembre 2022. No se que mezcla de variedades llevan. Se que son de un macho que se me escapó y de varias hembras de una misma caja que tampoco se que mezcla eran.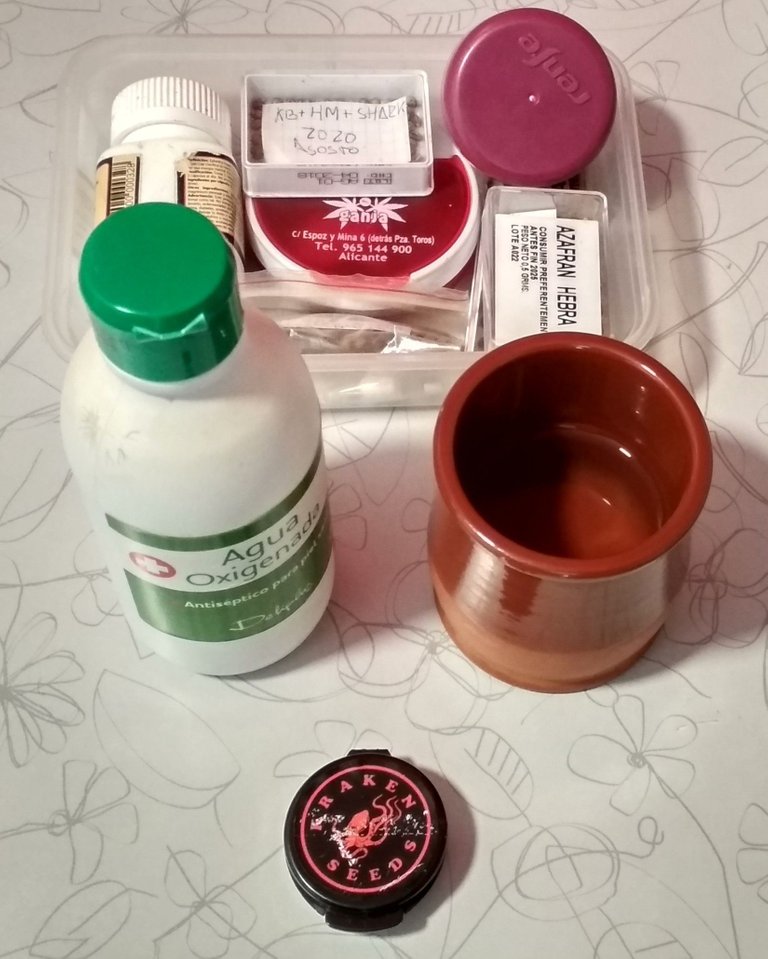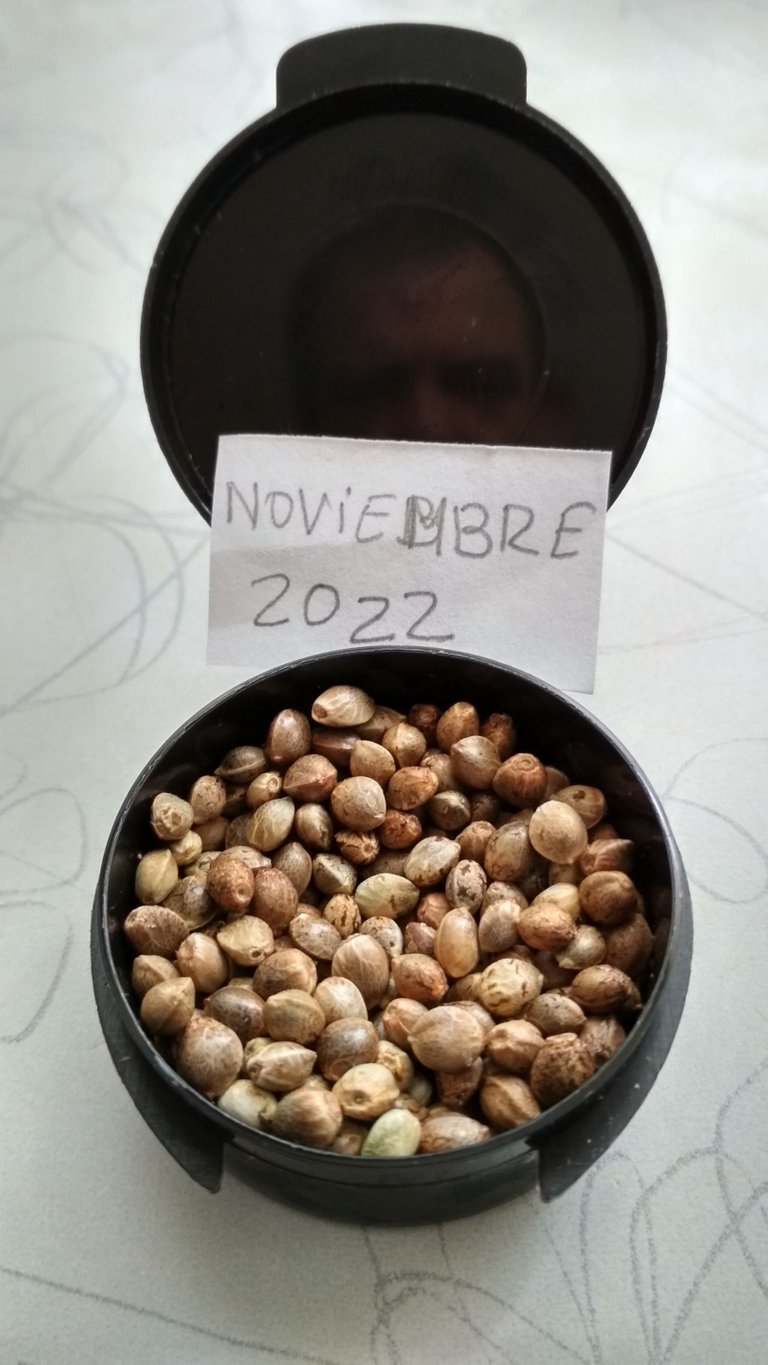 Before putting them in water I subject them to the Proof of Finger (POF). What is the POF? You can see it here. Of the 23 seeds that underwent the POF, two failed.
Antes de ponerlas en agua las someto a la Prueba De Dedo (POF). ¿Que que es la Prueba de Dedo?. Puedes verlo aquí. De las 23 semillas que se sometieron a la prueba, dos no la superaron.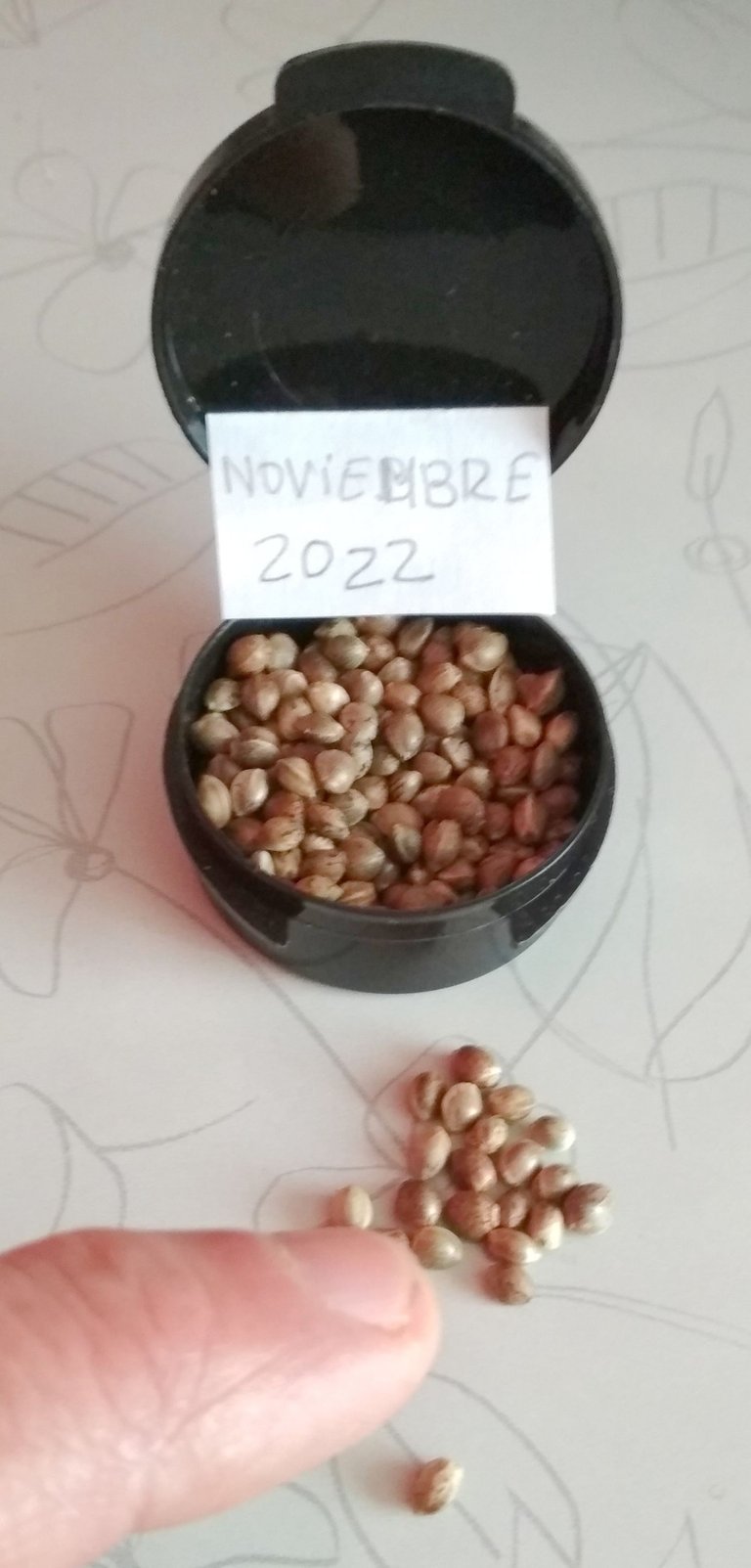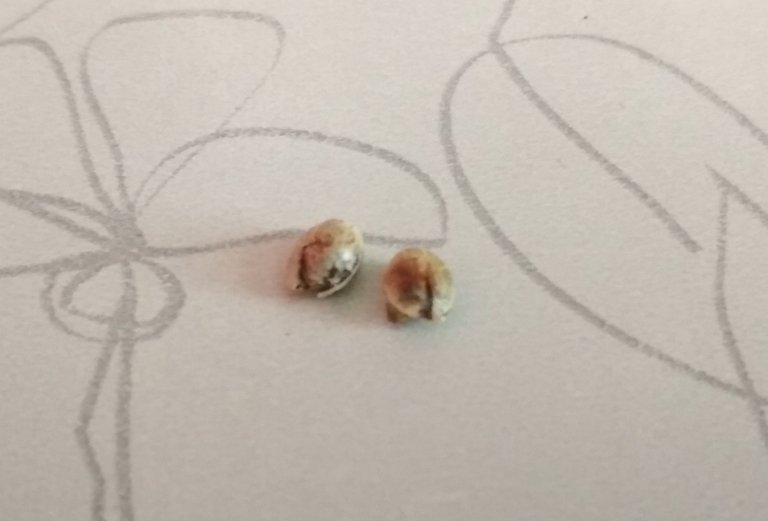 I need 18 germinated seeds, but as some seed usually fails, I put to germinate some more. I put them in water three days ago. I looked at them this morning and a while ago and they are this long. Tomorrow I will have to find time to plant them if or if, today I have not been able to yet. Maybe I'll do it after I release the publication even if it's at night. The box is ready too. It is the first round I do with these new seeds but so far I only see one that has not sprouted. In total 20 out of 21 have sprouted, not bad. One has broken the tip and we'll see if it will be saved.
Necesito 18 semillas germinadas, pero como alguna semilla suele fallar, pongo a germinar alguna más. Las puse en agua hace tres días. Las miré esta mañana y hace un rato y están así de largas. Mañana tendré que buscar tiempo para plantarlas si o si, hoy no he podido todavía. A lo mejor lo hago después de lanzar la publicación aunque sea de noche :). La caja ya está preparada también. Es la primera ronda que hago con estas nuevas semillas pero de momento solo veo una que no haya brotado. En total han brotado 20 de 21, no está mal. A una se le ha roto la punta ya veremos si se salva.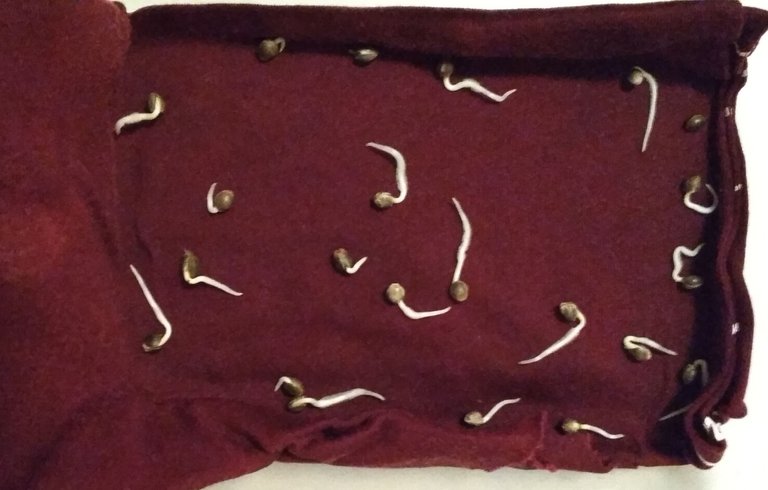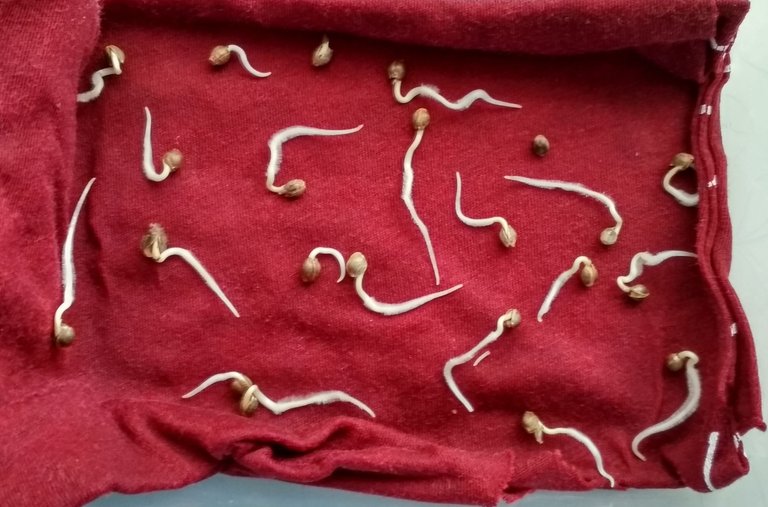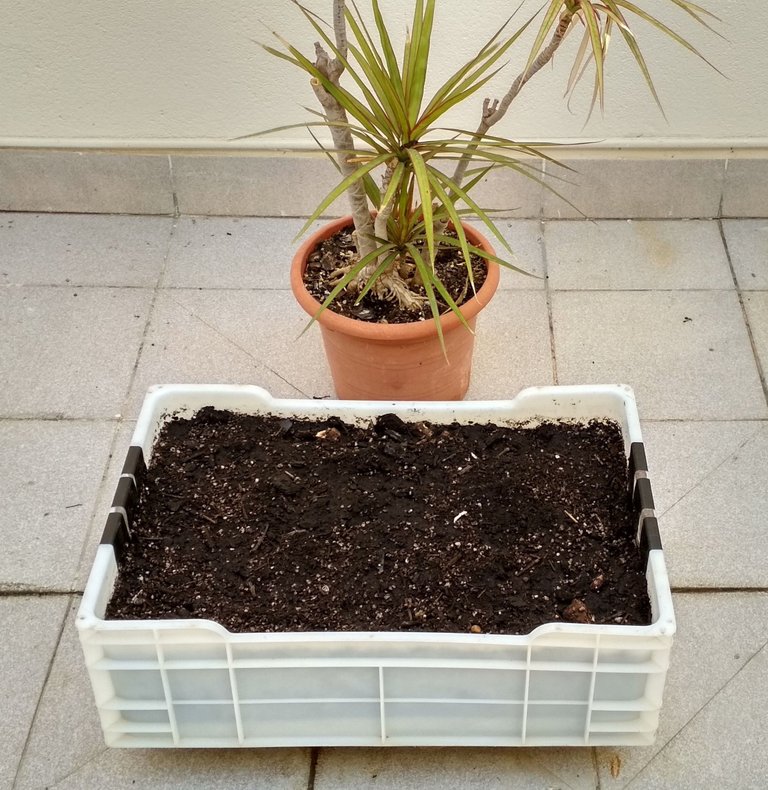 Yesterday I harvested one of the remaining plants from last season. They are not ripe yet but will not ripen anymore. I will cut the remaining ones at the weekend.
Ayer coseché una de las plantas que todavía quedan de la temporada pasada. No están maduras todavía pero ya no madurarán. El fin de semana cortaré las que quedan.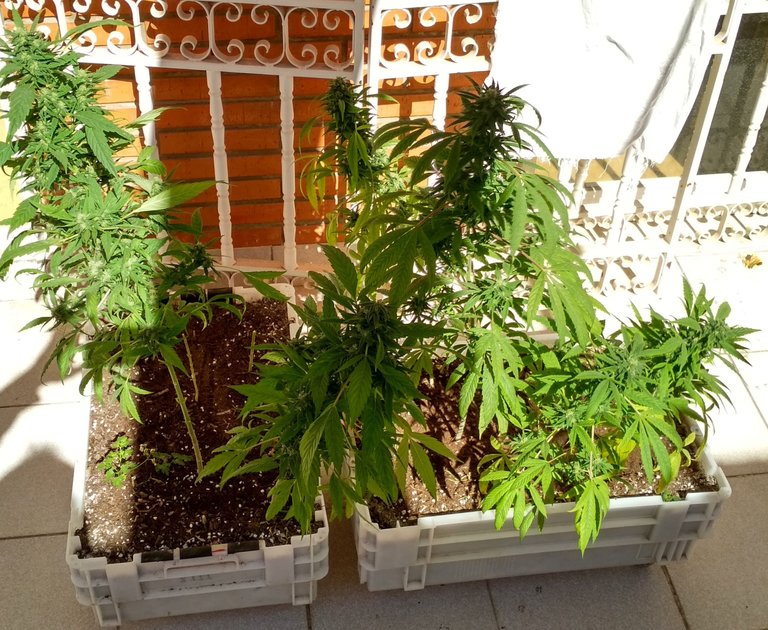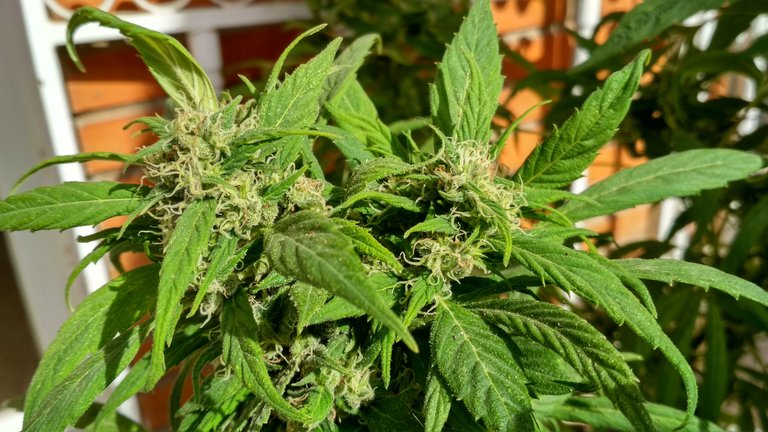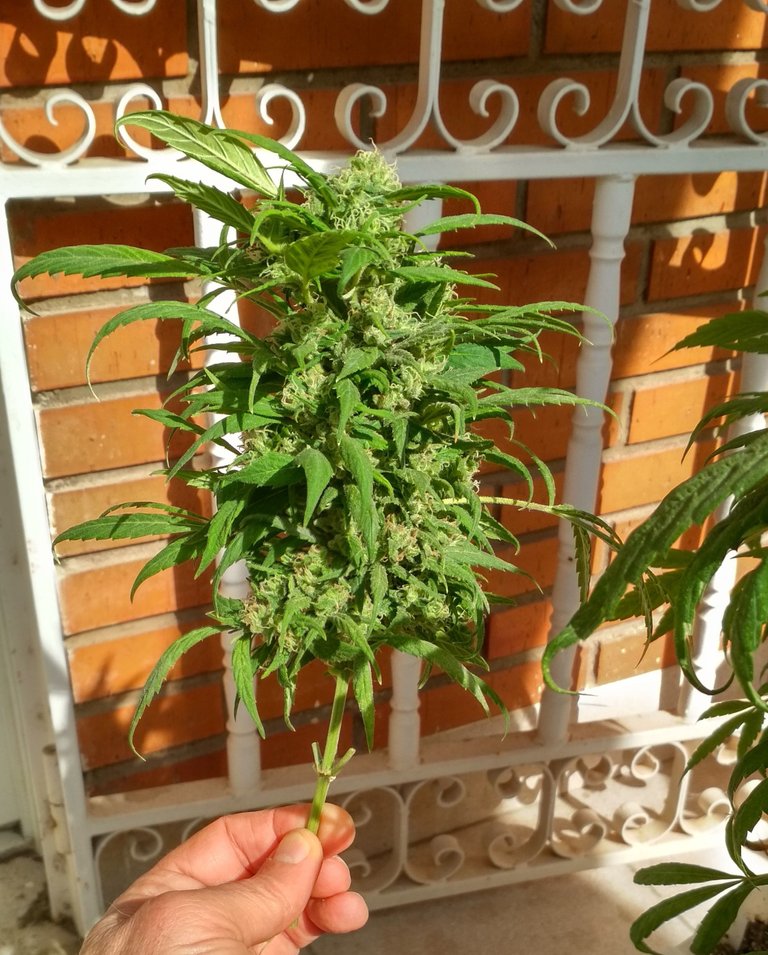 That's all for today. I hope you liked it and thanks for making it this far.
Eso es todo por hoy. Espero que te haya gustado y gracias por llegar hasta aquí.

Translated with www.DeepL.com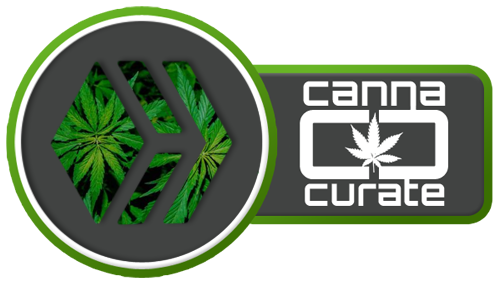 ---
---