Hashkings Contest Round 1 / Concurso Hashkings Ronda 1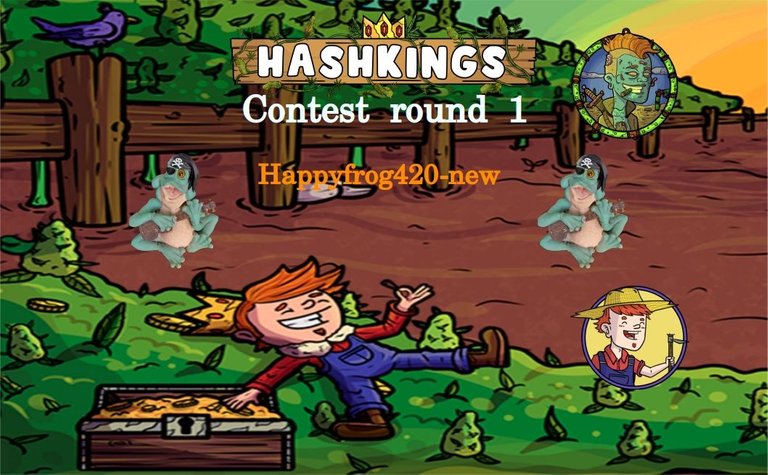 This publication comes as a consequence of the proposal launched by our friend @morenow to organize a weekly contest related to the Hashkings game. You can see the rules of the first round of the contest in this link.
I had been wanting to get into one of the HIVE games for a while and Hashkings was one of the ones I had in my sights, another one was RisingStar. Posting content especially in the Weedcash community, I saw the publications that others Hivers made about the two games but I did not decide to take the step because of the language. Everything was in English and as I do not control the language, it was difficult for me to use a translator to learn the rules of the games. But then one day a @hashkings profile appeared in Spanish, @hashkings-es, which published content about the game in Spanish. I started to read their publications and I saw that there was a game manual in Spanish. Great I thought. Soon after, I don't remember how, I found a publication of @morenow in which he invited to join the virtual world Discord and get a free avatar to start playing. The stars are aligning I thought, they were giving it to me. The decision was clear, Hashkings was the chosen one.
Esta publicación sale como consecuencia de la propuesta lanzada por el amigo @morenow de organizar un concurso semanal relacionado con el juego de Hashkings. Puedes ver las bases de la primera ronda del concurso en este enlace.
Llevaba un tiempo queriendo entrar en alguno de los juegos de HIVE y Hashkings era uno de los que tenía en el punto de mira, otro era RisingStar. Al publicar contenido sobre todo, en la comunidad de Weedcash, veía las publicaciones que otros y otras Hivers hacían sobre los dos juegos pero no me decidía a dar el paso por el idioma. Todo era en Inglés y como no controlo el idioma, se me hacía cuesta arriba tirar de traductor para aprender las normas de los juegos. Pero hete aquí, que un día apareció un perfil de @hashkings en español @hashkings-es que publicaba contenido sobre el juego en español. Empecé a leer sus publicaciones y vi que había un manual del juego en español. Genial pensé. Al poco tiempo, no recuerdo como, di con una publicación de @morenow en la que invitaba a unirse al Discord de mundo virtual y así conseguir un avatar de gratis para empezar a jugar. Los astros se están alineando pensé, vamos que me lo estaban poniendo a huevo. Estaba clara la decisión, Hashkings era el elegido.

I joined to the Discord server of Mundo Virtual as the friend @morenow said and by the way to the Hashkings server too. Immediately I received the avatar that I still keep. It is this one.
Me uní al servidor de Discord de Mundo Virtual como decía el amigo @morenow y de paso al de Hashkings también. Enseguida recibí el avatar que aún conservo. Es este.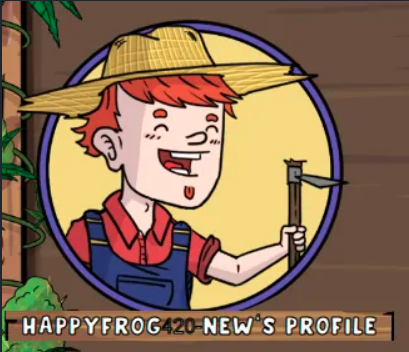 I could start playing. As I had some liquid and they accepted WEED as a payment token, I asked in Discord what would be interesting to invest in at that moment. One of the options they told me was that I could smoke some cigars and raise the XP of my avatar. Said and done. I smoked until I reached level 18. At that time the new avatars went on sale. I bought a few and learned that not all avatars are the same. There are different levels. I went on to use this other avatar and leveled it up because in Raids I could get better rewards. I smoked until I got level 33.
Ya podía empezar a jugar. Como tenía algo de líquido y aceptaban WEED como token de pago, pregunté en Discord en que sería interesante invertir en ese momento. Una de las opciones que me dijeron es que podía fumarme unos puros y subir el XP de mi avatar. Dicho y hecho. Fumé hasta conseguir nivel 18. En ese momento salieron a la venta los nuevos avatares. Compré unos cuantos y aprendí que no todos los avatares son iguales. Hay diferentes niveles. Pasé a utilizar este otro avatar y a subirlo de nivel porqué en las Raids (incursiones) podía obtener mejores recompensas. Fumé hasta conseguir nivel 33.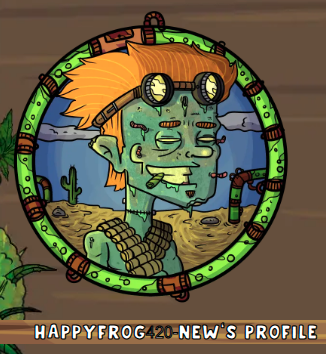 At that time the forge was implemented. I learned how it worked by reading the manual and watching the useful video tutorials that virtual world curates every now and then. I forged until I got this other avatar which is the one I use now. I've smoked up to level 33 and what's left :). Soon the new avatars will be released and I don't know if I'll change again or continue with this one, we'll see.
En ese momento se implementó la forja. Aprendí como funcionaba leyendo el manual y viendo los útiles videotutoriales que mundo virtual se curra cada dos por tres. Forjé hasta conseguir este otro avatar que es el que utilizo ahora. He fumado hasta nivel 33 también y lo que me queda :). Pronto saldrán los nuevos avatares y no se si volveré a cambiar o seguiré con este, ya veremos.
After some time playing Hashkings I miss some interaction between players within the game itself. In the Discords there is a lot of interaction, but the game itself does not allow it. Also the reception of cigars "joints" when you buy them in the game is very slow.
On the other hand, I think it's an easy game to get into. You can immediately interact with the game. With a minimum investment you can do it by planting, staking MOTA, generating water, smoking cigars, participating in the raids, etc... At the same time when you learn to play you realize the amount of details and possibilities that the game has. A very motivating point is to see the amount of movement and participation from the developers and the @hashkings team in general. They never stop making new updates and improvements, raffles, airdrops, starter pack giveaways or contests like this one. In addition to the support, quick response in solving issues and help to new and not so new players. There are supposed entrepreneurs with less dedication, dedication and professionalism than the @hashkings and Mundo Virtual team with @pleo1542 at the helm, and that is motivating.
Finally, I would like to make a proposal. When it comes to smoking cigars, there are only two options, either you smoke the whole cigar by yourself, or you transfer the whole cigar to another player. How about something in between? Like in real life, you smoke a part of the cigar and share it. That is to say, I buy a cigar, I smoke a percentage of that cigar and the rest I transfer it to another player and this one if he wants to to another one and this one to another one and so on until it smells like burnt fingernail.
I hope you liked it and until the next post
Después de un tiempo jugando a Hashkings echo en falta un poco de interacción entre jugadores dentro del propio juego. En los Discords hay mucha interacción, pero el juego en si no lo permite. También la recepción de los puros "porros" cuando los compras en el juego es muy lenta.
Por otro lado, creo que es un juego fácil para entrar a jugar. Enseguida puedes interactuar con el juego. Con una mínima inversión puedes hacerlo plantando, apostando mota, generando agua, fumando puros, participando en las raids, etc... Al mismo tiempo cuando vas aprendiendo a jugar te das cuenta de la cantidad de detalles y posibilidades que tiene el juego. Un punto muy motivador es ver la cantidad de movimiento y participación que hay por parte de los desarrolladores y el equipo de @hashkings en general. No paran de hacer nuevas actualizaciones y mejoras, sorteos, airdrops, regalo de packs de inicio o concursos como este. Además del apoyo, respuesta rápida en la solución de incidencias y ayuda a los nuevos y no tan nuevos jugadores. Hay supuestos empresarios con menos dedicación, entrega y profesionalidad que el equipo de @hashkings y Mundo Virtual con @pleo1542 al frente, y eso es motivador.
Para terminar me gustaría hacer una propuesta. A la hora de fumar puros, solo hay dos opciones, o fumártelo entero tú solo, a cara perro que se dice ;), o transferírselo entero a otro jugador. ¿Que tal algo intermedio? Como en la vida real, te fumas una parte del puro y lo compartes. Es decir me compro un puro, me fumo un porcentaje de ese puro y el resto se lo transfiero a otro jugador y este si quiere a otro y este a otro y así sucesivamente hasta que huele a uña quemada.
Espero que te haya gustado y hasta la próxima publicación.

---
---