[Xbox Xcloud] FallOut New Vegas Parte2
---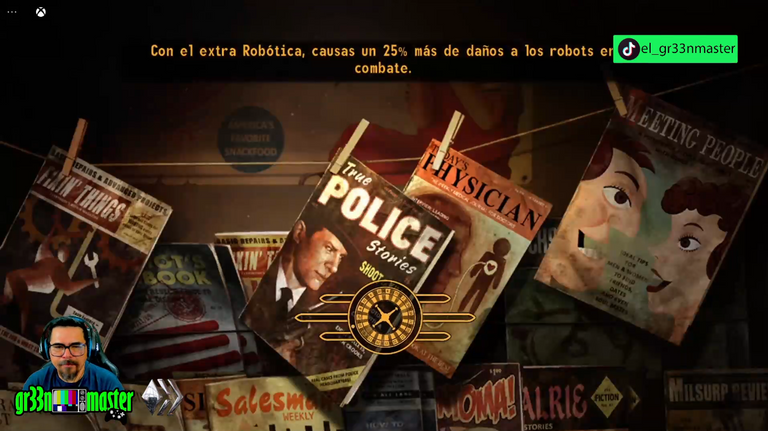 English
Greetings friends welcome to my blog and 3Speak channel today I bring you the continuation of our adventure in the game Fallout New Vegas, where Dr. Mitchel who has cured us and care of tremendous bullet in the head that we have been given at the beginning of the game, recommended us to go to look for clues of those who have attacked us with a girl named Smiles.
We found her in the bar and she is a very good Samaritan, which apparently is a very important NPC in the game because she has a lot of information if you chat with her for a while.
Spanish
Saludos amigos bienvenidos a mi blog y canal de 3Speak hoy les trigo la continuación de nuestra aventura en el juego de Fallout New Vegas, donde el doctor Mitchel que nos a curado y cuidado de tremendo balazo en la cabeza que nos han propinado en el comienzo del juego, nos recomendó ir a buscar pistas de los que nos han atacado con una chica llamada Sonrisas.
A ella la hemos encontrado en el bar y es una muy buena samaritana, que al parecer es un NPC muy importante en el juego pues tiene mucha información si charlas con ella un ratito.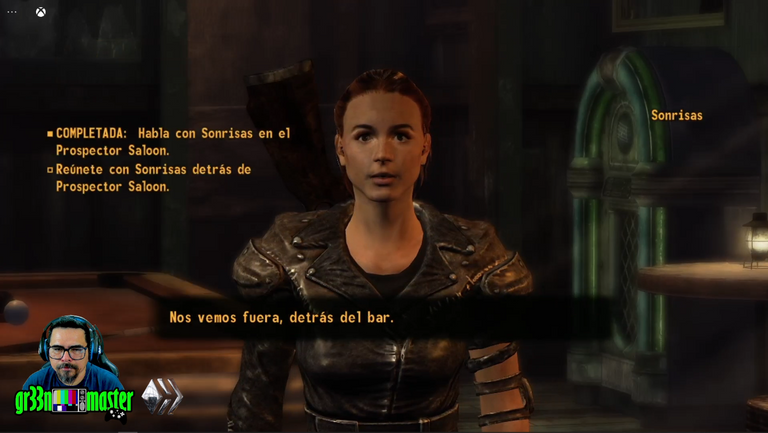 ---
After chatting with her for a while, she takes us to the back of the bar and gives us some shooting lessons, which is not so difficult against bottles but when fighting against real enemies is a headache because the aiming is manual without the help of auto aiming so hitting them is a challenge, which over time you get used to but at the beginning you suffer a lot.
Another thing I noticed is that it has that function of specific aiming and hit probability that if you know how to use it is very effective, that could say that it is the best ally to shoot although you need to recharge the VAS to use it and I think that the increase of this is given to you by some skill.
Después de charlar con ella un rato, nos lleva a la parte trasera del bar y nos da unas clases de tiro, lo cual no es tan difícil contra botellas pero a la hora de luchar contra enemigos verdaderos es un dolor de cabeza pues el apuntado es manual sin ayuda de auto apuntado así que atinarles es todo un reto, que con el paso del tiempo te acostumbras pero al principio sufres mucho.
otra de las cosas que note es que tiene esa función de apuntado especifico y probabilidad de acierto que sabiéndola usar es muy eficaz , ese podría decir que es el mejor aliado para disparar aunque se necesita recargar el VAS para usarlo y creo que el aumento de este te lo da alguna habilidad.
---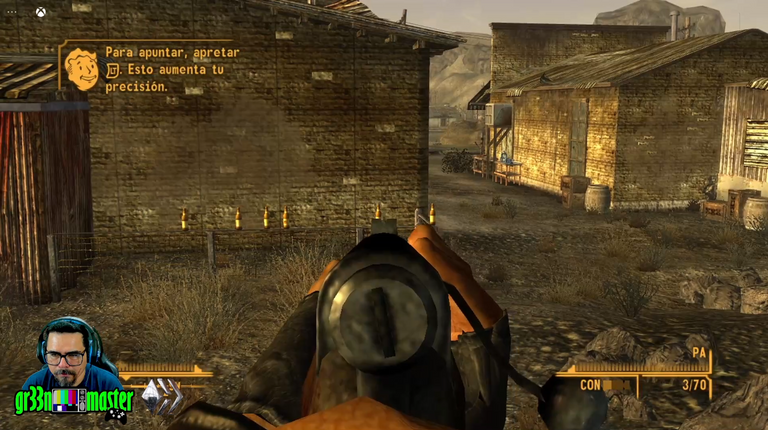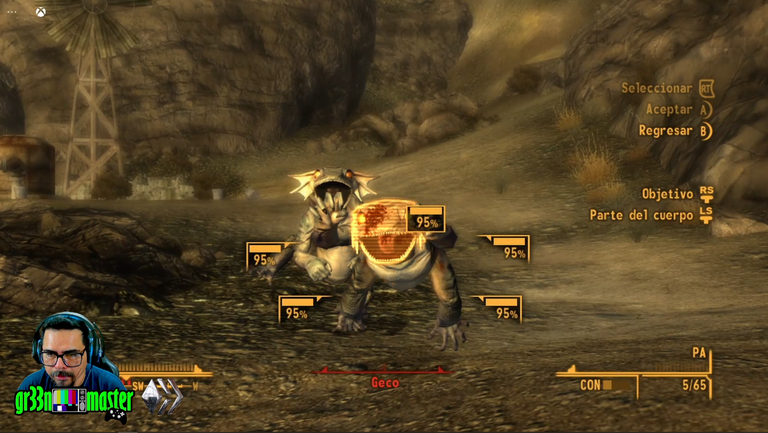 ---
After Sonrisas gave us our training he told us that they were suffering a taque of some creatures called Gecos and that he needed our help to finish with them, so he took us to the action and we had our first battle.
These creatures were very fast and it was a bit difficult to hit them with the VAS ability I told you about that allows you to choose where to shoot, so even though they took me by surprise I shot them in manual mode and the first two we didn't hit fell.
After those we went to look for more invaders in the surroundings and Sonrisas showed off his skill with weapons and technically charged me because he did not let me kill any more Gecko, the truth she and her dog could alone against those creatures just took me for a walk and I was part of a tutorial in disguise.
Después de que Sonrisas nos dio nuestro entrenamiento nos dijo que estaban sufriendo un taque de algunas criaturas llamadas Gecos y que necesitaba de nuestra ayuda para acabar con ellas, así que nos llevó de una a la acción y tuvimos nuestra primera batalla.
Estas criaturas eran muy rápidas y era un poco difícil de atinarles con la habilidad que les comenté de VAS que hace que puedas elegir donde disparar, así que con todo y que me tomaron de sorpresa los disparé a modo manual y cayeron los dos primeros que no topamos.
Después de esos nos fuimos a buscar mas invasores en los alrededores y Sonrisas hizo gala de su habilidad con las armas y técnicamente me cargó pues no me dejo matar a ningún Geco mas, la verdad ella y su perro podían solos contra esas criaturas solo me llevaron a pasear y fui parte de un tutorial disfrazado.
---
We had to go back to the bar where we started and I was going to walk, but thanks to the advice of my faithful companion of a thousand battles @curvymosquito83 I was able to know that through the PepBoy we could make a short trip and teleport to different places, that is a wonder because it reduces the time to move from one place to another.
There are still several functions that I haven't learned yet, but with time we will learn to use it more skillfully.
Finally I want to let you know that this gameplay will continue to have chapters because I really like the game and it is getting a lot of response from you, for which I am infinitely grateful.
I say goodbye for the moment and I remind you that I am also doing streams on my Twitch and Vimm channels throughout the week of different games and on Tuesday and Thursday mornings I have @risingstargame stream where we have giveaways of several valuable items of the game.
Se puso buena la matazón de Gecos, después nos teníamos que regresar al bar donde comenzamos y me iba yo a ir caminando , pero gracias a la asesoría de mi fiel compañero de mil batallas @curvymosquito83 pude saber que por medio del PepBoy podíamos hacer viaje corto y teletransportarnos a diferentes sitios, eso es una maravilla pues aminora el tiempo de moverte de un lugar a otro.
Igual hay varias funciones que todavía no aprendo del aparatito ese pero con el tiempo aprenderemos a usarlo con mayor destreza.
Por ultimo quiero avisarles que este gameplay seguirá teniendo capítulos porque el juego me ha gustado mucho y esta teniendo respuesta por parte de ustedes lo cual agradezco infinitamente.
Me despido por el momento y les recuerdo que también estoy haciendo streams en mis canales de Twitch y Vimm a lo largo de la semana de diferentes juegos además de que los martes y jueves por las mañanas tengo stream de @risingstargame donde tenemos giveaways de varios objetos valiosos del juego.
---
---
Fuente/Source
Gracias por dar la vuelta en mi blog, suerte y muchos éxitos a todos.
All pictures are taken from my Gameplay on my Xbox Series S/Todas las fotos son tomadas de mi Gameplay en mi Xbox Series S
Translated thanks to DeepL.com




---
▶️ 3Speak
---
---