The Fattest Cannabis Nugs I've Ever Grown - Indoor Cannabis Garden Update
And they are still increasing in size!
Hello Everyone,
It's been a week since the last indoor cannabis garden update and as per the usual, a lot has been happening!
And by a lot I mean massive bud growth. I kind of predicted this 😄 but I like to stay humble.
I think the plants are experiencing a massive swelling at the moment and I don't expect it to slow down for the next week.
I've been risking increasing nutrients and the more I give them, the more they swell.
There's nothing very scientific about how I am doing it (except for the mechanism of feeding, being a drip system.)
I am using three products currently: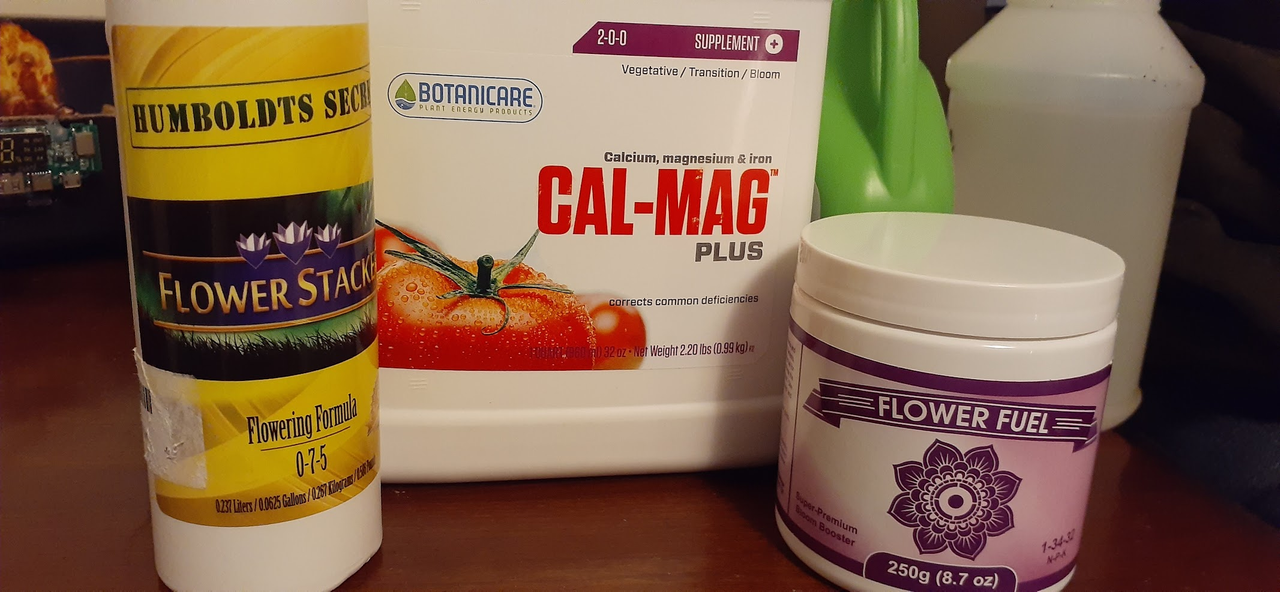 ---
---
I take 1/4 teaspoon and add it to 1 half gallon of water for each of these products.
I don't believe there is a "perfect" science to this. It's trial and error for a guy like me and luckily the errors have been minimal. @ganjafarmer correctly identified nutrient deficiency in these plants two weeks ago and recommended I increase feeding. He was spot on the money with this detection, as the foliage has actually gained back massive amounts of green coloration, which I was certainly not expecting.
I've never used a feeding regiment of any sort before, so this is completely new territory for me even though I've been growing cannabis for a few years now.
Now let's see how good this experimental feeding has been going! (I will likely cut off all nutrient feed in about 1-2 weeks and begin flushing the root system(s).)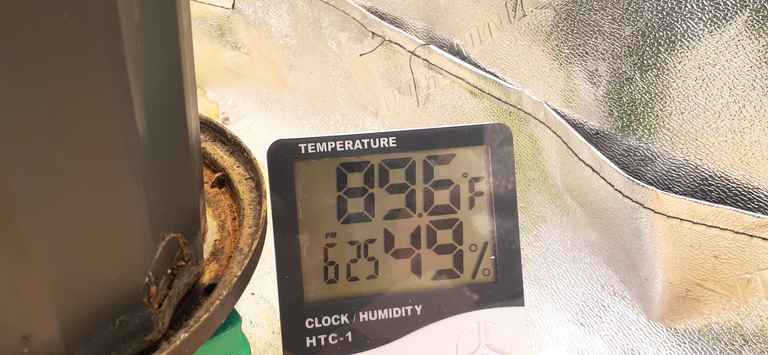 ---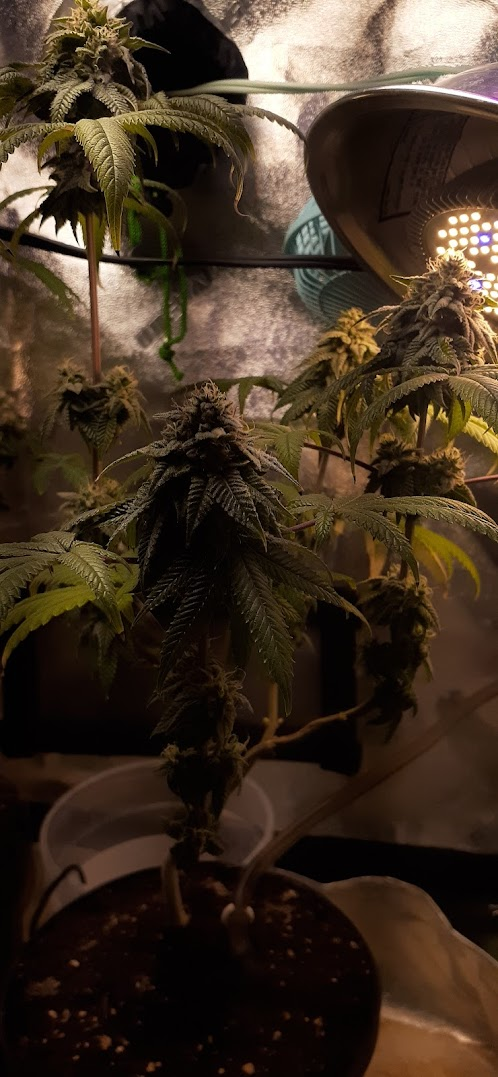 ---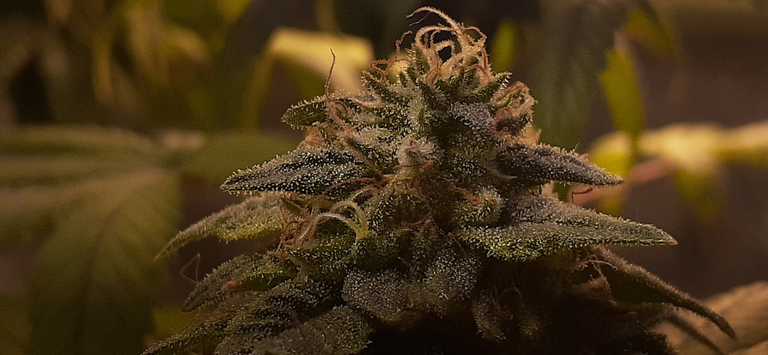 ---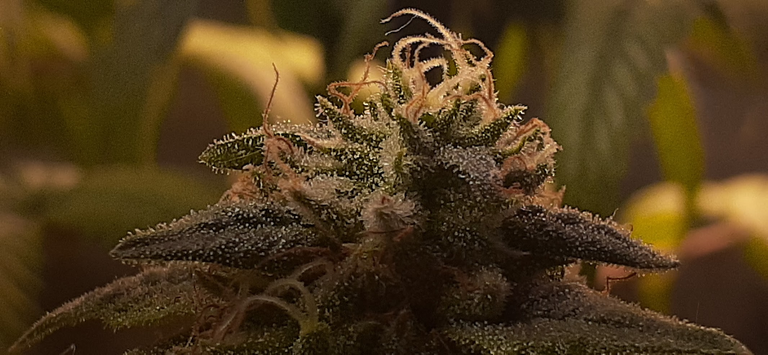 ---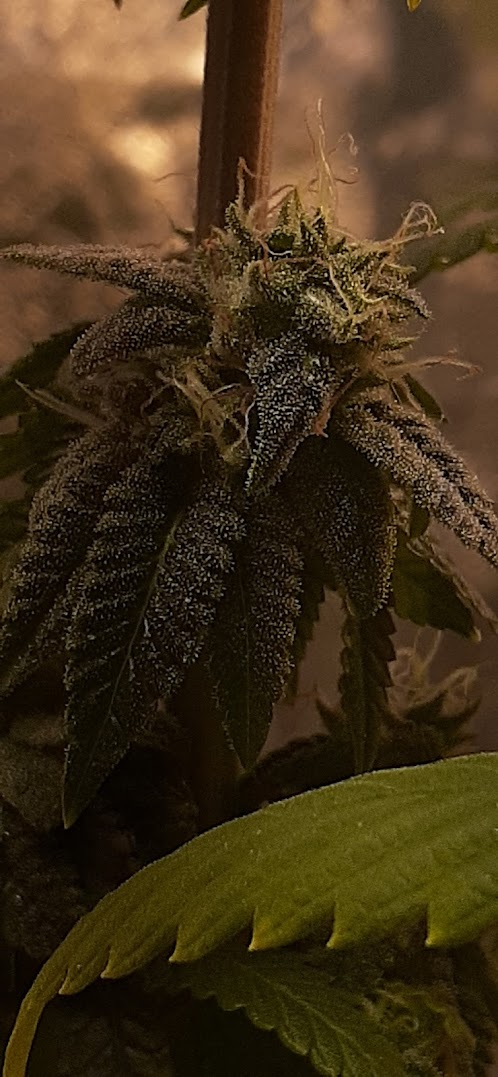 ---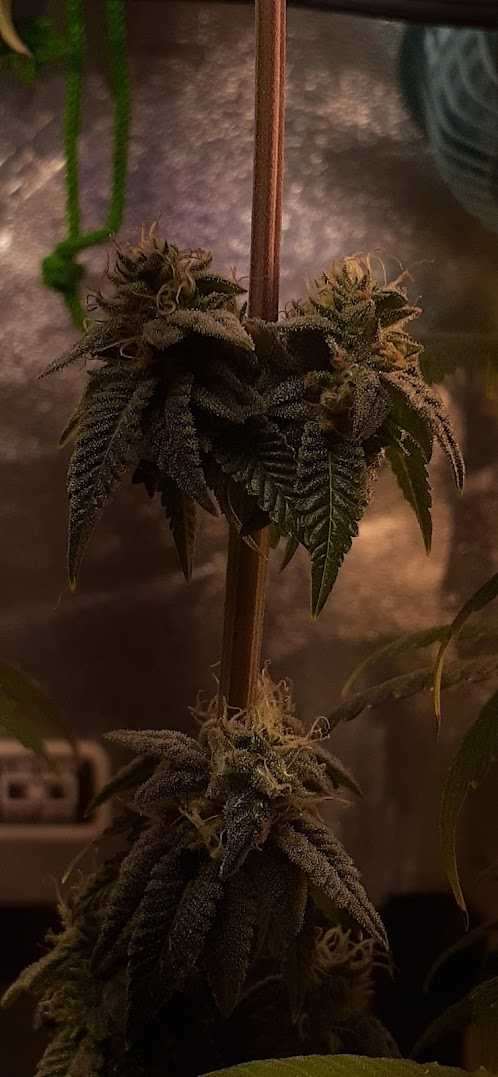 ---
The photos above are from the plant on the righthand side. The "Shybrid" , as @jonyoudyer has named her :) and she is not done filling out! I think the shybrid will pack a serious head hitter punch (just a prediction guess at this point)
Now let's look at the freaky girl on the left.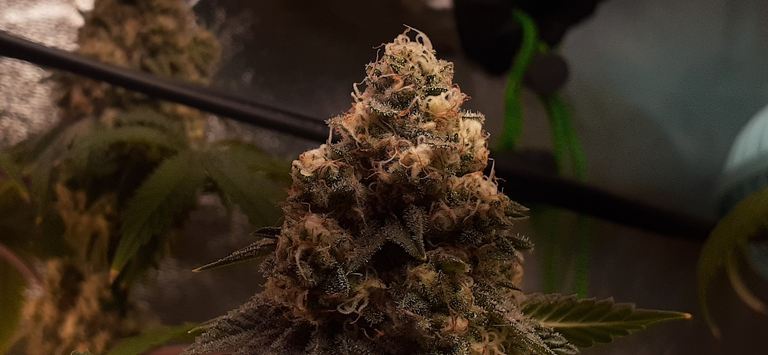 ---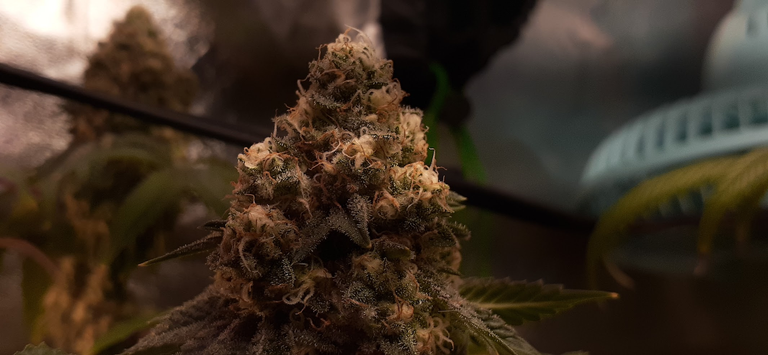 ---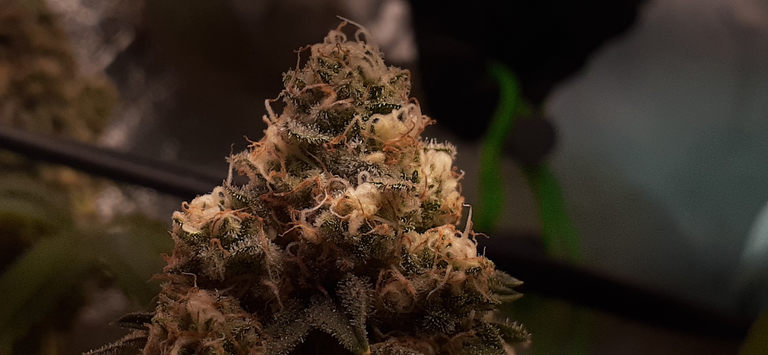 ---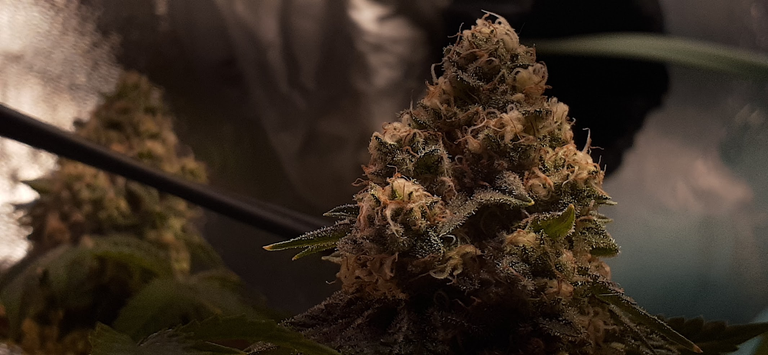 ---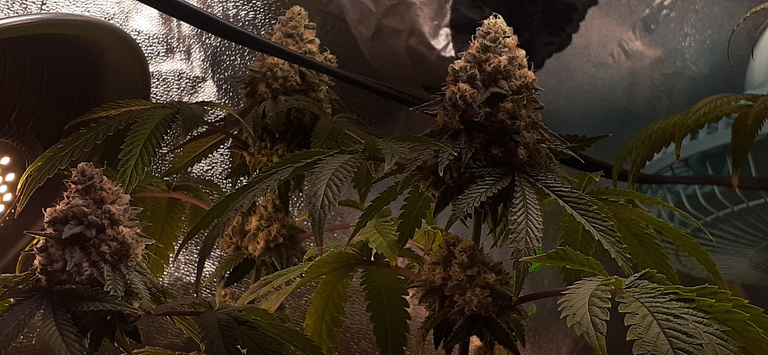 ---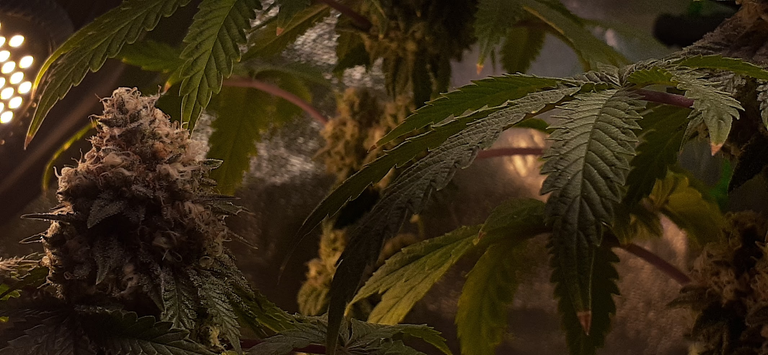 ---
The key characteristics that I love about this plant are:
The biggest buds I've ever grown.
The most photogenic plant I've ever grown.
First time using LST clips with astounding success for the final plant structure.
I do believe this is the most photogenic plant I have ever grown, even if her sister is a shybrid.
I think the odds are high that this might rival my last "best" grow ever. I have one special unknown strain that produces some really fine stuff... but in terms of overall yield and quality bud, this plant is shaping up to be a real winner.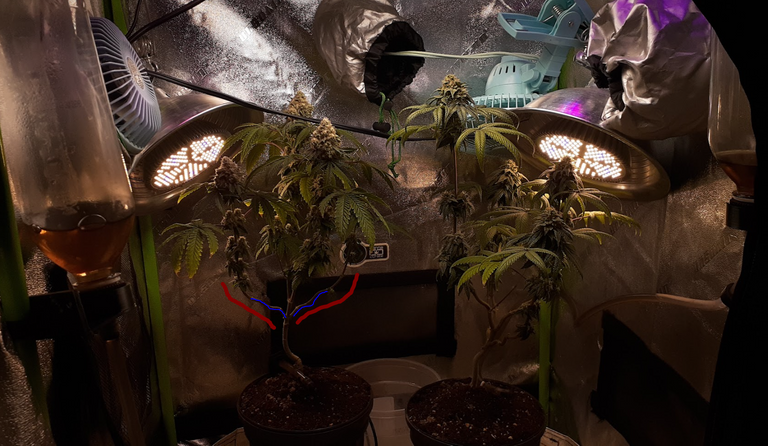 ---
The photo above outlines the impact of the LST clips. The overall results are not only aesthetically pleasing, but also a very efficient growth structure for bud formation, which emulates a sort of "pitchfork" like shape.
I had enough space in the tent to probably grow two more plants, and next grow I intend to fill this tent up as much as possible and will begin perpetual grow cycles, because I am not patient enough to wait so long for harvests. I would like to have a harvest at least once every 4-8 weeks.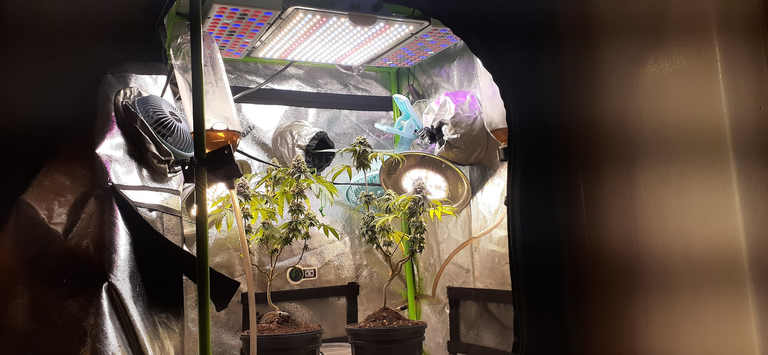 ---
I lower the exposure on my photographs these days, because I feel it gives them a better viewing experience on the Hive blockchain, but this photo was taken with no reduction in exposure, and we get an idea of how bright it is in that tent. This is the reason these buds are so massive and dense.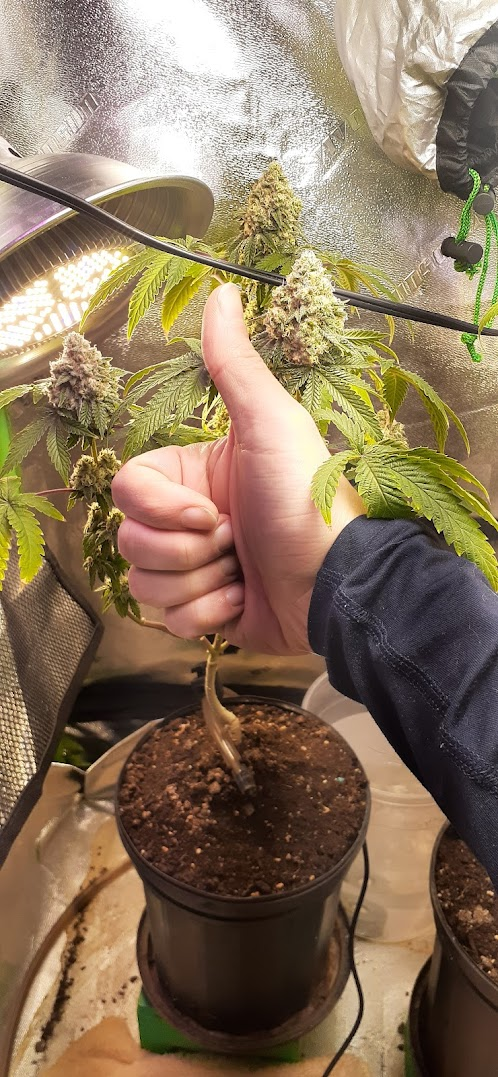 ---
My thumbs up next to the plant shows how plump these buds are on this small cannabis plant. I think about 1 ounce will be the final harvest on this fat girl, and can say we'll easily have at least a half ounce.
That's gonna do it for this indoor cannabis garden update!
What are your thoughts on these girls?
---
---