Dedicated Flowering Tent - Dedicated Vegetation Room
Hello Everyone,
I've been loving the new Phlizon LED light in my grow tent, but a couple of problems have presented themselves regarding the set up I had going on.
The primary issue is the Phlizon has proven to be a bit intense for vegetative growth in this small 24"x 24"x 36" grow area.
The plants were becoming light burned while running this light at max power for the past couple of days.
First I'll show the old light arrangement with the new light added.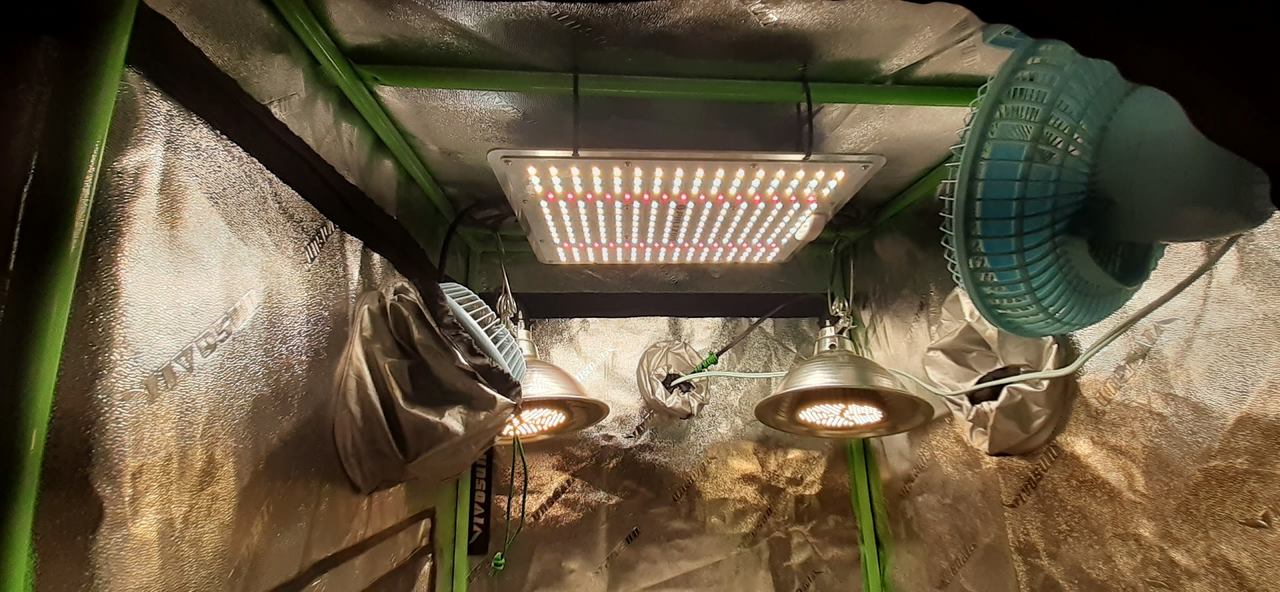 Previous Post
---
The experienced cannabis grower will probably immediately pick up on the much lower orientation of the lamps. This will prove to be problematic in the future, and is the second issue and reason for changing up the light structure of the tent.
Here is the new solution: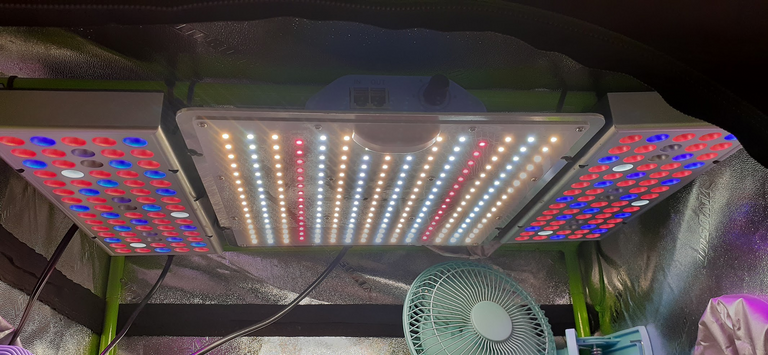 ---
I've decided to swap out the bulb style LED's for the less powerful blue/purple LED panels. Although this may be less desirable during flowering stage, it achieves two things:
Provides an even light canopy for the small tent.
Makes it possible for me to have an adequate dedicated vegetation room.
Although this decision might seem like an easy one to make, it was not , but I think it was the correct decision.
Let's view the orientation of the lights and plants at a distance.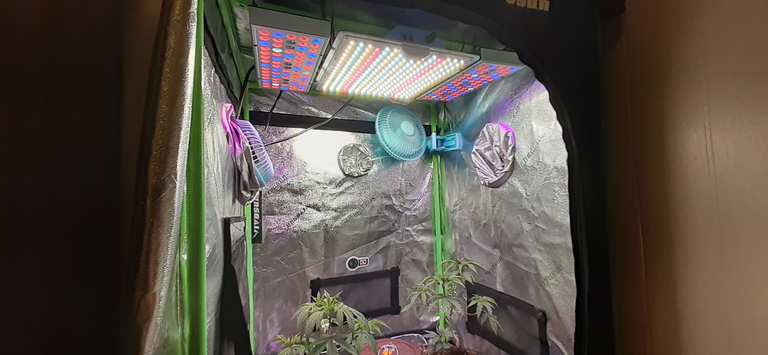 ---
Here we see the plants have a proper distance from the LED's, and the light canopy is not only perfectly flush, but also takes up nearly the entire roof of the tent, with the strongest of the LED's directly in the center. I think this is an ideal set up and there should be no need for light upgrading in this small tent. Any light upgrades will be for new grow areas and I'm pretty much considering this tent a complete adequate set up unless problems present themselves in the future.
Once these plants reach flowering stage, I will kick the timer on to 12/12 light cycle and will keep this as a flowering tent, making it possible to move plants from the vegetation room and have a decrease in wait times between harvests.
Let's take a look at the vegetation room, and then we'll look at the plants.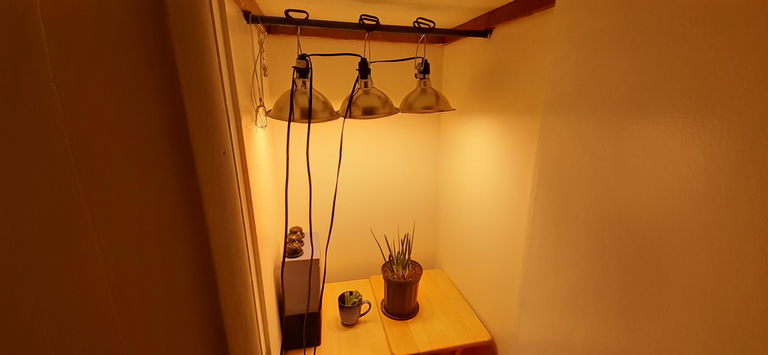 ---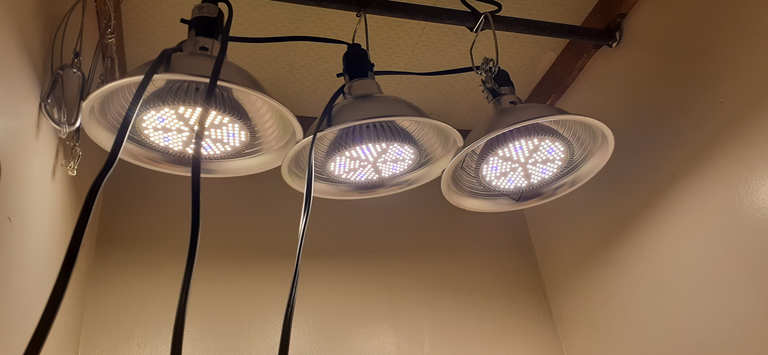 ---
These round lamp style LED lights cost less than twenty dollars per bulb and are well worth the price. They have been very good to me and I'm sure this space will make an adequate vegetation room, which is actually just a small closet, but ample space for cannabis vegetation growth.
I'm also planning to grow some micro greens in here and even designed my own micro greens planter pots that I'm 3D printing right now and will be making a post on that within the next couple of days on @print3dpro.
I have a bunch of 3D printed stacking containers that I can utilize in raising certain plants, which can be seen in the photo above with the succulents.
Let's have a look at the plants in the vegetation room currently, and then we'll end the the post with the cannabis photos.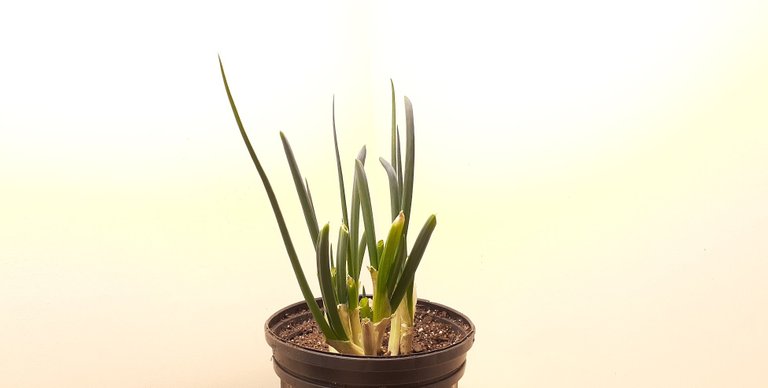 ---
It looks so bright because I raised the exposure before taking this photo, to help bring out the vibrant green in these green onions. They indeed are very healthy but the camera doesn't show it very well unless I turn up the exposure. I replanted these from the grocery store and have already harvested three clippings of green onions. They absolutely love the new Happy Frog soil, which is a great indicator that the cannabis will love it as well.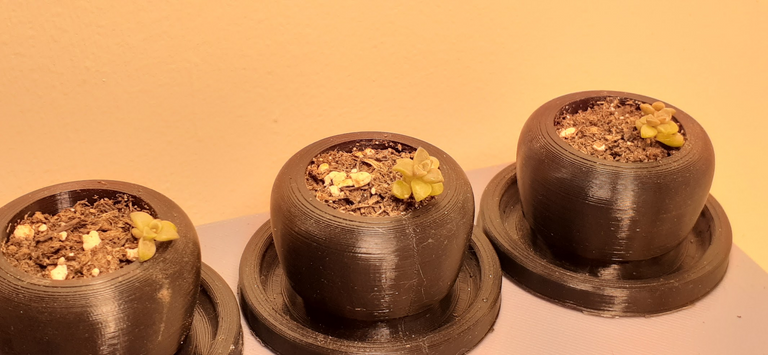 ---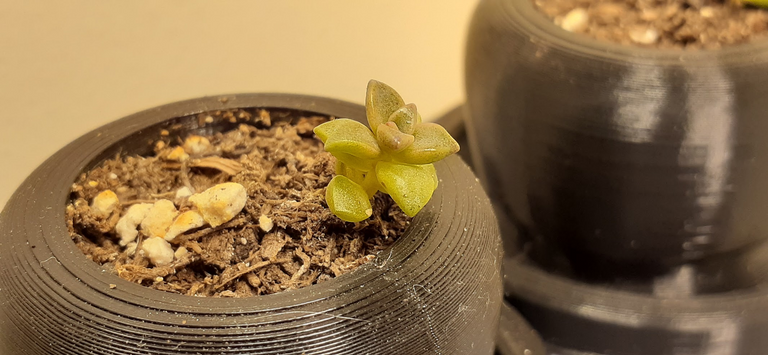 ---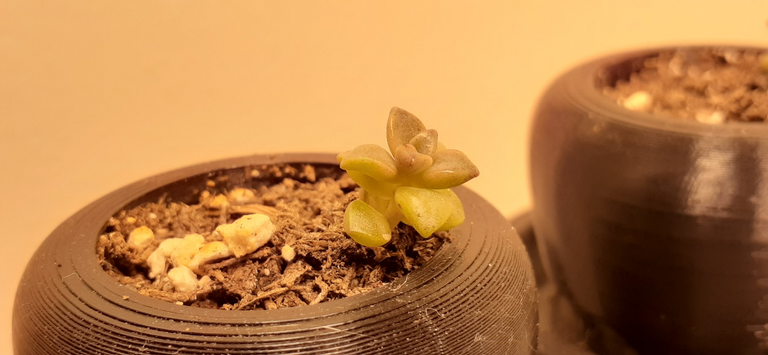 ---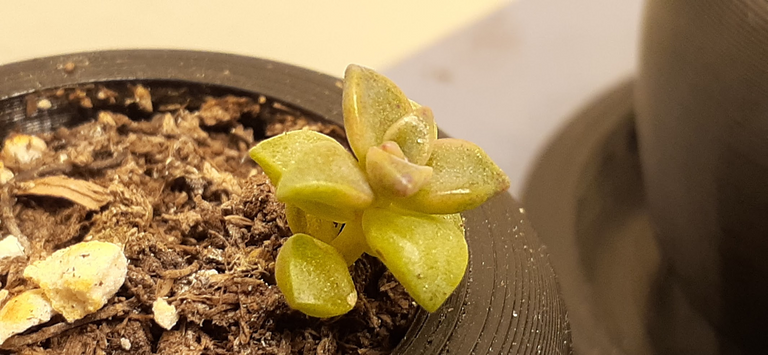 ---
The succulents are in the old Pro Mix coir medium and doing pretty good. I see no reason to disturb them.
Now for the cannabis photos.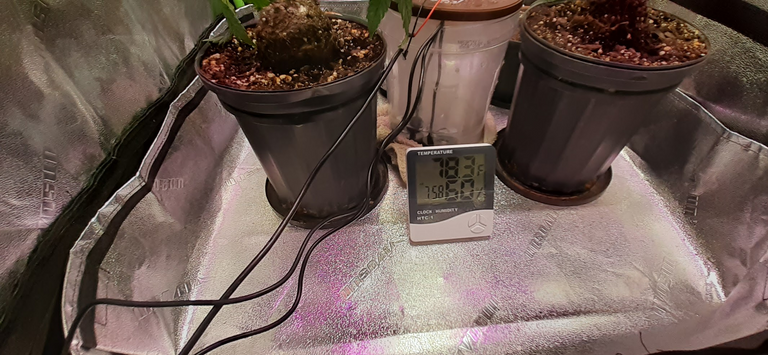 ---
First I would like to brag a little and say that I have a pretty much perfect temperature and humidity level with the homemade humidifier. Without it the humidity would be reading about 30%.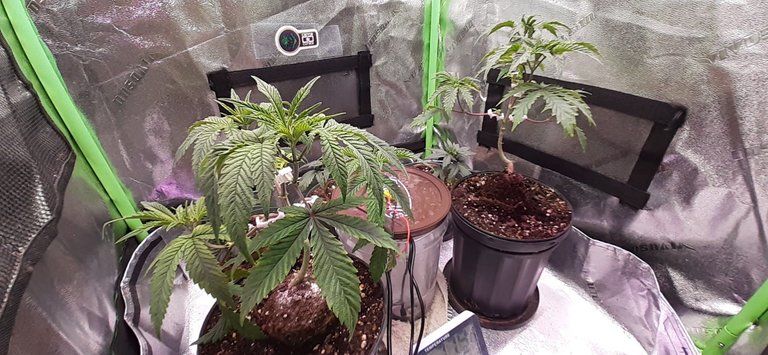 ---
Can the canna pros see the light burn? Let's look closer.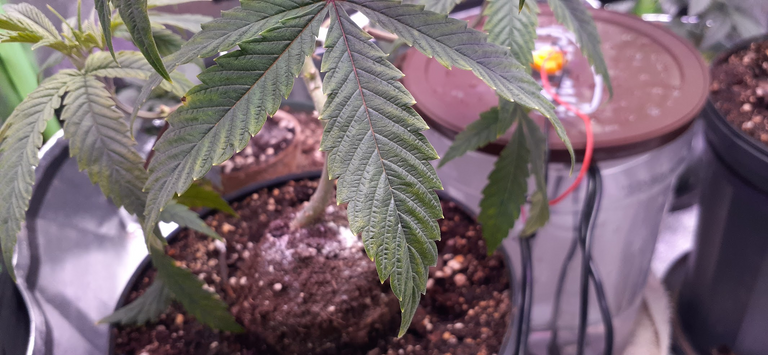 ---
In various areas we can see some light burn occurring. This is sometimes misdiagnosed as a nitrogen problem, but I'm fairly certain that it's light burn. The yellowing in the center of the leaves and yellow tips are a good indicator.
There are other indicators as well.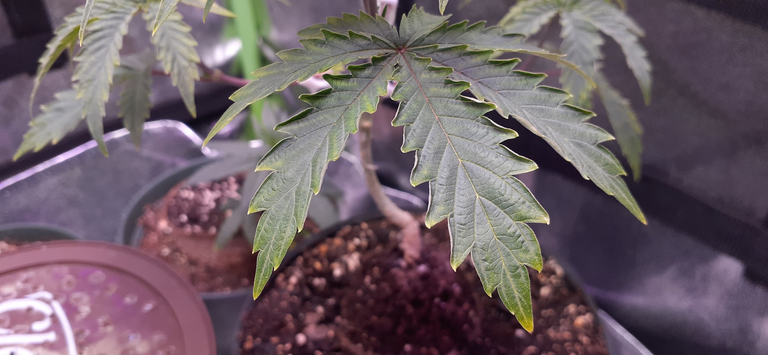 ---
This is the "taco" effect. A clear indicator of light burn. If anyone thinks I've misdiagnosed the problem, please let me know. Either way I do not think reducing from maximum light to minimum will have a negative impact on vegetation, as the stalks are very strong and the plants are now in a pretty mature growth stage.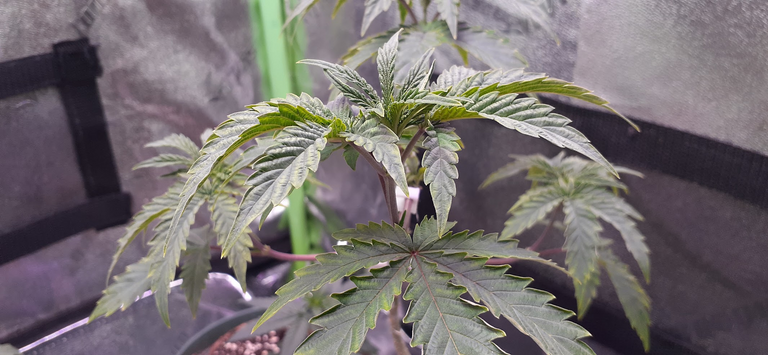 ---
The new growth looks undamaged and I think the plants will be just fine due to catching and diagnosing this before serious damage occurred.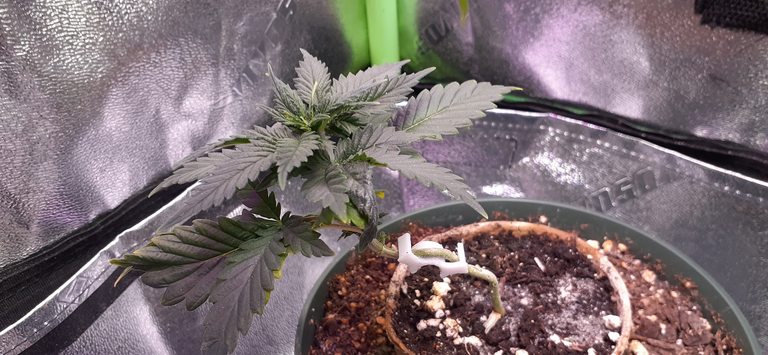 ---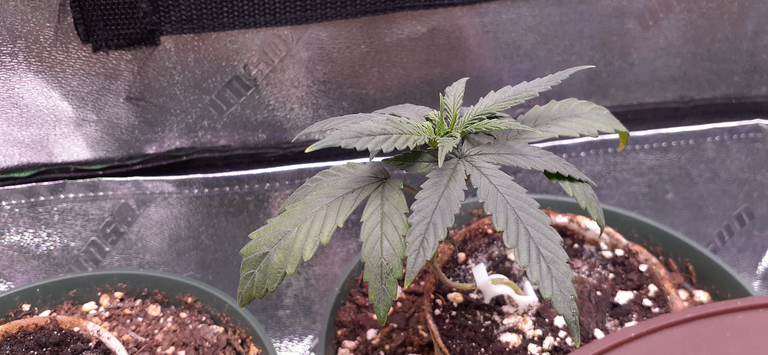 ---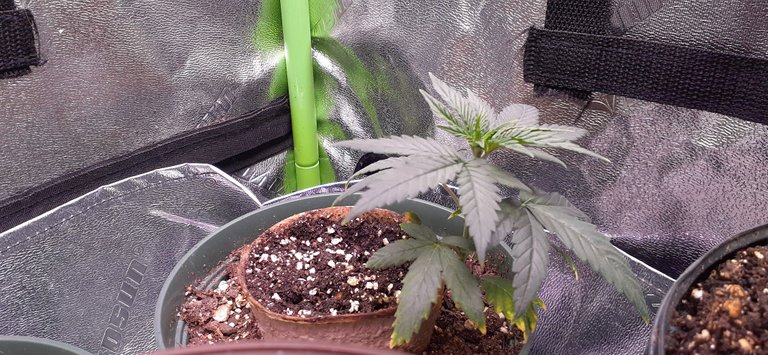 ---
The smaller plants took a little damage but not too much. They are lower to the floor and should also recover just fine.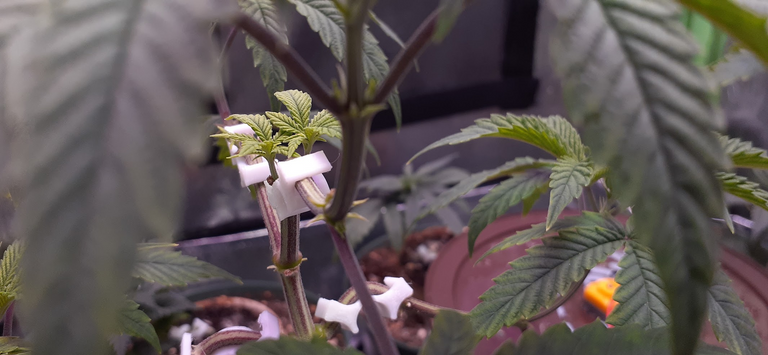 ---
I was just trying for some photographic fanciness here with this shot through the foliage, focus placed on the beautiful stalks and 3D printed LST clips, and the vibrant new growth emerging from the nodes.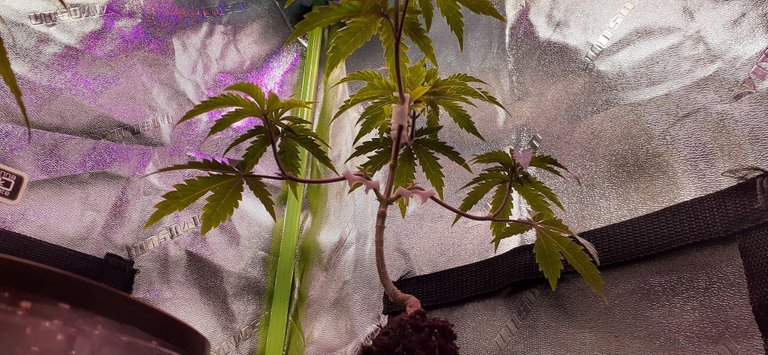 ---
For this photo I had to lay down on my belly and angle upwards from the lowest point possible. I really love these angular photographs.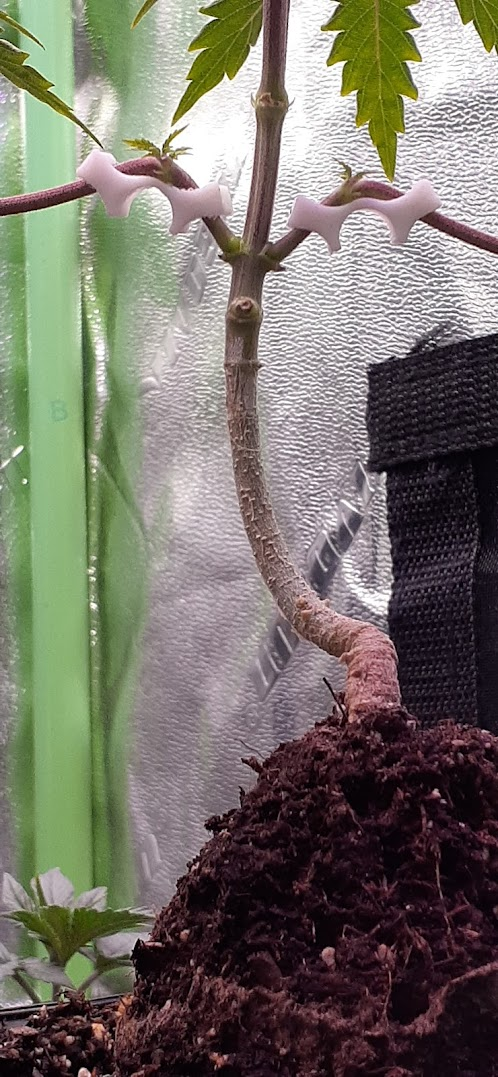 ---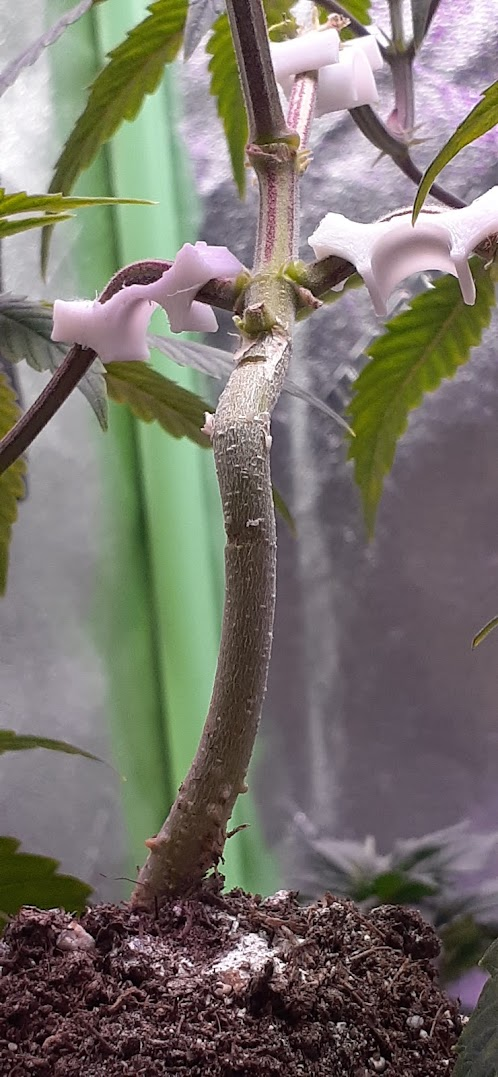 ---
Those bend marks are from use of the LST clips. They seem to really have this fattening impact on the stalks.
Overall these plants are very healthy and I'm hopeful that at least one of the two larger plants is female.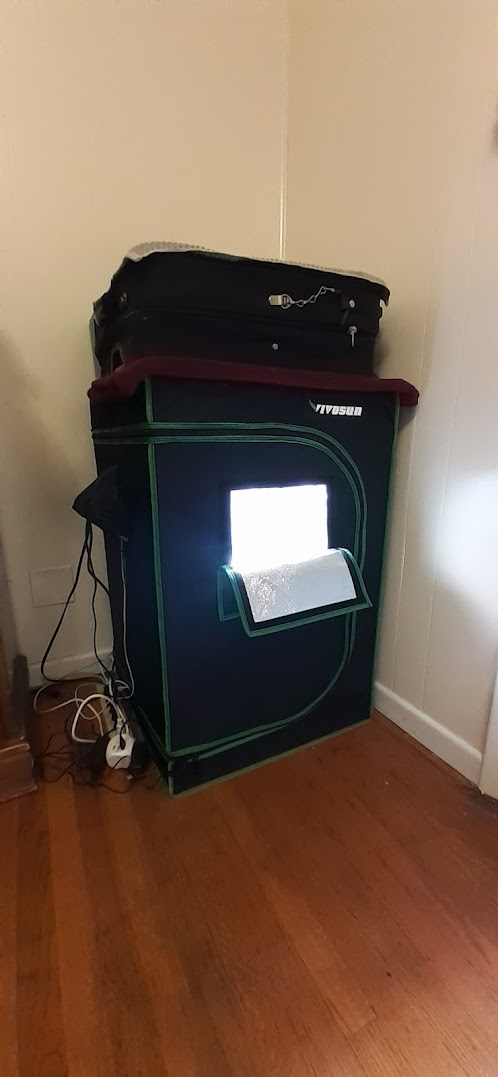 ---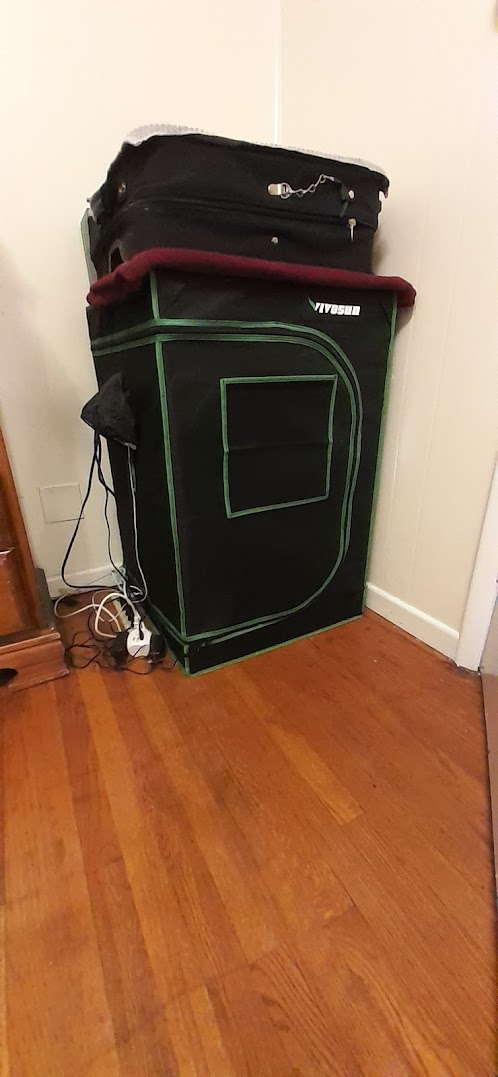 ---
Someone looking at this photo might ask "Why is there a luggage bag sitting on top of your grow tent?"
I'll answer this question with the last photo in this post.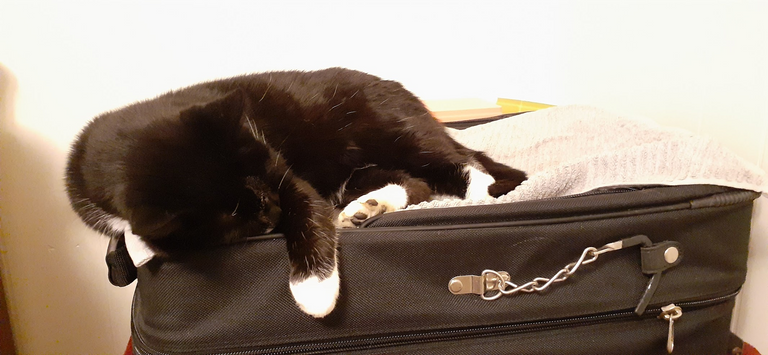 ---
Covid the kitty decided about a month ago that the top of the grow tent was his new place to sleep. Good luck telling him no when he's made his mind up about something.
He's a very wild cat and does what he wants. I don't mind a single bit, but I don't want him to hurt himself or break the lights. He's a big boy who eats about six times a day and is not overweight but quite heavy.
So to keep him happy and safe, I put the luggage bag up on top with a towel for both his comfort and for his shedding, and that makes him more comfortable and easier to clean up after.
That will do it for this indoor garden update.
I would love to read your thoughts in the comment section below!
Your time is a valuable commodity and I always keep this in mind and do my best to respond to everyone.
Thanks for stopping by, have a great day! -@futuremind
---
---