Homemade Humidifier For Indoor Cannabis Gardening

---
Hello Everyone,
Today I made this homemade humidifier for my indoor cannabis garden.
The humidity in my tent was reading pretty low, and I couldn't think of any great ways to raise the humidity in there other than boiling pots of water on my stove all day, effectively increasing my gas bill.
A humidifier is not something I wanted to purchase, and I like to make my own things anyway when I think it might be possible.
For this project I used a pretzel container that I hoarded for future use, a five volt motor that I wired to a cell phone charger, and an ultrasonic atomizer vaporizer (mist maker.)
I had to purchase the mist maker online, which was the only necessary purchase. These can be found relatively easy and are used for things like foggers for parties, fish tanks, gardening, general in home humidifier solutions, and maybe even some other things that I'm not thinking of while typing this. They are relatively cheap, running ten to fifteen dollars per unit for the small atomizers. They are sold in different sizes, and there are some bigger atomizers on the market that come with heftier price tags.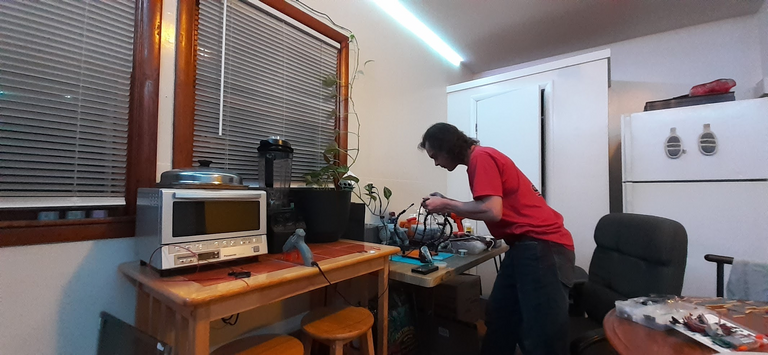 ---
It was a relatively easy soldering job, just basic wire connections. It's been a while since I broke out the soldering gun, so I was pretty excited about this small home project.
When all is said and done, I see this humidifier as a temporary unit, because I want to make something a little more durable, with a better fan, and a hose attachment so that I can have it outside of my tent.
For now this should work as a good temporary solution to raise the humidity in my cannabis tent.
Thanks for stopping by.
Your time is a valuable commodity, and I always keep this in mind and do my best to respond to everyone.
Have a great day! -@futuremind
---
▶️ 3Speak
---
---