Foundation courses. Ch.1 Lecture 4: Plant Physiology & Biochemistry
---
Soil Food Web Foundation courses
Ch.1 Lecture 4: Plant Physiology & Biochemistry
---
---
Ok, the previous posts I included more information about reference links and more detailed course descriptions than I probably should have. This is the 4th post on the 27 part lectures from the foundation courses that I have been doing. These posts are meant to encourage others to purchase these courses to further their education on regenerative agriculture by showing that it is possible to pass them, help myself refer back to these note as well as help myself learn better by typing everything out.
Are these posts encouraging you to do anything I mentioned above? Are you learning from them? I want to know what you are getting out of them?
These post are definitely helping myself pass these quizzes and better understand the material presented.
As usual, here is a video for the cannabis community who I have found to be the more active growing community on social media. This video is about the subject on todays lecture.
---
---
The growing cycle of plants.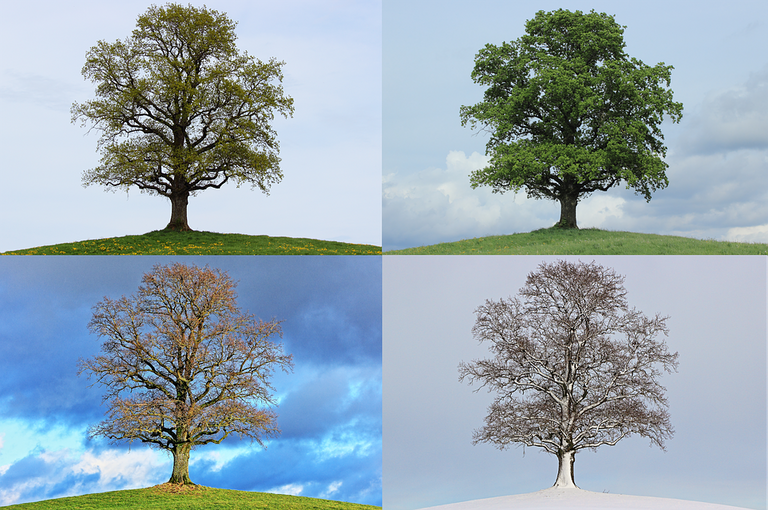 Source
Winter or the season that is less active if for example you are in a tropical environment. (Dormant period)
All nutrients are stored in roots. As temperature and moisture becomes more optimal the nutrients are then mobilized into new growth for the plant.
Phosphates are stored in root membranes.
Nitrogen is stored in roots as a protein.
Potassium is stored in cell walls of the roots.
Carbon is stored as a starch in the roots.
Spring
As it starts to warm up the Plant will start to make compounds to help start to mobilize nutrients. New growth is concentrated with nutrients that was stored in roots. Typically high C:N ratios are found in plants in the beginning of spring ie 10:1 instead of 30:1 (The ideal ratio for C:N we want in plant tissues). As plant start to grow the C:N ratio in plant tissue will even out. Root system will start working on nutrient cycling process.
Summer
Plant will start to form flowers. The shoots for the plant that are forming flowers typically will have 60:1 C:N ratios in tissue as opposed to the flowers which will typically have 30:1 C:N ratios. Depends on plant species. The seeds will have more priority given to them over other parts of the plant and will allocate more nutrients to the seeds than other part of the plant, this will cause disease and pests if nutrient cycling is not being implemented properly during this phase.
Fall
Plant will start to get ready for the dormant season and start to reallocate nutrients back into the roots. When this happens the C:N ratio of the plant tissue typically has a 150:1 - 200:1 ratio. Dead leaves will fall to the ground and the wide C:N ratio of dead leaves will be fungal food.
How far down into the soil can the roots go?
The plant DNA will determine how far down the plant roots can go. Having good structure to the soil is influential, compaction caused by humans is typically a limiting factor. Will have weeds if soil is compacted. Trees will compete with grasses and shrubs. Well structured soil will prevent compaction, disease and weeds. Common misconception is if cutting off tops of plants will cause the roots to drop off, this is incorrect. Exudates will be released by the plant into the soil for Fungi and bacteria for nutrient cycling to regrow plant. Cutting tops of plants, like mowing or grazing too soon, will stress the plant though and cause unnecessary disease and pest pressure.
If you are seeing disease in a plant it will typically be from lack of root structure/depth, soil structure and most importantly soil biology ie fungi, bacteria, and predators and prey from soil food web.
Anerobic organisms will produce alcohol in soil that will attract pests like slugs and snails.
If a plant is lacking nutrients it will be due to soil structure limiting the root growth.
Nutrient Availability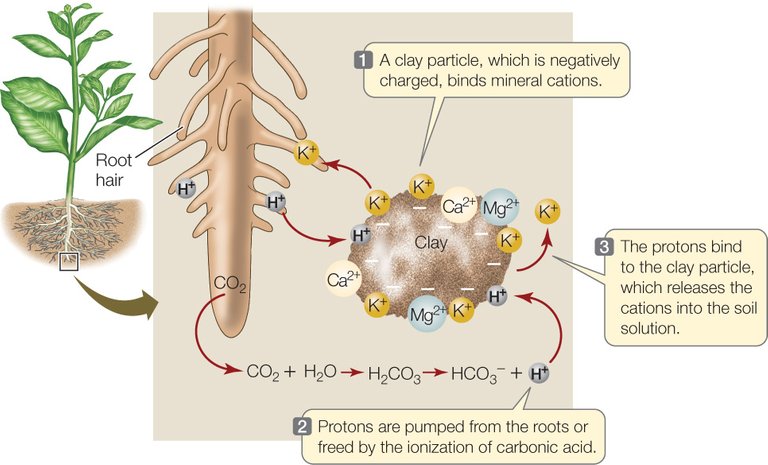 Source
Agronomists will say that as the root hairs is working it will release carbon dioxide from the root system then the carbon dioxide interacting with water will cause a release of a hydrogen ion. Slightly acidic soil will happen when you produce carbonates and then a hydrogen is released then will go to a soil particle. The hydrogen will cause a cation that was bound up by a negative site on the soil particle to be released into to the root system. This is not exactly correct and incomplete, There is a more modern way to view this. This does not explain where the nutrients are coming from. If you have a lot of a bacteria and fungi in your soil then this will process does not happen.
Without biology pH is the sole factor for nutrient uptake. Add Biology back into the soil than nutrition is no longer controlled by chemistry.
---
---
Quiz results for this lecture.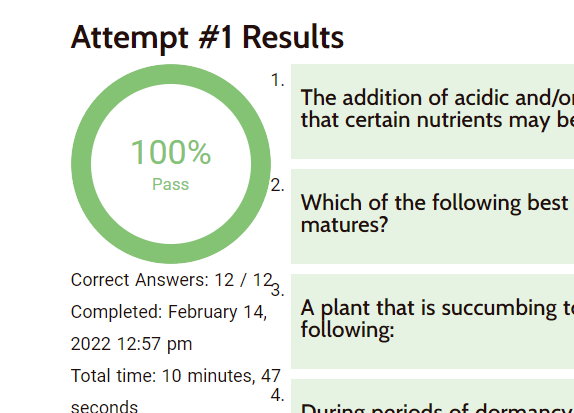 ---
---
Be Part of the Soil-ution!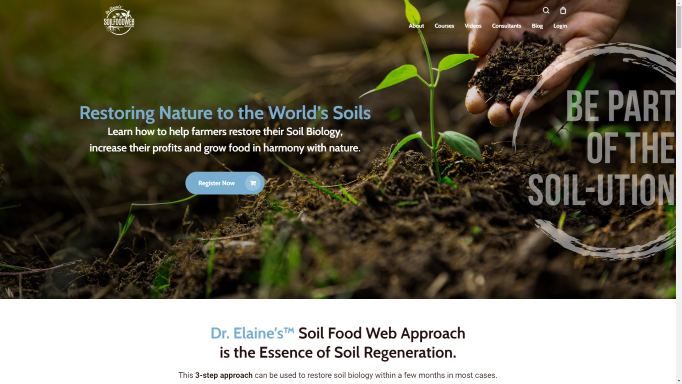 https://www.soilfoodweb.com/
---
How to develop knowledge and a career in regenerative agriculture with the Soil Food Web School!
From Dr. Elaine Ingham B.A. M.S. Ph.D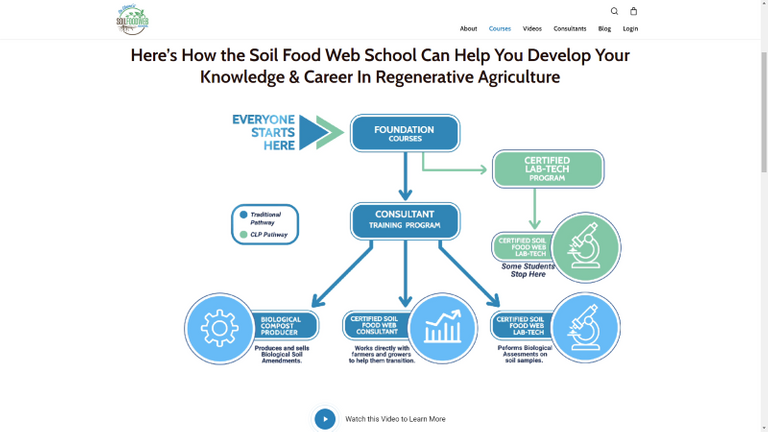 https://www.soilfoodweb.com/sfw-courses-overview/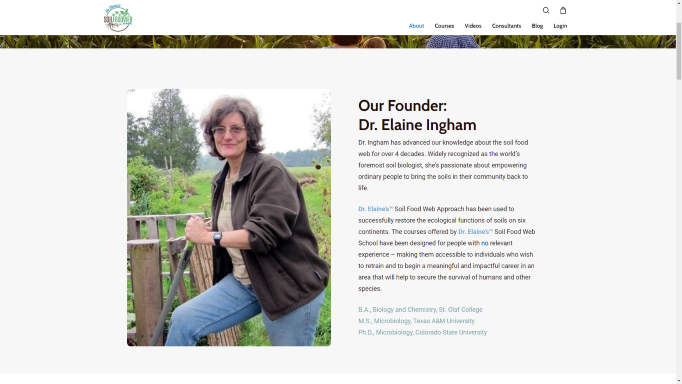 https://www.soilfoodweb.com/about/
---
Consultant Kickstarter Bundle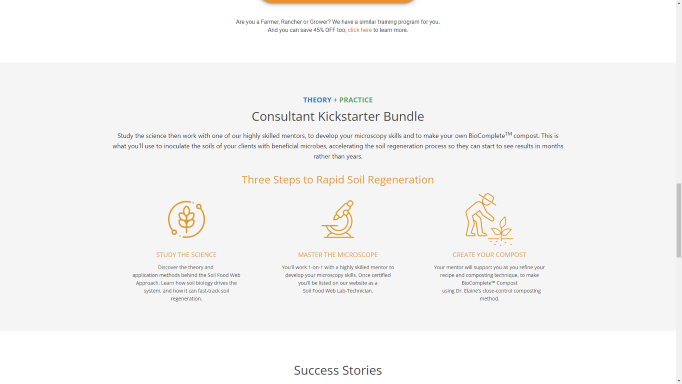 I am doing the Consultant Kickstarter Bundle for The Soil Food Web School
---
The First step is to Study the Science by taking the Foundation Courses: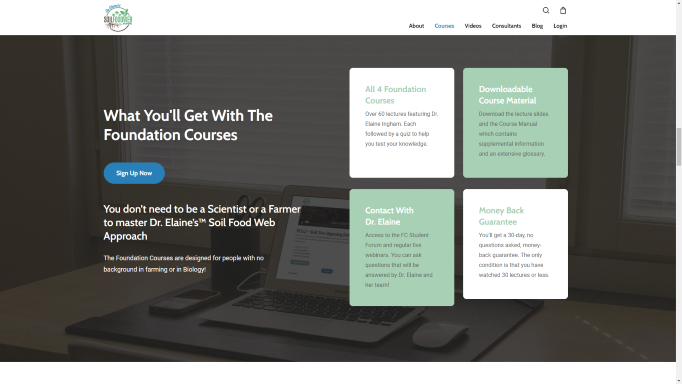 https://www.soilfoodweb.com/foundation-courses-2/
---
▶️ 3Speak
---
---