Mesquite Bean Pod Harvest!

Mesquite Bean Harvest
The Tree of Life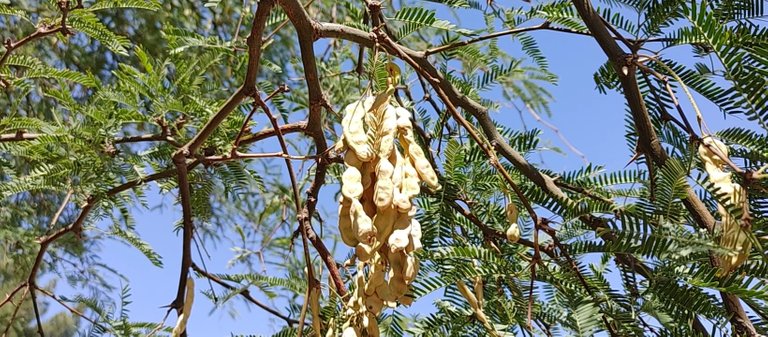 (Unsupported https://odysee.com/$/embed/Mesquitebean/7ec88821c571f4b0a1a74ff1400d5547c16b5f4b?r=AQU33WaNtbovkix97k8HJXB3KqNssLtY)
---
The mesquite tree next door recently just dropped most of its mesquite bean pods. I will take advantage of this event and gather all of the fallen mesquite bean pods to mulch them whole and apply as a top dress to mainly the cannabis plants and areas where there are earthworms that are hungry.
Macronutrient and Micronutrients in Mesquite Bean Pods
As I just mentioned, the earthworms will love the mulched mesquite bean pods! There is lots of fructose, minerals and protein in the mesquite bean pods and the earthworms will help the plants and microorganisms better utilize the micronutrients in the mesquite bean pods.
As far as micronutrients go, mesquite powder is an excellent source of potassium, with 100 grams of whole pod mesquite powder providing 29 percent of the Daily Value (DV) for this important mineral. Mesquite powder also provides 5.7 mg of iron, 253 mg of calcium, 69 mg of magnesium, and 2.7 mg of zinc per 100 grams.
Source
Fun Facts about Mesquite trees!
A little known fact about the mesquite tree is that it is a green legume, which means it helps to restore nitrogen levels in soil and provide an environment for life to happen in the desert.
They bear flowers that have five petals, then produce abundant large seed pods that serve as a nutritious food source for wildlife. Mesquites grow wide-spreading and deep-reaching root systems that host colonies of bacteria that can fix nitrogen, one of the minerals most important to plant germination and growth.
Source
All parts of the mesquite tree have been used by various Native American tribes all throughout history in the Americas. Even the root!
Southwestern Indians intelligently used all parts of the tree including the beans, bean pods, leaves, roots, trunk, limbs, bark, and gum…
Source
Hopefully, the plants and earthworms love this stuff. I'm expecting a nice fungal/mycelium bloom under the mulch I apply this to!
Thanks for stopping by! Please feel free to leave comments and questions.
---
---
My Youtube
https://youtube.com/channel/UCVFFVV4cNzKXjMbE04nU08A
My personal Instagram
https://www.instagram.com/taelorkahrs
dynamicsteemians discord
https://discord.gg/ufEcCJBU3K
---
---