Foundation Courses: Chapter 1: UNDERSTANDING SOIL. Lecture 1

---
Be Part of the Soil-ution!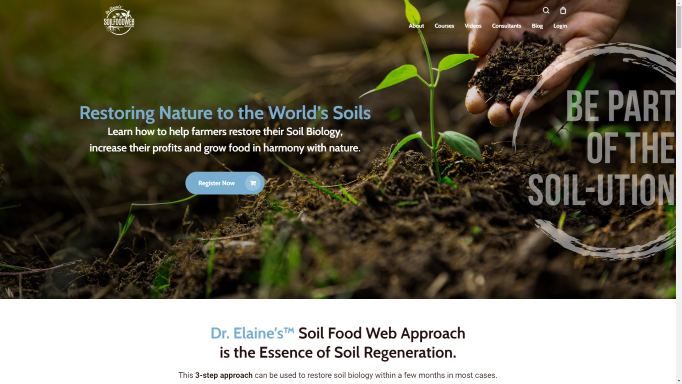 https://www.soilfoodweb.com/
---
How to develop knowledge and a career in regenerative agriculture with the Soil Food Web School!
From Dr. Elaine Ingham B.A. M.S. Ph.D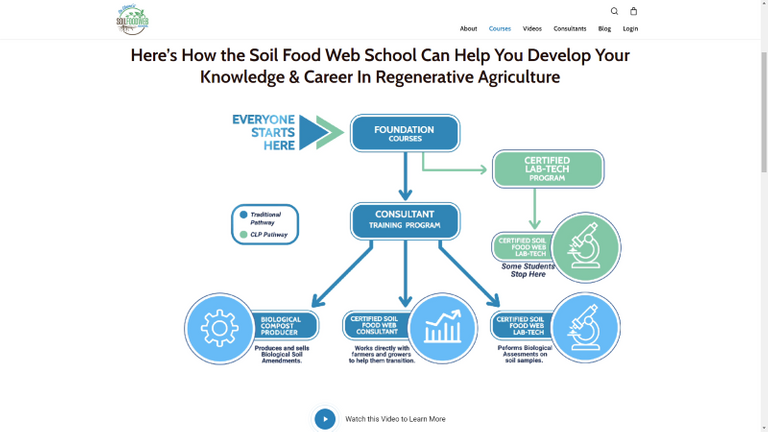 https://www.soilfoodweb.com/sfw-courses-overview/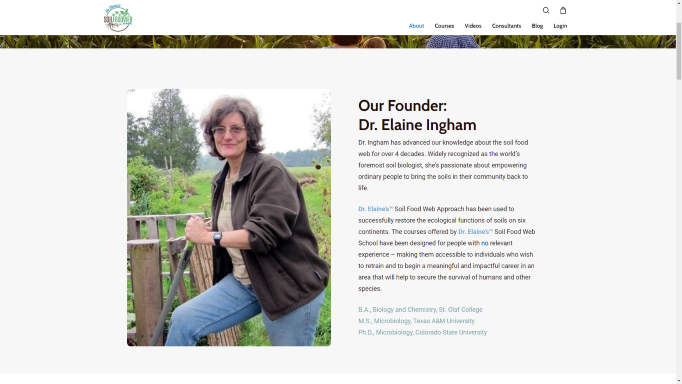 https://www.soilfoodweb.com/about/
---
Consultant Kickstarter Bundle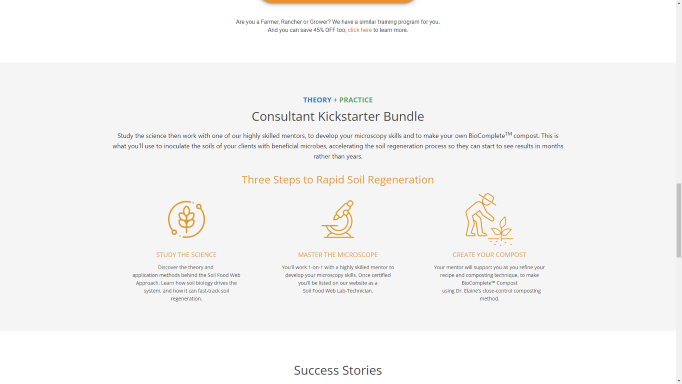 I am doing the Consultant Kickstarter Bundle for The Soil Food Web School
---
The First step is to Study the Science by taking the Foundation Courses: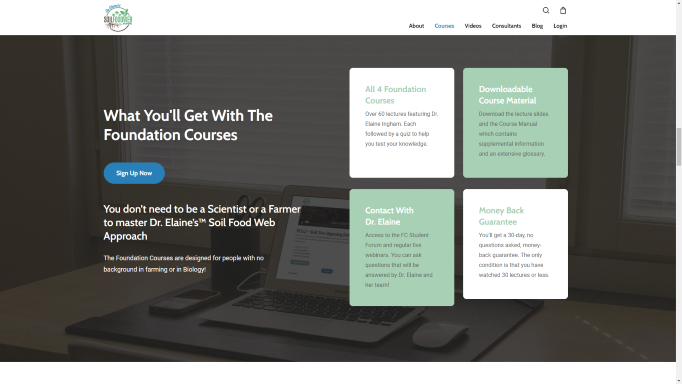 https://www.soilfoodweb.com/foundation-courses-2/
---
---
When purchasing the Foundation Courses, that is an online school, we have access to lectures and downloadable power point (.pdf) slides that correlate to each lecture. As much as I would love to share the lectures and downloadable files I will not because ya have pay for that. However, I will share the REFERENCES & FURTHER READING for this lecture later below in this post.
---
---
Chapter 1: UNDERSTANDING SOIL
---
Chapter 1, Lecture 1: SOIL - TWO DEFINITIONS
---
---
In this section, Elaine Ingham teaches us about:
Definitions of Soil
Soil Components
How Soil becomes Dirt
Case Study Examples
Because Cannabis growers seem to be the most common type of grower we might run into on Hive and in life, I will include this Future cannabis project youtube video as well on the difference between soil and Dirt. @skylinebuds
There is a difference between Dirt and Soil. We learn how micro-organisms and organic content is the key difference between Soil and Dirt. The one consistent is mineral content. By adding organic content and micro-organisms, to dirt we can make anything fertile again or rather into soil!
What is Soil? There are two definitions.
Hans Jenny, the father of Soil Science says there are three main components that make up soil:
1- Minerals: Sand, Silt, Clay
2- Organic Matter
3- Aerobic Organisms (Anerobic Organisms will kill your plants)
Chemical Industry trained Scientists and people with the Green Revolution states that Soil is:
1- Minerals: Sand, Silt, Clay, all properly balanced
Inorganic, soluble, minerals (NPK) must be added to this inert support matrix to supply plants with nutrients.
What are the Soil mineral components? i.e. soil texture:
Sand - 0.05 - 2 mm
Silt - 0.002 - 0.05 mm
Clay - less than 0.002 mm (Same size as bacteria. Clay has jagged/sharp edges. Bacteria has smooth edges)
We need perennial cover crops to prevent weeds and to also maintain the soil biology. Tilling of the Soil is the most common way used by farmers and gardeners alike to manage weeds. Tilling will destroy the microbiological life in soil and reduce crop production significantly.
In this lecture we learned how there is plenty of nutrients in any soil. Lack of microbiological life and tilling of the soils has caused famers and gardeners to use fertilizers that leach into our water tables and destroying the life in the soil in the process. There is no need use fertilizers at all when adding microbiological and organic content back into the soil.
Replenishing the biological life in your soil can keep you producing with your cash crop indefinitely while also increasing your yields. Typically in conventional farming methods there are periods of time (Fallow) where crop production is limited or not happening but not when using The Soil Food Web methods created by Elaine Ingham. Elaine has used her Soil Food Web methods to produce cash crops in 95% sand when conventional chemical scientists have said it was impossible. The organic matter and microbiological life can turn any soil texture in any combination of mineral, sand, silt, and clay, into a growable soil medium. The biology added to your dirt/soil will create structure for you as a grower/farmer.
Quiz after each lecture
I need to get a 70% overall on all the quizzes after each lecture in order to receive a certificate of completion. However, if I get a 90% overall for all the quizzes after each section I can continue on to the consulting program of the Soil Food Web School! This was the reason I stopped taking the classes last time; I was getting 7 out of 10 questions right and not 9 out of 10 questions. Let's see how I did on the first quiz.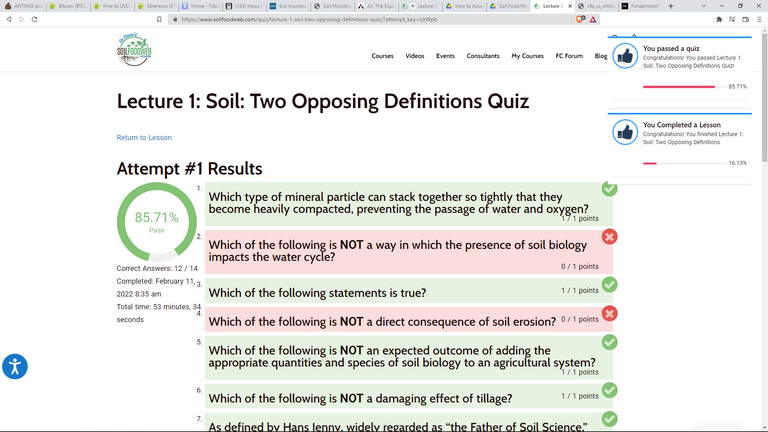 It is not the 90% I was aiming for but still 85% is still amazing and I can still push forward to get an overall 90% on all the Quizzes I still need to take. The School will even work with me to bring up my scores after I complete the entire Foundation Courses if needed.
If you can read and understand the science articles mentioned below, that are recommended to read with each lecture (section), than you are more than half way there to making the important decision in taking/purchasing the Soil Food Web School online Foundation Courses! Not reading these science articles was a mistake I made last time around!
REFERENCES & FURTHER READING:
Aboudi Mana, S.C., Mohd Hanafiah, M. & Khan Chowdhury, A. J. (2017). Environmental characteristics of clay and clay-based minerals. Geology, Ecology and Landscapes, 1(3), 155-161.
Chahine, M.T. (1992). The hydrological cycle and its influence on climate. Nature Publishing Group, 359, 373-380.
Crouse, D.A. (2018). Soils and Plant Nutrients, Chapter 1. In K.A. Moore & L.K. Bradley (Eds.). North Carolina Extension Gardener Handbook. NC State Extension, Raleigh, NC.
Finlay, R.D., Mahmood, S., Rosenstock, N., Bolou-Bi, E.B., Köhler, S.J., Fahad, Z., Rosling, A., Wallander, H., Belyazid, S., Bishop, K. & Lian, B. (2019). Biological weathering and its consequences at different spatial levels – from nanoscale to global scale. Manuscript under review. Biogeosciences Discussions.
Gianinazzi-Pearson, V. (1996). Plant Cell Responses to Arbuscular Mycorrhizal Fungi: Getting to the Roots of the Symbiosis. The Plant Cell, 8, 1871-1883.
Jansson, J.K. & Hofmockel, K.S. (2020). Soil microbiomes and climate change. Nature Reviews Microbiology,18, 35–46. https://www.nature.com/articles/s41579-019-0265-7 Johnson, D., IJdo, M., Genney, D.R., Anderson, I.C. & Alexander, I.J. (2005). How do plants regulate the function, community structure, and diversity of mycorrhizal fungi? Journal of Experimental Botany, 56(417), 1751–1760.
Johnson, D.C. (n.d.). Soil Microbes: Their Powerful Influence in Agroecosystems. NMSU Institute for Sustainable Agricultural Research (ISAR). [PowerPoint slides].
Koley, K.T., Shubha, K., Sundaram, P.K., Kumar, U. & Bhatt, B.P. (2019). Training Manual on Recent Advances in Horticulture and Post-harvest Technologies for Livelihood Security. ICAR Research Complex for Eastern Region, Government of India.
Napieralski, S.A., Buss, H.L., Brantley, S.L., Lee, S., Xu, H. & Roden, E.E. (2019). Microbial chemolithotrophy mediates oxidative weathering of granitic bedrock. Proceedings of the National Academy of Sciences,116(52), 26394-26401.
Sparks, D.L. (2017). Environmental Soil Chemistry. Elsevier Science, San Diego, ISBN:9781483289205 Stoorvogel, J.J., Bakkenes, M., Temme, A.J.A.M., Batjes, N.H.& ten Brink, B.J.E. (2017). S-world: A Global Soil Map For Environmental Modelling. Land Degradation & Development, 28, 22-33.
Suter, J.L., Groen, D. & Coveney, P.V. (2015). Chemically Specific Multiscale Modeling of Clay–Polymer Nanocomposites Reveals Intercalation Dynamics, Tactoid Self-Assembly and Emergent Materials Properties. Advanced Materials, 27, 966-984.
Treseder, K.K. (2008). Nitrogen additions and microbial biomass: a meta-analysis of ecosystem studies. Ecology Letters, 11(10), 1111-1120.
Ulrich, A.E. & Frossard, E. (2014). On the history of a reoccurring concept: Phosphorus scarcity. Science of the Total Environment, 490(2014), 694–707.
---
▶️ 3Speak
---
---