Foundation Courses. Notes for Ch. 2 Lecture 8 – Disease Suppression
Notes for Ch. 2 Lecture 8 – Disease Suppression
---
Well I got 2 wrong out 12 on this quiz. One question I misread and missed a key word, maybe was too early in the morning to take quiz. The other question I challenged so we will see if I ever get a response to my challenges as I do not seem to be getting responses to them. I still have a overall 92% for the Foundation Courses so I am still on track for the consulting program.
Quiz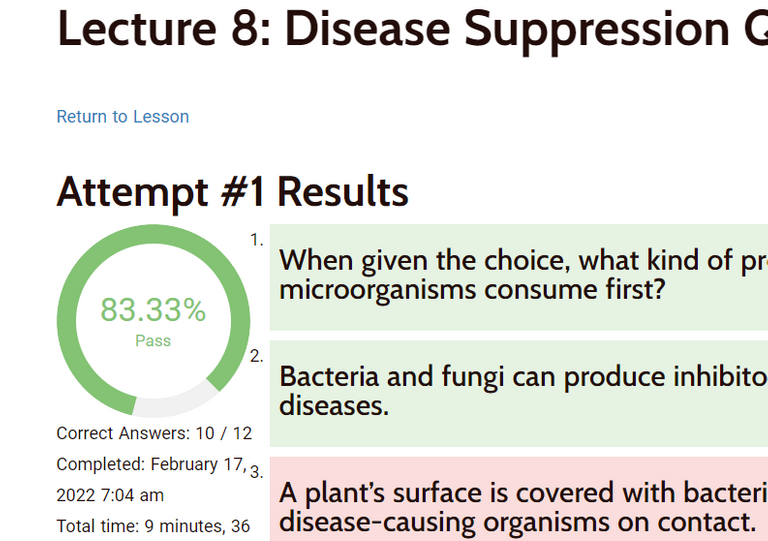 ---
Here are a couple of videos from the Soil Food web foundation and people associated.
---
Plant stress
Why does disease and pests attack plants? What can we do to prevent disease and pests?
Disease causing nematodes, fungi, disease causing bacteria and disease causing protozoas require reduced oxygen environments. We need aerobic soil structure to prevent these conditions. We need a protective layers of beneficial microbes to be present on all plant surfaces. Higher trophic level predators (nematodes, protozoas, arthropods, earthworms etc.) will help keep everything in balance to ensure a healthy aerobic soil condition. Exudates from the plant will help support the beneficial organisms.
Beneficial bacteria and fungal hyphae will be needed on all plant surfaces: roots, bark, branches and leaves etc. This is also known as a protective barrier aka castle wall. Every single species of bacteria will create its own particular mix of glues and alkaline materials. Will always have a pH greater than 7. pH will be determined by a particular bacteria species. Plant exudate will determine type of bacteria attracted.
The fungi puts out organic acids. Shadow microscoping will determine be best to determine if complete coverage is happening with fungi and bacterias.
Fungi and bacteria protects the plants through competition, consumption, and inhibition.
Competition
Beneficial bacterias and fungi will always out compete diseases and pest in aerobic conditions for space on the plant surface and for nutrients found in the enzyme pathways. Must ensure plant surfaces are completely covered in micro-organisms Must keep conditions aerobic. Make sure the beneficials are in the soil/on plant.
Consumption
The aerobic predators (bacteria, fungi, nematodes, protozoas, etc.) will hunt and consume all diseases and pests and will consume the bad guys first. Must keep conditions aerobic while making sure the beneficial predators (nematodes, protozoa, arthropods etc.) are present.
Inhibition
Certain species of bacteria and fungi will produce antibiotics to prevent competition from other species of organisms. These chemical interactions are on a small scale in the soil and plant surfaces. The release of these antibiotics are very specific to the location of where the organisms are growing.
Protective organisms are carried by beneficial organisms such as earthworms, arthropods, spiders etc. Must have healthy environments to ensure these taxi cab organisms are carrying healthy micro-organisms.
Beneficial organisms need food; exudates. Soil conditions must be aerobic and beneficial insects must be present (higher trophic organisms). Nutrient cycling micro-organisms (fungi/bacteria) will be working overtime.
Oxygen conditions. Aerobic, Facultative and Anaerobic
Aerobic conditions are when energy efficient decomposition enzymes are present. Enzymes require oxygen above 6 milligrams per gram.
Facultative organisms are not making energy efficient enzymes. They make both anaerobic and aerobic enzymes in order to exploit shifting oxygen conditions.
Most human pathogens fall in this range of organisms

Most disease organisms fall into this range

Makes two sets of enzymes. Double the energy spent so not efficient.
Anaerobic organisms create energy efficient decomposition enzymes. Enzymes require oxygen below 4 milligrams per gram.
Dealing with pests.
Check the life cycle of the pest via the internet.

We get four chances to eliminate pests.

Where are the eggs laid?
When do the eggs hatch?
Where does the larvae hang out?
When does the larvae turn into adults?
Disrupt one or all of these points
We do not want to kill all the pests. Sometimes the pest is beneficial in certain parts of the life cycle of pests.
Sometimes a plant will attract pests to it because it is stressed. Typically pests will find a sick unhealthy plant not protected by the protective bacterial/fungal wall of glues.
When a disease or insect is seen on a plant, look at your field conditions. Also, look at leaf with the microscope: Pathogens? Mite? Thrip?
After applying Beneficial organisms back to field/ plant re-examine after to see if everything is covered with the beneficials.
The pest control process
Eggs of pests are typically protected inside leaf tissue. Coat the leaves with fungi and bacteria that will attach to the nymphs as they leave the plant tissue.

During the 4 to 5 days of feeding we should probably apply already germinating fungal spores that will turn the nymphs into a fungal ball within days.

When the nymphs drop to the soil, drench the soil with fungi and bacteria that decompose the pupae.

Add just germinated spores of Beauvaria, Milky spores, or other local species of fungi that will attach itself to the insect to grow into and decompose the insect.

Apply just germinated decomposer fungi that can decompose the just hatched adults as the adults begin to fly.

Best thing to do ultimately is to ensure the biology is back into the soil so that the healthy plant will not be subjected to insect or pathogen attacks.
---
---
Be Part of the Soil-ution!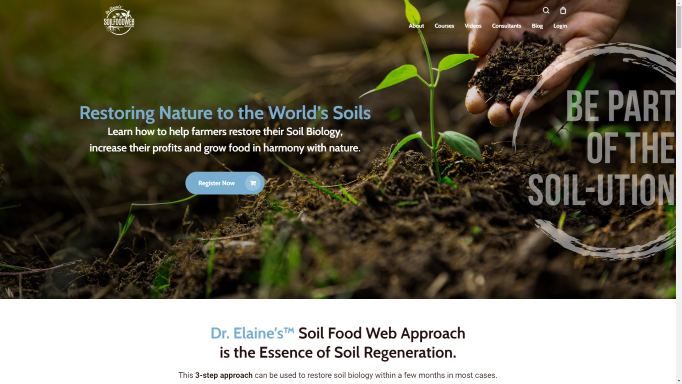 https://www.soilfoodweb.com/
---
How to develop knowledge and a career in regenerative agriculture with the Soil Food Web School!
From Dr. Elaine Ingham B.A. M.S. Ph.D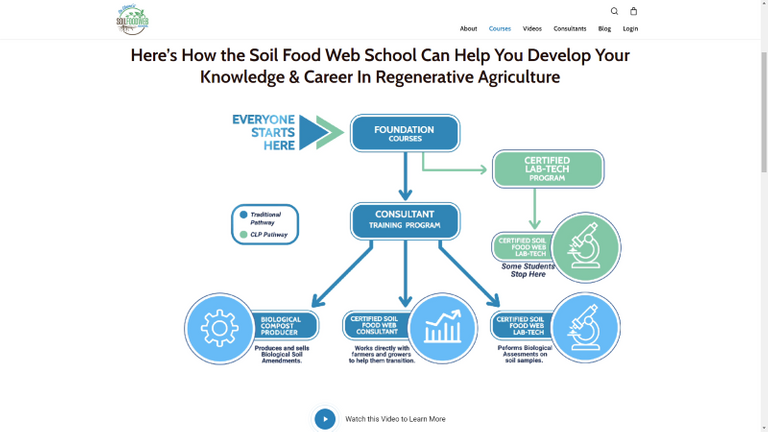 https://www.soilfoodweb.com/sfw-courses-overview/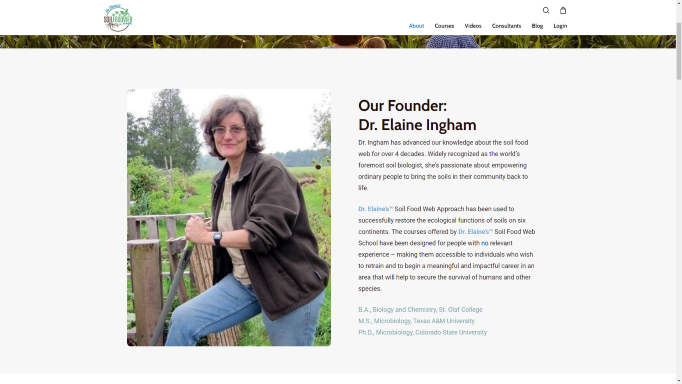 https://www.soilfoodweb.com/about/
---
Consultant Kickstarter Bundle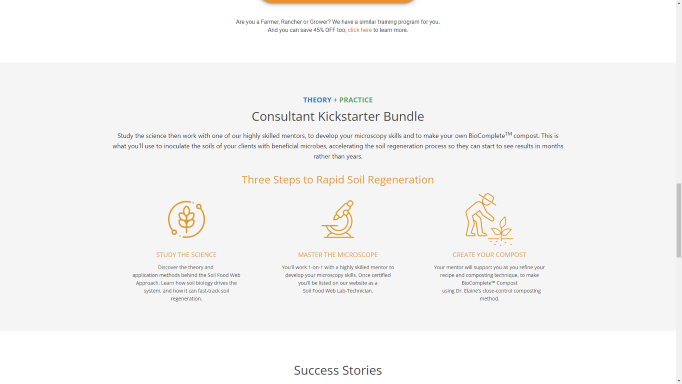 I am doing the Consultant Kickstarter Bundle for The Soil Food Web School
---
The First step is to Study the Science by taking the Foundation Courses: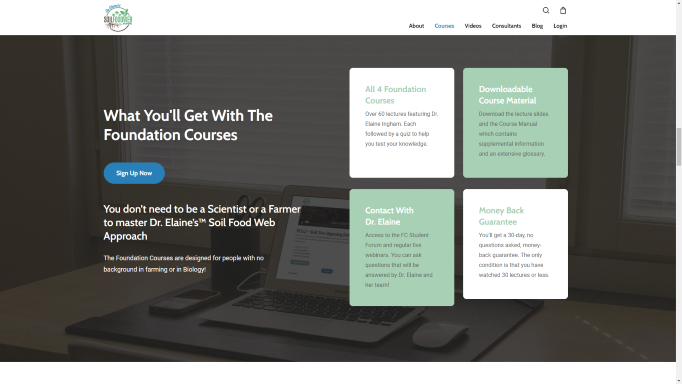 https://www.soilfoodweb.com/foundation-courses-2/
---
---