Cannabis! 9-27-2022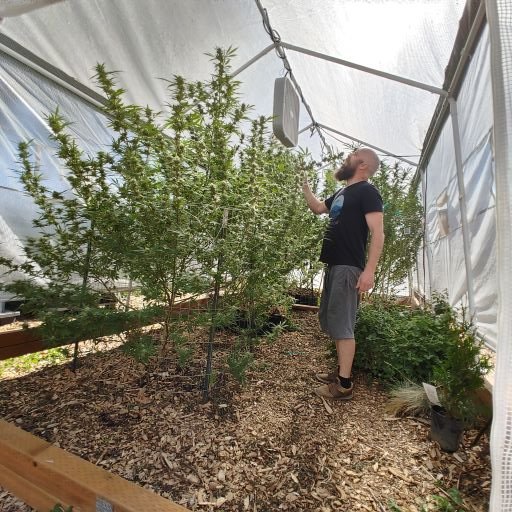 It has been a while since I last posted a cannabis post. For over a month now, I have been turning and managing thermophilic compost piles for The Soil Food Web School's Consultant Training Program.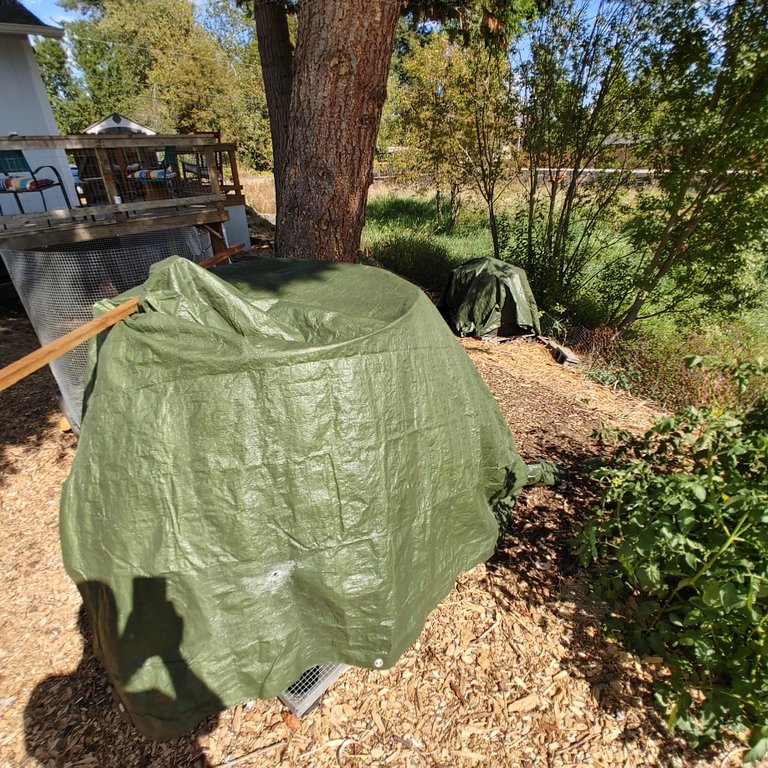 The compost pile closest to us (CTP pile #2) in the picture is the first of two successfully made compost piles I did in the last month. It will not cool down and keeps heating up which means I need to keep turning this hotter than desired pile. The temperature ranges are good though so hopefully it will calm down after the next turn in a couple of days.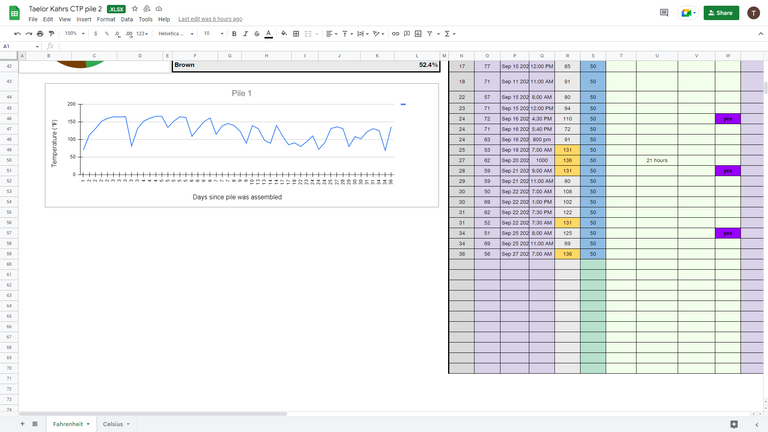 The other pile (CTP pile # 3) that is farthest pictured, both covered with a green tarp to help keep direct sunlight off them, is in the maturation process and should be done in a couple of weeks.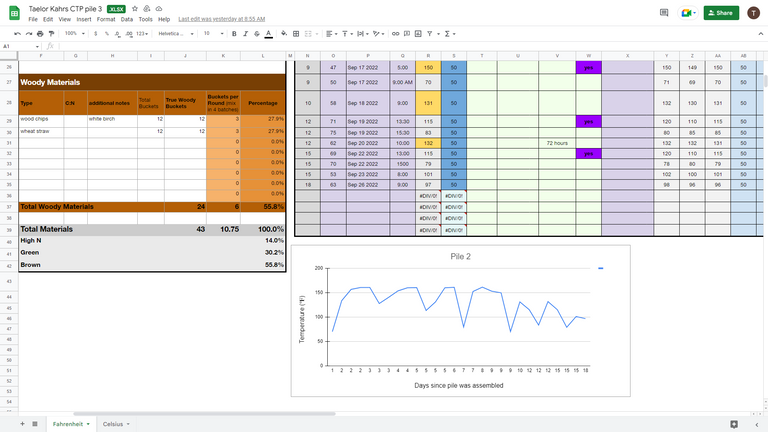 Over the past month we have had massive smoke and ash off and on polluting the area.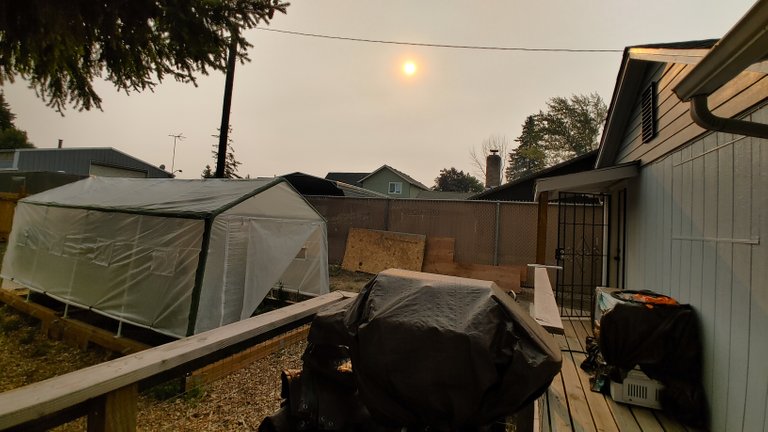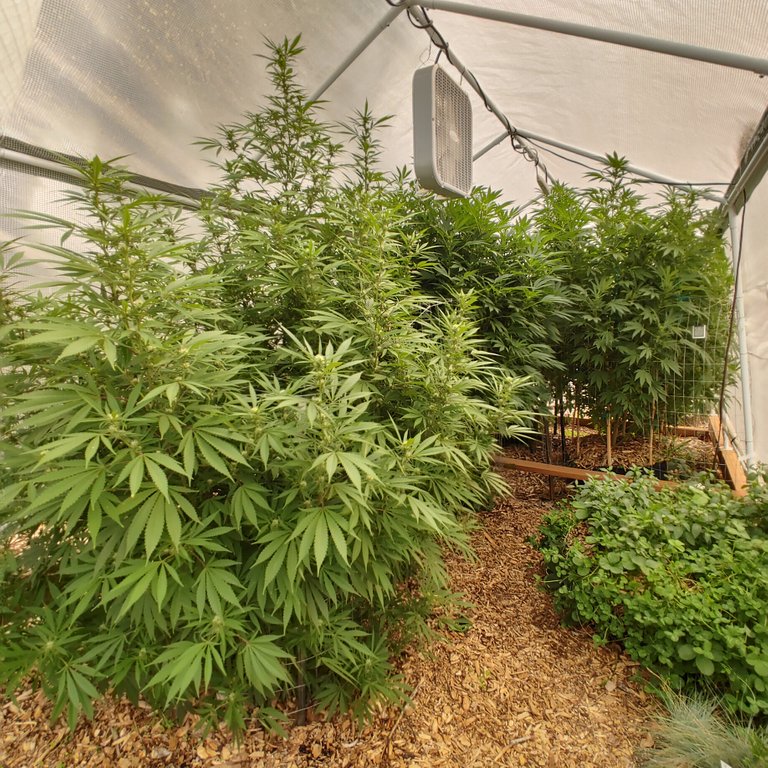 I guess because I do not expect any of the cannabis crop and being exhausted from the school, is why I did not de-leaf and do other preventative measures to help mitigate damage to the greenhouse. This is the first crop I have grown with someone where I am not asking for one bit of the crop. My friend, whose garden this is, has a pretty bad form of M.S. and needs everything he can get from this garden. I need the content and experience applying soil food web techniques in here not too mention experience growing in Oregon. Fair trade off in ways except I did spend way too much money on this garden.
My friend Scott in his garden!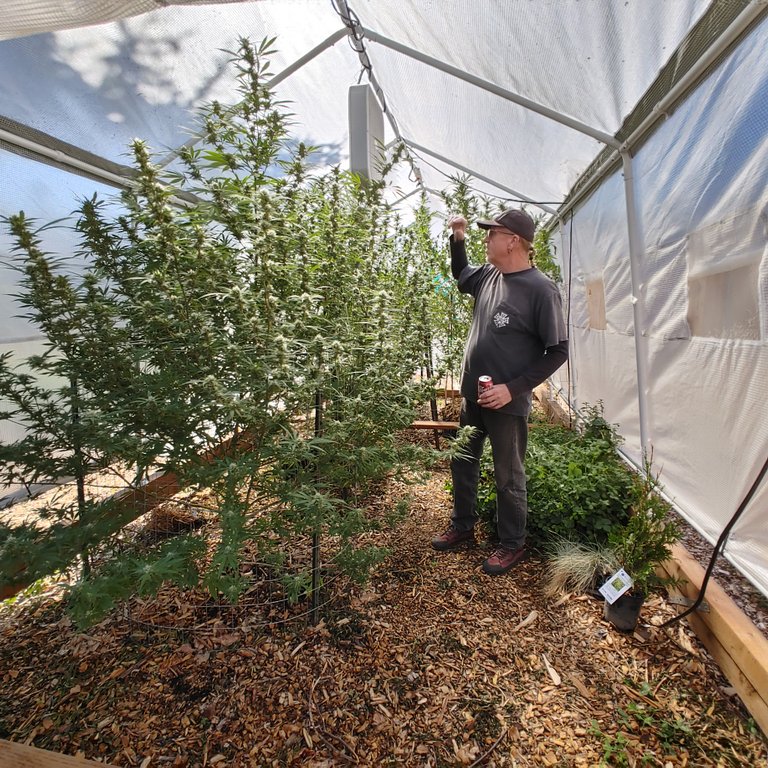 Fortunately and kind of not fortunately, most of the damage happened to the Mango Kush as it was a month further ahead in flower than the rest of the girls and needed to be de-leafed more than the other girls. The buds look and smell amazing on the Mango except for the bottom 2/3 s of most of the branches.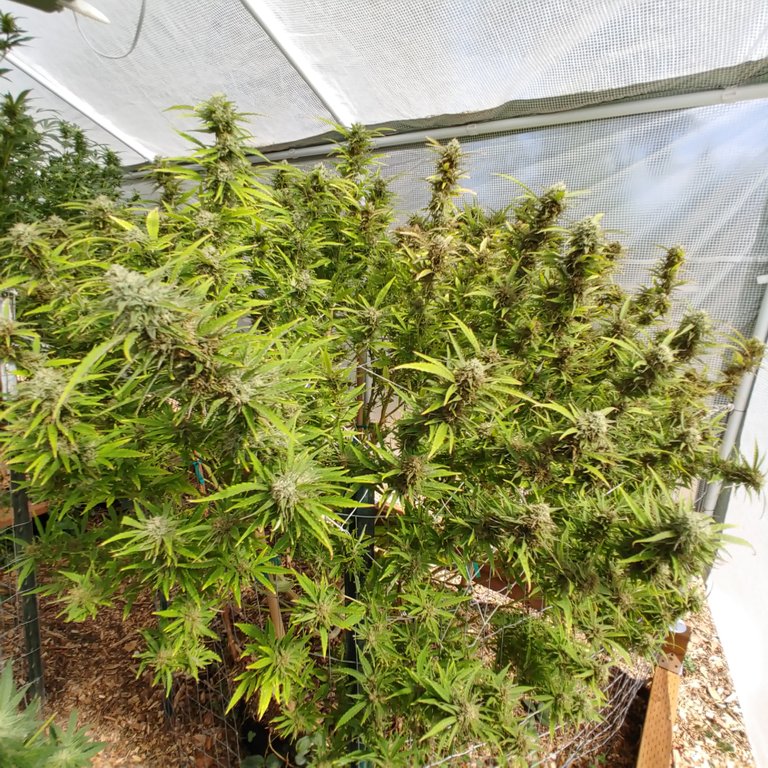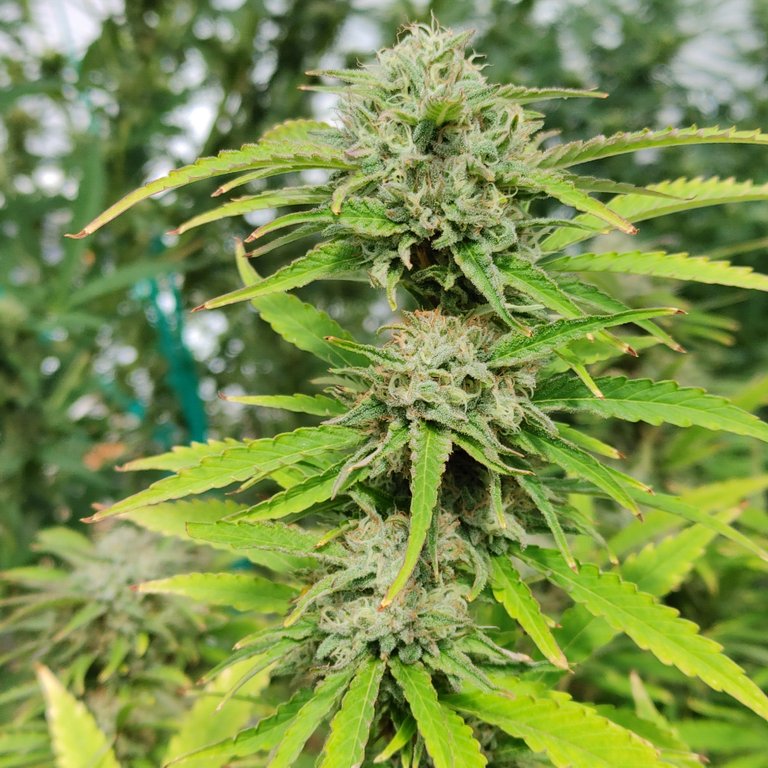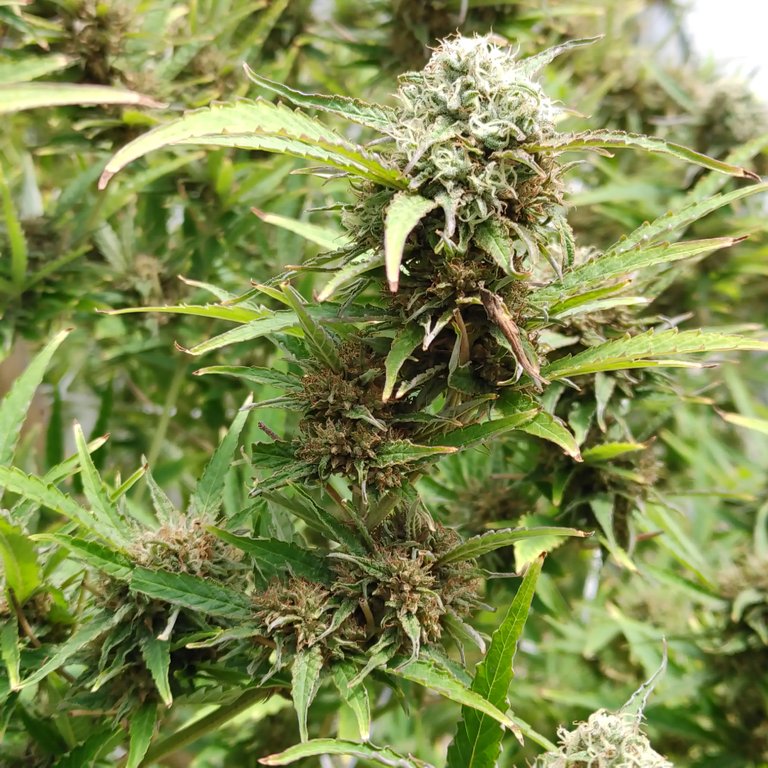 OUCH!
That was a lesson learned for sure, even though I knew better. Luckily, the four plants were not as far into flower and damage was mitigated for the most part. We spent days de-leafing and trimming off inside branches that had no buds.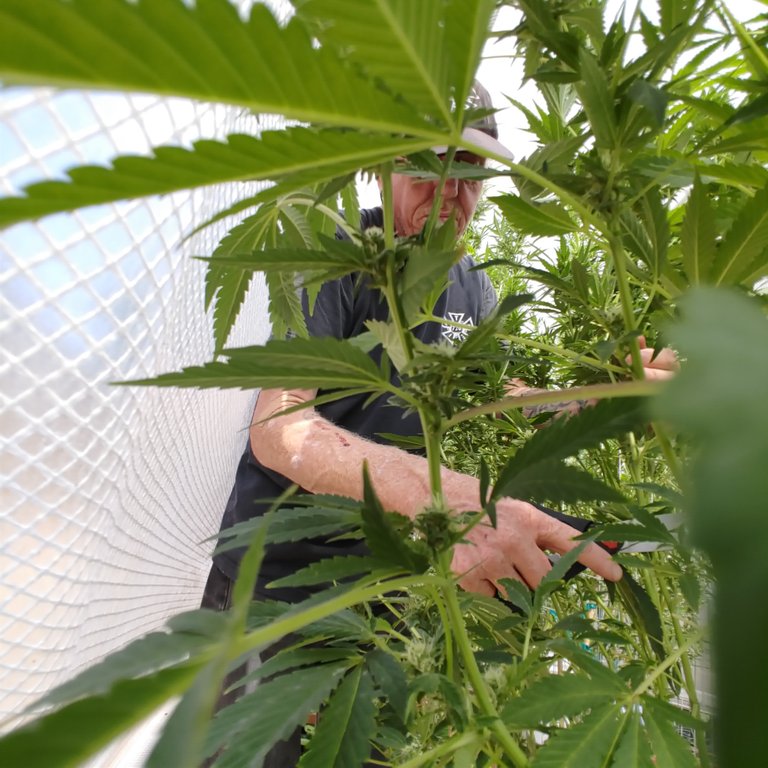 Right now the Mimosa aka Purple Mimosa, is our best plant overall. Great genetics apparently. The one issue with clones and buying them from dispensaries, is that you do not know if the grower is growing the plant to it's genetic potential. Often growers will stress out mother plants or cutting which can affect it's genetic potential in negative ways like being prone to disease or mold. This cut of the Mimosa was from clearly a great stock of cuttings, mother and grower. This plant alone is making my friend very happy. This plant alone will provide at least half or more of the smoke he needs for the year! Today, he told me great job. He is happy!
The Mimosa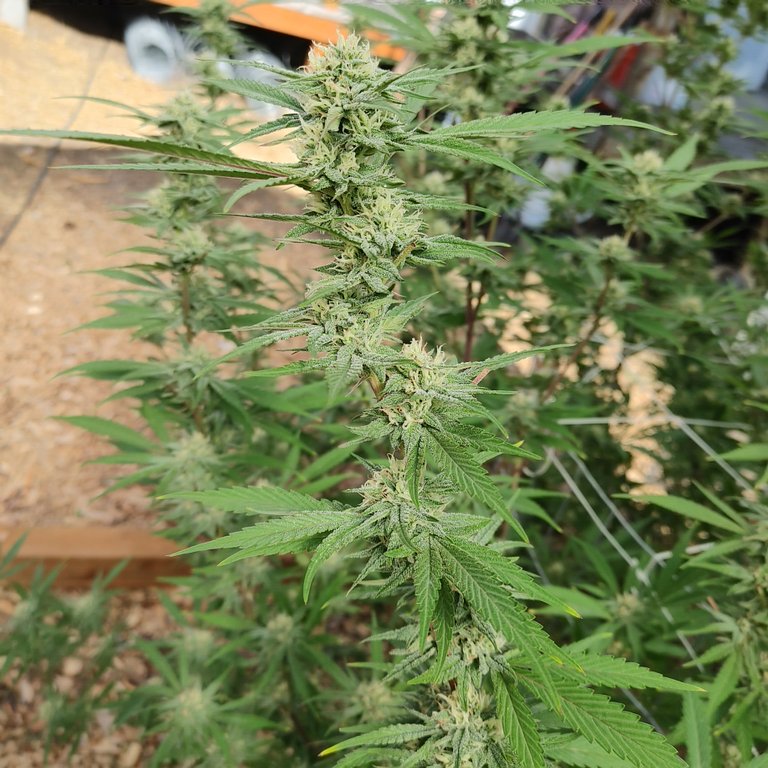 The White Tahoe Cookies is right next to the Mimosa and appears to be our weakest plant but still wants to produce last second. I am not too excited about cookie strains usually. They are known for great smoke, taste, looks etc but not YEILDS! We are also dealing with mildew on this plant particularly. Pretty annoying side effect of the smoke/ash and bad genetics but we will overcome it with OMRI fungicides, unfortunately. We might have to do a good ole fashion neem oil and sal soap suds but I want to avoid using neem oil unless absolutely necessary. Not a big fan of spraying oils.
White Tahoe Cookies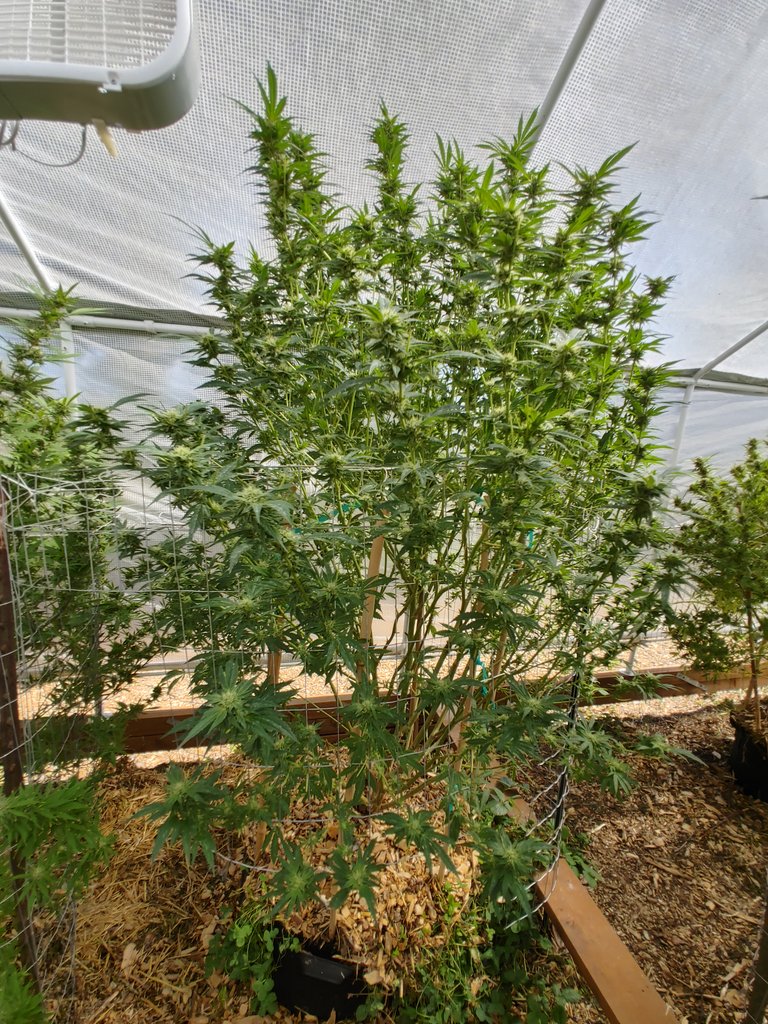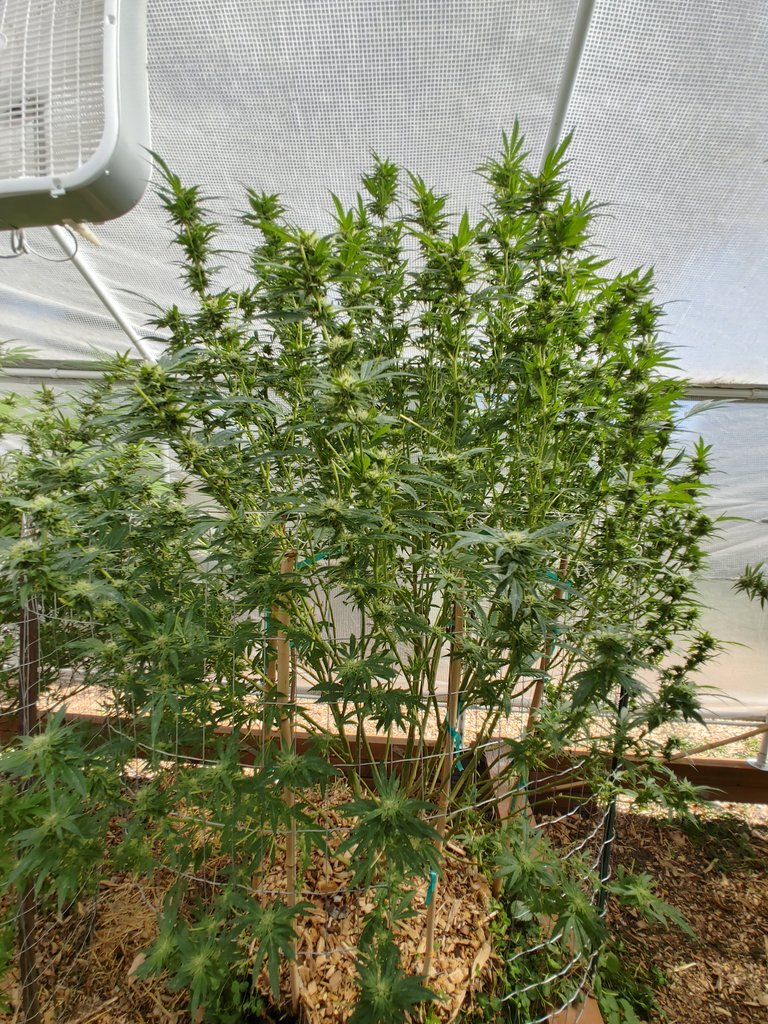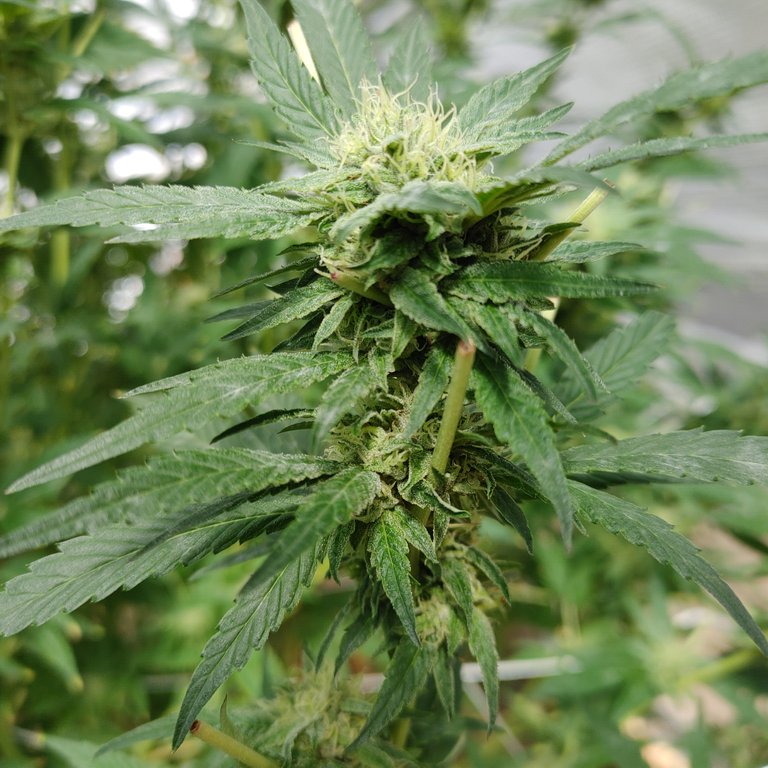 The Gorilla Glue # 4 Forum Cut is doing great really. Definitely is not going to yield like we were hoping. This was apparent once we were finished de-leafing. But still the buds are swelling nicely and still might get 2-3 lbs from it but who knows as one pound will be great really. She and the others have about 5-6 weeks left to go, god and weather willing!
The Gorilla Glue #4 Forum Cut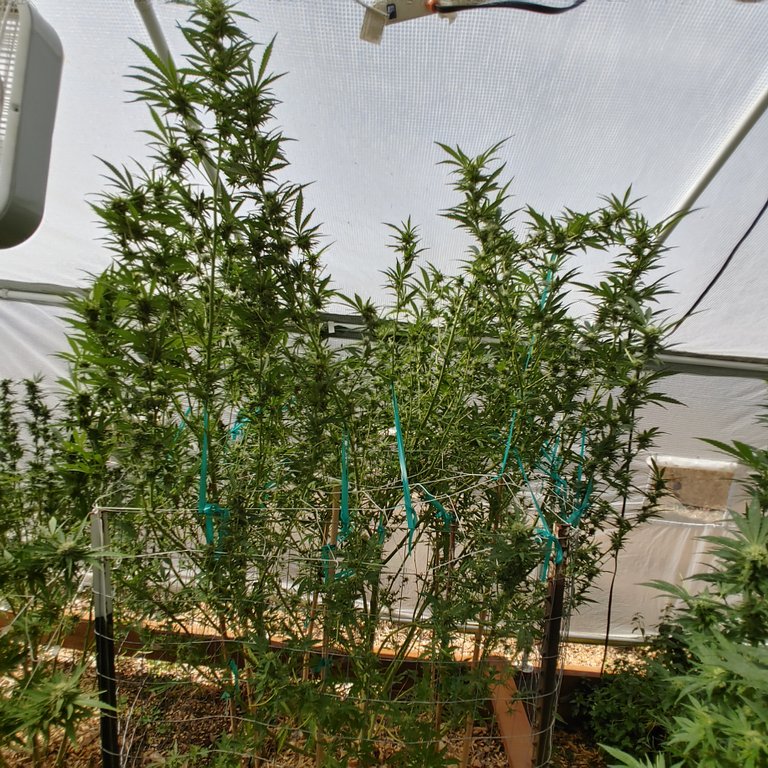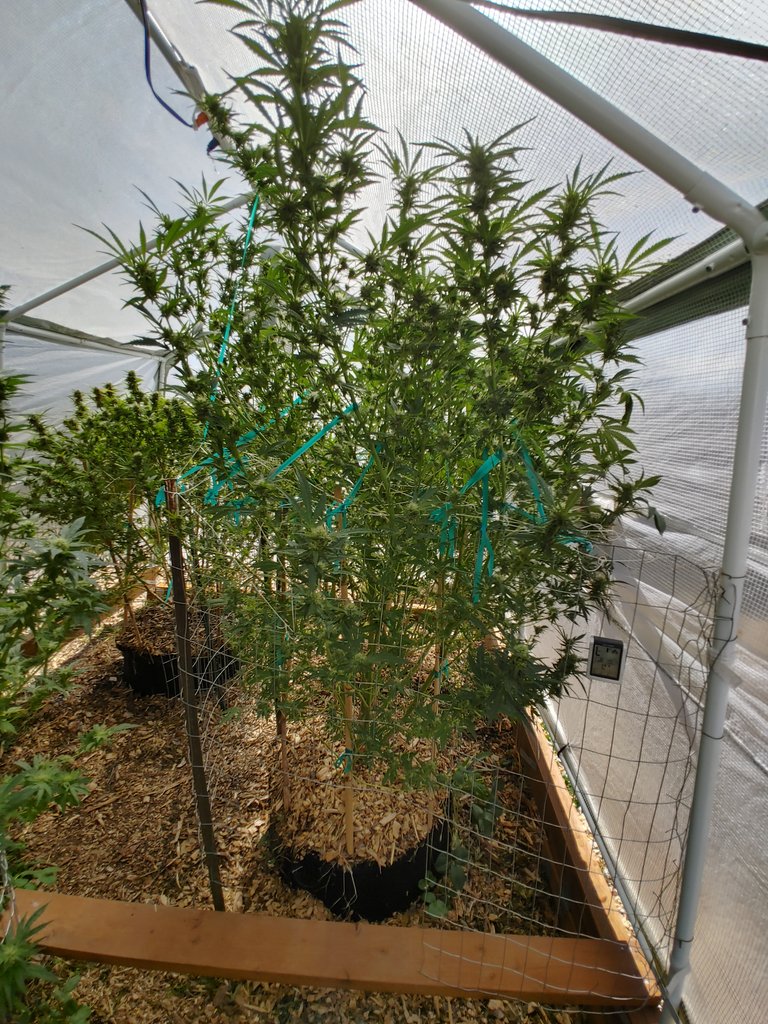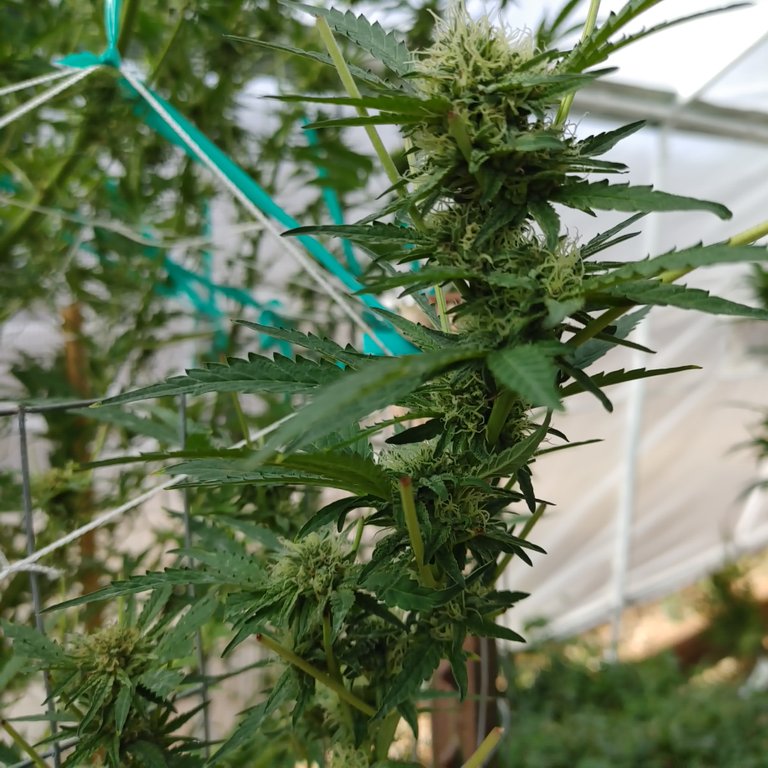 The Girl Scout Cookies Forum Cut is doing great in terms of healthy but again it is a Cookies strain. Which means everything amazing but yields. But in all reality this is first year soil and it takes a year or two to establish a good Fungal:Bacterial ratio in the soil. She smells like jolly ranchers!
The Girl Scout Cookies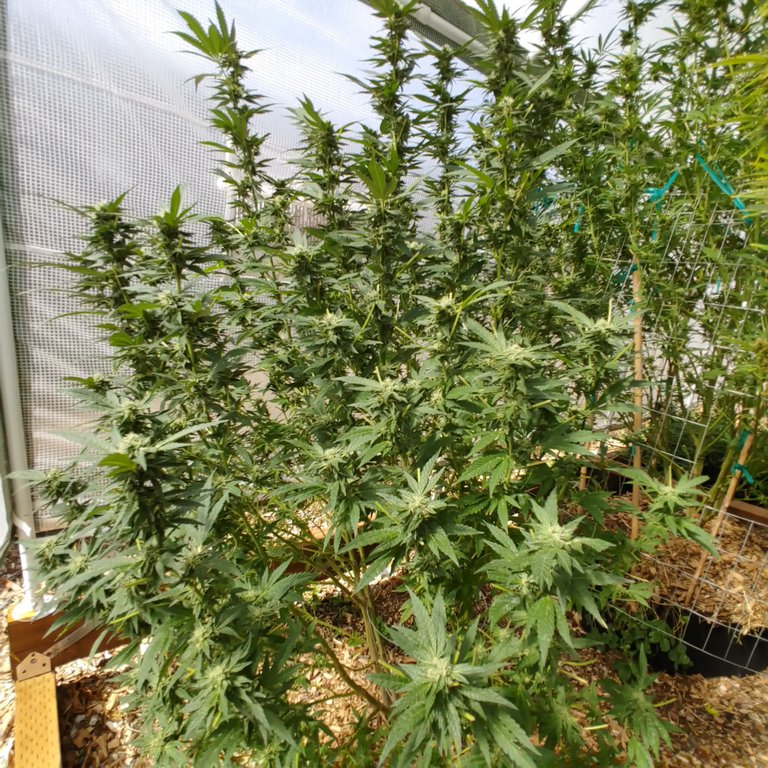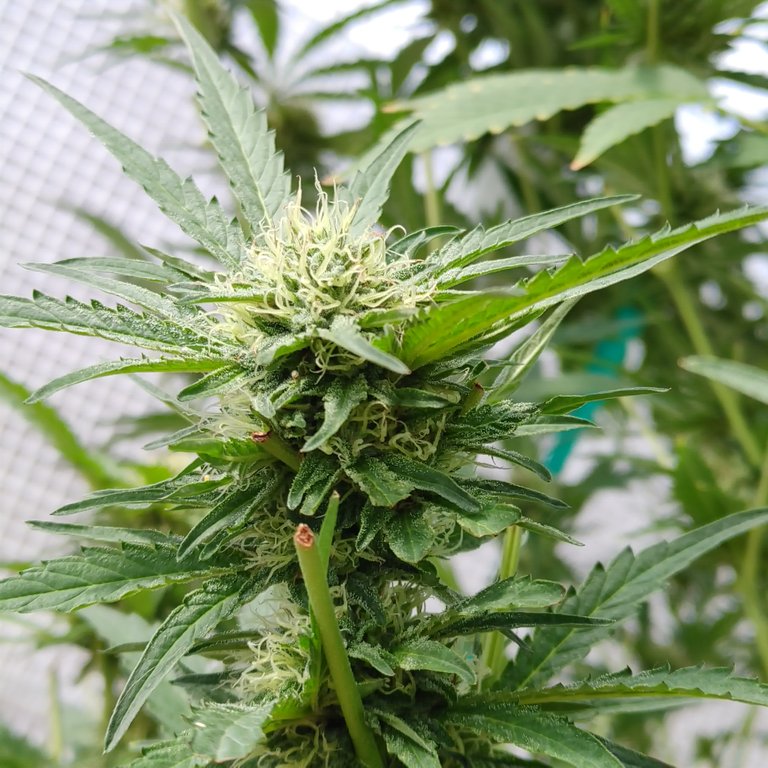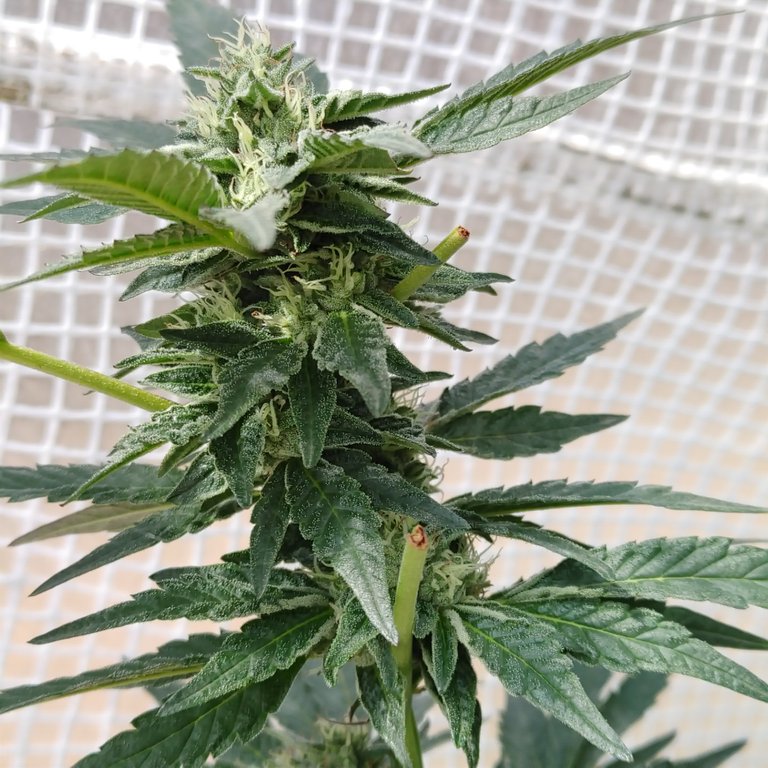 ---
---