#MyHiveGoals - Moving Up In March

I am using https://hivestats.io/ to track all my progress within Hive, I recommend you all to check HiveStats out and set some goals for yourselves!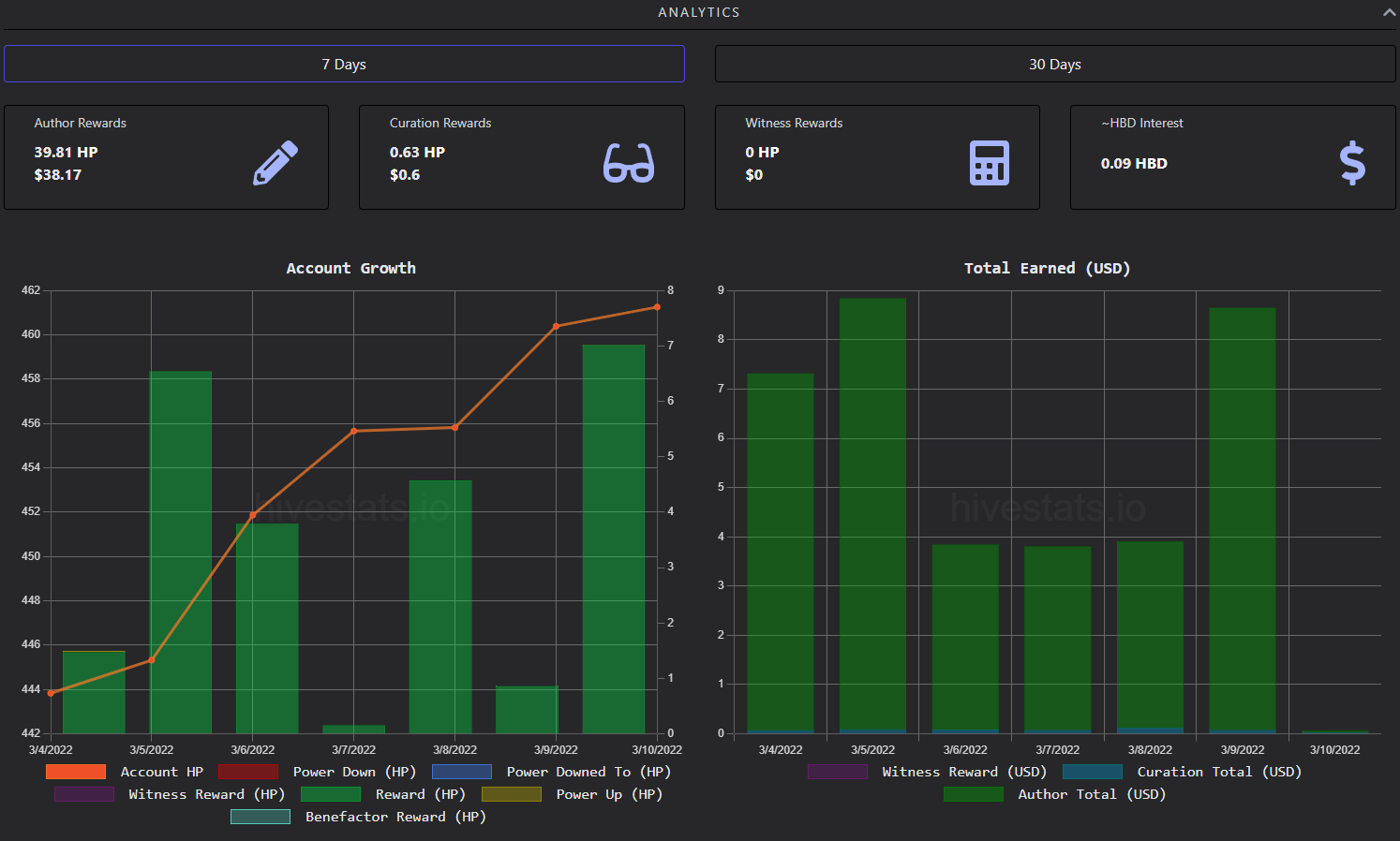 Hello everyone I hope you are all doing well! Another week of progression on Hive, time is flying by since I first signed up without a clue on how to go about operating in this space!
Met a lot of wonderful friends and communities since being here and I feel this is only the start of a long journey.
I passed the 450 HP range sometime during the week which is incredible, I'm currently sitting at 468 with the half a thousand milestone ahead! I don't plan on powering down or selling any Hive just continuously stacking to up my curation abilities!
I do enjoy upvoting content but my power struggles, the more I can increase my votes value the happier I'd be for others as I can finally reward back with something significant.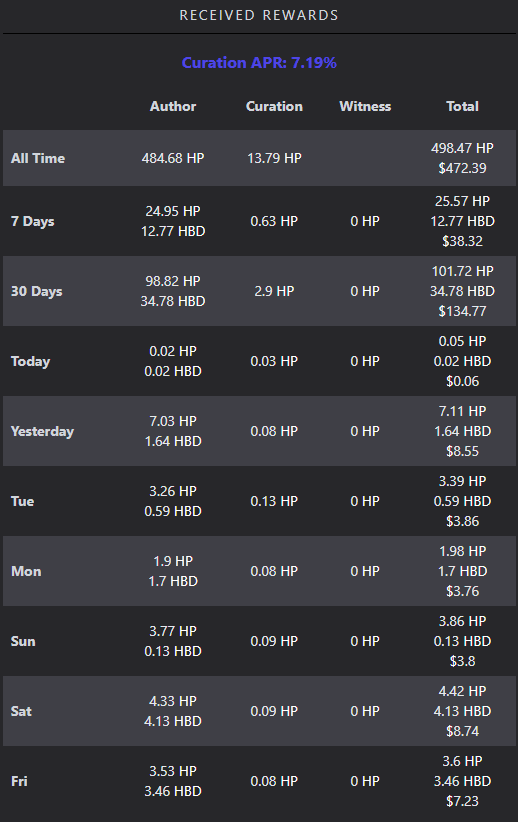 The one thing I would love to see improve is the curation rewards as I'm unsure to why they're so low recently, I was seeing myself earn close to 0.5 daily from curating content now Its dropped significantly, probably due to the market fluctuating so much.
But it was nice seeing rewards come back from your upvotes in a significant amount, heck even earning a few Hive monthly from curating with my current HP is amazing!
Swapped Some HBD For HIVE
I've had some liquid HBD sitting in my account this week from author or comment rewards and with the price of Hive dropping I saw it as a good opportunity to perhaps swap some HBD for a tad cheaper amount of HIVE.
Admit-ably its not a significant amount nor is the profit that high now when Hive has returned to his somewhat regular price, I'd probably gain around 20 cents off this if I decided to swap it back, but I'm holding onto it.
Having liquid have to me will be a great asset in case I ever do need it but on the off chance it ever does hit the $2 - $3 range, I'd have profited quite nicely!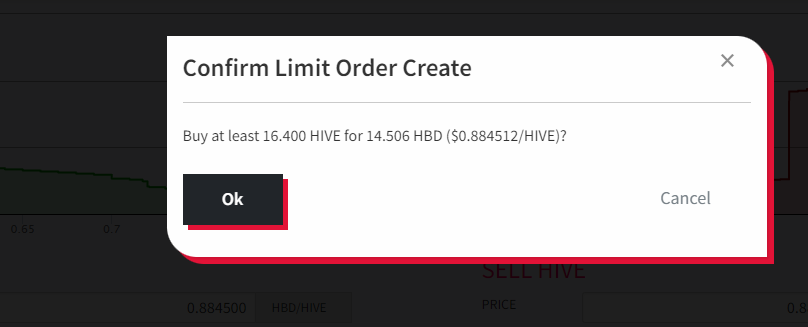 I gained 16.400 HIVE for my 14.506 HBD and deposited it straight into my savings, this is my current accounts savings from the past month or so of depositing earnings.

Token Holding Update-
I include my diesel pool liquidity in these holdings for anyone wondering! so some coins may fluctuate a tad more than others. I'll display which pools I'm providing LP for down below!
| Token | Previous Week | Current Week | Earned |
| --- | --- | --- | --- |
| Hive Power | 437.647 | 468.285 | + 30.638 |
| Hive | 6.043 | 22.747 | + 16.704 |
| HBD | 37.99 | 38.309 | + 0.319 |
| LEO | 78.67 | 93.16 | + 14.49 |
| ONEUP | 2,763.211 | 3,209.639 | + 446.428 |
| BXT | 9.07 | 9.586 | + 0.516 |
| BEE | 53.38 | 64.42 | + 11.04 |
| PIZZA | 193.83 | 350.23 | + 156.4 |
| LOLZ | 207.548 | 259.691 | + 52.143 |
| CENT | 692.852 | 891.44 | + 198.588 |
| CTP | 149.668 | 179.67 | + 30.002 |
| POB | 70.09 | 94.88 | + 24.79 |
| SPT | 2052.116 | 2052.116 | + 0 |
| SPS | 389.298 | 412.429 | + 23.131 |
| VYB | 33.340 | 43.350 | + 10.01 |
| VIBES | 12.816 | 15.026 | + 2.21 |
| NEOXAG | 59.608 | 66.743 | + 7.135 |
| WEED | 0.008 | 77.269 | + 77.261 |
I made some significant gains all round the table this week! Quite impressed with my improvements to certain tokens, I'm thinking about also segregating some HBD towards purchasing more of certain holdings. But I'll leave that thought lingering a little longer till I decide
I purchased myself 130 PIZZA Tokens to bring my current staked total to 200 so I can deliver more PIZZA to you beautiful commenters.
I also achieved another tipping token holding which was the LOLZ token, I now hold over 256 which means I can give out 8 LOLZ a day which is fantastic.
I very much enjoy the aspect of tipping tokens, I couldn't imagine them being this fun and enjoyable to use prior to joining Hive but they really are, It feels rewarding giving back to a generous comment, even if its value isn't high the ability to reward someone with something is always nice.
I've also started staking up WEED! I recently joined HashKings which has lead me to becoming a BUD farmer, I enjoy the game its a fun experience and has greeted me with this great cannabis related community. I'm attempting to increase my stake more to curate others posts!
Felt like a good powering up day today! Powered up my other holdings during the week as I received rewards until I got lazy for a couple days. Stacked up pretty quickly! Some holdings are significant such as ONEUP but that's due to being upvoted by the ONEUP-Curator for writing content they deem of high quality!
Diesel Pool Positions-
Not a lot of change this week within my pools! only note-able one is that the rewards for PIZZA:STARBITS has ended. it has slightly been topped up but it will most likely gain some other tokens in the coming days, we shall see! If it does, I may consider purchasing a significant stake of PIZZA to pool with my Starbits until I feel like I'd prefer to power up the PIZZA for a higher rank!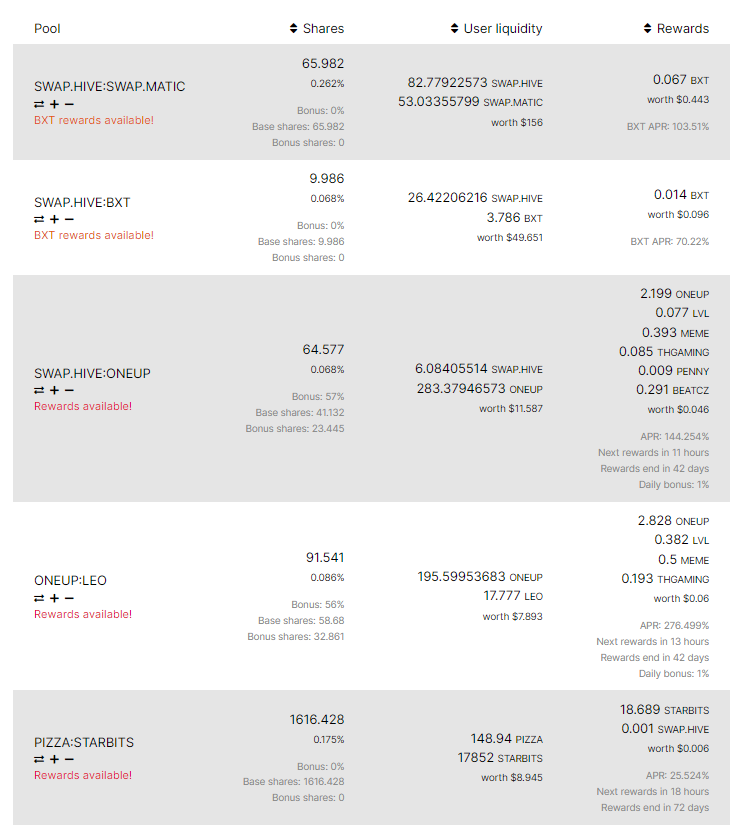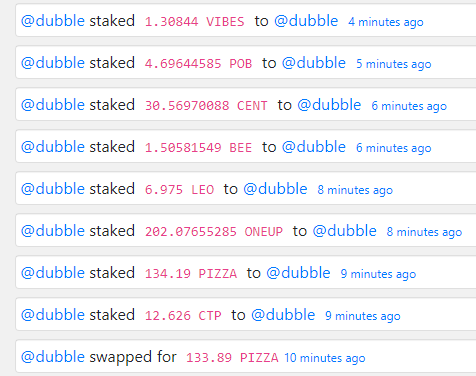 I was also gifted a WEEDCASH NFT by Chubb149, Thank you very much! If you'd like to browse some WEED related NFTs you can do so on the WEEDCASH frontend https://www.weedcash.network/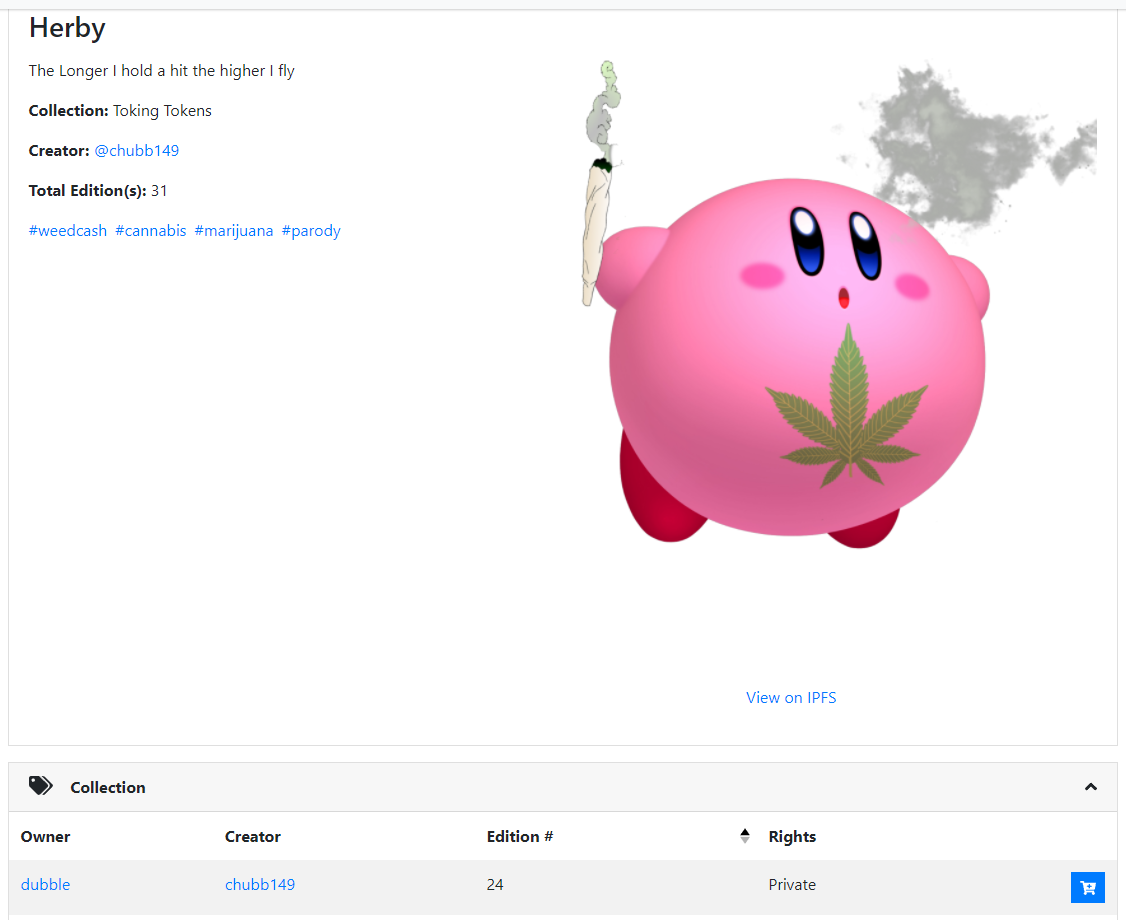 Another Plot Of Land!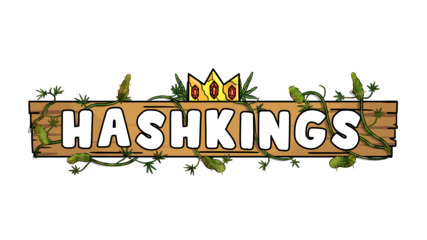 I did invest into another plot of land for HashKings also! I am attempting to invest more as funds become available or as I spot deals within NFT Mart.
I aim to have a decent holding of my own land to continuously have a decent supply of BUDs to then use to level up my avatars going forward, its going to take quite a while as I've only began my journey but if you'd like to follow along and see what kind of investments I make and the outcomes;
Then you can read all about it here; Link
Posted Using LeoFinance Beta
---
---