#MyHiveGoals - May Goals and Weekly Report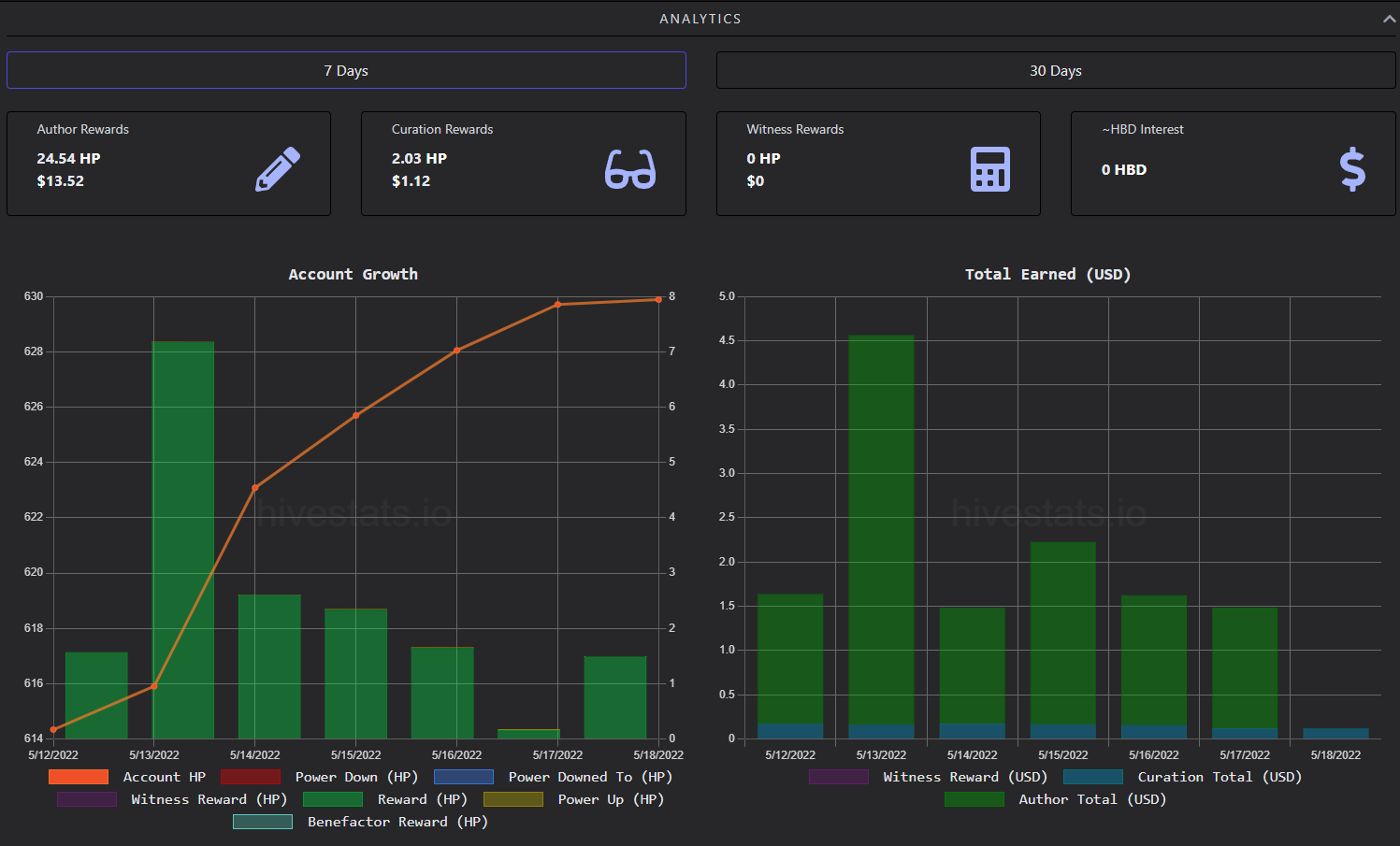 Howdy friends, I hope everyone is well with all the market dips recently!
This recent update on my Hive progress is a bit delayed, I've been quite pre-occupied with life the previous weeks, I'd have loved to keep on track with everything and push out a few more posts weekly but I haven't found the time to sit down, think and write.
None the less, I've been making progress regardless! Any progress is good progress in upping my Hive gains all round the board.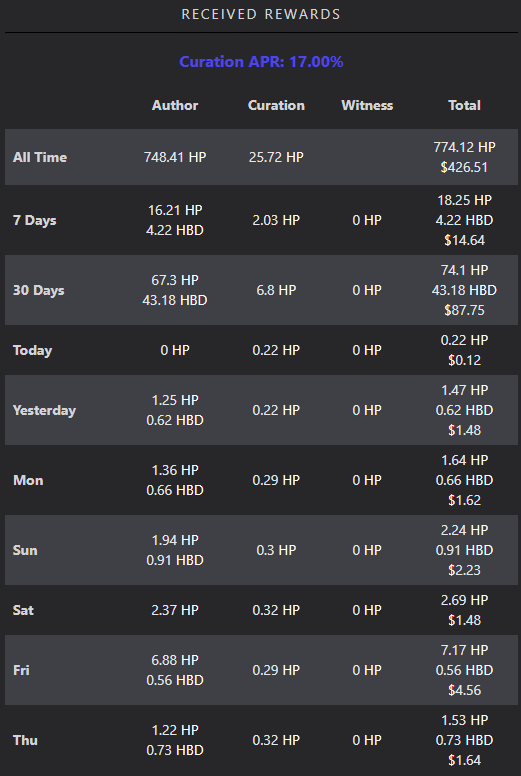 With the most recent market dip I've seen my curation rewards go up around +0.10 daily, which I will not complain about! More Hive for me.
These times are most likely the best for me to be curating as I see a significant improvement in pay-outs when prices are this low as value is factored into voting power. I hope I'm not butchering how curation works.
None the less, my daily posts pay-outs have been nice in stacking up some Hive and HBD along the way, definitely looking to increase the posts I put out as I haven't really ventured into many communities or other sectors minus gaming and Play To Earn.
Happy Birthday!

It also became my 1 Year Hive Birthday not too long ago, Happy Birthday to me! It's been a fantastic year here, met so many wonderful people. Learned a lot, read a lot and definitely feel right at home here!
Here's to many many more years and enjoying everything to come with Hive, cheers guys!
Hive Savings-
If you've read any of my previous updates, I have been attempting to stack Hive while prices are low and deposit it into savings on Peakd.
You may ask why I do this, especially as the saving feature doesn't yield any gains in terms of "Hive" so it is pretty redundant to keep it in savings. But I put it there to not tempt myself to touch it of course! It is a "Savings" sector of my account and I use it as such, the goal currently is 200 Hive and an equal amount of HBD but I'll delve more into that below;

Hive Back Dollar-
So with my current Hive goal of 200 Hive I also had my HBD goal which was first to push for 100.00 HBD, I was close! I have to admit. I saved myself up 77.131 HBD after trading some within the previous weeks for Hive whenever the markets would dip, so I haven't been depositing away as much as I should but oh well.

You are probably wondering why it is not in savings, well it is a 3 day withdraw period and during the most recent dip and recovery the price of Hive was sitting around $0.45 and at that price, I really cannot help myself. In recent days the price has recovered to around $0.55 mark but I don't believe these dips are over, I feel there will come another time to trade up all this HBD for a significant amount of Hive to save up.
Perhaps if the price of Hive ever reaches somewhere decent again I would off-load some of my holding to re-pay back my 100 HBD!
Token Holding Update-
I include my diesel pool liquidity in these holdings for anyone wondering! so some coins may fluctuate a tad more than others. I'll display which pools I'm providing LP for down below!
| Token | Previous Week | Current Week | Earned |
| --- | --- | --- | --- |
| Hive Power | 605.501 | 631.446 | + 25.945 |
| Hive | 127.857 | 142.470 | + 14.613 |
| HBD | 76.292 | 77.131 | + 0.839 |
| LEO | 135.613 | 144.039 | + 8.426 |
| ONEUP | 6,092.877 | 6,621.931 | + 529.054 |
| BXT | 13.296 | 23.454 | + 10.158 |
| BEE | 86.098 | 95.198 | + 9.1 |
| PIZZA | 1,145.23 | 1,159.71 | + 14.48 |
| LOLZ | 876.431 | 950.735 | + 74.304 |
| CENT | 1,115.583 | 1,082.83 | - 32.753 |
| CTP | 232.051 | 234.7 | + 2.649 |
| POB | 136.789 | 144.386 | + 7.597 |
| SPT | 2,284.814 | 2,273.819 | - 10.995 |
| SPS | 583.873 | 608.587 | + 24.714 |
| VYB | 121.75 | 136.887 | + 15.137 |
| WEED | 292.915 | 339.079 | + 46.164 |
Gained a significant amount of ONEUP again which I am also providing a decent amount of liquidity for so the pay-outs are quite decent in terms of stacking up the ONEUP fast.
On another note I also staked and powered up 10.00 more BXT. I bought this at market value of 6.2 Hive per coin around a month ago in the hopes of selling it for a slight profit which I wasn't able to do! price has dropped quite a bit so no longer will I be holding out for it to spike, especially during these market conditions so I'm putting it to use by staking it!
It has almost doubled my daily pay-out in the fees charged for all stakers, so I gain an additional 0.080 Hive daily now which I won't complain about, more for me.
I'm also staking up a great deal of LOLZ weekly which being a top holder at the moment sees me share in their dividend reward programme which I find quite nice and a useful perk to holding said token, not to mention the 10 commands daily to call the bot are nice.
I need to do a new up-haul of my token list and find out which tokens I truly value the most recently as there are quite a few going around and sitting in my wallet. Hopefully by next update I could make a new table happen.
Diesel Pool Positions-
So I could've used the BXT to provide liquidity for which would return me more BXT to stake for the rewards but I opted against it, didn't feel worth pairing my Hive with a token that's quite down right now, I'd just lose out on my Hive which I prioritise over most else.
Not much noticeable different either for any other pools minus my rewards for the SWAP.HIVE:ONEUP pool have gone up a couple ONEUP's which I won't complain about but I must say, I've only just started pushing double digit ONEUP pay-outs from the pool, previous weeks I've been involved (since day 1 of this current rewards structure) I've been rewarded significantly less than is stated, unsure why that is but it is still the case as 14.112 ONEUP rewards are not accurate.
Regardless, I don't really mind. Overall It's still a decent amount for the liquidity I am providing.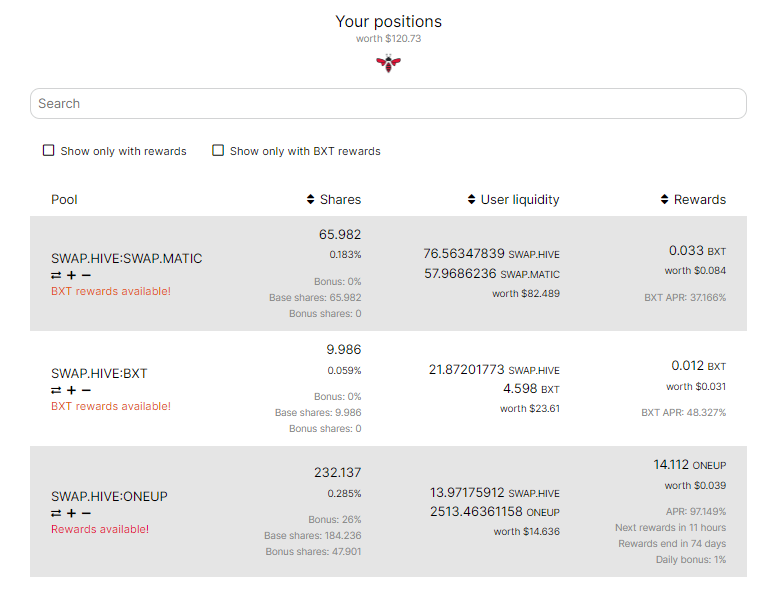 I am still holding out for the WEED pool but I must acquire more liquid WEED first then I can jump into another pool. Still on the hunt for some newer pools when they pop up but everything has been a little dry or slow recently! I'm sure all will pick up again soon.
THANK YOU FOR READING!
Posted Using LeoFinance Beta
---
---