#MyHiveGoals - June Goals and Weekly Report!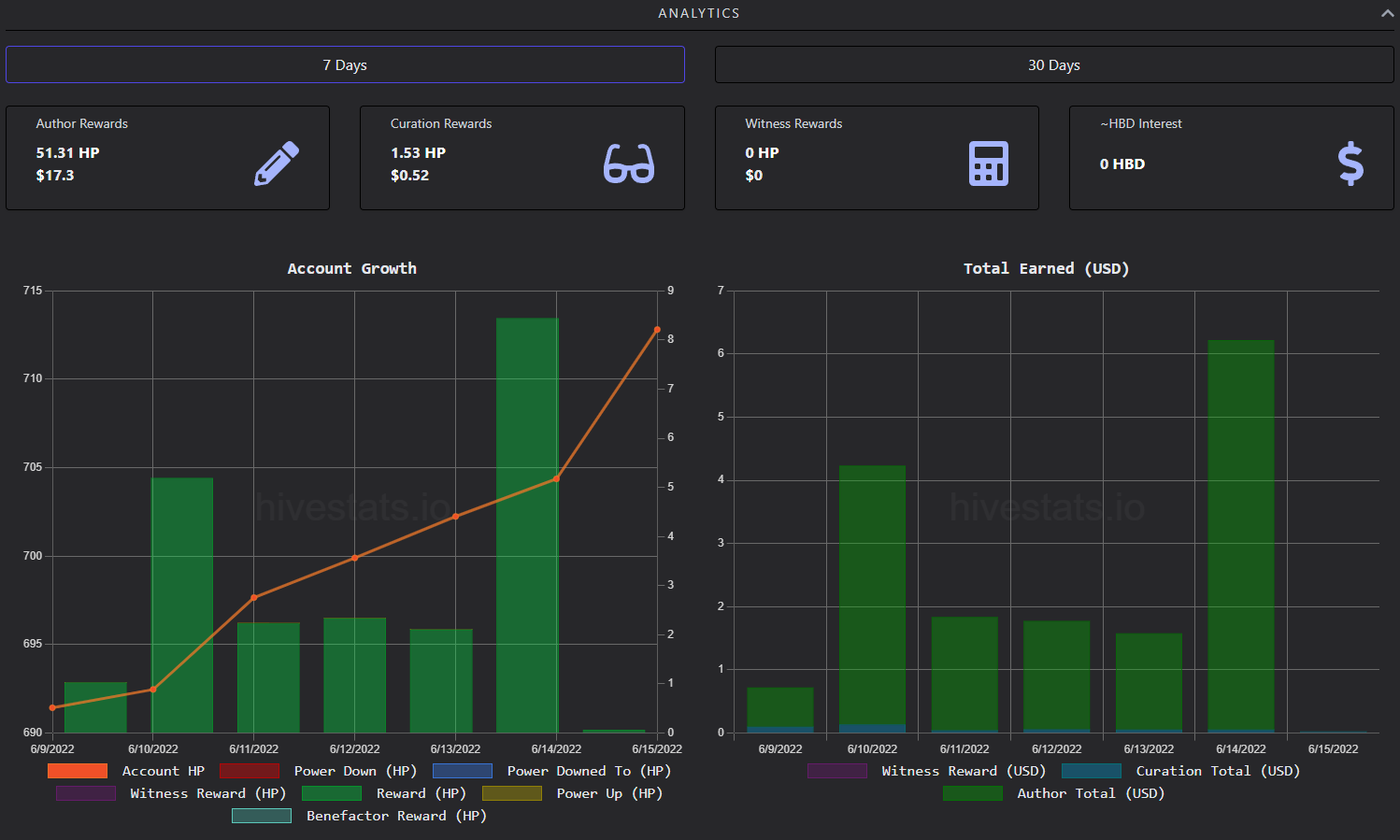 Howdy once again friends, hope you are all having pleasant days! Hopefully the market is not too harsh on most of us too today. All these recent crashes have made for a good opportunity for cheap Hive though, on the positive side.
I've had a tonne more free time recently which has lead to me finally being able to write a little more which I've been enjoying a lot, I've got back into Splinterlands too which is a big plus to write more about my progress and updates around re-learning the game, getting a lot of good helpful engagement on my posts which I'm extremely thankful for!
This week might have been the best week for me yet since joining Hive in terms of author rewards, could be due to the drop in price of Hive as I'm not sure how voting + USD value works exactly but I'll presume it's both effort and price drop.
Curation-
Curation rewards are on the decline again, I was enjoying pushing back up towards 0.50 Hive daily in curation but looks like we may have to wait a little longer for that! I'm stacking my HP up continuously but curation has been on the decline since around November for me, unsure why again it could be due to the values changing leading me to having way less power with stake + USD value (if I'm even correct that is.)
on the plus side going forward from yesterday I should see some nice author rewards coming in due to this weeks post and their pay-outs, very much looking forward to my stake pushing closer to that 1000 HP goal I have!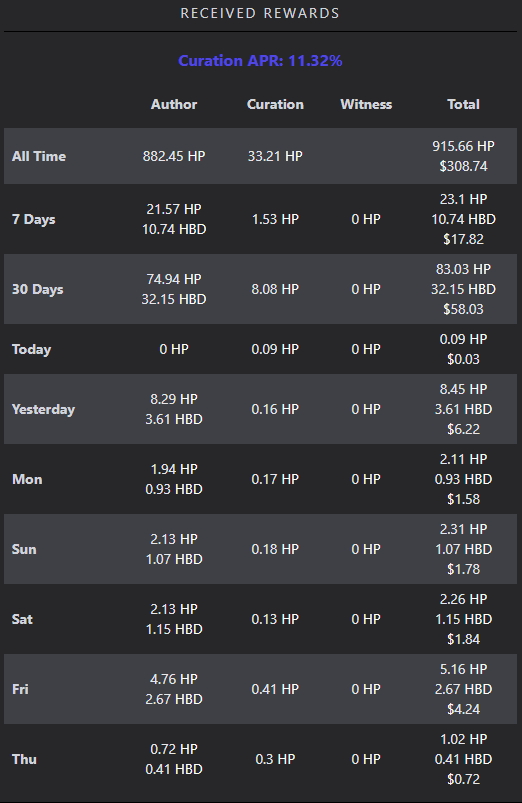 Hive Savings-
I've been depositing liquid Hive into my savings account to compile it safely and was in the process of compiling my HBD pay-outs also but over time I decided I would withdraw my savings and try trade my HBD for Hive.
I withdrew my locked up HBD around a week ago and I've been waiting ever since to trade it up for Hive, I feel now is almost the perfect opportunity, with news everyday of VC's getting liquidated and DeFi projects collapsing in on themselves everyday now it seems we're still not out the water yet.
In my opinion, I can see BTC dipping below 20,000 any day now which in turn would drop Hive below $0.30 where I will strike hahaha. I know it is not a lot of funds to be trading up but 108 HBD into Hive @ 0.30 = 360 HIVE.
In comparison to trading it right now with the internal markets price it would equate to 108 HBD into Hive @ 0.33 = 327.272 Hive, quite the difference for a couple pennies! Hopefully my holding out will make it worth it.

Token Holding Update-
I include my diesel pool liquidity in these holdings for anyone wondering! so some coins may fluctuate a tad more than others. I'll display which pools I'm providing LP for down below!
| Token | Previous Week | Current Week | Earned |
| --- | --- | --- | --- |
| Hive Power | 689.183 | 712.910 | + 23.727 |
| Hive | 144.768 | 145.319 | + 0.551 |
| HBD | 97.629 | 108.007 | + 10.378 |
| LEO | 152.656 | 166.316 | + 13.66 |
| ONEUP | 7,478.739 | 8,042.397 | + 563.658 |
| BXT | 24.52 | 24.76 | + 0.24 |
| BEE | 104.582 | 111.739 | + 7.157 |
| PIZZA | 1,201.78 | 1,218.23 | + 16.45 |
| LOLZ | 1,115.121 | 1,173.324 | + 58.203 |
| PGM | 42.039 | 63.397 | + 21.358 |
| CENT | 1,166.52 | 1,313.062 | + 146.542 |
| CTP | 241.094 | 245.612 | + 4.518 |
| POB | 168.591 | 174.036 | + 5.445 |
| SPT | 2,293.406 | 4,346.259 | + 2,052.853 |
| SPS | 662.923 | 681.615 | + 18.692 |
| VYB | 173.435 | 179.202 | + 5.767 |
| WEED | 357.184 | 386.570 | + 29.386 |
Great gains all round the table again this week, seeing significant gains in ONEUP and SPT this week! I'm contemplating what to do with my liquid tokens, I'm still on the look out for more LP's to join but APR's are not the best right now nor are reward tokens for providing, so I'm at a stand still currently.
Going to keep my SPT tokens liquid in my Splinterlands accounts wallet due to the SPS airdrop points I'll receive for them while I await my decision about what to do with them!
Ideally want to maximise as much as I can always, having tokens just collecting dust in my wallet doesn't feel right!
Diesel Pool Positions-
Again not much to report upon within the LP's I'm currently involved in. BXT rewards are drying up too, so I'm finally contemplating pulling my SWAP.HIVE:SWAP.MATIC position and perhaps using the Hive to pair with something else such as all the liquid ONEUP tokens just to up my position as the daily rewards are nice and I haven't noticed much impermanent loss in either token, in-fact it seems quite stable in terms of weekly movements.
Tough choices as I wouldn't want to dump in now and a new pool open up sooner I could've participate in instead.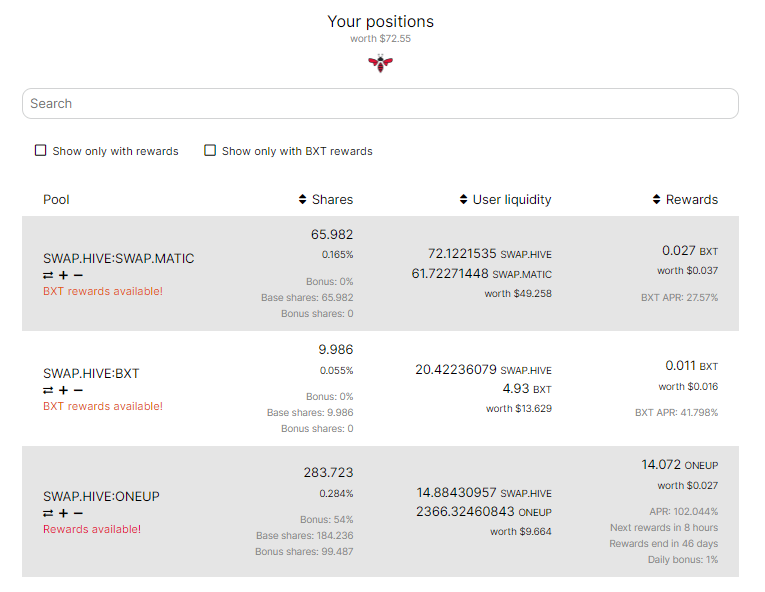 On that note, I thank you again for reading my post and have a lovely day/evening!
THANK YOU FOR READING!
Posted Using LeoFinance Beta
---
---