Hive.Pizza Guild Scholarship - HashKings Harvest Report #6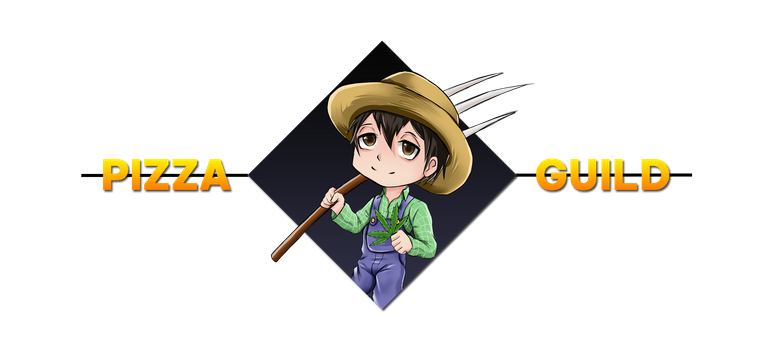 Hello friends! I Hope everyone is having a great week and doing well as always!
This will be my sixth harvest report as a Pizza Guild HashKings Scholar! As always thank you to the PIZZA GUILD for the scholarship!
These delegations help up my BUDS earnings significantly and I can't thank the team enough!
A massive thank you again to the 🍕Pizza Guild🍕, this opportunity has been incredibly fun and enjoyable, I look forward to many more harvests with you all!

I farm for Creo's Chronics, I'm delegated 15 plots of South America land which allow us to plant two different seed types (not counting special seeds.)
This is my (and our's as a groups) last delegation week for this period of harvests so lets hope its a good one!
For the current harvest and previous I've solely been planting Panama Red seeds which I've noticed have paid out more BUDS in comparison to Colombia Gold's, they also require less water, so overall perhaps with some more experimenting with the numbers, we could save a lot of HKWATER while earning more BUDS in the long run planting solely Panama Reds.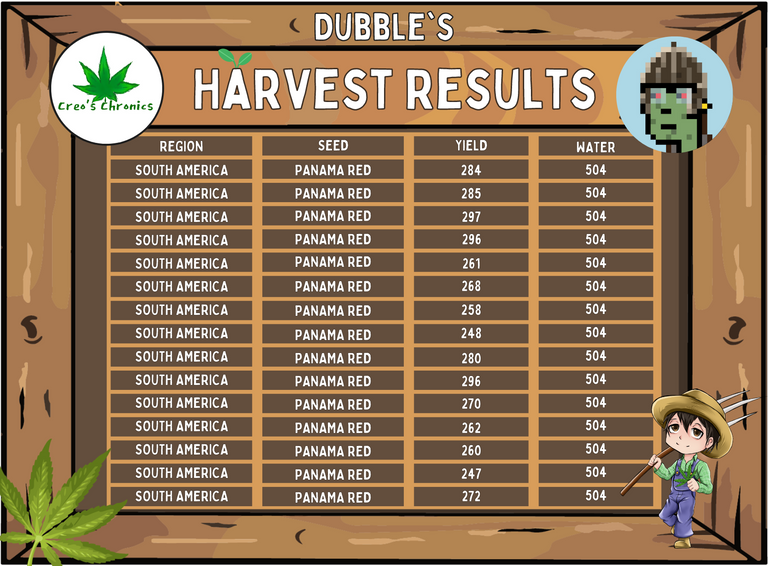 | Total Yield | Farmer Share | Guild Share | Water Used |
| --- | --- | --- | --- |
| 4086 BUDS | 2860.2 BUDS | 1225.8 BUDS | 8400 HKWATER |
Last weeks harvest saw me earn around 400 BUDS more in comparison to the Colombia Gold harvests and again this week we're up around an extra 100 BUDS from the last harvest, so I would say with my minimal testing, Panama Reds are the way to go even a benefit due to them requiring less water 👀
With this harvest comes to end of our current delegation! It's been a fun four harvests with the crew! I look forward to many more harvests and rolling up the BUDS with everyone!

Lucky Seed Drops!
So as always we have a 20% chance at returning a specific seed to the region per harvest, so if I have 15 plots of land to harvest said week, that's potentially 15 chances at free seeds, not bad chances! This week I got pretty lucky with four drops!
This week and last are the most drops I've had from harvests (four drops per week out of the 15 plots) so 8 seeds in the last two weeks is pretty nice! Almost saved up enough for a full delegation week myself!

This time we got two of each kind of seed, which is a nice changeup! But if you just look at the "PR" part of the image above, you can even see Panama Reds are paying more in BUDS than Colombia Golds! I think I'd like to stock myself up some Panamas!

BUDS STAKING!
I've been aiming to deposit into the staking system as much as possible in the sense of when I get BUDS, I deposit BUDS, of course to capitalise on the earning side of things. So any BUDS returned from daily RAIDS and or my own three plots of land, I drop straight into the pool!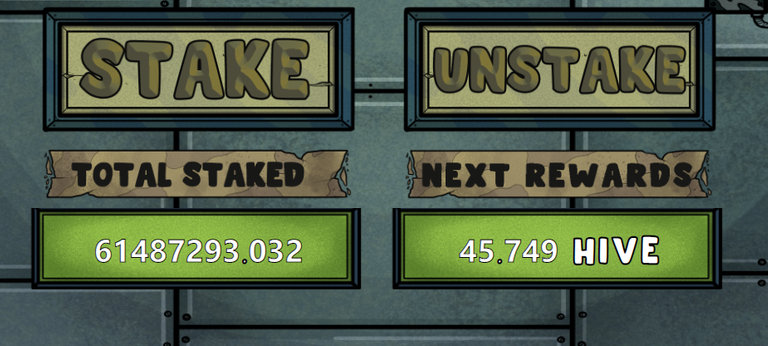 Everyday a decent amount of HIVE is deposited into the pool in the form of BUDS daily that we all share in which makes it worth while locking up your BUDS as soon as you can, you wouldn't want to miss your share of the pie!
In total over the past couple weeks since staking became available I've deposited a total of 34,508.9 BUDS to the pool.
Today if I was to withdraw my holdings I would receive 37,876.243 BUDS.
A lovely increase of 3,367.343 BUDS! That will definitely come in handy one day when I choose to roll up a bunch of joints and level my avatars and or forge some! Great benefit to playing.

What is

!PIZZA

?🍕 Read more about it HERE!🍕
🍕JOIN THE PIZZA DISCORD🍕
🍃JOIN THE HASHKINGS DISCORD🍃
THANK YOU FOR READING!
---
---