Hive.Pizza Guild Scholarship - HashKings Harvest Report #12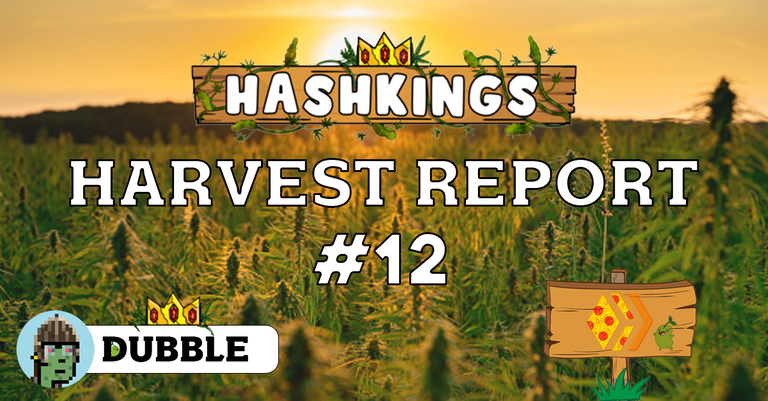 Howdy Farmers I hope everyone is doing well on this beautiful day!
This will be the first harvest report out of the months delegations! So we have a jam packed schedule to stack up these BUDS! Looking forward to getting back into the fields!
This will be my twelfth harvest report as a Pizza Guild HashKings Scholar! As always thank you to the PIZZA GUILD for the scholarship!
These delegations help up my BUDS earnings significantly and I can't thank the team enough!
A massive thank you again to the 🍕Pizza Guild🍕, this opportunity has been incredibly fun and enjoyable, I look forward to many more harvests with you all!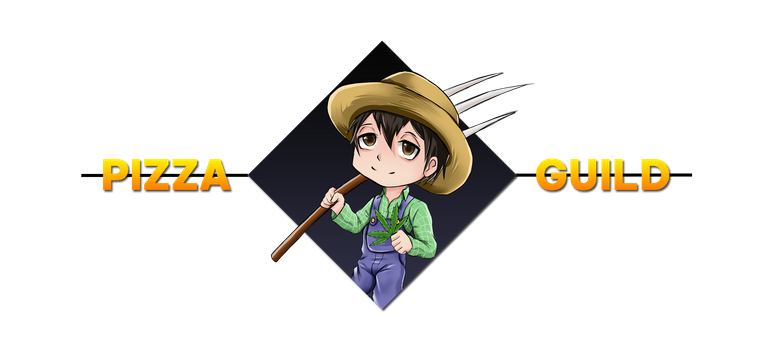 I farm for Creo's Chronics, I'm delegated 15 plots of South America land which allow us to plant two different seed types (not counting special seeds.)
Since this is our first harvest back I tent to plant solely Colombian Golds as those yields are a tad less than the Panama Red's from what I've experienced, so we save the bigger yields for our last few weeks ;)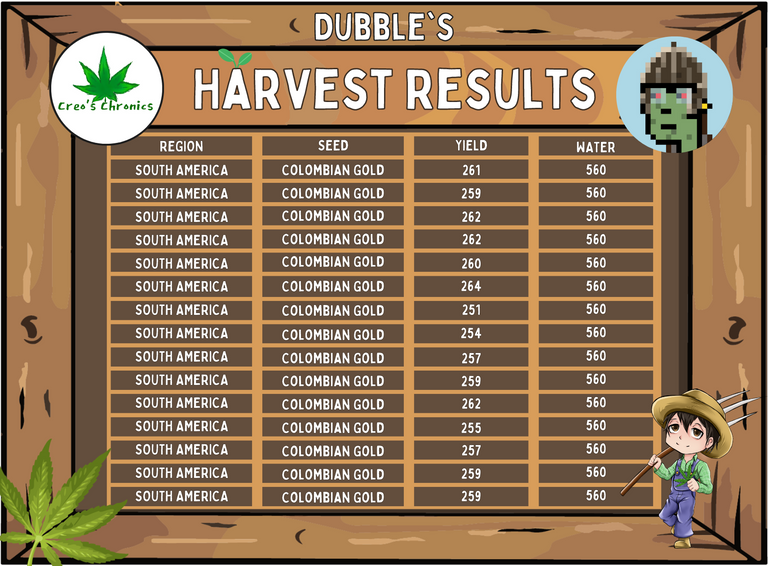 | Total Yield | Farmer Share | Guild Share | Water Used |
| --- | --- | --- | --- |
| 3881 BUDS | 2716.7 BUDS | 1164.3 BUDS | 8,400 HKWATER |
A bountiful harvest once again! my shares were sent into the guild at which I'm to pay 30% only of the total harvest, that's right! The Guild allows us farmers to keep 70% of our farmed BUDS which I find to be some amazing generosity! I wouldn't be anywhere near my total amounts of BUDS currently without the guild, I only own two plots of land myself which isn't bringing in a lot weekly!

Lucky Seed Drops!
We have a 20% chance at returning a specific seed to the region per harvest, so if I have 15 plots of land to harvest said week, that's potentially 15 chances at free seeds, not bad chances!
we got decently lucky this week returning three seeds from our fifteen plots harvested which is right on the mark for odds wise! had previous weeks where I've gained no seeds so stockpiling a decent amount up from these harvests would be amazing.


BUDS STAKING!
This weeks harvest has just been dropped into the BUDS staking feature within HashKings!
@dubble transferred 2747.700 BUDS to @hk-stakingstake

It's amazing to see the pool keep growing and with that our BUDS, I've been staking every amount I receive since the start of staking and it's been paying off great! Can't wait to keep this up and keep dropping my harvests into the pool- one day it will pay off amazingly and I can roll up some fat joints, level my avatars and sit back and relax, let the raid rewards roll in!
I currently have only one levelled up avatar at the moment at level 34 so I would love another to advance to the next boss.
| Total Deposited | Total Stake | Earned BUDS |
| --- | --- | --- |
| 72,071.6 BUDS | 84,603.7 BUDS | +12,532.1 BUDS |
Since its been a while since the previous harvest we can't tell our daily/weekly earning difference but we can keep on-top of that again with these posts! 12,500 BUDS earned via staking is fantastic, that is a lot of BUDS! I'll be hitting the 100,000 mark soon, that's a lot of smoking.

MOTA STAKING!
MOTA is another token within HashKings which you can receive by burning BUDS. I usually purchase any MOTA I need off the market, I have enough staked to return me two seeds each week, one per specific plot I own myself (not delegated to me.)
I'm still collecting my weekly two free seeds from staking, one per plot (south america and mexico)
having staked MOTA means I don't have to worry about purchasing any seeds to farm more BUDS, I get one for each plot dropped straight into my account! if only I had a water tower to go along with it 😂

The required staked amount fluctuates quite often so you do have to keep somewhat of an eye on the required amounts to get a drop. but other than that its pretty straight forward! Thankfully I'm quite secured in this staking amount for now so I'll be receiving seeds for the foreseeable future 😅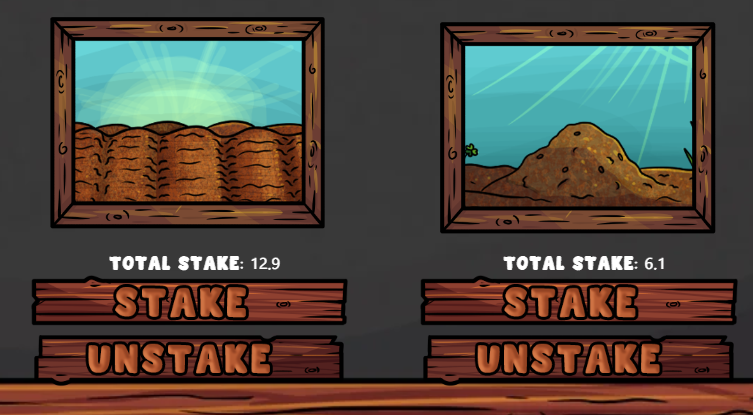 What is

!PIZZA

?🍕 Read more about it HERE!🍕
🍕JOIN THE PIZZA DISCORD🍕
🍃JOIN THE HASHKINGS DISCORD🍃
THANK YOU FOR READING!
---
---