200% Organic Challenge and Reclining Buddha garden update
So, you can grow weed? Awesome! But can you do it without added nutrients, sprays, or products of any kind? Can you do it how Nature does it? Can you turn a cannabis seed into a cured cannabis bud using nothing but plain dirt and water? I can, and I've demonstrated it 6 (going on 7) times from start to finish on this blockchain. I'm always improving my techniques, and would love to learn from other growers doing it this way... but there aren't any!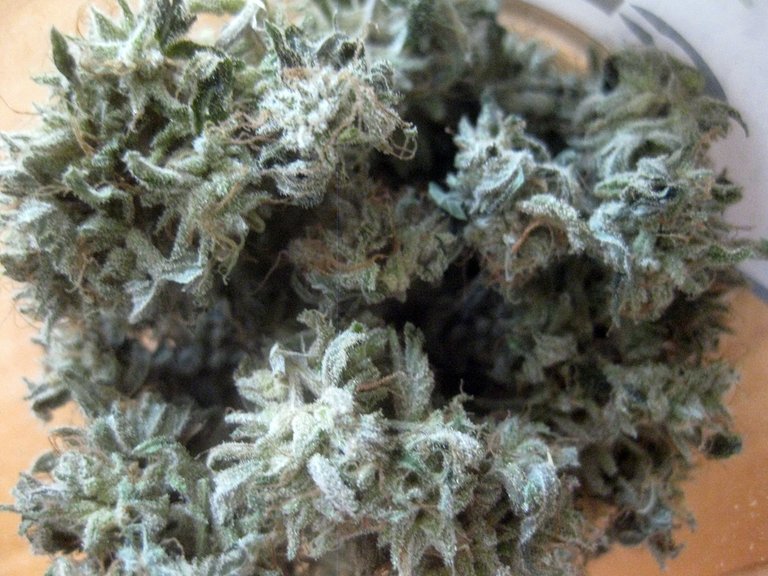 To encourage others to try 200% organic growing, I recently offered to pay anyone $1 per week (including sending them free high quality seeds) to grow a plant like this, and post their progress here on Hive/WeedCash. I even said I'd pay each grower a lump sum upon harvest. No catch! Free seeds with free shipping, nothing but dirt required, weekly pay, free help, and free prizes for harvesting the free cannabis.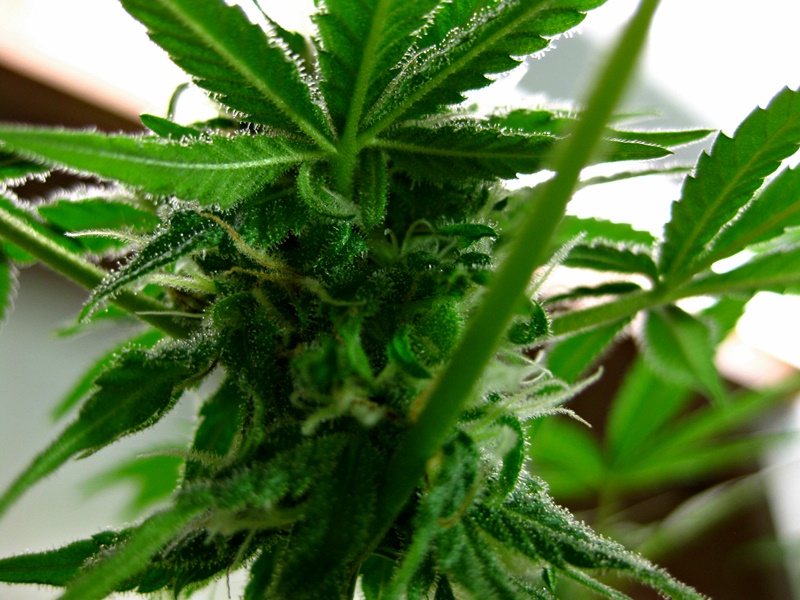 It felt a bit strange, having to pay people to not add expensive and often harmful stuff to their cannabis, but I decided it was worthwhile because I knew they'd fall in love with the process - and the result - once they experienced it.
But there wasn't a single person interested in the free seeds or money. The post got a much-lower payout than any of my other posts, and comparable cannabis posts by other writers. Lessons learned! People are afraid of free things. And people don't upvote posts that offer free things unless they're personally going to benefit from those free things. When we see posts offering free stuff to other people, we assume those other people will upvote those posts, and we shouldn't. My post would have done far better (likely x10 the payout) if I hadn't included that offer of free seeds and money. Human psychology is a very interesting thing!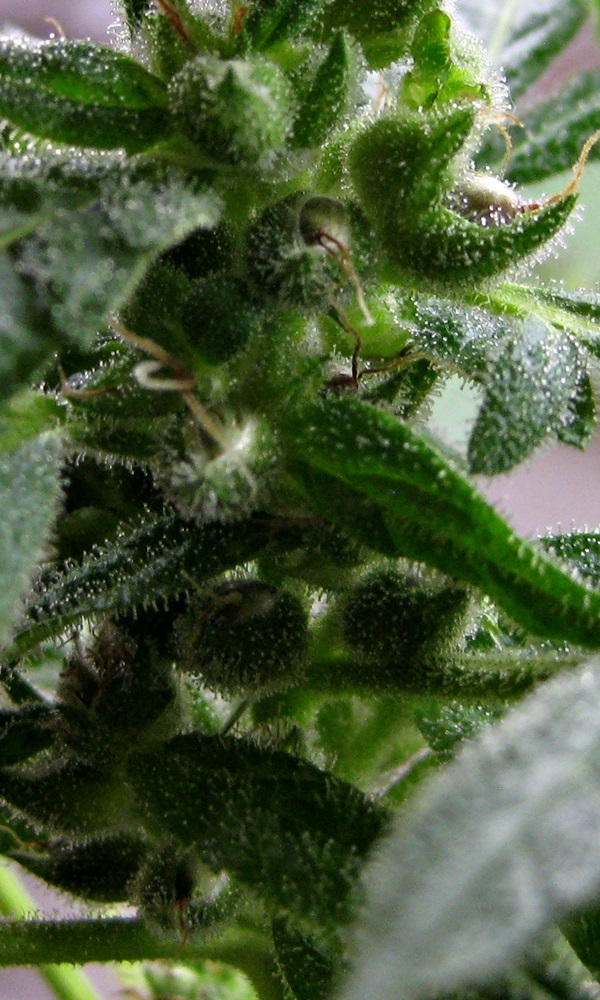 So, potential-upvoters, don't worry! I'm not here to try and give you anything, and I'm not here to give anyone else anything, either. I'm just writing, and sharing photos I've taken. (If anyone does want some of these seeds or help growing 200% organic, please do let me know.)
I'm going to continue with my "200% Organic Challenge", even if I'm the only participant! I've been doing this here for almost 4 years now, might as well keep on going! Eventually, someone will see that what I'm doing makes sense, produces incredible results not obtained any other way, and should be taken more seriously.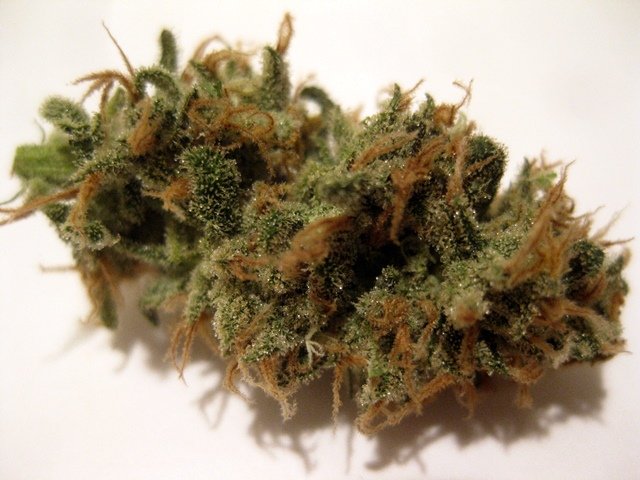 Inspired by the "5 gallon bucket challenge", I decided to grow a plant that way - but 200% organic, of course!
I found myself a large plastic bucket and gave it several holes: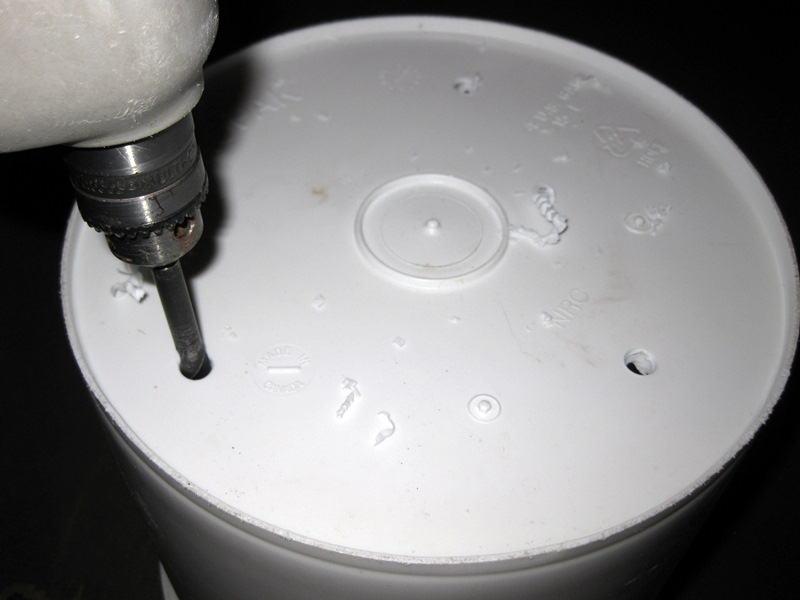 Looks like this one is 4 gallons.
Close enough! It's still bigger than anything I've ever grown in.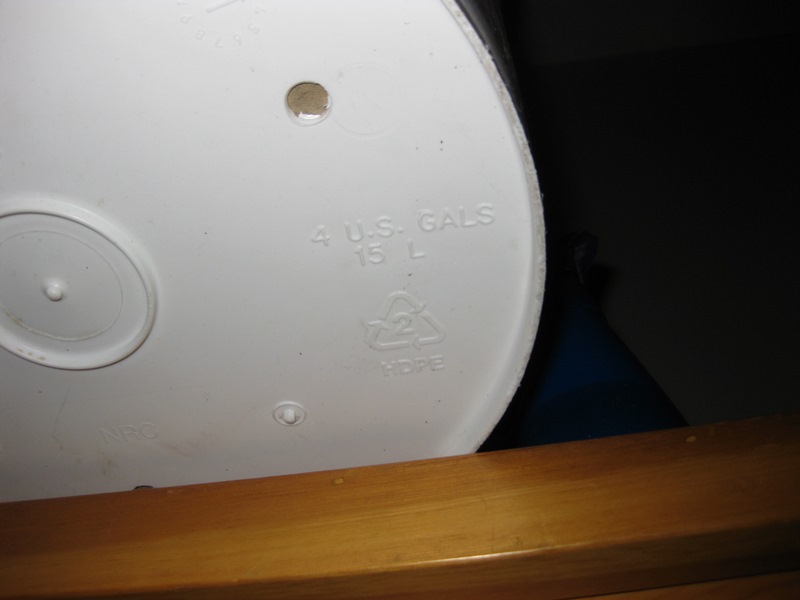 Then I mixed up a batch of soil, which was about half worm castings (poop) and half peat moss, with a pinch of diatomaceous earth for insect control. The worm castings provide everything plants require, including nutrients for vegetative growth and flowering, and beneficial bacteria and microbes.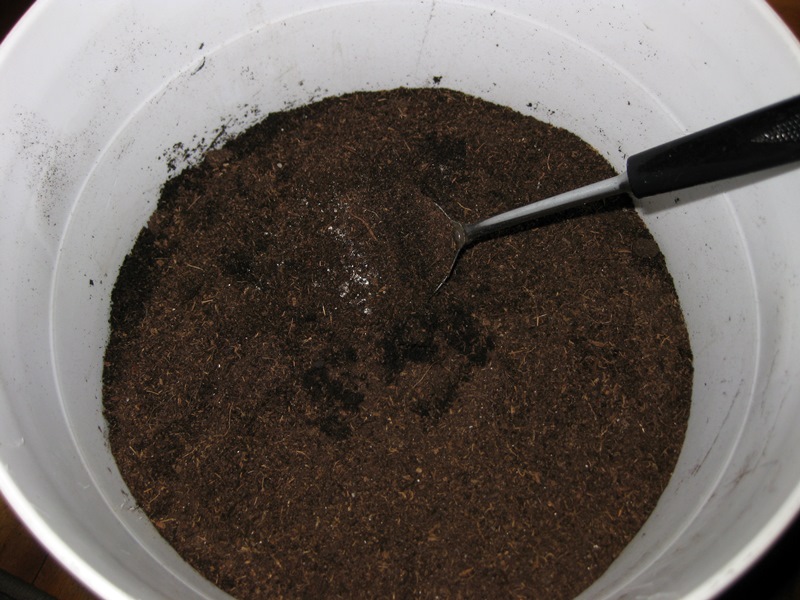 Here's a seed freshly harvested from my last crop of Reclining Buddhas! I've never harvested a seed and then grown it immediately before, so I'm excited for the new learning experiences.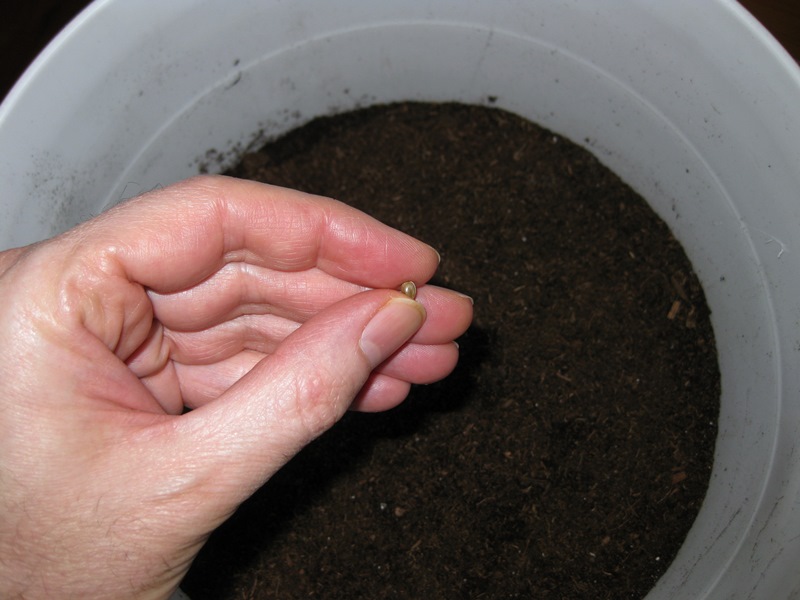 After a couple days in my "germination station", out came a little canna sprout:
A healthy baby plant, ready to root in and grow! I popped him into the dirt. Keep in mind, I don't know if this is a male or female sprout, so there's about a 40% chance I'm about to grow a very large male in this bucket! We shall see.
Normally, I don't like surprises, but I tolerate them when it comes to gardening.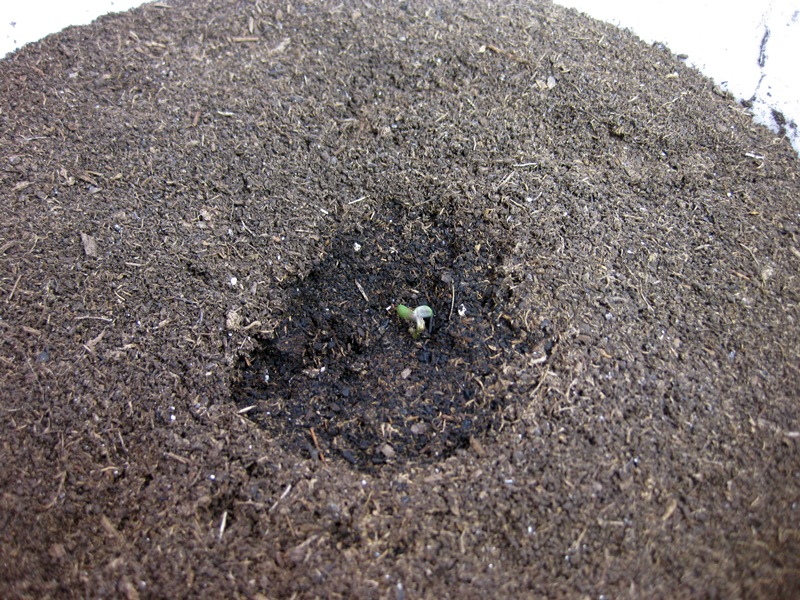 A day later, the sprout has broken the surface of the soil, and begun to photosynthesize (use Carbon Dioxide and light to make sugars).
This bucket plant will spend some time with the others in my indoor medicine patch, and as the summer comes on, will be put in the sun room, or even in the back yard, we'll see. I'll update its progress each time I post about my other plants. Speaking of them...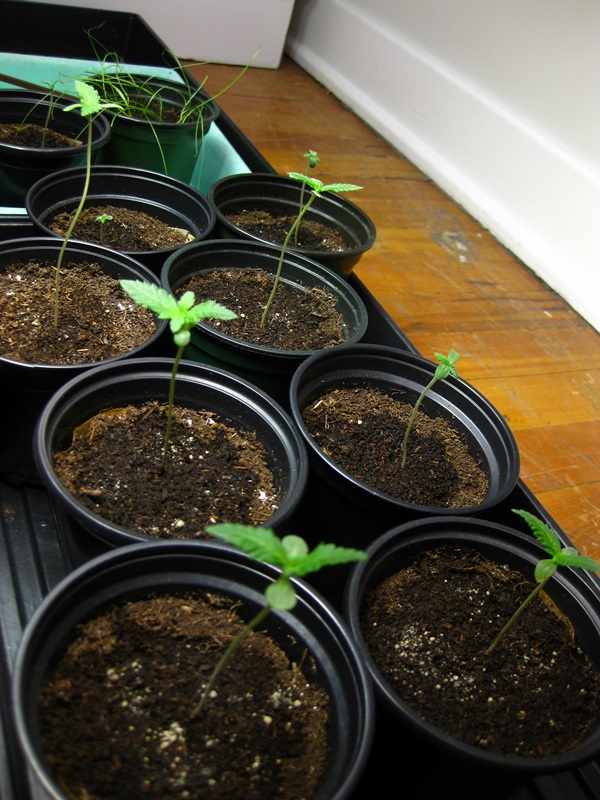 I have about 12 little Reclining Buddha seedlings coming up! Some are a few days older than the rest but they'll even out as we go.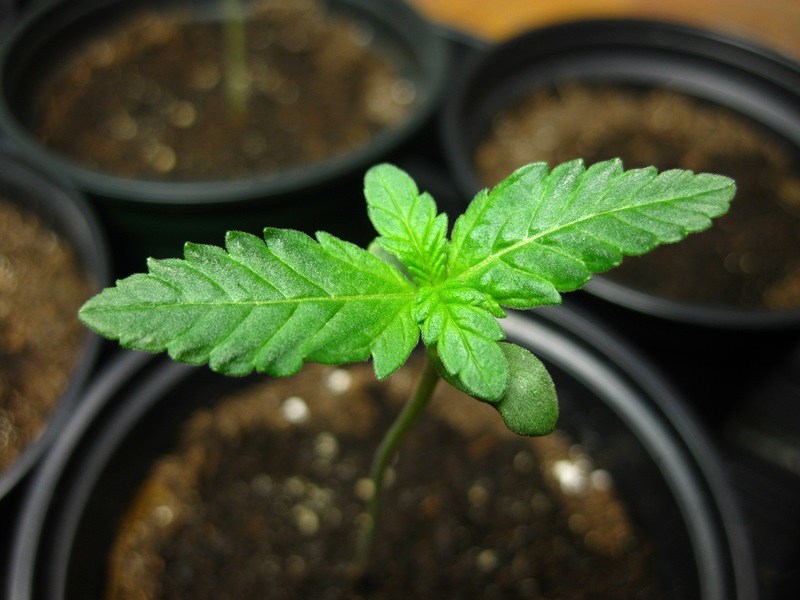 Again, I don't know how many are female, but I'm hoping for 7 adult females when I flip into flower.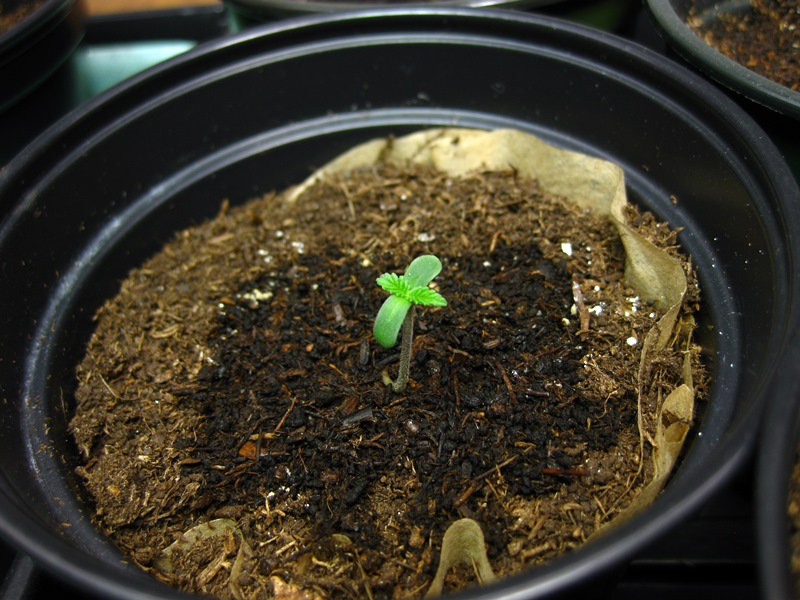 Individual plants, like individual animals, react and adapt to the environment they find themselves in. A plant will make due (and attempt to thrive) with as little or as much as it gets. As the gardener, our job is to manage that environment. We decide what light, water, air, and soil the plant receives.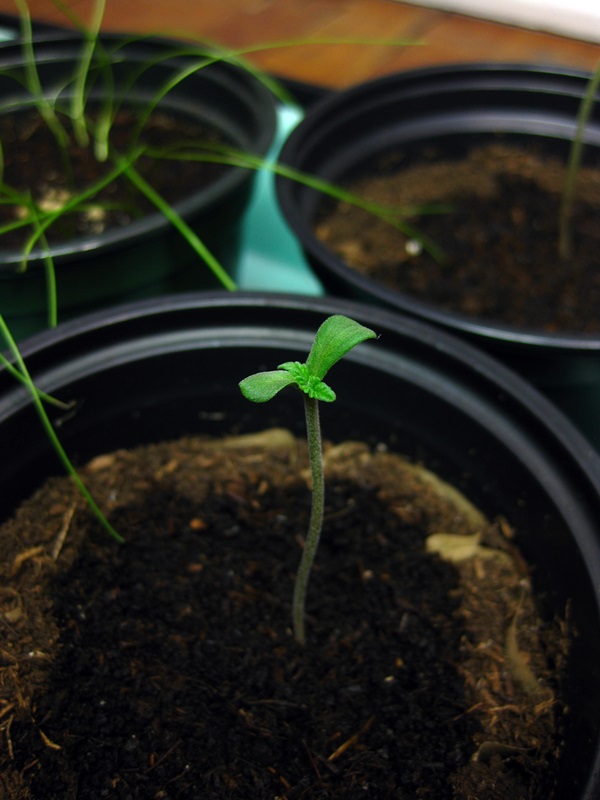 In many cases, more is better. To a point. Too much of anything (nutrients, light, water, or air) is a bad thing. And care must be taken to not add anything the plant doesn't need, because that affects its health, and usually ends up in the finished product.
200% organic growing offers additional challenges, and fewer shortcuts, but I find it extremely rewarding!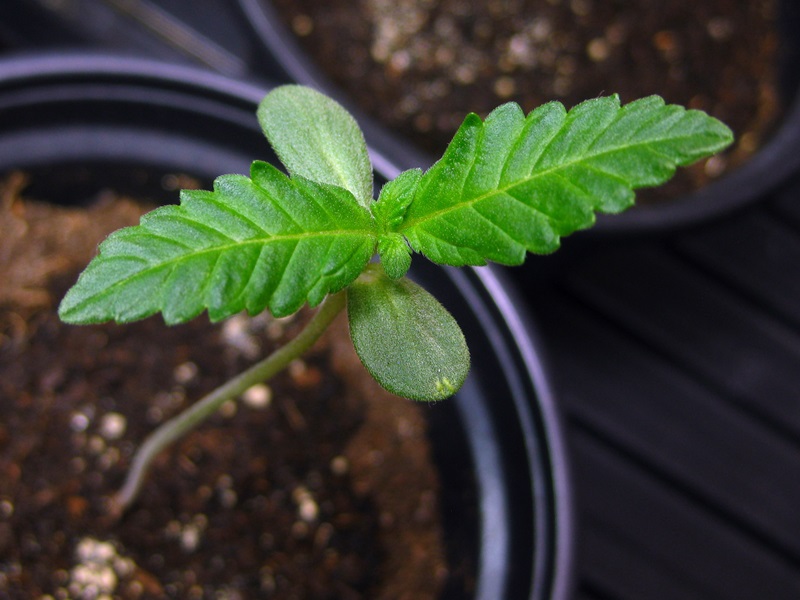 ( All images belong to DRutter. )
It feels great to have rescued these Reclining Buddha genetics from Amsterdam, and now successfully bred a new and growing generation of plants.
This crop, I look forward to improving on my process, and increasing my yield. I don't plan to worry about exact dates or ages of the plants this time. I'm aiming for 7 happy females loaded with buds by the end of summer. Stay tuned to Hive/WeedCash for progress reports!
Grow in peace.
DRutter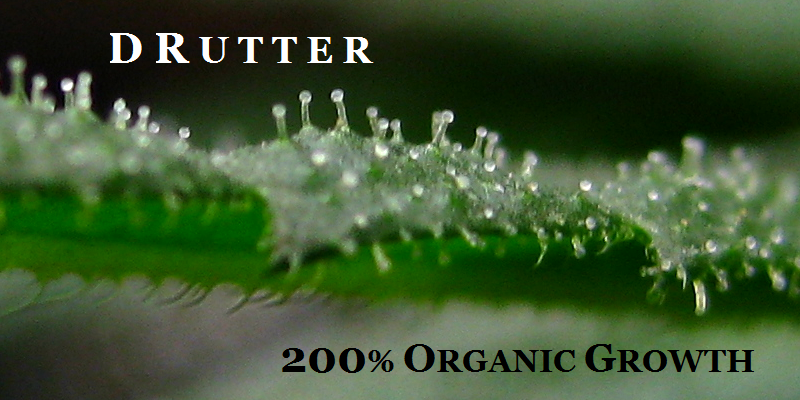 ---
Posted via weedcash.network
---
---