Virginia Lawmaker Investigating Counterfeit Account After Anti-Cannabis Post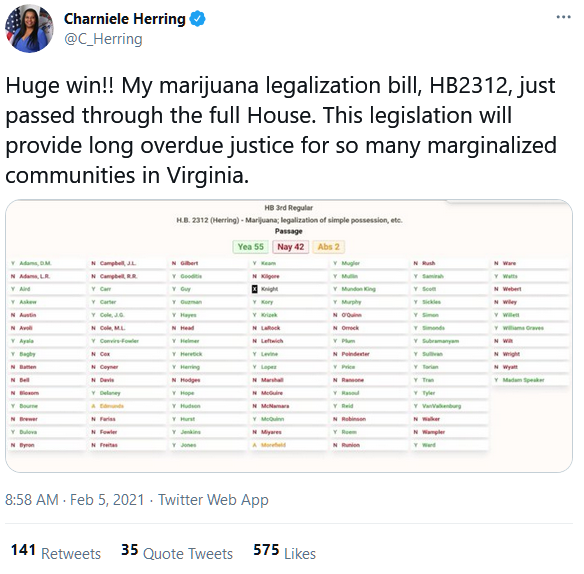 Legalization is making waves around the country and in Virginia things are slowly changing. They soon might also make changes for legalization in the region which is what one lawmaker behind the bill that just made it through the House recently tweeted out about, which you can see in the tweet above.
After that tweet came out though, another came which looked like it was from another lawmakers account, only this individual was taking a stance against cannabis.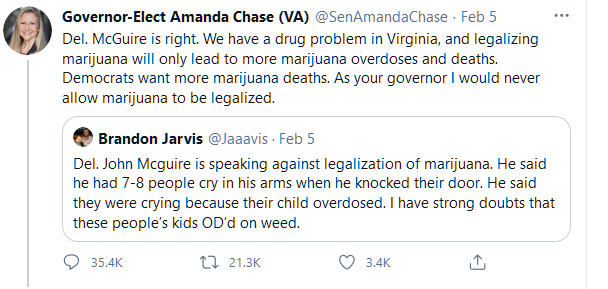 The tweet quickly went viral, bringing in a great deal of common sense criticism against the anti-cannabis post.
Turns out, there is more than one account claiming to be that individual and it looks like the official account is now claiming that the counterfeit one is under investigation.

If anything, the mix-up was at least an educational opportunity that brought many pro-cannabis supporters out by the thousands to share information and show their support once they heard the nonsense that was that first tweet.
It's time to do away with outdated laws that harm society and are causing more harm than any good.
Growing rights, cannabis trading, and consumption rights etc, these should be considered natural rights, and they should not be open to infringement by others. The state doesn't need to spend billions policing peaceful cannabis users and filling up prisons with non-violent cannabis patients.
Millions around the country are in desperate need of medicinal freedom which includes cannabis and slowly states are changing things but they want to make sure they've established excessive controls first; they need their cut.
---
---