[ESP-ENG] - Trasplant Tutorial With Images - Tutorial de transplante con imágenes
Hola amigos buenos humos.
Hello friends good smoke.
Hoy transplanté esta hermosa planta que germinó el día 20 de febrero, quiero aprovechar las fotografías que capturé para hacer un pequeño tutorial acerca de cómo debes trasplantar tus plantas estresandolas lo menos posible
A continuación puedes ver la planta dentro del contenedor en el que se sembró cuando germinó
Today I transplanted this beautiful plant that germinated on February 20th, I would like to take advantage of the pictures I took to make a small tutorial about how to transplant your plants with the least possible stress.
Below you can see the plant inside the container in which it was planted when it germinated.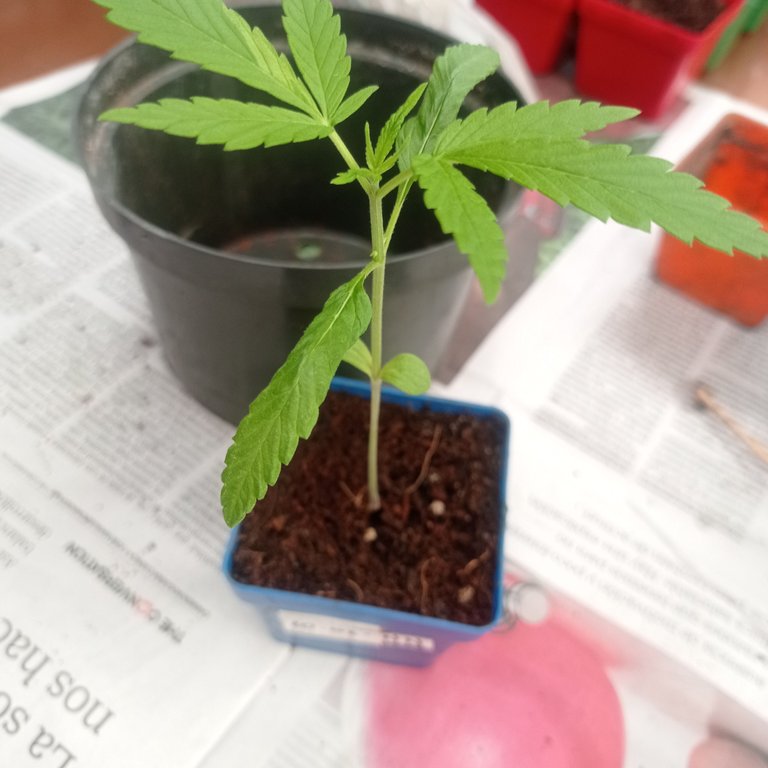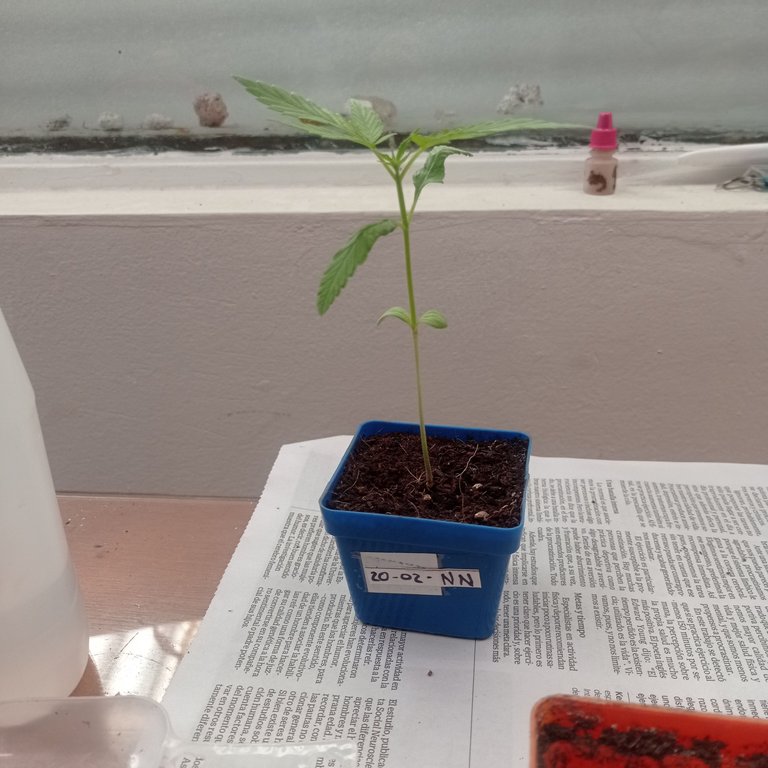 Debes encontrar un contenedor nuevo cuyo tamaño sea bastante superior al tamaño del contenedor actual, recuerda que la idea es trasplantar máximo dos o tres veces.
You must find a new container whose size is much larger than the size of the current container, remember that the idea is to transplant a maximum of two or three times.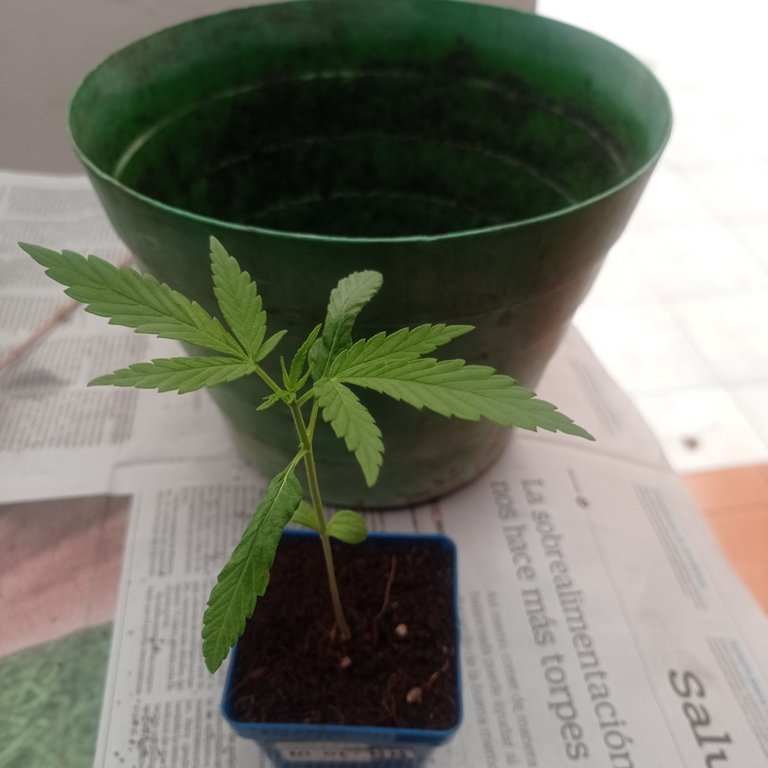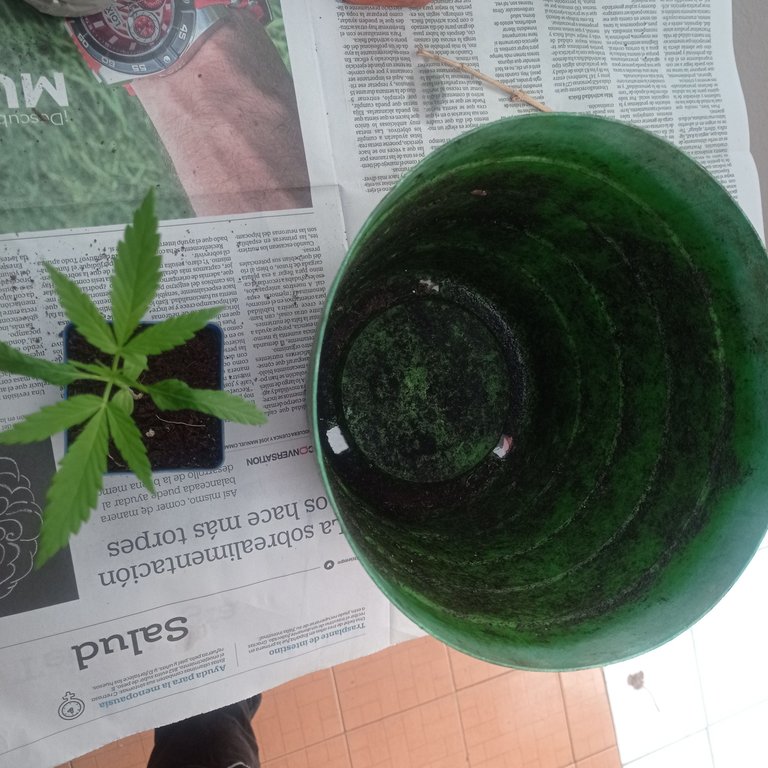 Ahora debes preparar un buen sustrato. Este que yo utilicé está compuesto por turba de coco, humus de lombriz, guano de murciélago, perlita y tierra negra de la finca.
Debes llenar el nuevo contenedor con este sustrato hasta un nivel en el cual puedas calcular que además de cubrir el volumen del sustrato anterior, también logres cubrir parte del tallo hasta llegar casi a los cotiledones.
Es importante que antes de hacer el transplante realices un riego con agua a la planta en el contenedor actual ya que esto ayudará a que sea más fácil de extraer de la matera y conserve su forma sin lastimar las raíces.
Now you must prepare a good substrate. This one I used is composed of coco peat, worm humus, bat guano, perlite and black soil from the farm.
You must fill the new container with this substrate up to a level at which you can calculate that besides covering the volume of the previous substrate, you can also cover part of the stem up to almost the cotyledons.
It is important that before transplanting you water the plant in the current container as this will help it to be easier to extract from the pot and keep its shape without damaging the roots.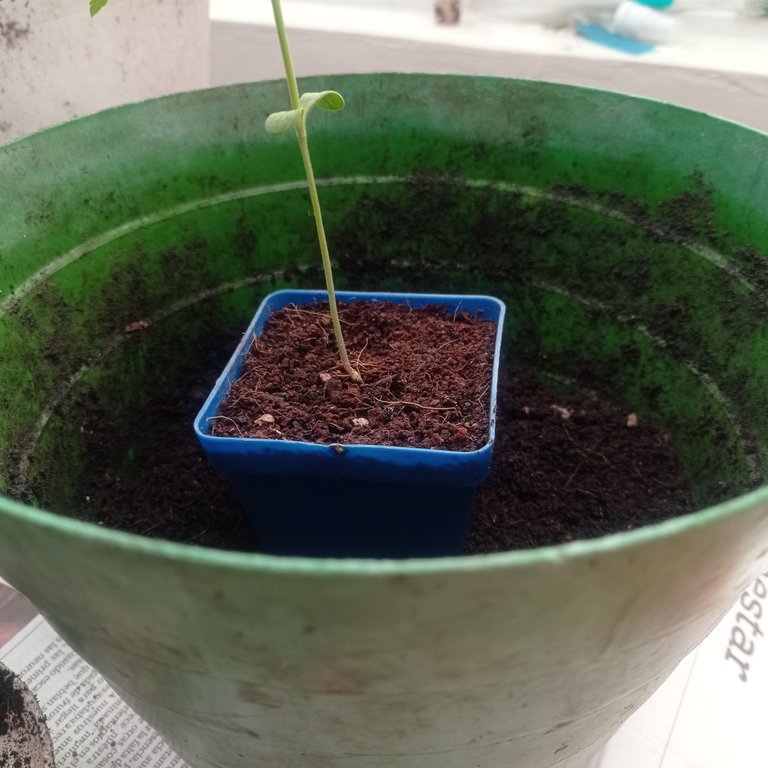 Pones la palma de tu mano sobre el sustrato y metes el tallo entre tus dedos.
Das la vuelta a la planta y con la otra mano masajeas suavemente el contenedor si es necesario, extrayendolo lentamente hacia arriba obteniendo la raíz que ha colonizado el sustrato.
Puedes agregar micorrizas directamente sobre la raíz.
Put the palm of your hand on the substrate and put the stem between your fingers.
Turn the plant over and with the other hand gently massage the container if necessary, slowly pulling it upwards to get the root that has colonized the substrate.
You can add mycorrhizae directly on the root.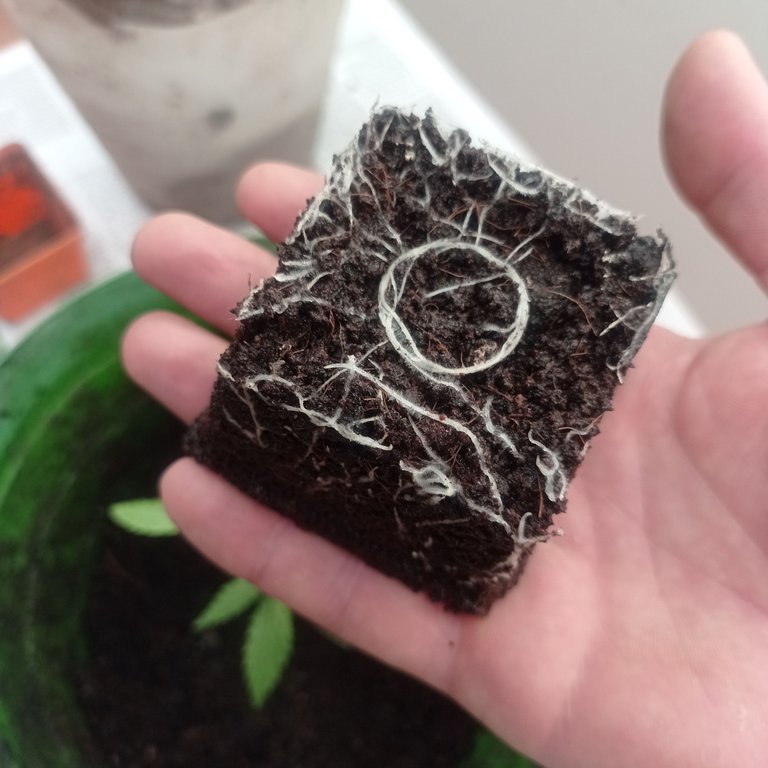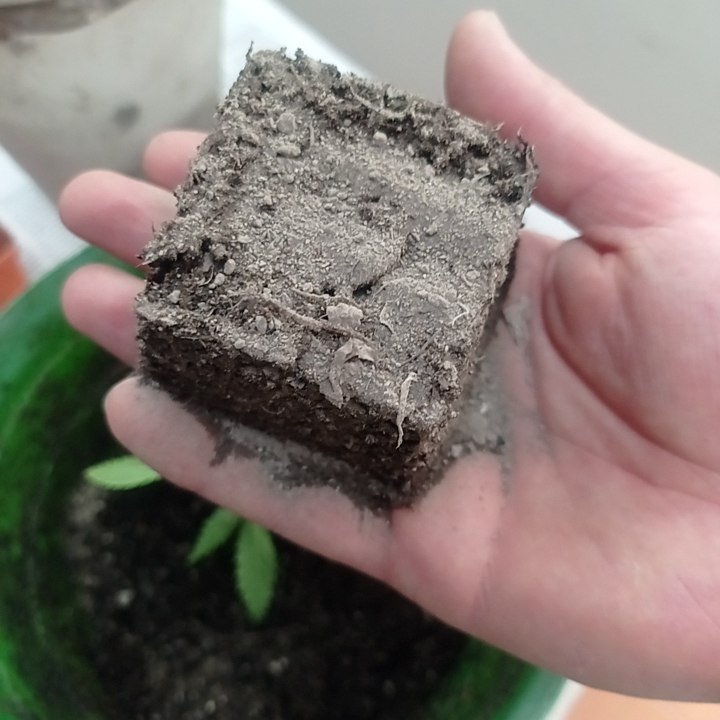 Para finalizar cubres con más sustrato hasta el nivel deseado y riegas con un poco más de agua el sustrato en el nuevo contenedor.
Finally, cover with more substrate to the desired level and water the substrate in the new container with a little more water.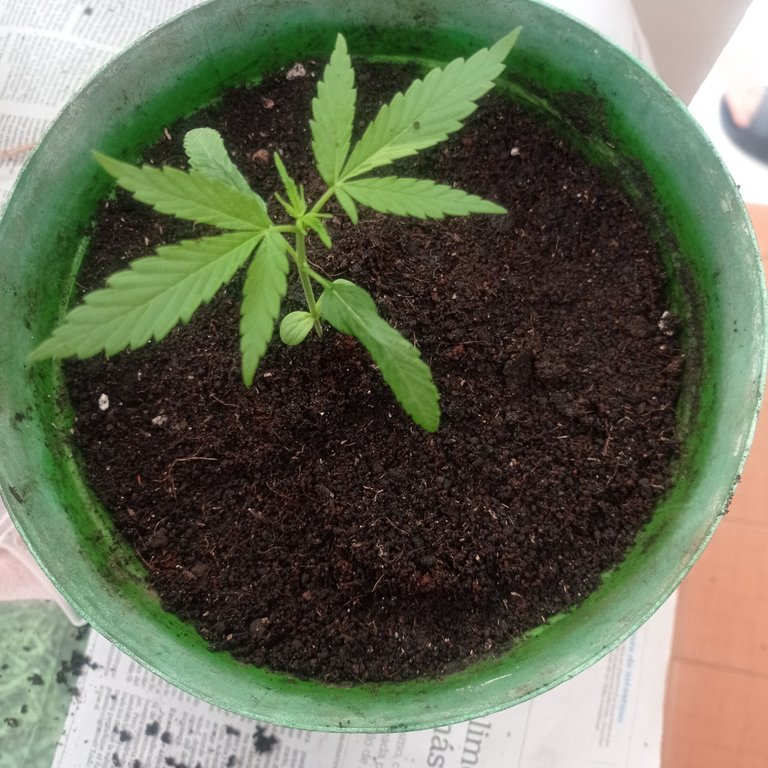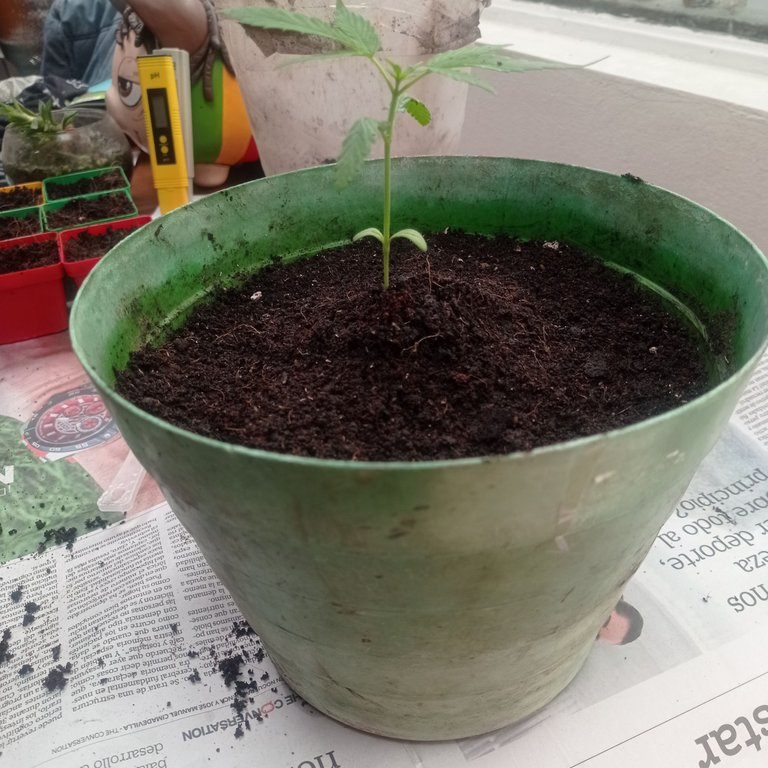 Todas las fotografías mostradas son de mi autoría y la traducción fue realizada gracias a deepl.
All the pictures shown are my own and the translation was made thanks to deepl
Gracias por llegar hasta acá. Hasta la próxima.
Thanks for getting here. Until next time.


https://weedcash.network/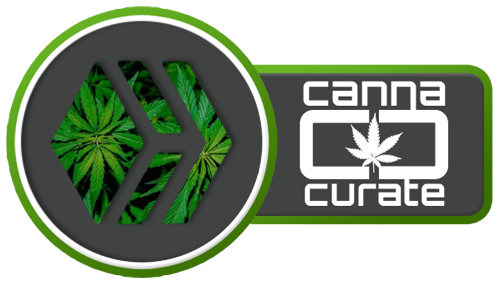 ---
---