Let the drying process begin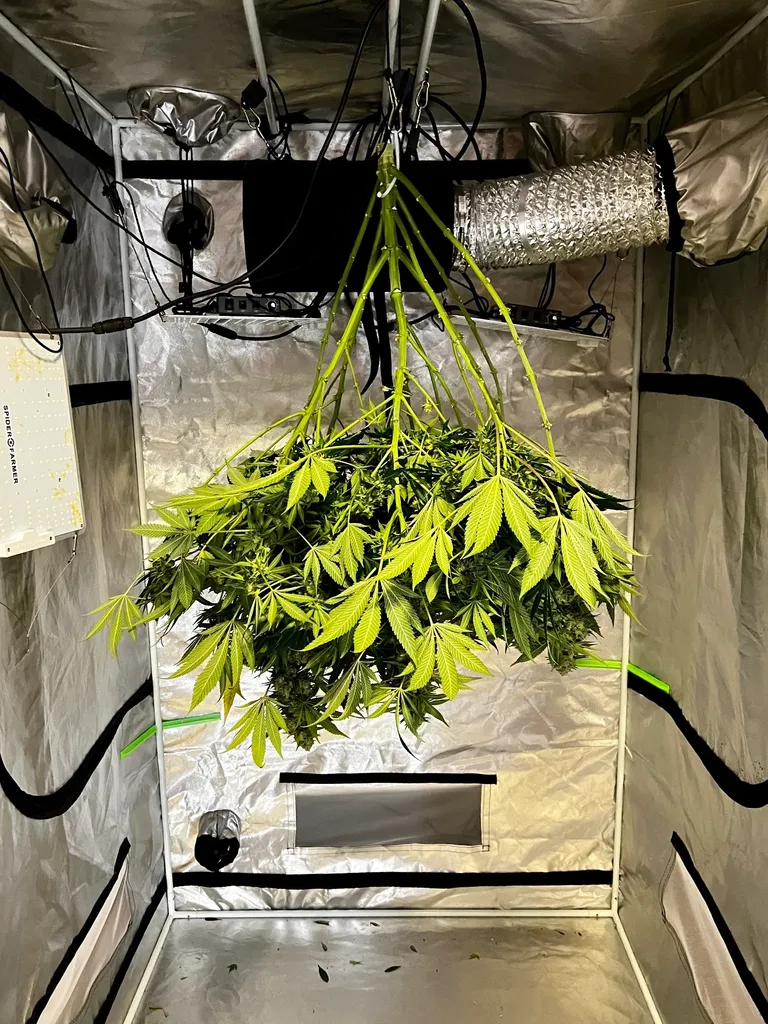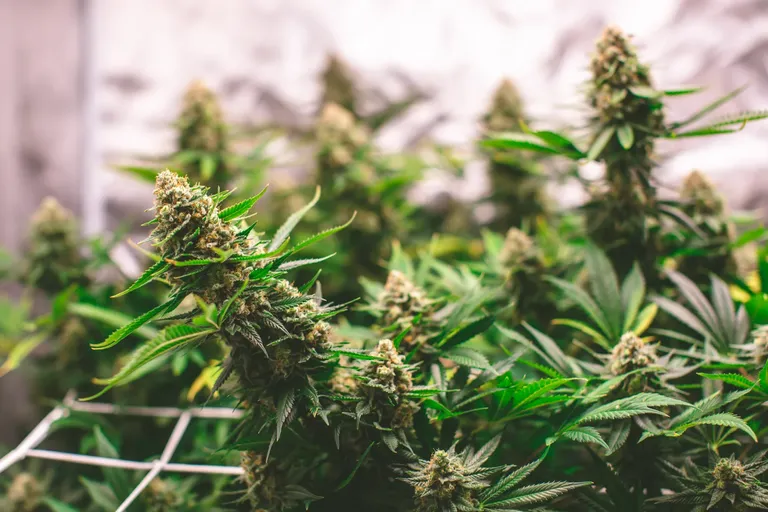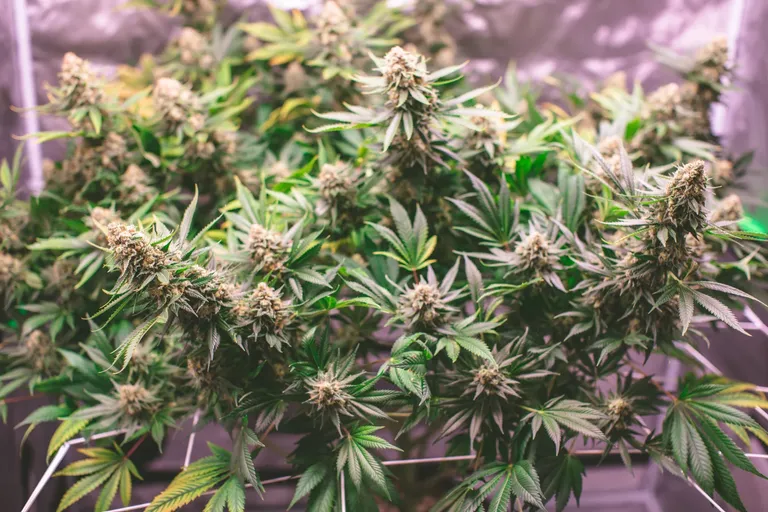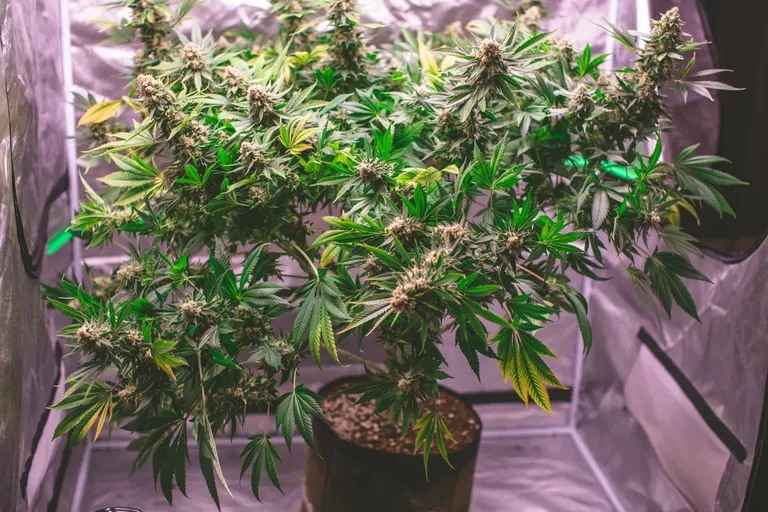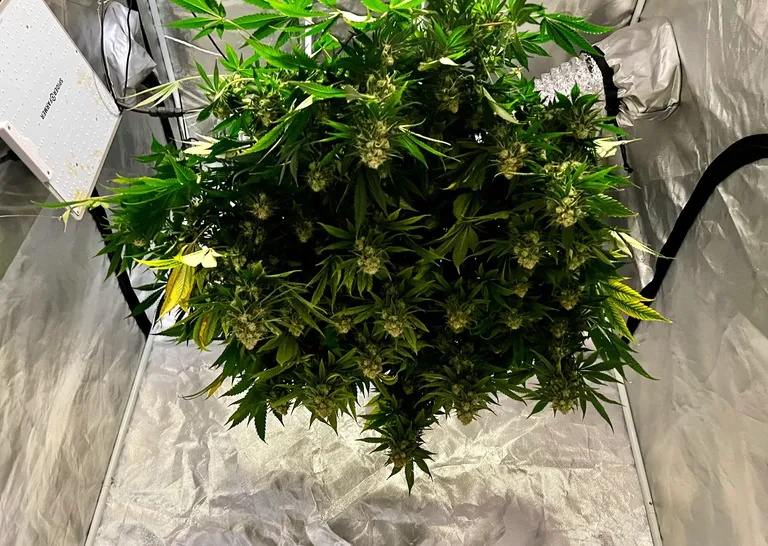 Today was the day that I began the drying process by cutting and hanging the Granddaddy Purple. I feel like this plant had been growing forever and it is cool to see it hanging and know that it isn't much longer until I can try this strain out. Like I have said many times before, this strain is one that I have been super excited for for a few years now.
Friday was the last time that I watered the plant and shut the lights off so it can have 48 hours of darkness before drying. During that time, it gives the plant one final push to soak up as many nutrients from the soil as it can and plump out the buds.
When I opened the tent this morning, I was greeted by an amazing smell, which only got stronger as I began to try and get the netting off. This plant is massive and it was really holding onto the net as I tried to get all the branches out. Buds were sticking onto the netting and leaves were getting all twisted up.
Once I got the top layer of netting off, I really began to notice how much the net was actually helping to support the weight of these branches. Some of the buds are massive on this and without the support of the net, the branches really began to sink down. Once I got the bottom layer of netting free from the plant, you could really tell how heavy the branches were because the plant really looked like it was in bad shape. The branches were not able to support the weight at all.
I am hoping for a drying time of around 10 days before I begin trimming. I am not really looking forward to trimming this beast, but at the same time, I can't wait to see how good these buds look all trimmed up. Plus it will be nice to get a final weight on this plant. I am hopig for close to a pound, but honestly, I have no idea what to expect from this.
I have this hanging in my large tent where it can stay nice and dark. I've also got a small fan at the bottom of the tent to circulate air. You do not want a breeze aimed directly at your drying plant because it can cause it to dry out too quickly and I am trying to keep this as close to perfect conditions as I can.
Once it is done and ready for trimming, I will be moving my Crystal Candy auto into the tent where it can get more light because it is going to begin its flowering stage pretty quickly and getting extra light on it will really help it. I am also going to be starting a Sour Diesel and an AK47 seed in the tent as well. Those will be growing in smaller 5 gallon pots, so I am hoping that they do not get to be as large as the GDP because they are photoperiods as well. I am hoping to slowly switch over to growing mainly photos because I really like the control you have during growing and the yield from the photos.
This has been a very rewarding grow so far. I have learned some cool new techniques and I think for my first real photo period grow, it turned out really great. Just a few more weeks until I can try these buds out...
---
For the best experience view this post on Liketu
---
---