Less is more when growing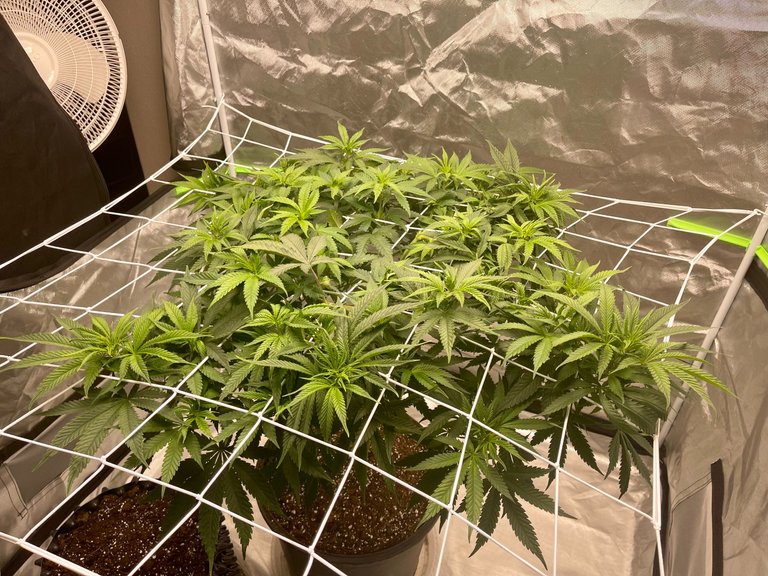 Always learning

One really cool thing about growing cannabis is that you can always learn something new to improve your skills. Sometimes it can be a hard lesson when you have been doing something wrong, but as long as you notice it and change it for the future, you should have success with it.
One of those lessons for me lately was that I need to focus on maximizing the lighting to my plants and not trying to maximize how much empty space I have in my tent and filling it with as many plants as possible. I have learned that doing this does not really increase yields, but it can actually hurt your yields and your buds aren't as good as they could be.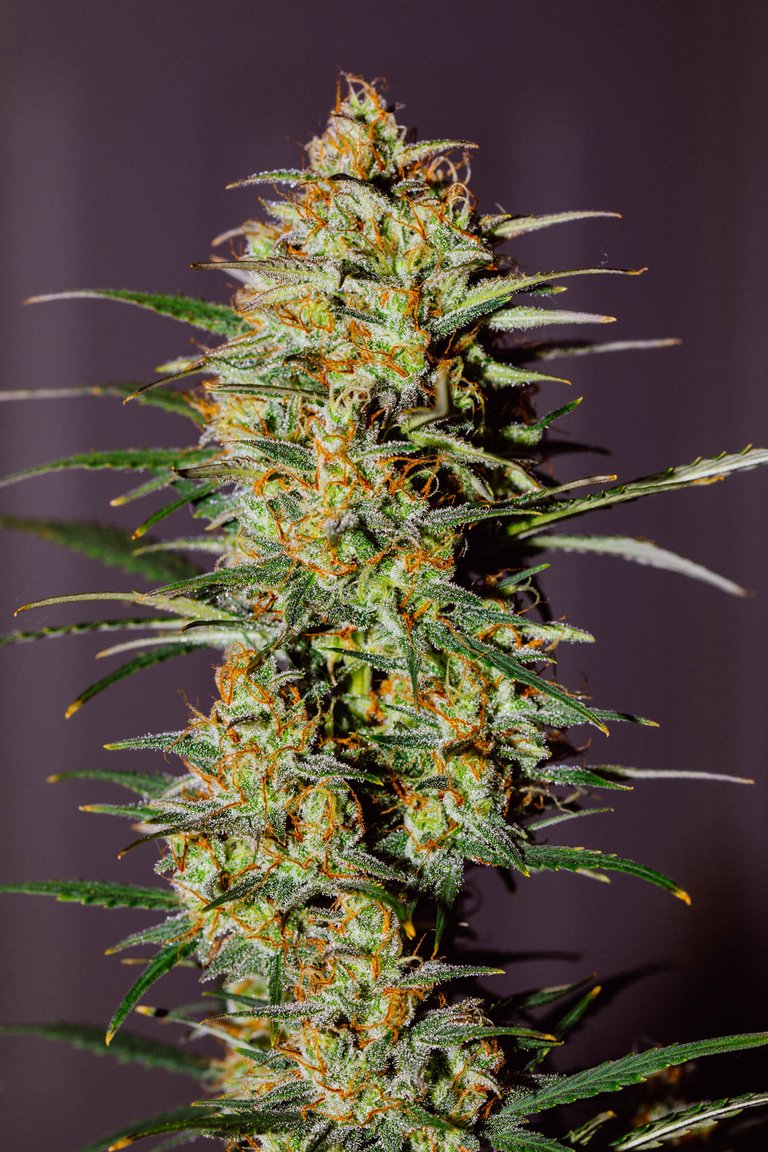 This above was my very first cannabis plant that I ever grew. It was the northern lights strain and as you can see, it was a pretty fat plant. The last few harvests I have had, have not really been as impressive to me as this one was and I think the main reason for that was that I had too many plants stuffed in my tent and not enough lighting in there to really feed the plants the way they should have.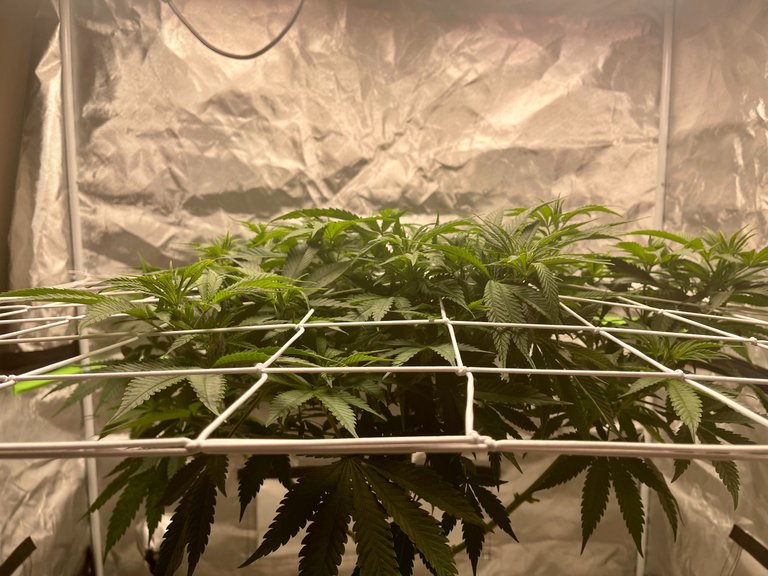 So once I get this lady into her flowering cycle, that will be a real test to see if some of the things I have learned are true or not. Right now, I just have this one plant in the tent with three lights and over the past week or so, I have been working on getting a nice even canopy.
I go in and check on this plant a few times throughout the day and tuck branches under the netting and pretty much force it to grow sideways across the net. Then tiny branches pop up through the different holes and those will eventually be the many different bud sites.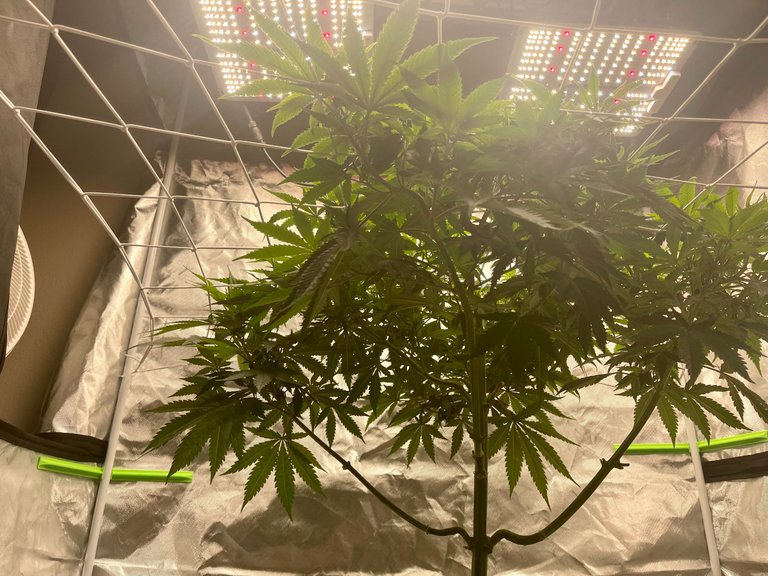 The goal is to spread the plant out along the net as much as possible so there is a nice even canopy that all gets good lighting. I will be trimming off anything that is under the canopy, because anything under the net won't be getting any light and it will just leach nutrients from the rest of the plant as it is flowering.
I think one of my main goals with this grow is to see how much bud my three lights can force this plant to push out. I have already noticed that this plant consumes a lot more water than my previous ones and it drinking almost 3 liters a day. When I transplanted it to the larger pot, I did notice that the lower part of the root ball was pretty dry compared to the top, which leads me to believe that I was underwatering it for a while. So hopefully with the extra water and extra lighting going to this plant, it should produce quite a bit.
When I had six quad grape plants in here, it netted about a half a pound of bud once they were dried. I am betting that this one plant can be pretty close to that, if not produce more. I am not sure how many different flowering sites there will be once it does begin flower, but it should get massive in there. I am most likely going to need a larger fan and filter set up for this to try and keep the smell down.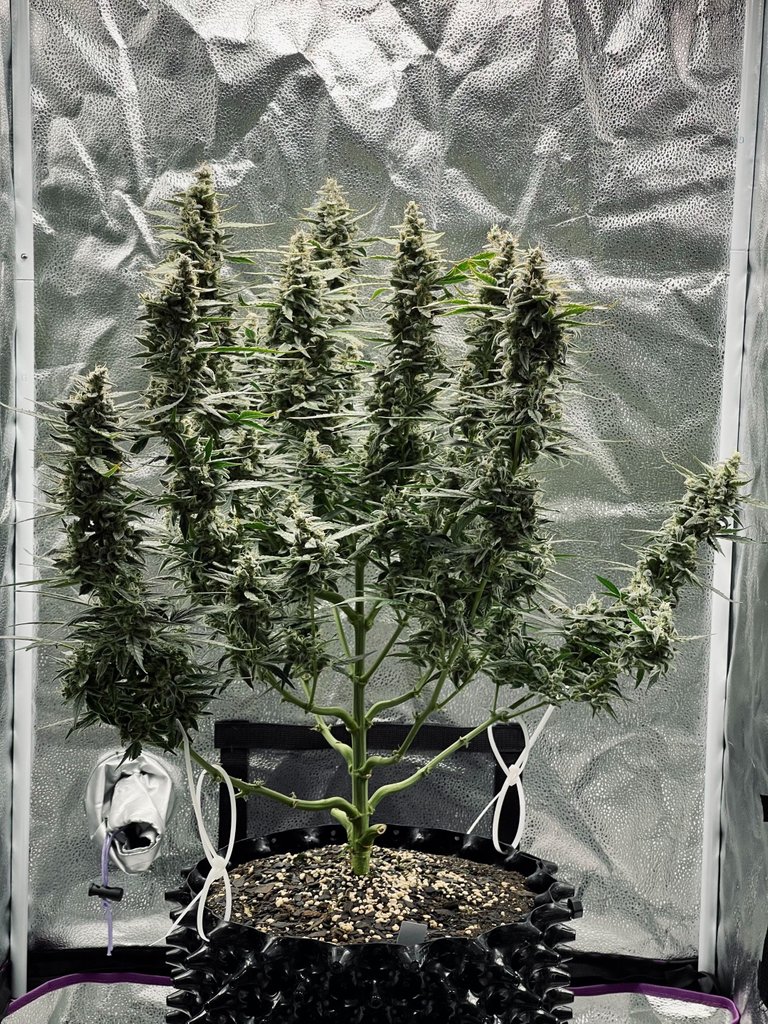 My bubble gum that is in the smaller tent is getting closer and closer to being ready and has started to fatten up a bit more over the past few days. I may have been underwatering this one as well because I was only giving her about 1 liter of water a day, but lately, it has been closer to 2 liters. I need to get better at paying attention to the run off and making sure that watering is going through the whole pot and coming out of the bottom to let me know water has gone through all of the soil and has reached all of the roots.
I had germinated a purple punch seed a few days ago and last night I place it in its own 5 gallon pot. It should sprout up in a couple days. I have it in the larger tent where it will get a little bit of light, which is perfect for the seedling stage because you don't want to be blasting the newborns with a lot of hot lighting.
Once the bubble gum is ready for harvest, the purple punch will be taking its place in the smaller tent and I won't be starting anymore seeds for a until these two plants are done. I think that the GDP and purple punch will be finishing around the same time, which will be good because it will give me a break from growing and a chance to get the room cleaned up and a bit more organized. There always seems to be some sort of work that is needed in the grow room.
Anyways, thanks for taking the time to stop by and check out the progress of this grow. I am super excited for the GDP. I think it is going to be a monster in about a month. One thing I really like about photos it that there isn't as much pressure to get things done within a certain timeline like when growing autos.
---
---