Grow Log - It's been a while since I made one...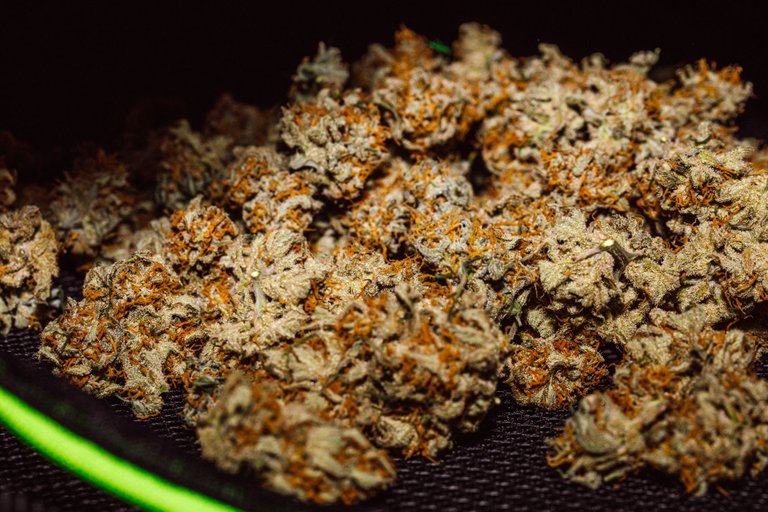 Photo by me
My garden is doing awesome

It has been a while since my last grow log and so much has happened in that time. I harvested my critical purple about 4 days ago and it has been on the drying racks since then. I trimmed the buds up yesterday to get rid of the larger leaves and shape them up a bit.
Today I cut the stems off the buds and weighed it out. I was pretty impressed with the size of a lot of the buds on this plant and I knew it was going to be my biggest harvest so far. After getting rid of the stems, the weight came out to 47 grams. Not too bad for my third plant.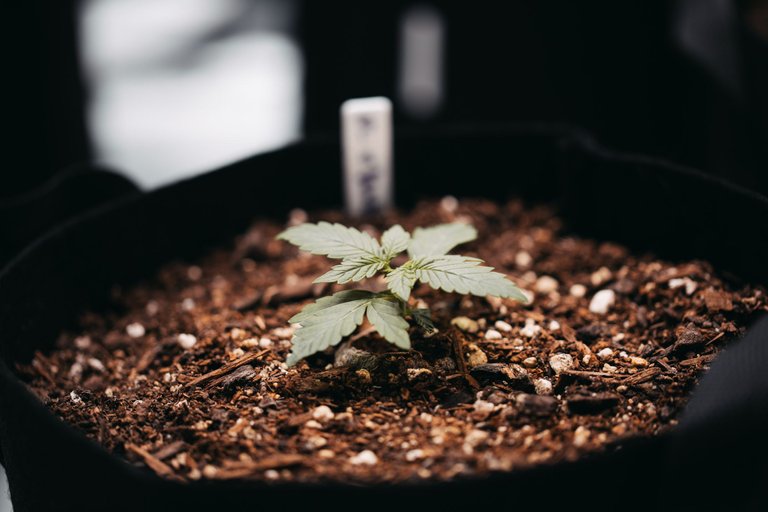 Photo by me
My other plants are doing great. I have three smaller ones that just sprouted up about a week or so ago. This one above is either norther lights or bubblegum. I didn't do a very good job while I was germinating this one to keep track of its strain. Hopefully I will be able to tell what it is as it flowers.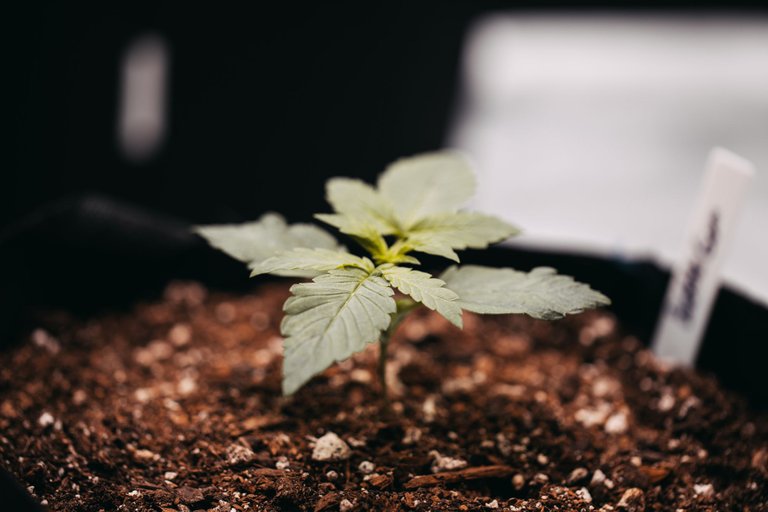 Photo by me
The rest of the plants are all the bubble gum strain. Hopefully bubblegum is a good strain because I am going to have a lot of it.
An uplifting euphoria elevates the mind immediately, relieving stress and increasing energy, according to reviewers. Bubble Gum is often described as well-balanced in part because the energy and euphoria last a long time then gives way to a calming, deep relaxation that makes you feel great.source
It sounds like it is going to be a pretty awesome strain.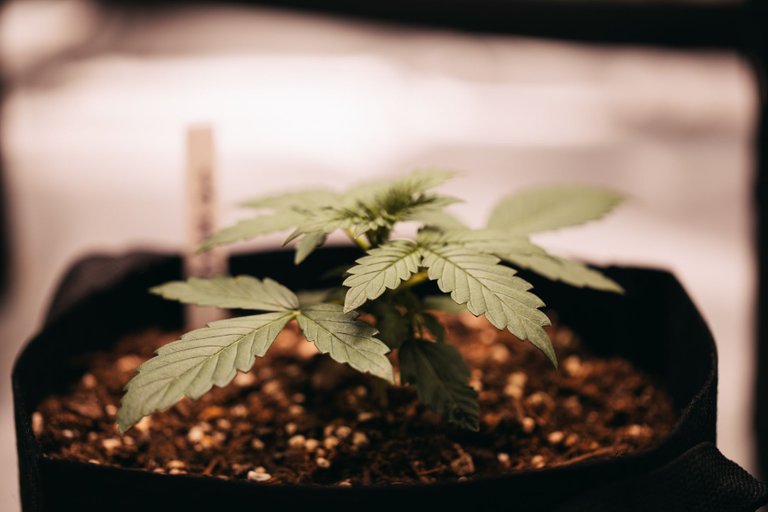 Photo by me
This one is the first of the newest sprouts and it is doing really good. I am going to be starting the training on this one some time this week once it gets a bit taller.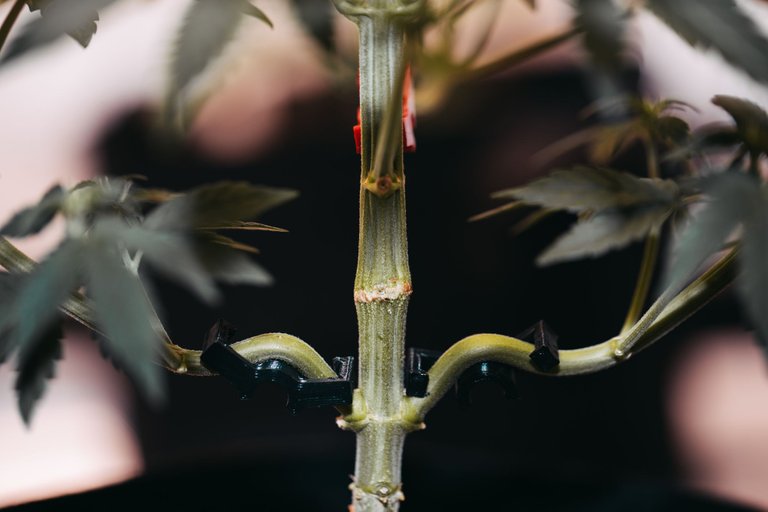 Photo by me
This is the bubble gum that I snapped the main stem on a while back and put the band aid on. The stem is fully healed has a nice knuckle on it where it healed. The branches that I put the super croppers on have really fattened up and look awesome.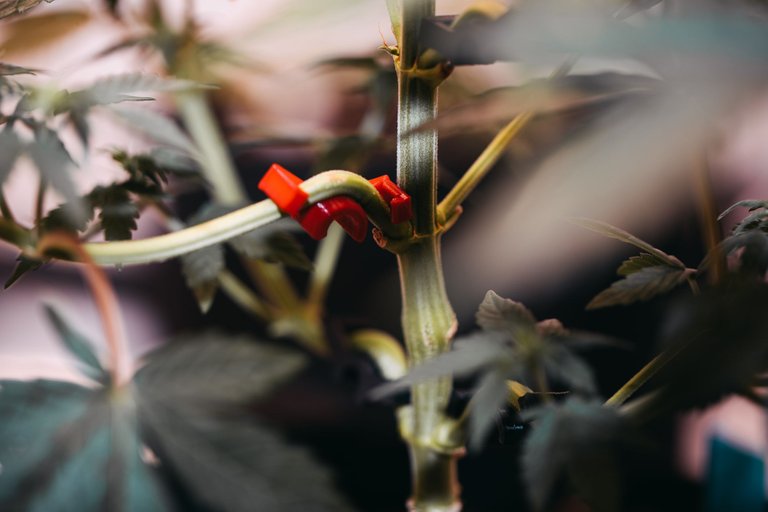 Photo by me
One thing I am doing with this plant is to put the super croppers on early. I always waited too long to do it and the branches were a lot more stiff and would usually bend at like a 90 degree angle and never really recover from it. But doing it early has made it so much easier and fattens up the branches with super nutrients. I am excited to see if this increase the yield or not. Since I have so many bubblegum plants right now I am going to use the super croppers on all of them except for one and see if there is a difference.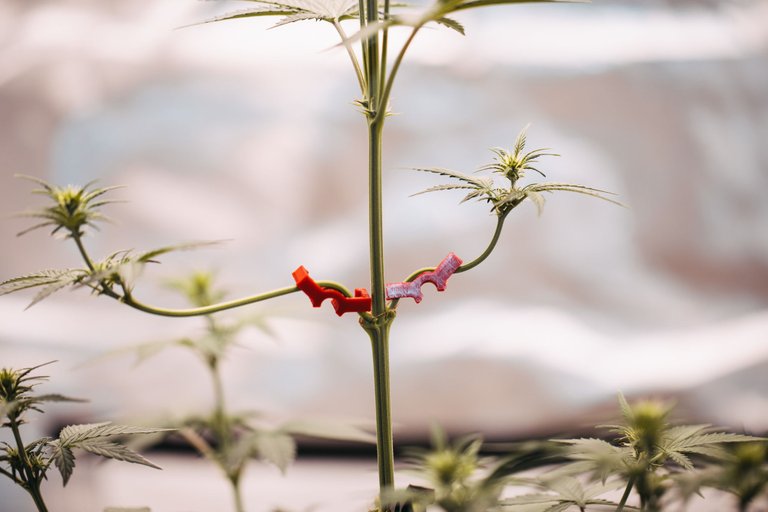 Photo by me
I just put these two super croppers on a couple days ago and the branches have already rebounded and pushed up towards the lights.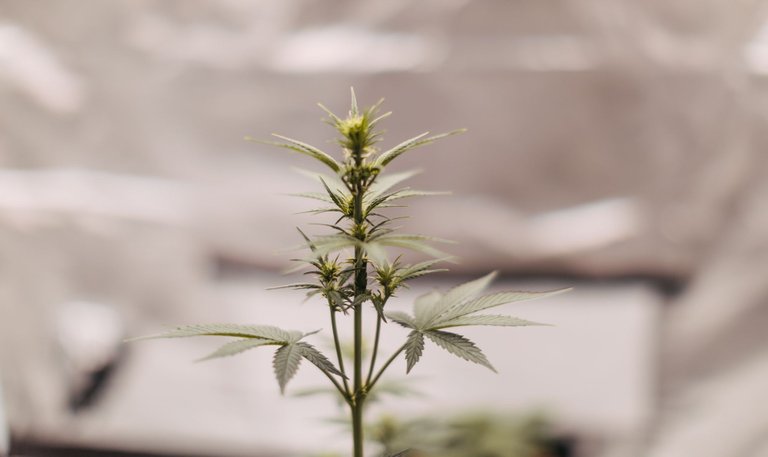 Photo by me
The top of this plant is looking good and it is preparing to enter the flowering stage, so I figured it would be a good time to train the main stem again.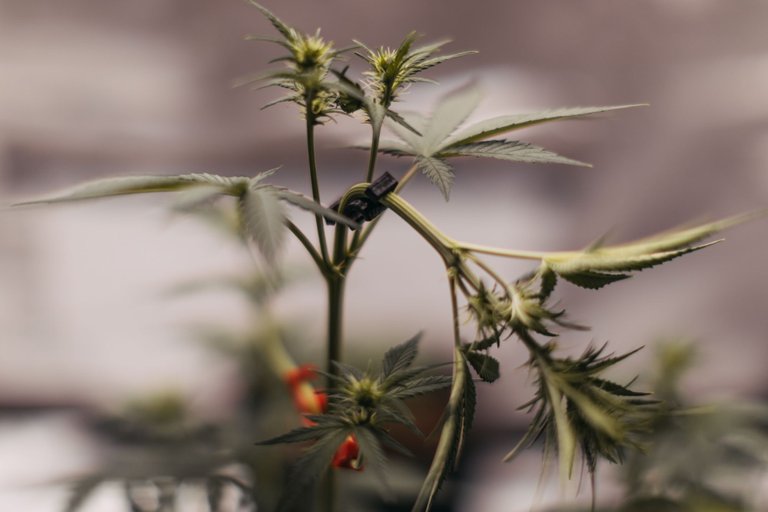 Photo by me
I learned my lesson the last time bending the main stem and I did it a lot slower and pinched it to break up the fibers so it was more bendy.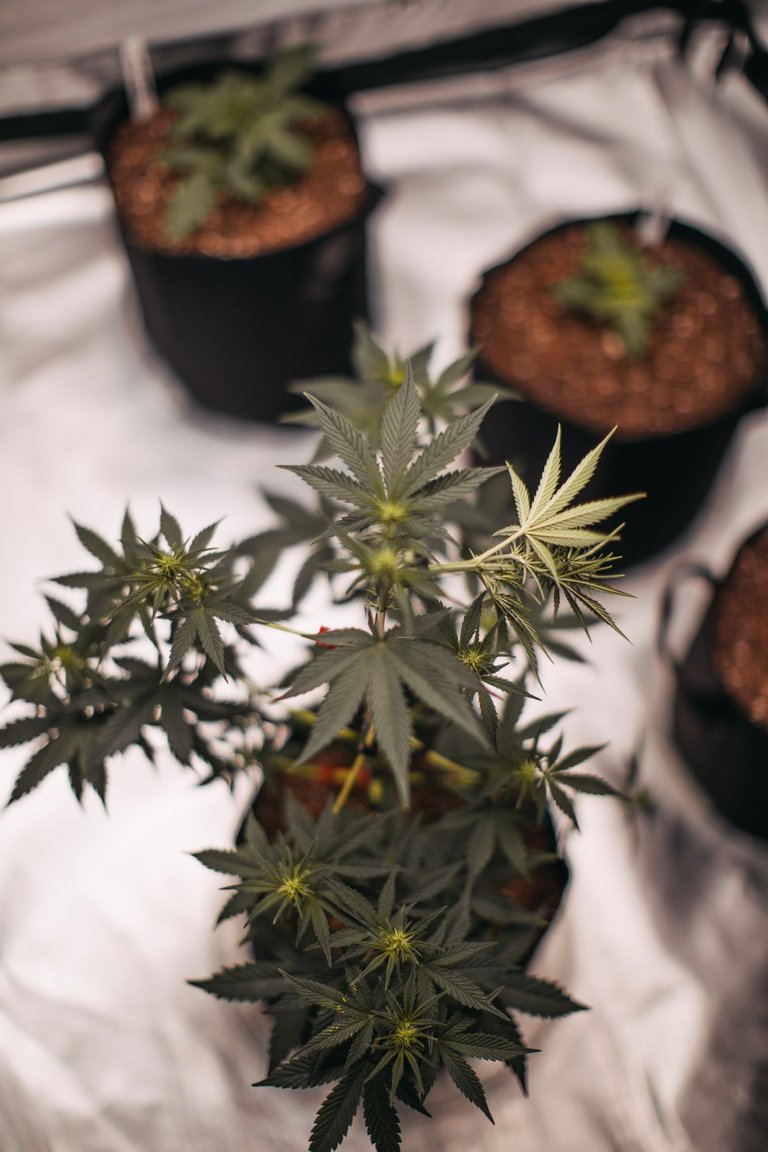 Photo by me
Overall, my cannabis plants are doing really good and I am excited to see how they grow from here. I have been learning a lot lately and trying to incorporate everything I have been learning into increasing my yields and have healthy plants.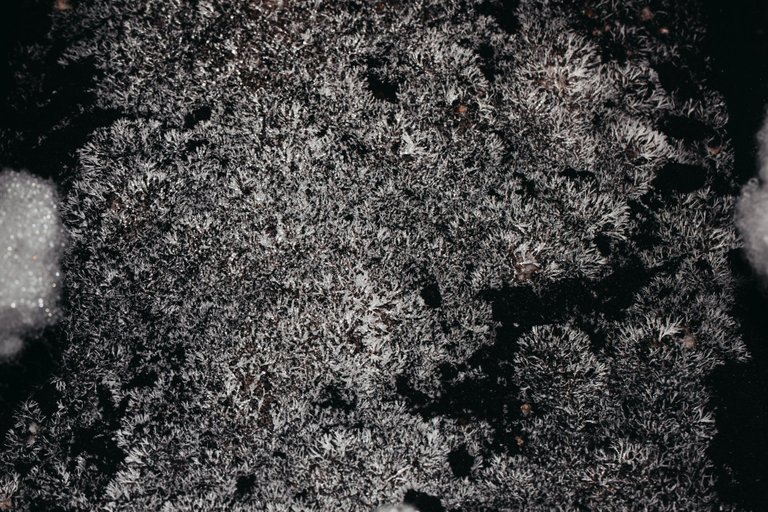 Photo by me
My mushroom tub is doing good, I think. I really have no idea what it is supposed to look like at this stage. But there is no green, so that is good. Green means that there is an outside mold.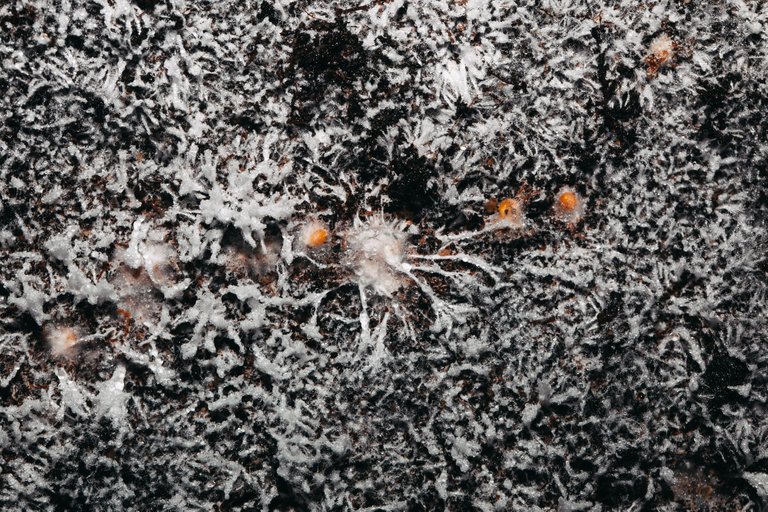 Photo by me
It looks like an alien colony or something. In about two weeks, it will be ready for the coco fibers to go over the top and that is where the actual mushrooms will grow out of.
This whole mushroom grow has been a pretty fun experiment. I have another spore syringe in my fridge and I should be getting my next order of substrate and grain in a few days. I will be injecting that bag with the spores once I put the coco in this tub. That will give me time to get these shrooms harvested while getting the mycelium going in the bag.
So that about does it for this grow log. I am having a blast growing my own cannabis and I can't wait to try out the mushrooms I am growing. It will be nice to be able to microdose and have plenty of mushrooms to do it with.
I have been off all my medications from the VA for a little over a month now and I am still having some pretty bad withdrawals from them. The brain zaps have gone down in intensity, but they are pretty frequent. I recently had a migraine that lasted about two days and it was horrible. The only thing that was able to take the pain of the migraine away was my northern lights that I grew. I really like the northern lights strain because it is such a relaxing strain without a crazy head high.
Oh, I almost forgot. I started germinating the seven seeds that @jonyoudyer had sent me of his Big Mac strain. I am pretty excited for these because it will be my first photo plant grow. I have only been growing autos so far, so it is going to be nice to learn how to grow photos. Once they are ready for flower, all of my autos should be done growing and harvested, so I will be transitioning my whole tent to the 12/12 cycle to induce the flowering of the big mac. Those plants should produce a lot of buds and I am super stoked about them.
---
---