Introducing CropSwap - Convert hive to swap.hive and vice versa at 0.25% fee
dCrops is a farming simulation game on Hive. It is a play to earn game where you can earn CROP tokens by playing the game. Read our announcement to learn more.
Start playing at www.dcrops.com!
CROPSWAP
Since the dCrops NFT market works through hive-engine and accepts swap.hive instead of hive, we're introducing cropswap. You can now easily swap $HIVE to $SWAP.HIVE. and vice-versa for a lower fee of 0.25% through the site itself instead of paying 0.75% on hive-engine.
Just go to www.dcrops.com/swap and you will be greeted with this interface and you can easily start exchanging $HIVE and $SWAP.HIVE.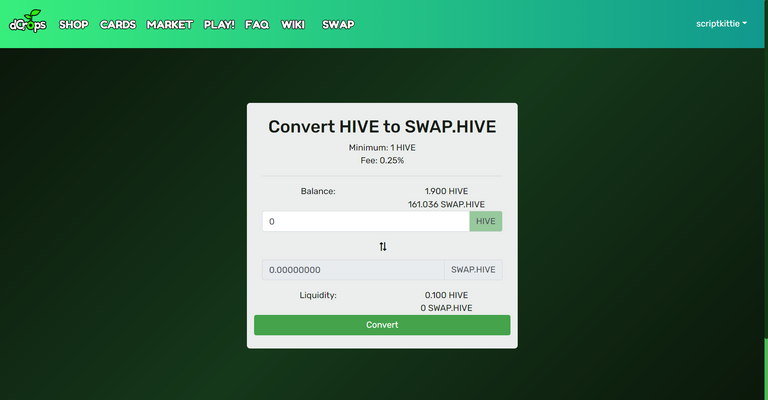 Liquidity and Fees
The swap service will start with an initial liquidity of 150 HIVE while we test the code for a while. The liquidity will be increased later.
During our pre-sale, we had set aside and sold some hive to pool into the BUSD-USDT farm on cubdefi. This pool is no longer continued and we've decided to add use this amount(which was swapped for around 600 hive a couple of days ago) to increase the liquidity later on.
We will also enable any other interested players to add liquidity to this pool later on. In case you are interested, drop a message to scriptkitty#0211 or on our discord.
A part of fees collected from this service will be given out as rewards to the players of dCrops. Whether this will be in the form of holding rewards or something else is still under consideration.

Wen BETA?
We have had a lot of progress towards the beta edition and we're confident to complete it in the second quarter. There will be multiple posts soon with more updates and posts explaining new aspects of the game till we announce the sale and/or presale.
The next post will be about reward NFTs which you will soon be able to get by completing your quests.
---
Play Now: https://www.dcrops.com
Join our discord: https://discord.gg/zeJShKkF7K
Twitter: https://twitter.com/d_crops
Posted Using LeoFinance Beta
---
---