My top 3 off Amsterdams best coffeeshops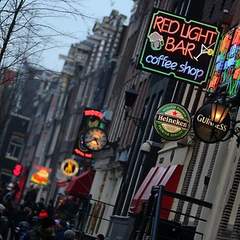 Amsterdam is an international hotspot for cannabis. The capital of the Netherlands is famous for its coffee shops, the Red Light District, bizarre cafes and quirky museums. The city's easy-going law enforcement means that millions of tourists come every year to enjoy cannabis. There are plenty of coffee shops to choose from. Some are bustling with activities, others are an oasis of peace. Each store radiates its own unique atmosphere, so there is certainly one for you. To spare you the scavenger hunt around town looking for your favorite coffee shop.
Boeren Jongens
Boerejongens wouldn't be Boerejongens if they didn't proclaim themselves the best coffee shop chain in Amsterdam. And they are actually a bit right. They have four branches in the city: Boerejongens West, Centrum, BIJ and Coffeeshop Sloterdijk. Everyone who visits these coffee shops says the same: what an extraordinary quality! It is spotlessly clean throughout, the interior is made of wood and has old-school lamps.
The budtenders are well trained, know what they are talking about and are very friendly. In addition, their three-piece suits and bowler hats also add to the sophisticated look. Set and setting are important for your high and Boerejongens pulls out all the stops to provide you with a pleasant experience every time. They have won numerous awards, including the Captain Hooter Best Coffeeshop Award and the Zamnesia Best Coffeeshop Award.
Boerejongens has a menu to enjoy and all varieties come from Amsterdam Genetics. Treat yourself to an indica variety, such as Tangerine G13 or Green Magic G13, or sativa varieties, such as Blueberry Haze and Amnesia Haze.
DAMPKRING (COFFEESHOP AMSTERDAM)
Dampkring is also a chic coffee shop. You can walk there in fifteen minutes from Central Station; this way you can already get a taste of the city atmosphere. Dampkring has taken a completely different path than many other coffee shops you can find in Amsterdam. Many of them are dark, overcrowded and some even a bit shady. Damp circle is the exact opposite. The establishment is bright, spacious and clean. The interior is inspired by Arabic, Bohemian and Buddhist themes, creating a calm and relaxed atmosphere. In addition, the crew is also very helpful and very friendly.
Even seasoned smokers are amazed when they see the endless menu. You will find strains like Cheese, Sour OG, AK-47, Bubba Kush and Gorilla Glue # 4. The menu also states the taste, smell and effects of each product, so that you know exactly what to expect.
Atmosphere
OLD AMSTERDAM
You will find coffeeshop Old Amsterdam in a pleasant part of the city. It is a perfect place to retreat to after a long day of wandering and keep your eyes peeled. You immediately feel that there is a relaxed and friendly atmosphere when you enter. The owners have done their utmost to create a great atmosphere. The brick walls, large paintings and the artwork in the back of the store make the small space seem much bigger.
Old Amsterdam has a menu to say 'you' to. The coffee shop has a lot of very strong strains in house, such as White Widow, Mango Haze, Blue Cheese, Amnesia and Hawaii Haze. Hash smokers are also in the air thanks to the Nepal Cream, Golden Kashmir and Super Polm that are on the menu. Don't feel like turning around? It is also possible to score three pre-rolled joints for only € 12.
Thnx for reading my review... peace out all
---
Posted via weedcash.network
---
---