They wanted to take us the plants! / Nos quisieron llevar las plantas!
Good morning community! I was passing by to tell you that, as I published a few posts ago, we harvested one of the family's plants!
today it has already been drying for a few days but obviously it still needs to dry before curing.
After harvesting, we stayed with my son and my husband at my parents' house since the following night we would have to fulfill religious commitments and we live far enough to be coming and going.
At night we took a bath, we put on our religious clothes, we took Gonza and started our trip to the religious rite in which we would participate.
Buenos días comunidad! me pasaba por aquí para contarles que como publique hace unos post atrás cosechamos una de las plantas de la familia!
hoy ya lleva unos días de secado pero evidentemente aún le falta secar para luego curar.
Luego de cosechar nos quedamos con mi hijo y mi esposo en casa de mis padres ya que a la noche siguiente deberíamos cumplir con compromisos religiosos y vivimos lejos como para estar llendo y viniendo.
Llegada la noche tomamos un baño nos pusimos nuestra ropa religiosa tomamos a Gonza y emprendimos nuestro viaje hasta el rito religioso en el cual participaríamos.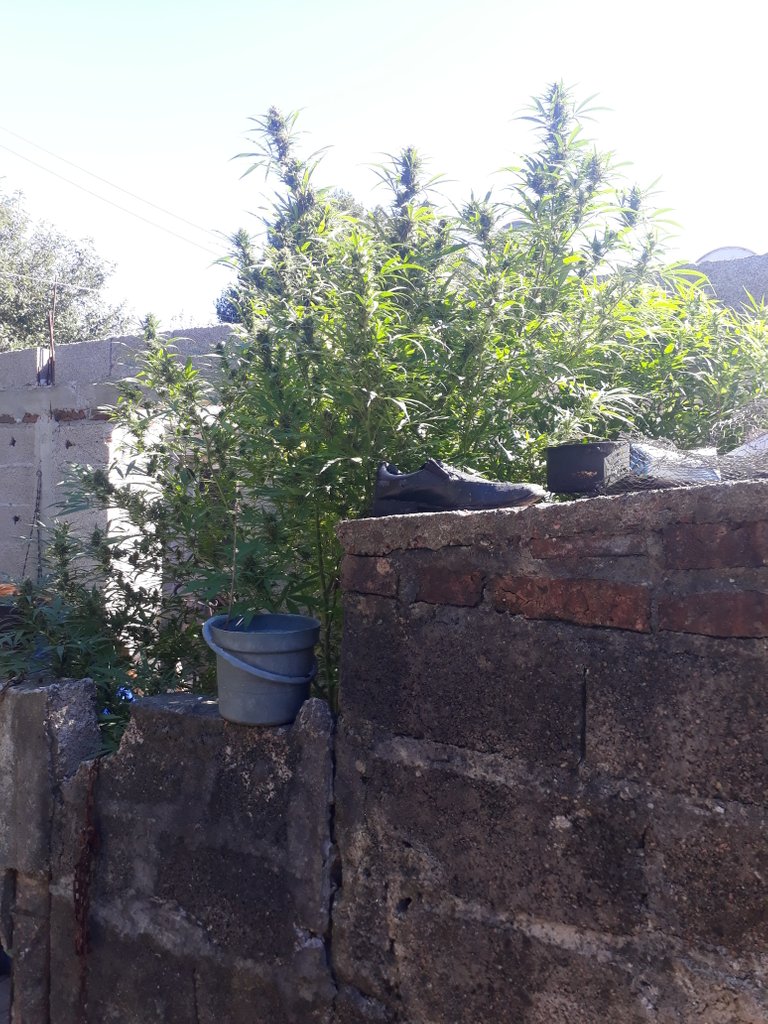 The night was wonderful beyond the fact that Gonzalo, as usual, behaved quite badly. After this ritual, at approximately 3:30 in the morning, we headed back to my parents' house. Upon arrival, we found my mother sitting in the dining room watching television and my father getting up to go to the bathroom.
We ate pizza and talked a bit, my father went outside to smoke and after 5 minutes he came back.
When Anjo (my mother's dog) was about to go to bed again, he began to bark, because of the way he did it I thought he was about to fight with another dog, at that moment my father sees that the Marijuana plant is moving and he runs out to the patio and we feel that scream! give it chee!! and I thought oh, he was a dog! he went back into the house and I told him what dog was he? to which he replied: "My dog, there was a thief hanging from the plant and two more waiting for him on the road"!
Indeed 3 thieves had gone for the family plants! my husband took a blade and headed towards the gate just wasting his time since the thieves had already run away, they didn't leave a trace!!
We suppose that to go and steal it they would think that at that time we would all be sleeping and that his plan was going to be carried out successfully, which was not the case since they did not even cut a single cogoyo, the plant was intact! Only the branches that I had cut the day before were missing.
La noche fue maravillosa más allá de que Gonzalo como acostumbra se portó bastante mal. Terminado dicho ritual aproximadamente 3.30 de la madrugada emprendimos el regreso a casa de mis padres, al llegar encontramos a mi madre sentada en el comedor mirando televisión y mi padre levantandose al baño.*
Comimos pizza y conversamos un poco, mi padre salió a fumar afuera y al cabo de 5 minutos regreso.
Cuando estaba por acostarse nuevamente Anjo ( el perro de mi madre) empezó a ladrar, por la forma en que lo hacía pense que se estaba por pelear con otro perro, en ese momento mi padre ve que se mueve la planta de Marihuana sale corriendo al patio y sentimos que grito! Dale cheee!! y pense ah, fue un perro! volvió a entrar a la casa y le dije que perro era? a lo que me respondió: "Que perro mija había un ladrón colgado de la planta y dos más esperandolo en el camino"!
Efectivamente 3 ladrones habían ido a por las plantas familiares! mi esposo tomó una cuchilla y se dirigió hacia el porton solo perdiendo su tiempo ya que los ladrónes ya habían salido corriendo, no dejaron ni el rastro!!
Suponemos que para ir a robarla pensarían que a esa hora todos estaríamos durmiendo y que su plan se iba a concretar con éxito cosa que no fue así ya que no llegaron siquiera a cortarle un sólo cogoyo, la planta estaba intacta! solo faltaban las ramas que yo había cortado el día anterior.
Once the whole family was aware of the incident, the next day my brother arrived and decided to finish harvesting it since we know that the thieves, having not been successful, would try to take it away again!
Currently 2 plants remain to be harvested which still lack a little, these are a little more sheltered since the dog reaches where they are planted preventing anyone from approaching!
The photos are my own. Thank you for reading. See you in my next post!
Ya enterada toda la familia sobre el incidente al día siguiente llegó mi hermano y decidió terminar de cosecharla ya que sabemos que los ladrones al no haber tenido éxito volverían a intentar llevarsela!
Actualmente quedan por cosechar 2 plantas las cuales aún les falta un poco,estas se encuentran un poco mas resguardadas ya que el perro llega hasta donde ellas estan plantadas impidiendo que aguien se acerque!
Las fotos son de mi autoría Gracias por leerme nos vemos en mi siguiente post!
---
---