My top 5 favorite content creators on Hive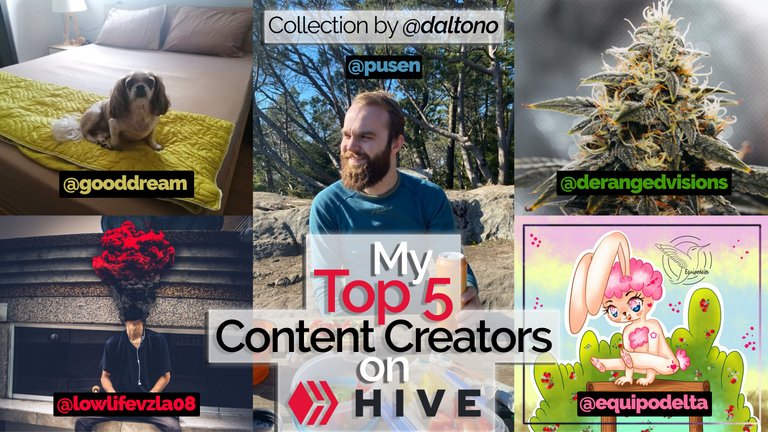 https://peakd.com/hive-156509/@equipodelta/challenge-mermay2021-grisvisa-my-first-entry-luna-espeng
My favorite artist on Hive. Her uber cute artistic creations always remind me of my girlfriend. Plus @equipodelta is a very kind human being.
https://peakd.com/hive-120078/@derangedvisions/almost-ready
@derangedvisions posts about his cannabis grow process, gaming, photography, and more. He is a cool dude and always worth checking out.
https://peakd.com/hive-140217/@pusen/i-collected-all-120-stars-in-super-mario-64-for-the-first-time-in-my-life
@pusen is a perfect example of what can happen if you are new to Hive in 2021 and stay on the grind. He is one of the best community members I know.
https://peakd.com/hive-189689/@lowlifevzla08/wings-of-ghoul-photo-montage
@lowlifevzla08 reminds me of myself when I first started doing graphic design. He creates amazing tutorials and will continue to get better each and every day.
https://peakd.com/hive-141359/@gooddream/my-move-to-vietnam-couldnt-have-been-timed-better
I enjoy seeing what it is like to be an expat in an Asian country. The stories from @gooddream are always entertaining and very well written.
---
---