Happy Hemp Day Chill Session In Canna-Curate Discord - Droppin' A D00k13 LIVE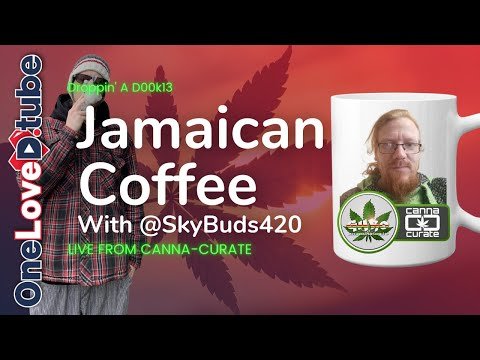 ---
What up Stoners!!! Coming at you today from Canna-Curate Discord with co-host @Skylinebuds420 talking about .... who knows what .... in who knows what order .... we will AirDrop some $DTUBE $HIVE $STEEM $BTC $ETH and search through the Cannabis content on DTube ... honestly who knows what we are Stoners! 😁😎
GOT LINKS FOR CURATION? DROP IN!!!
GOT QUESTIONS? COME ASK THEM LIVE 🔥
Let Me Know Your Thoughts In The Comments Below!!!
That's It @D00k13 OUT!!!
DTubeSnap - Daily Affirmation
Tell us about your entrepreneurial or personal wellbeing journey with a 3-5 min video
start your vlog with "Hey DTube" or similar
say your first name and username and dtubesnap in your introductory statements
mention what you are challenged with, recent goals accomplished, goals yet to accomplish, action plan to accomplish goals
post to "dtubesnap" tag
Share post to twitter using "dtube" & "dtubesnap" tags
drop links to tweet and dtube post in "dtubesnap" channel in #OneLoveDTube Discord
Reward:
All posts following above rules will be curated by @OneLoveDTube
3 posts chosen weekly for DTC & OneLoveIPFS hosting reward
1 post chosen weekly for 100k vote LIVE during our next @Ionomy Curation Bonanza
Join One Love DTube Discord Here - https://discord.gg/CsqcfSx
OneLoveDTube Community Resources
Under Construction - https://oneloved.tube
Uploader - https://uploader.oneloved.tube
OneLoveIPFS - https://oneloveipfs.com
DTube Block Explorer - https://blocks.oneloved.tube
Community Portal - https://dtube.techcoderx.com
DTube Price Listings - https://dtube.fso.ovh/
Learn New Skills With SkillShare Free For 2 Months!!
Check Out SkillShare Here - https://skl.sh/2P7tflQ
From "iPhone Photography: How to Take Pro Photos On Your iPhone" to "Linux Crash Course for Beginners" I have been finding this service extremely helpful with easy to follow classes!
Thinking Of Joining SkipTheDishes?
Use my referral code "Y0U07O" to earn a $25 bonus after your first 25 deliveries. That is basically one full day essentially paying for your first days gas! Good Luck out there and Drive Safe!!!
ShakePay Mobile Exchange App
Check Out ShakePay Here - https://shakepay.me/r/SINZ6RJ
Follow my referral link or use "SINZ6RJ" when signing up and we both earn $30 with your first $100 purchase 💪
---
▶️ DTube
---
---