Weed Market Wednesday 3-24-21 ETF'S Take A Beating Store Upgrades BIG MAC Seeds And More!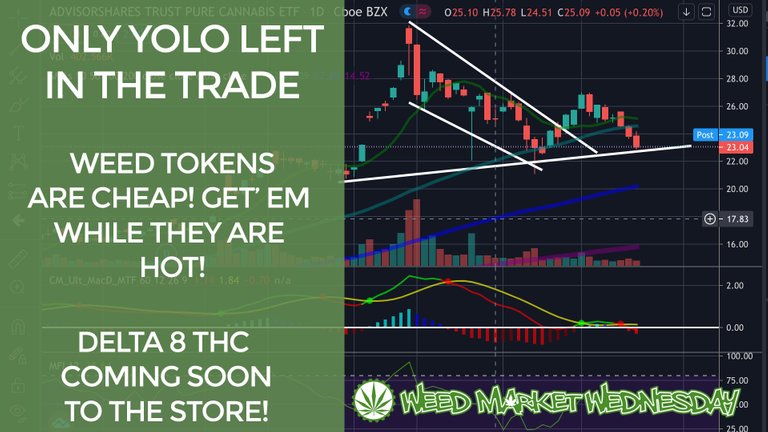 ---
It's another Weed Market Wednesday here on Coin Logic TV! Loading it up to the Weedcash community! Today I go over the beating my cannabis ETF trades took. Can't win them all, am I right? Oh well, looks the like the overall markets have been getting hit this week as well. The WEED token is down at the moment and is, in my opinion, not financial advise, a killer deal right now and a betting man would go and put in some limit orders to buy up some WEED tokens at these prices!
Anyway, I also discuss some awesome things that may be coming to the store, like Delta 8 THC from Mookwlkr! @Daltono posted an article that talked about his experience and I went down the rabbit hole, lol. Been in discussions with the manufacturers and they want to get their products on the store!
Also talking about @canna-curate 's 5 Gallon Bucket Challenge and the new official #Weedcash strain, BIG MAC!
Here are the referenced articles from the Weedcash Network:
@Daltono 's Delta-8 THC
https://weedcash.network/hive-195708/@daltono/delta-8-thc
@jonyoudyer 's BIG MAC Testers Wanted post
https://weedcash.network/hive-195708/@jonyoudyer/the-big-mack-testers-wanted
@Skylinebuds 5 Gallon Challenge update post
https://weedcash.network/hive-195708/@skylinebuds/five-gallon-challenge-pink-kush-x-northern-lights-update-1-2021
Hope everyone has a great rest of their week!
Don't get REKT... like we did, lol!
https://coin-logic.com
https://leofinance.io/@coinlogic.online
https://weedcash.network/@coinlogic.online
https://weedcash.network/@thelogicaldude
https://weedcash.org
---
▶️ 3Speak
---
---