Special 420 Interview With The Weedcash Founder and Dapp Overview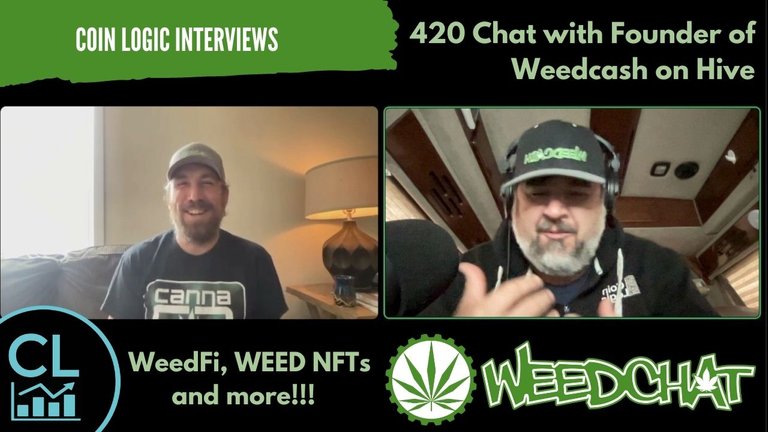 ---
Happy 420 everyone! Today we have a special treat for you! Not only are we taking a brief overview look at the Weedcash Network, the Highest form of social media, built on the Hive blockchain, but I am also sitting down with it's founder, @richardcrill.
Really excited to have this chat! Richard gives us a brief history of Weedcash, and an announcement that you won't want to miss! You have to watch the video, but it's some amazing alpha for you, and it has to do with the Weedcash NFT marketplace!
We get into talking about some awesome use cases that Weedcash brings to the table, and some amazing opportunites that can be had. We are building the future of the cannabis social markets. WeedFi and our tokenized Weedconomy are some of the first of it's kind!
We also chat about the fact that this could never happen if it wasn't for @aggroed and the @hive-engine team as Weedcash was the first tribe to ever launched on Hive Engine!
If you are a fan of cannabis, and want to come join a censorship free group of people, that earn crypto for chatting about their favorite plant, then come and join the Weedcash.Network!
We do still have the Weedcash.store as well, although it is undergoing some changes currently, but we have merch and a way to to use your WEED tokens for physical items!
Enjoy the interview and happy 4/20 from us here at Coin Logic TV!
No weed was smoked in this interview... Not saying that was the case before hand, lol...

Nothing we say is financial advise.
This is for educational and recreational purposes only!
Stay safe in these volatile markets and don't get rekt!
Stake with our Cosmos ecosystem validator, Infinity https://coin-logic.com/staking
Follow us on HiveHustlers.io and LeoFinance.io, both on the Hive Blockchain:
https://hivehustlers.io/@coinlogic.online
https://leofinance.io/@coinlogic.online
As well as on Twitter at https://twitter.com/coinlogiconline
Now posting to Odysee https://odysee.com/@coinlogictv
---
▶️ 3Speak
---
---