Introducing (FLGC) Flora Growth - Stock Built to Grow your portfolio! 🍃🍃🍃🚀🚀🚀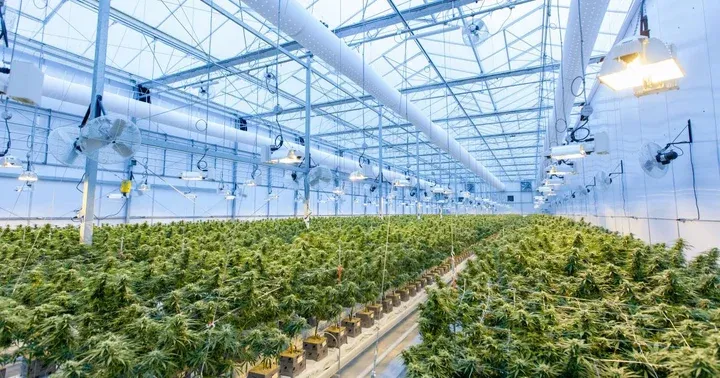 Image Source www.benzinga.com!
Why is Flora Growth thriving?
Flora Growth, traded on the Nasdaq under symbol (FLGC), is an international Cannabis company, leveraging natural, low-cost cultivation practices, supplying the world with cannabis derivatives such as: pharmaceuticals, foods and beverages, skincare products, and hemp textile clothing products!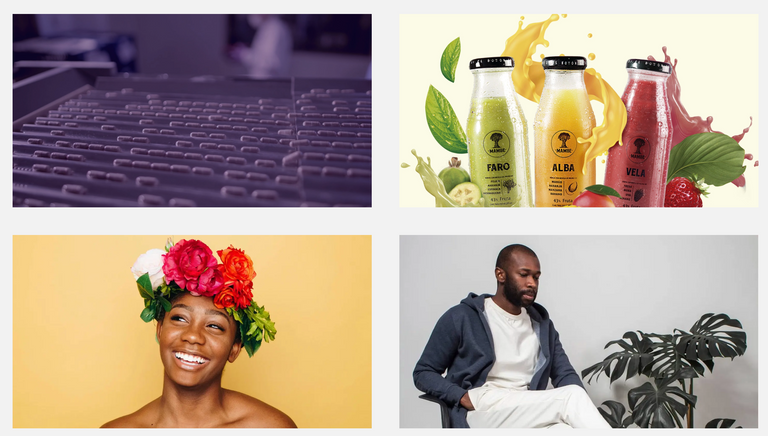 Image Source: floragrowth.ca
Flora Growth's Mission:
Developing products that positively impact the health and wellness of people.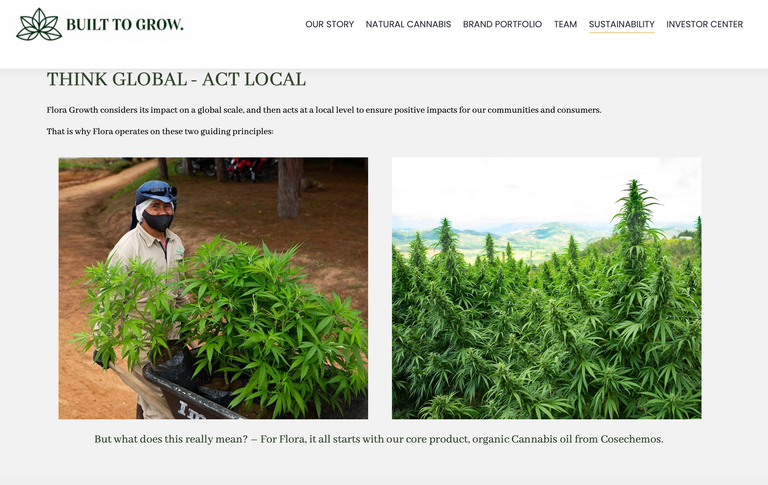 Source: https://floragrowth.ca/sustainability/
Flora's outdoor Cannabis Cure!
FLGC's headquartered in Canada, however their core growth comes from it's Cosechemos division, a cannabis cultivation and extraction facility located in Bucaramanga, Colombia. This facility is prime for growing Cannabis because of it's ideal location which receives on average, over 12.5 hours of natural sunlight per day, at a perfect elevation that results in a constant pathogen-reducing breeze, nutrient-rich organic soil, and six natural spring water deposits.
The Cosechemos facility is huge, licensed to cultivate 247 acres of cannabis, actively cultivating cannabis to produce commercial THC and CBD flower and derivatives. Cosechemos has initiated third-party organic and Global G.A.P. certification to guarantee product quality and export to a global market.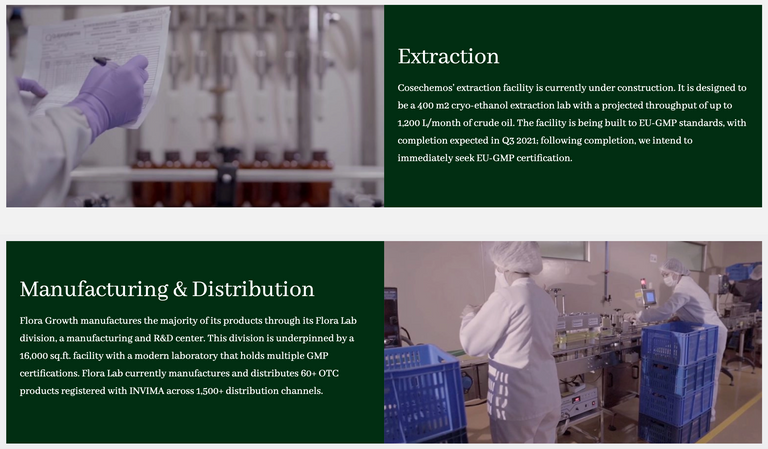 Flora Growth in Full Bloom, a new green type of yield farming!
Profitability per Gram in Cosechemoshas roots from their three successful pilot crop plantings totaling 4.94 acres with impressive yields:
• 30 varieties of non-psychoactive cannabis tested•Demonstrated production cost of $0.06/gram
• Optimized cultivation strategy, yielding over 125 grams/plant
• Initiated third-party organic and GACPcertification
Source:Floragrowth.ca!
Right now FLGC Stock is looking Cheap for investors!

Flora Growth Moving Forward!
Last week the stock popped to 7 bucks as investors saw Flora Growth to be a bargain at this level, and short sellers were squeezed. The cannabis company announced its first-half financial numbers on Aug. 15, the company said it generated first-half revenue of $2 million, compared to just $100,000 in the same period last year, quite a rapid expansion in growth. It also said its gross profit margin was 60%, with a whopping $19 million in cash. Flora expects to finish the year with revenue of $9 million to $11 million, so it's time to pick this stock up on the ground floor.
Source: https://www.fool.com/investing/2021/09/15/why-shares-of-flora-growth-soared-wednesday/
FLGC another highly Shorted Cannabis stock, ready to squeeze "dis-investors!"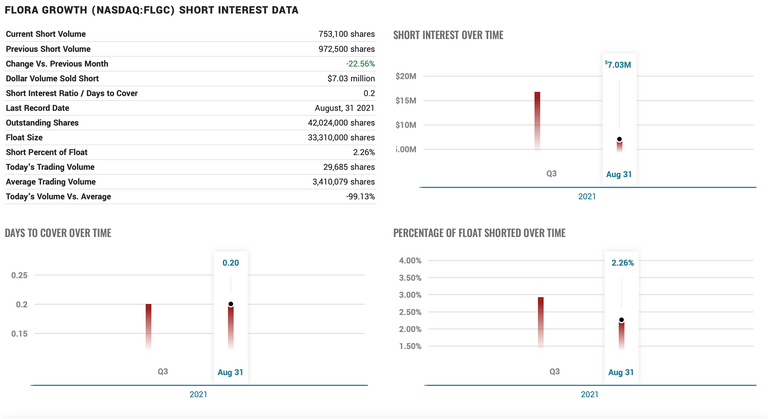 This chart shows shorts getting recked this month, they are backing off a little, but there is still a lot of pessimism, meaning more juice to squeeze from FLGC!
FLGC from seedling company to a giant Stock!
The initial public offering for Flora Growth was only in May, with a market cap of only 252 million, there's plenty of room to grow once FLGC becomes more widely known among investor circles. Not to mention the fact that that any good news, especially coming from future earnings announcements are bound to drive this stock's price higher! That's why now is the best time ever to lock in your share of this company while it's cheap, because deals this good on on the FLGC ground floor aren't going to last forever. I see this stock as a good long term play for the decades to come!
---
---