My CBD Taste Adventure

Hi Ho Steemians!
In one of my previous posts, I talked about my very first bottle of CBD oil, and how the luxurious feel and mellow taste of it reminded me of the green butter cookies I used to munch on at our "pot luck" parties back in the seventies.
---
If you want to read the full account, it can be found at:
https://steemit.com/weedcash/@cindyhartz/cbd-oil-for-arlo-and-me
---
Even though I was well pleased with that first bottle, I decided to purchase my second bottle from our newly opened local Hemp store. Buy local when you can, right?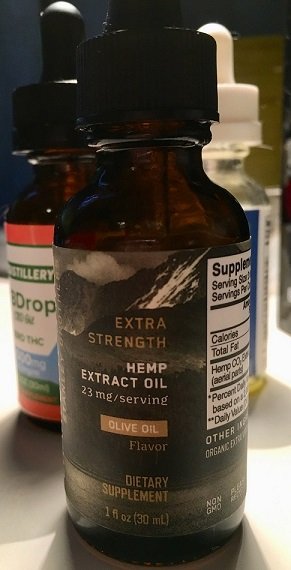 After a detailed conversation with the store clerk, I decided to get a one-ounce bottle of Charlotte's Web 1000 milligram (mg.), labeled EXTRA STRENGTH.

Charlotte's Web has a good reputation, so I plucked down $80, plus tax.
Their CBD oil came in two flavors; Olive Oil-Natural and Chocolate Mint. The clerk recommended the Natural flavor, because so many customers had complained about the bad taste of the Chocolate Mint version.
I tried the oil later that night and the taste was horrid! I couldn't even imagine that Euell Gibbons would be OK with the taste of this stuff!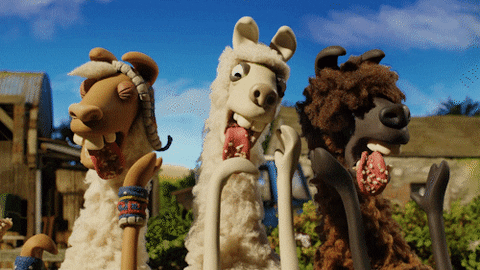 You can learn more about Euell Gibbons at: https://www.newyorker.com/magazine/1968/04/06/a-forager
---
Every time I took a dose of that oil, I had to chase it with something …anything! Someone suggested taking it after I brushed my teeth to change the taste of the oil, but that trick just did not help enough.

So, I bought another bottle from CBDistillery. This time I tried their one-ounce THC-free 1000 mg. bottle. I wanted to see if I could sense a difference between the full-spectrum and THC-free variety.
At first, I just put the nasty "Olive Oil-Natural" CBD to the side, just to give myself a break while I tried the THC-free. After a couple of weeks, there was no real noticeable difference without the THC.
Just so I wouldn't waste the Charlotte's Web CBD, I poured the 2 oils together. It was still nasty, but I had definitely noticed a decrease in pain from switching up from 500 mg. to 1000 mg, so I suffered through the taste.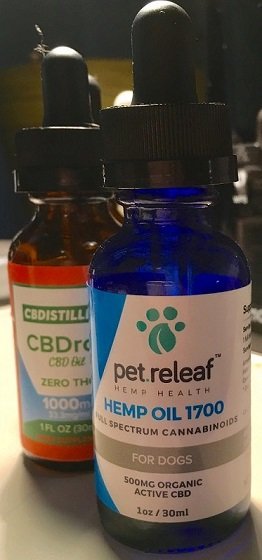 My next bottle actually came from my favorite pet store. I had been giving Arlo some of my oil, and I wanted to see if there was any difference in the pet formulation.
And since I was now buying 1000 mg. bottles, I felt a lower strength was a better choice for Arlo. After I shelled out $80; of course, I had to taste it! On the scale of nastiness, it was between the combined oils and the Charlotte's Web CBD.
After that I was done messing around. Since then it has been nothing but full-spectrum CBD from CBDistillery in 1000mg. strength. But, each bottle still had a noticeable difference in taste! My most recent bottle has a slight minty taste to it, and I actually love it!
This made me curious as to why there would be taste fluctuations, and caused me to research what actually gave my recent oil that minty taste.
What I have come to find out is that the terpenes in the CBD oil affect the taste, and that terpenes vary from plant to plant. In my next post I will talk about terpenes!
Until then please let me know your thoughts!
---
---