WAX Play to earn is exploding!!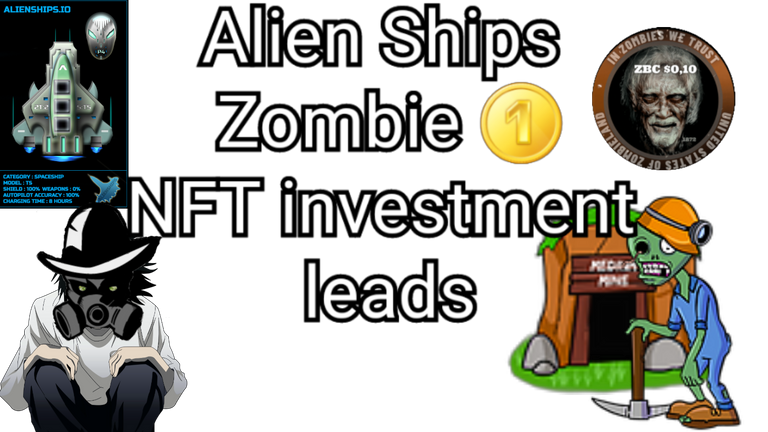 The play to earn boom is in full force over on WAX, with so many updates and new services its impossible to keep everyone up to date. TMNT, farmers world, pirate coins, crittercraft, zombie coins, & Alien Ships just to name a few. Now I'm not even going to attempt to get through all of this today just going to focus on 2 of the play to earn services. So in this write up the two I would like to focus on are alien ships, and zombie coins. I know I have done write ups on Alien ships before but they have become so much more it is basically a new game.
Play to Earn Boom?
What the hell do I mean when I say play to earn boom, when I say play to earn boom I am referring to a popular projects success being tied to a play to earn concept or game.



See these are the top sales on WAX collections in the last day, 3 of those are games now this is the next 4 in line.



I am all over this shit so just take it from me when I say of the top 8 WAX NFT collections 6 of them are games. Also I'm very proud of Splinterlands top 10 since SPS and this is a single market on a single blockchain.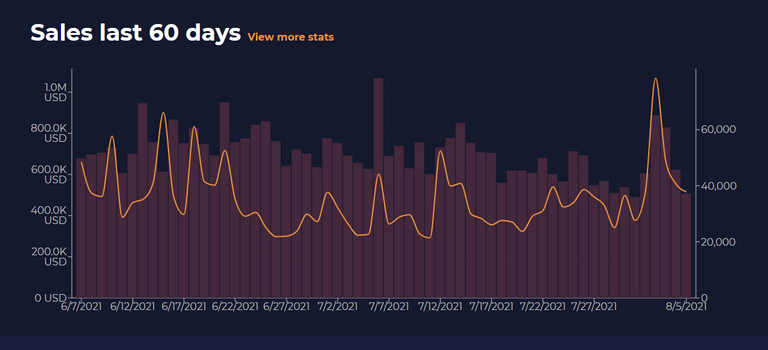 See that orange line it is a measure of the demand for sales P2P, typically that runs below the bars representing posted sales. Now its running above the posted sales meaning its truly a sellers market.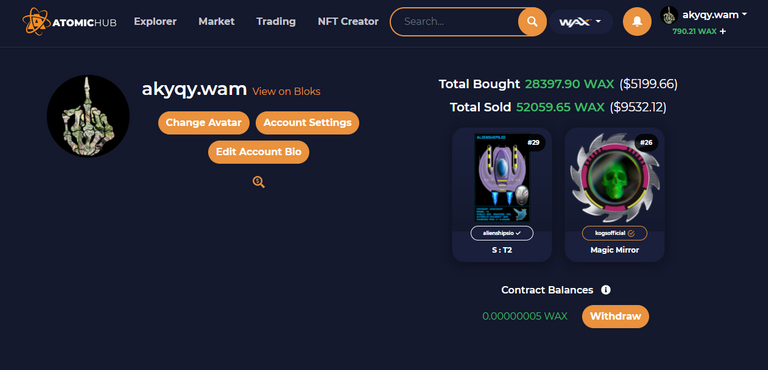 Closing in on that $10,000 mark on WAX sales
Important Splinterlands tip
I needed enough data to confirm my suspicion but your WAX Splinterlands cards can be left on sale & you generate SPS for them while they are on sale. This isn't true for the in game or Hive market so this means you can set a ideal price until you find a buyer your still generating SPS.
Alien Ships
I knew this colection was one to watch and they are living up to their potential. My calls are made on basically the overall colection its level of both talent and vision of the dev team. When I find something with talent behind it I try to clue you all in.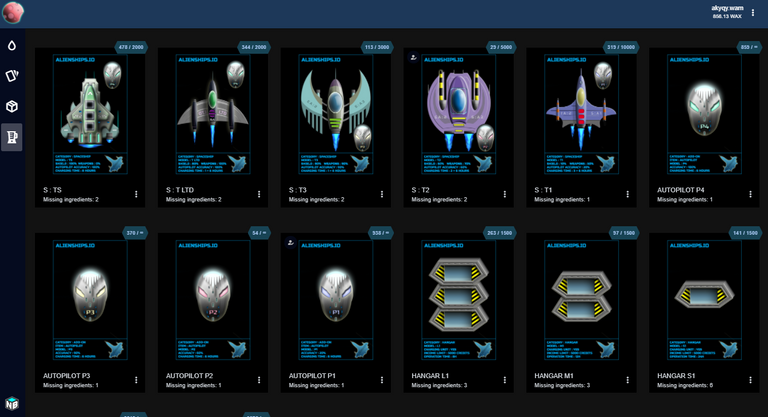 Above is their crafting menu now on Nefty Blocks, when this colection first started it had a single NFT that functioned in game. Now all of those ships can be used the hangars as well as the AI can also upgrade the players in game experience.
https://neftyblocks.com/c/alienshipsio/blends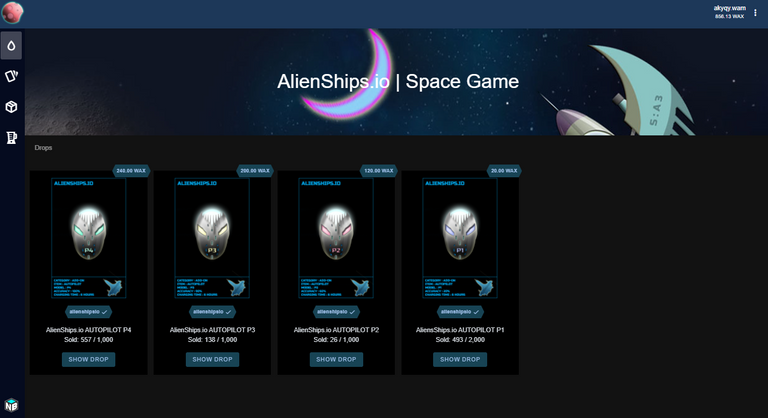 when you combine the right AI and ship together you get an automated ship for
transport missions. Credits can now only be used to facilitate purchase of AI or running a transport mission in game.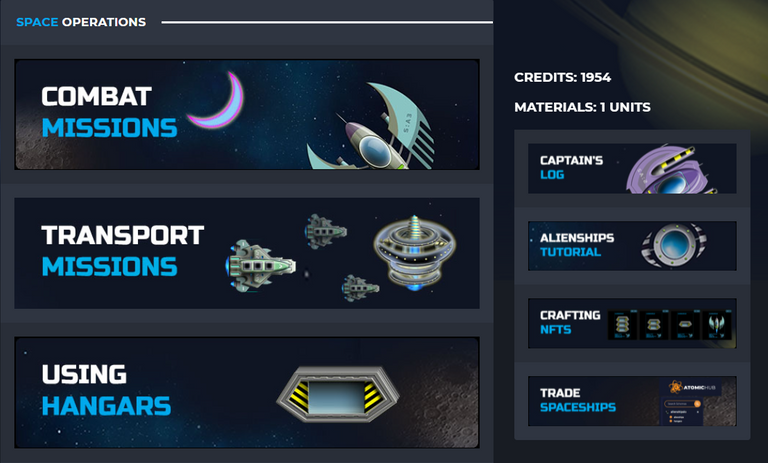 Materials get rewarded for transport missions when successful your chances of victory on a transport mission is a % represented on the NFT.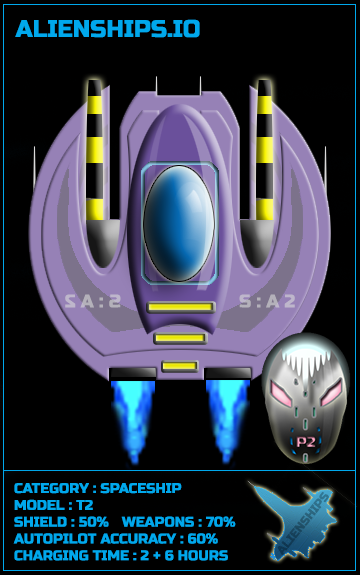 See my ship which cost me $20 but to buy one off the market now its $55 minimum & only 3 are even listed. Anyway my $55 Ship only has a 60% chance of success every 8hrs.
If the transport mission is successful you get 1 MATERIALs which are now used for in game ship purchases.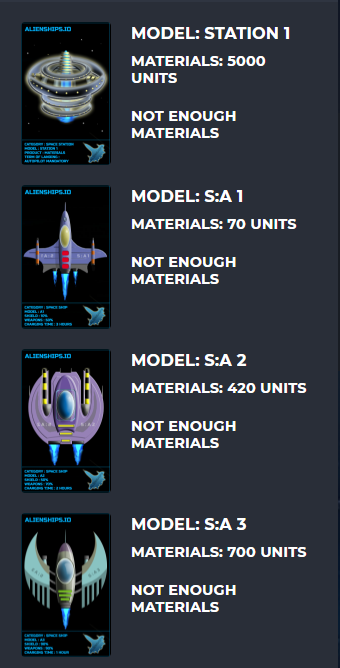 This will drive their prices up already its starting but you see that Station 1 NFT at the top that's not even been added to the market yet first one ever made will fetch thousands of dollars.
So if you got into this project when I recommended you should 3 months ago and held on to the NFT I airdropped for this NFT colection in that write up your welcome.
Now this colection has been around a little while but I recognize talent from the beginning this is important the market sees things as they are not as they will be this is what I make the most money on.
Being able to recognize a NFT collections profit potential is difficult but doable simply need some understanding of the project the blockchain its on and how both function. WAX for instance struggles with game upgrade implementation due to the upgraded requiring a vote. Much like how HIVE functions is a good way to look at it, now assuming you get over the update implementation issues you have to worry about network resources on WAX.
WAX net work resources are required when packs get opened or NFTs crafted as well as facilitating an interaction between your wallet and game.
I was recently asked a related question by https://ecency.com/@darmst5339
regarding CPU usage for alien worlds and this will make a good comparison. Alien worlds has a interaction between their game and your wallet any time you click this requires network CPU which is obtained gradually based on the level of WAX your account has staked to CPU.
You can control what network resources your Staked WAX goes to on Blocks.io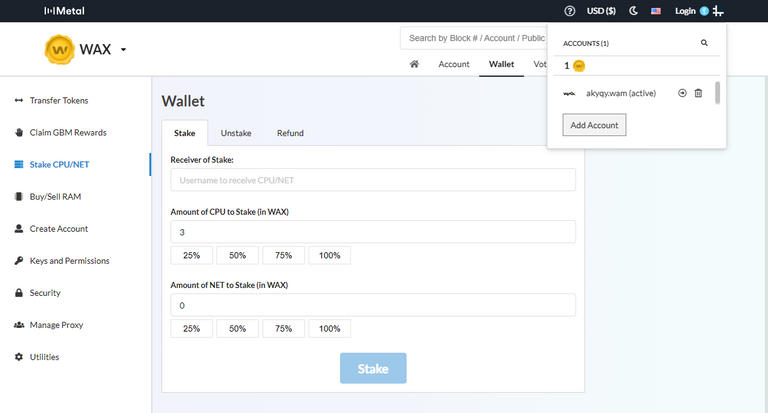 https://wax.bloks.io/wallet/resources/stake
Just log in with your WAX wallet at the link above to stake WAX this way effectively, as well as unstaked in a similar manor.
Now RAM is tied to NFT production and posting sales system RAM is purchased and not staked for. RAM can also be sold based on demand the price changes.
System Network is something users not producing their own colection with smart contract integration or their own integrated website will have to worry about.
My bad for taking a while to answer https://ecency.com/@darmst5339 my busy life just gets busier when these markets explode its great for me but it requires more attention. So sorry for addressing this in a write up but I'm always short on time
Since say Alien worlds has more of its game based on users wallets then say prospectors or Alien Ships simply requiring CPU to sign in not to play you have to stake much less WAX to play them.
This is why I have stopped playing alien worlds it takes to much for WAX CPU resources.
Zombiecoin
This is a new one literally launched yesterday, the games Nefty block account hasn't lacked system RAM once I have been checking. Every Mission is treated like opening a pack on Nefty Blocks which is a smart contract integrated RNG system. This means he sales cost them RAM and the missions played cost them CPU, Neither of which has ran out one time since launch as of writing.
This is a good sign this means they threw a good amount of money into their project from the launch. The Roadmap is set up so that the next stage isn't all that far off like 10 days.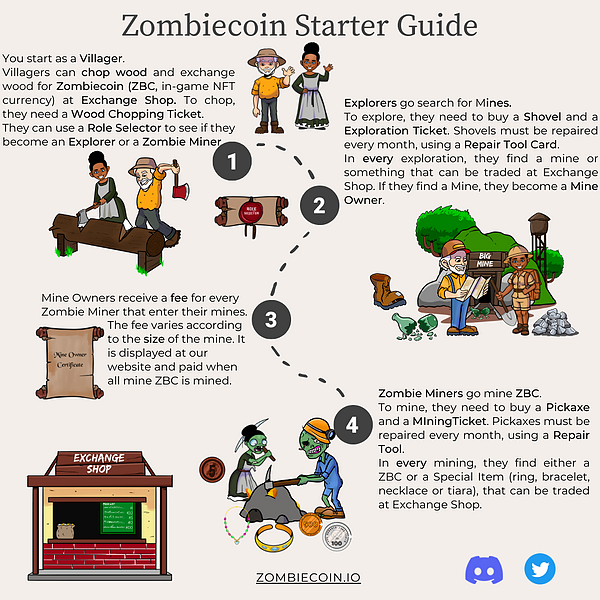 Right now users can only gather wood in game utilizing a citizen NFT and a mission treated like a pack.
https://www.zombiecoin.io/
Phase 2 is set for the 8th according to their white paper which introduces new NFTs and mission pack tickets. Mines can be discovered by early players do yourself a favor and buy into this project. I will make sure who ever receives the airdrop can gather wood 1 time, but I cant include an explorer as they are not yet on sale.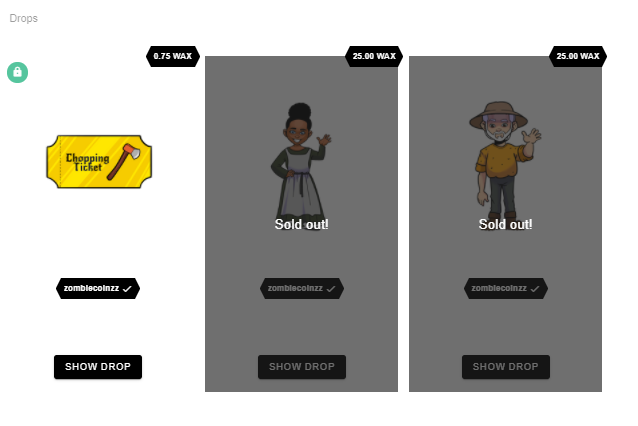 https://neftyblocks.com/c/zombiecoinzz
This link above is their drop page check into this as much as possible I cant always let you readers know in time and those explorer NFTs will be valuable!!!!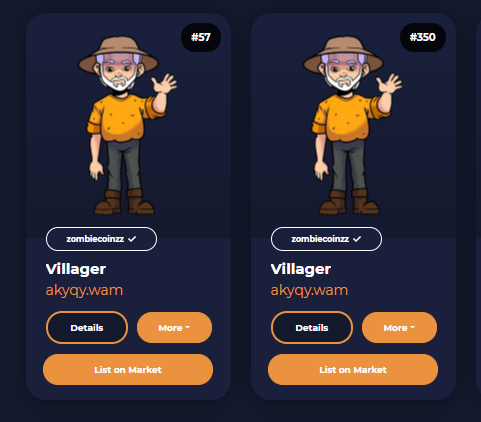 Not to be this guy but the Airdrop for today could sell for a minimum of $17 USD for just the citizen NFT, the other 5 NFTs make the total airdrop value above $25 USD. So todays reader is a really lucky reader BTW this is because my post last week did better so share these posts as much as you can. The better each post does the more money I put into the airdrop.


August 20th is the likely day they launch their explorer NFTs and Zombie NFTs these will both produce Zombie Coins and Mine ownership NFTs. They may launch a few days before you can use them but what I'm saying is check into this link below over the next 12 days.
https://neftyblocks.com/c/zombiecoinzz
If you get to a drop before it sells out look at what I can get for mine I'm airdropping something I bought for $5 originally.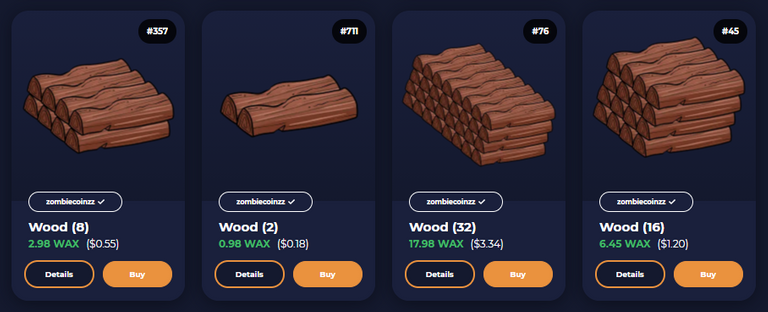 As of writing this on the evening of the 7th by the time I post these will have shot up in value. Due to the Zombie Coin being obtained by selling the lumber in game and the zombie coin NFTs being burned.
So since you couldn't get the first two massive price increases be sure you get that next one for the Explorer and Zombie NFTs by checking the link below every day for the next 12 days to see if they have new NFTs for sale.
https://neftyblocks.com/c/zombiecoinzz
No one can predict the future and I'm not a financial advisor but this is what ill be doing over the next 12 days I think those with a little money to risk to do the same I'm right much more often then I'm wrong about WAX NFT collections.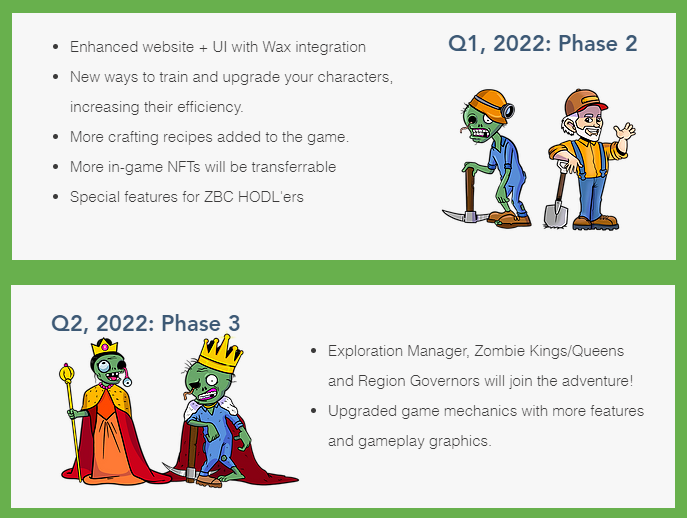 This is going to be a good NFT colection mark my words
What I'm smoking
Some home grown from my buddy something that he called runtz, this is the same friend that gave me my clone I'm growing inside.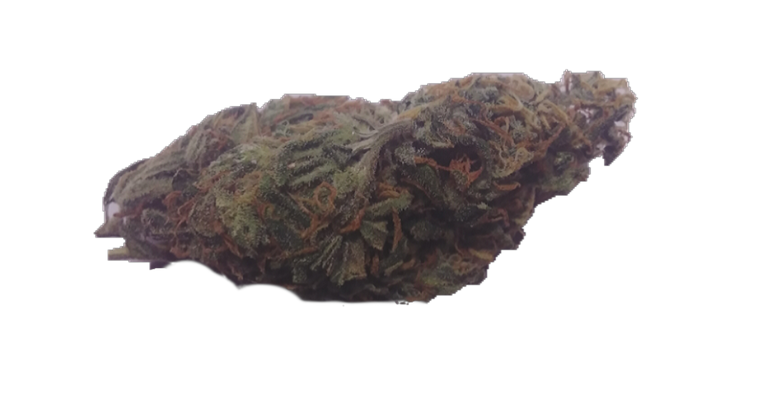 My dumb ass finally got the name for this plant its called cherry cola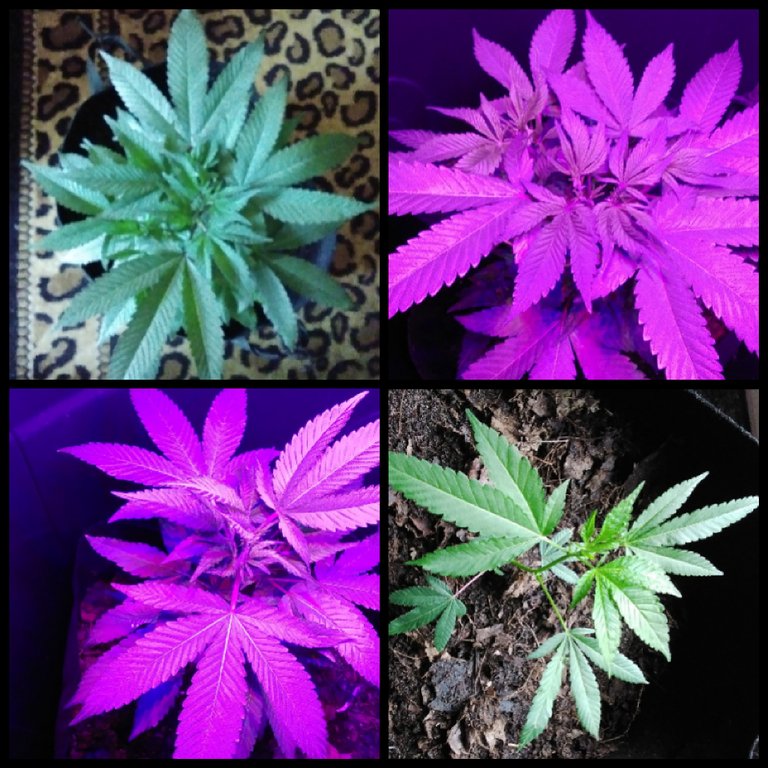 Though I didn't know how bad ass this strain is I knew it was something good, so I tested an idea using worms on my indoor plant and letting the nutrients decay naturally from organic sources. The worms are still alive and the plant is really strong & ill throw it into flower soon. Chromatophores such as worms Bacteria other insects & fungus break down stuff like kelp meal bone meal and so on to letting the plant absorb them. My soil has to be healthy otherwise the worms would die.
Totally organic healthy grow made from a worm bed leaf litter & fish I caught locally and filet them putting the remains in the worm bed.
Soil health starts from the beginning
Single claim NFT airdrop URL
This is a airdrop of 6 NFTs on a first come first serve basis and can only be claimed by a single lucky reader. If you the lucky one that receives the airdrop and there is less then 6 NFTs check you WAX wallet white list settings.
https://wax.atomichub.io/trading/link/278263?key=5HpardRHp2PCKYjssa6dpXumTBr7WtsAN9Xpw8ch7KURnfEGvJ9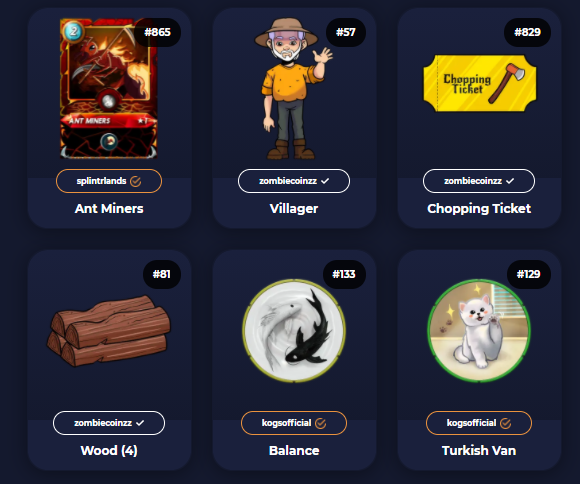 Once claimed please let the other readers know in the comments it helps.
again this airdrop can be sold for over $20 I can only afford to give things like this away when my posts do well so please re blog, like, comment, and subscribe to get more large airdrops just like this one.
Perhaps your interested in purchasing any of my NFTs from my ever expanding collection you may do so here.
My stock constantly rotates so it changes daily
https://wax.atomichub.io/explorer/account/akyqy.wam
Prospectors topping the NFT sale value for 3 days now also a free to play game check it out at the link below. BTW they have roulette so the Martingale system works here however no site reward and its not a large project so doing this could be detrimental. this game is free it makes real crypto give it a shot its not bad honestly you can make quite a bit on it.
https://prospectors.io?waxref=akyqy.wam
more free WAX games, rewarding free NFTs/Crypto
https://rplanet.io/
https://collect.social/referral?r=akyqy.wam
Rising star is a totally free HIVE game no input for steady output my kind of investment.
https://www.risingstargame.com?referrer=chubb149
Oh I guess now Torum to
https://www.torum.com/signup?referral_code=chubb149
Last tip for some success Thunder Token is free to mine off a phone app & recently it was bridged with BSC as well as being Bridged with ETH already so its currently shooting up in value. You can still produce it for free here's my referral link.
https://mining.thundercore.com/referCode?referralCode=WMONVM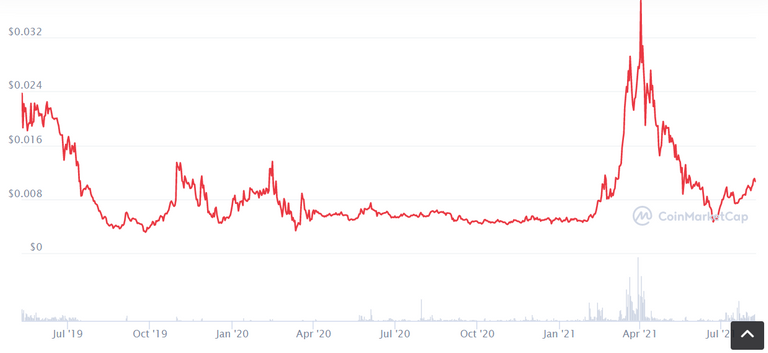 See that price spike this was the BSC bridge announcement, I have been using this service for a little while I normally wouldn't mention it except it just became profitable worth more then $0.01 USD a piece and you can generate it for free from my link below.
https://mining.thundercore.com/referCode?referralCode=WMONVM
---
---