Unboxing 2 brand new packs of KOGs, KOGs overview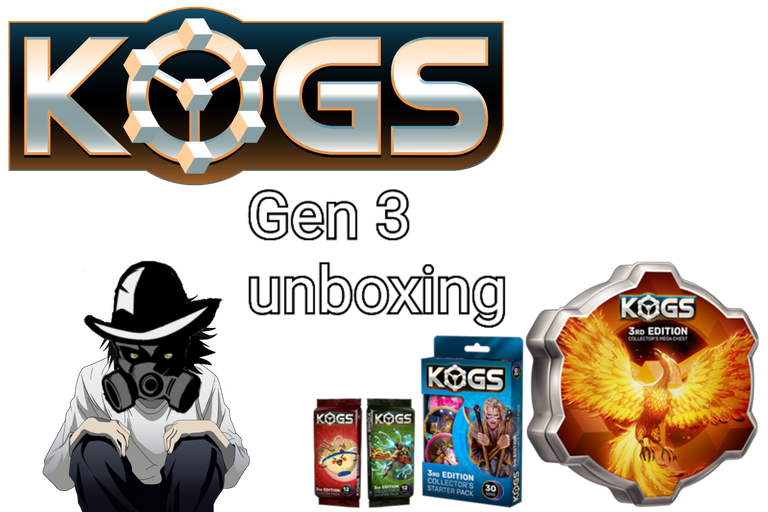 KOGs just launched new packs of NFTs, & the news gets even better Hive engine has added SWAP-WAX to its tradeable assets. Ill go over how to buy and sell SWAP-WAX on Hive engine for anyone looking to use their Hive earnings to purchase KOGS with WAX on Atomic Hub.
Best of both Blockchains
HIVE, WAX, & EOS are what makes up the majority of my NFT portfolio. One of the biggest flaws with WAX is the exchanges in which you can purchase or trade for WAX from other crypto either have high fees to send WAX to your WAX web wallet or they wont work with your WAX web wallet like trading out of EOS for instance on Alcor doesn't work when using the WAX web wallet.
By Hive engine adding WAX to its list of pegged assets it makes it easier for the average Hive user to try buying and selling NFTs on WAX without needing to spend a whole lot to get WAX staked to your account giving you enough system CPU to sell NFTs.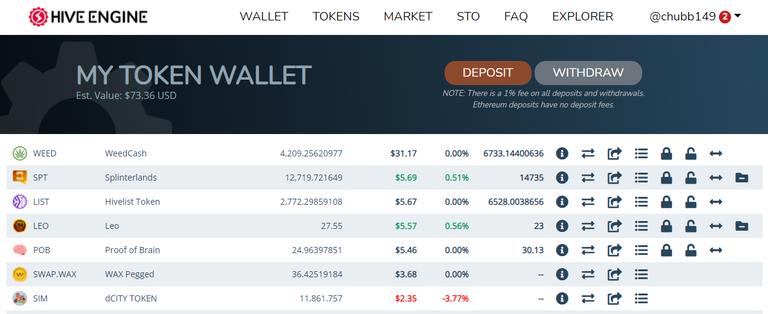 The number of free Games between both blockchains is also becoming a great little side hustle with Hive engine facilitating trade between the two you can effectively pool resources accumulated this way fairly simply now.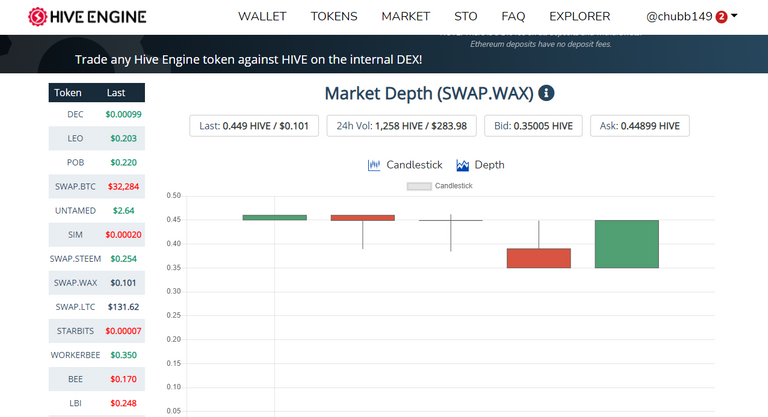 Tribaldex also has WAX/HIVE liquidity pools



https://tribaldex.com/dieselpools/pools
Great to see my two favorite blockchains getting along.
KOGS
When KOGs announced a few moths ago they went over budget I figured the NFT colection was dead in the water. Gen 2 KOGs ad fairly interesting aspects to it for an NFT colection with a promising mobile game in the beta testing stage. So I held out hope this project would get a second wind, the KOGs gen 3 colection is that second wind.
KOGs gen 3 NFT packs launched 12am 6/27/2021 last night in other words, since it just launched their TUBE staking and colection completion functions are not yet available.
Packs however can still be purchased and opened, want to check out the sale try the following link.
https://www.kogs.gg/get-kogs
Ill get to the unboxing in a moment but I first want to address exactly why this colection is such a big deal in the NFT world.
The reason KOGS is so popular and therefore valuable is its unique colection completion which has a variety of different (Tubes) AKA NFT collections utilizing the same KOGS for different reasons.
KOGS can be obtained with or without foil on every rarity meaning a legendary foil KOG can fetch thousands of dollars. Both foil and non foil KOGs are used when making a superset Tube. Staking said tubes earns the collector RFOX the sites ERC20 as a reward.
In addition to staking they have competitions with rewards for first user to produce each Tube. As if that isn't enough they also have bounty board events with specified collections paying more to complete during the active bounty.
Factor in their mobile game seems to be nearing completion and will allow users to utilize KOGs NFTs in game and earn KOGs NFTs for playing.
If you add all this up you get an NFT colection that has more then enough reasons for it to explode in popularity once again. I'm sure many people where burned by this colection before as the prices dropped and stayed there for Gen 2 once staking ended.
Regardless of how bleak the future looked during KOGs gen 2 market crash the gen 3 NFTs are hear and the collections future once again looks bright.
Unboxing
I have the Booster pack of KOGs as well as the 30 pack of KOGs to unbox for todays write up.
First up the booster pack cost: 135.00 WAX($12.68) USD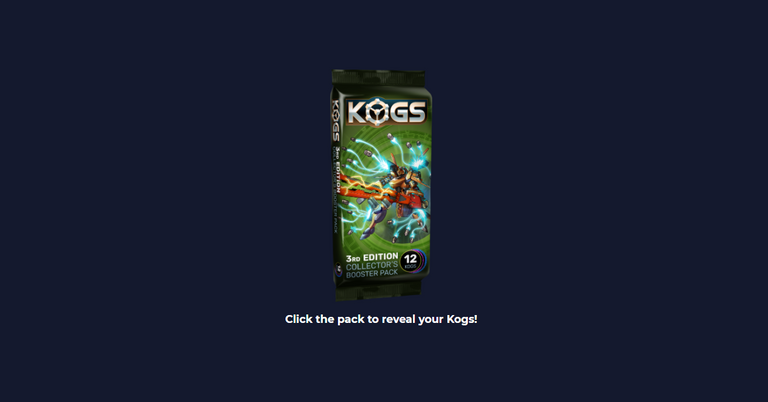 Results not that bad honestly got a foil KOG with only five discovered and no other market listing its possible I get lucky and sell it for my listing price of 333 WAX.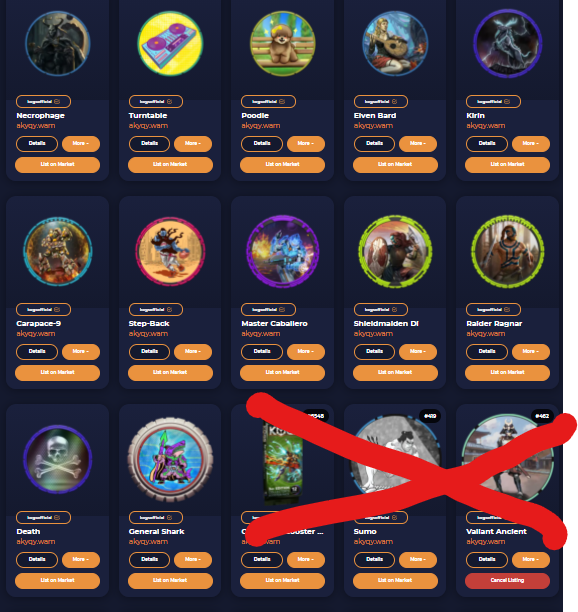 For those wondering my foil KOG was the death KOG


At the very least ill break even on this purchase but more likely ill profit it just may take a while to move.
Now for the 30 count pack Price:270.00 WAX($25.43)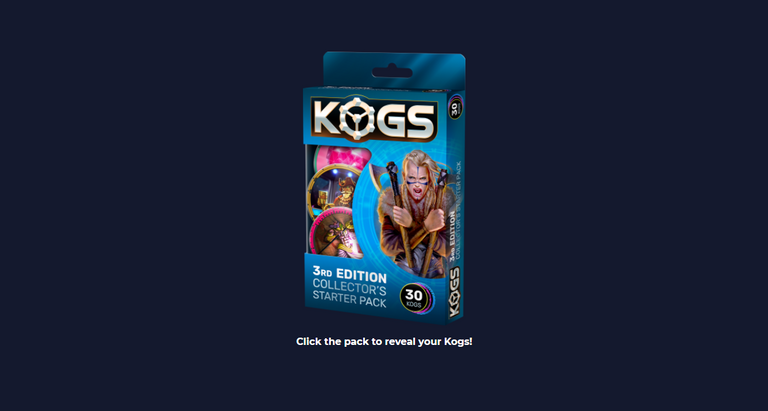 Results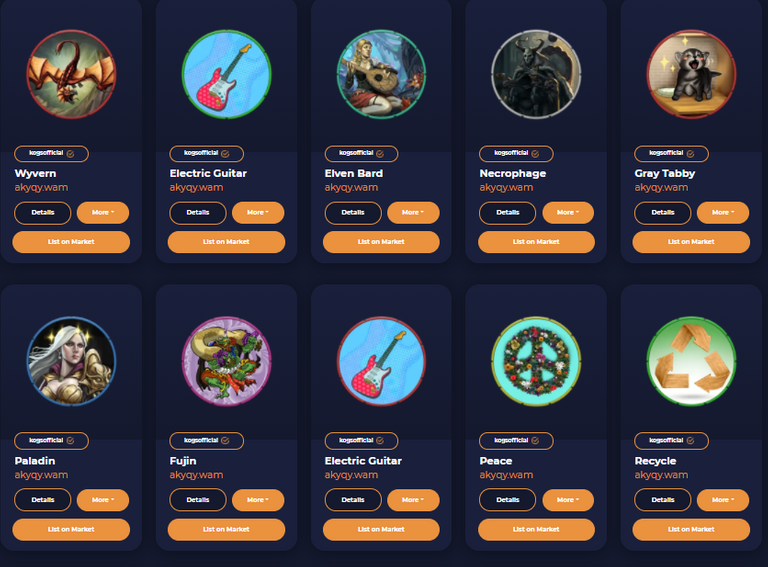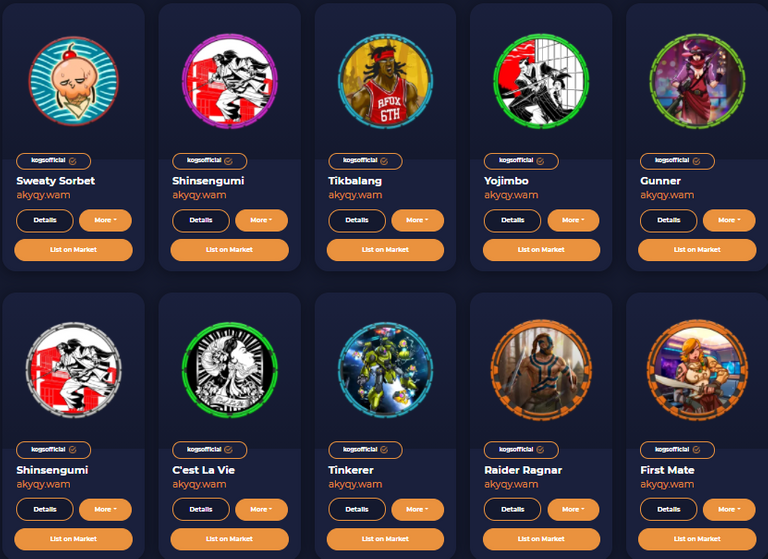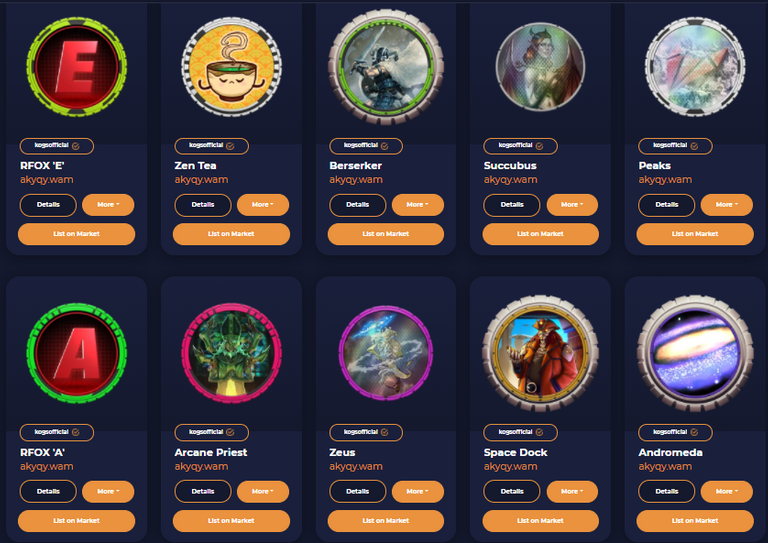 3 Foil KOGS on that pack 1 common, 1 uncommon, & 1 rare. There was also 3 Slammers (Game KOGs) 6 rare KOGs total (including the Foil Rare) not a bad haul if I do say so. Believe it or not but the colection has a higher rarity
Ultra rare which I accidently refer to as (Legendary).
Ultra rare KOGs sell for a fairly good price



Though not easy to get these are far from impossible to obtain, like Splinterlands this NFT colection has a fairly good odds of allowing the consumer to break even on most packs. Given this fact the odds of finding an Ultra rare KOG are actually fairly high its just a matter of cycling the money through a loop of resale and pack purchase.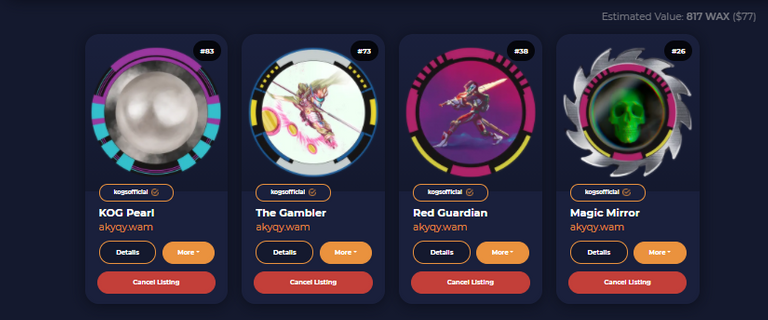 All of the KOGs above are ultra rare with the market at a high I would purchase KOGs packs because the seller had set them to follow USD value. Since I bought in at a low market price for WAXP I spent around $5 a pack or less.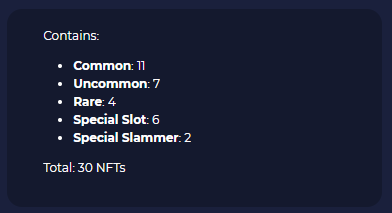 The image above is the NFTs guaranteed to be in each 30 pack, the ones labeled special slot will be a random rarity. Only from this random special slot on each pack can you obtain Ultra Rare KOGs.
While I'm not this lucky you can actually get a foil ultra rare KOG which is a situation in which you can literally name a price. You may have to wait a while but competition isn't likely in a market this sparse.
We may have to wait a while for the colection completion use case but stocking up before the surge in demand is always a good call
Now that trading over from HIVE is the easiest its ever been checking into KOGS should be on anyone's to do list.
https://wax.atomichub.io/drops/kogsofficial


Making some free crypto
Just a quick list of totally free Blockchain games on EOS, WAX, and Hive. Though not that many blockchain games exist that are 100% free to play & earn real crypto that you wouldn't consider a faucet. Its actually not impossible and is becoming more and more common.
This Game has been number one on Dapp radar for months now
https://alienworlds.io/
Prospectors is a simplistic game that allows users to earn Gold, The Gold can be traded for PGL in game the PGL is an EOSIO Crypto which may be traded on Alcor.
https://prospectors.io?waxref=akyqy.wam
https://wax.alcor.exchange/swap?output=WAX-eosio.token&input=PGL-prospectorsw
I have been singing praises of this free Hive game for a while
https://www.risingstargame.com?referrer=chubb149
That was a pun as rising star is a game centered around a fake music career users generate NFTs & the Hive ALT called starbits for free just hit level 20 to cash out totally worth it in my opinion.
Womplay I know it sounds like a stupid service but womplay does pay users EOS out of a rewards pool weekly for playing specified games.
https://womplay.io/?ref=EDHNQLM
Those that want to make the most for their time should consider utilizing womplay to sign up for upland. Upland when signed up for through womlays link would generate both UPX and EOS for free.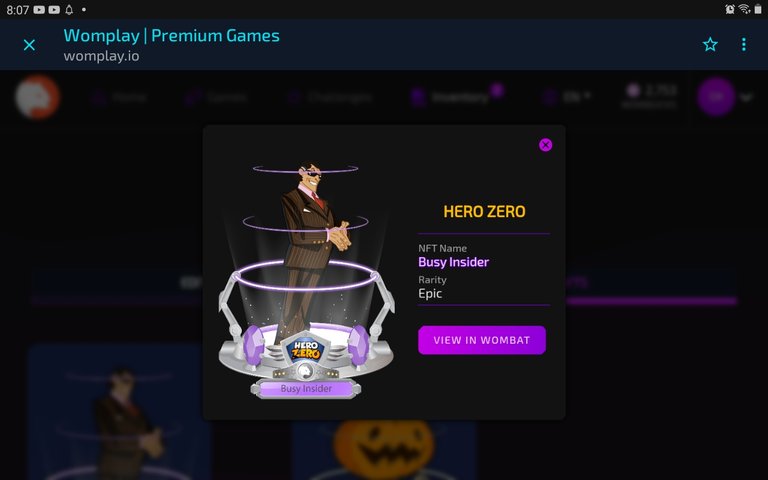 This is my second NFT from womplay, this one was Epic rarity literally log in do a mission or two and get stoned and let my phone sit there. Its not 5 hours play time its 5 hours active in the designated Game in my case zero to hero.
The reason I'm harping on utilizing womplay and wombat wallet is I eventually plan to do EOS NFT creation and airdrops. Wombat wallet works with the EOS atomic hub so the more familiarized with that setup my readers that get my NFT airdrops are the better.
I could give you a literally endless list of referrals as I'm sure many of you can as well but the projects listed above are free and easily used together. All EOSIO derived blockchains with NFTs connected to each game as well so its something that bears repeating.
What I'm smoking
Well smoking isn't the right word for it today just vaping and downing Kratom/Marijuana infused tea at work on break while the concrete truck is on its way so I decided to post this before I got off work hoping to get the info out about KOGs before the sale ended. No bud or photo today sadly but still high as hell just got to be discrete about it.
Free NFT 1 time airdrop URL
I try to include a single claim airdrop URL for WAX wallet users containing free NFTs, It may only be claimed by the first lucky person to click the link. After claimed once the URL will no longer be active. Todays lucky reader will be taking home KOGs new and old probably the first gen 3 KOGs ever airdropped.
https://wax.atomichub.io/trading/link/153598?key=5JfNnVF3uS6aYx6L5qdurTzkeGZGCas3Fuqj6voGHFuCBqyY32A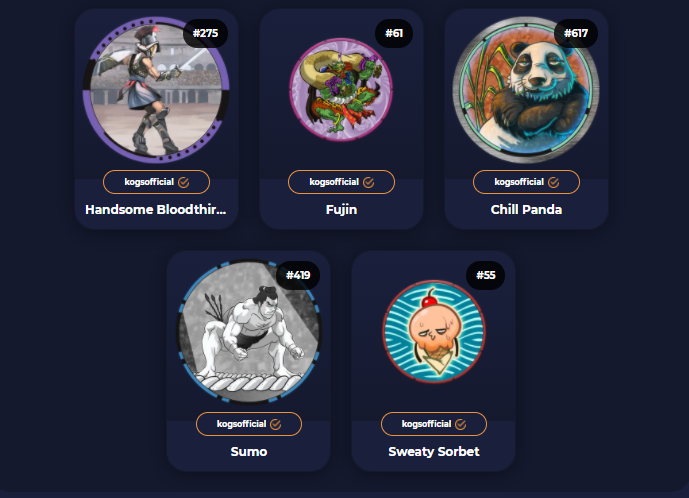 Once claimed please let the other readers know in the comments it helps.
Perhaps your interested in purchasing any of my NFTs from my ever expanding collection you may do so here.
My stock constantly rotates so it changes daily
https://wax.atomichub.io/explorer/account/akyqy.wam
---
---