Launch!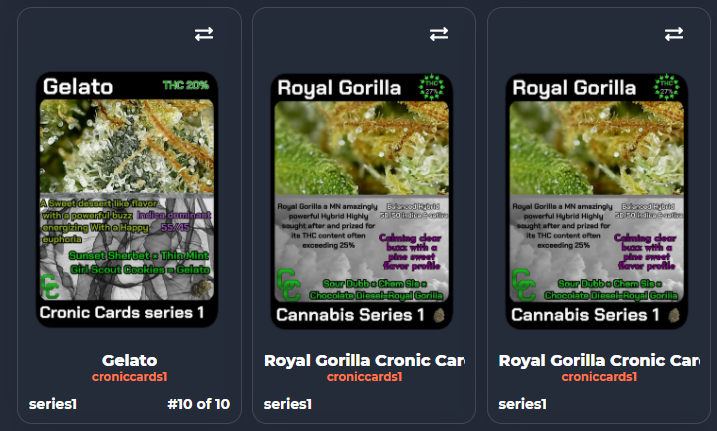 As an added incentive my first 10 cards minted have WAX attached to the asset, The Royal Gorilla Cards can be burned for 3 WAX roughly a dollar USD. Yeah you can burn weed and get WAX for it because I'm such a smart ass, I couldn't pass up the opportunity for a joke like that.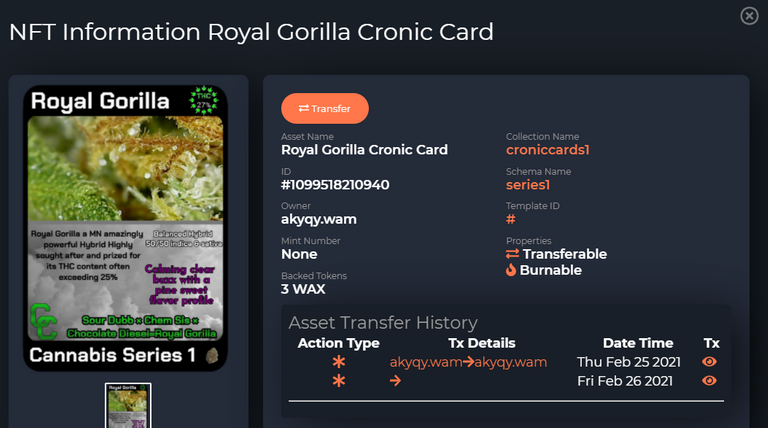 I have never done this sort of thing before so just as I said yesterday first Ten people to like and re-blog this post & list their Wallet address in the comments Will be sent the Royal Gorilla Card ( you could friend me but that's not required). I will get them sent out as soon as possible and then reply to your comment indicating its been sent. I would appreciate a conformation that its been received ( again not required but it would help).
Cronic Cards Go live
Either this evening once the ten are sent out, or as many people that like and re blog are sent out. Ill begin selling the rest of series one starting with Gelato, The first 10 market cards may have wax attached at first but from then on randomly the WAX also will be less then the Beta Exclusive to Hive users Royal Gorilla Cronic Card.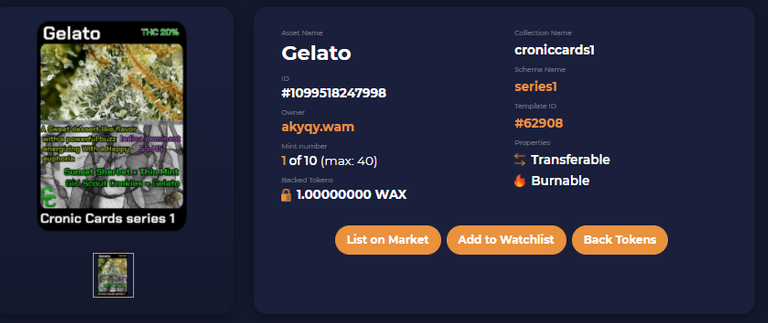 Now I understand how tempting the prospect of burning weed is, You can do what ever you want with them its your card sell it burn it or stash it your call.
However if the odd thing happens that these collectables take off in popularity you could cost yourself a pay day and they will be burnable for ever. The (Beta) cards while not assigned a rarity will be the rarest minting ( there for its like a first edition that wont be released to the public and may eventually hold immense value). If not they will always have the base value.
Please be patient I'm a one person dev team.
Yeah all this is being done by me the first ten may take a minute to be sent. If I reply sent and you have not received the asset there may be unforeseen issues so needless to say I'm going to really appreciate feedback from those I have sent cards to.
---
---