HashKings I'm Looking At You
Play to Earn Game Number 2
Previously I had written about finding a second blockchain game. No time like the present. HashKings here's looking at you.
HashKings is very interesting, like Splinterlands it is a play to earn NFT blockchain game based right here on our home blockchain Hive. This is terrific because Hive has been very good to me these last 11 months. In fact, next month will be my Hive anniversary.
There are a few more reasons like they use Hive.Pay, and the premise of the game is very interesting. Owning and operating your own Marijuana Grow Operation. Just like Randy in SouthPark (1 of my Favorite Shows)
This is what gaming is for living out an absurd fantasy. With Play to Earn games, I might be able to turn recreation fun time into profit time. Isn't that the ultimate fantasy? Here is a great example. Ever since I was a kid I had a fantasy of being a published writer.
I even took creative writing in high school. Submitted countless articles, poems, short stories, even outlines and character descriptions for novel ideas. Never was I published in print, always doing something else professionally.
Along comes Hive. I know everyone on the net can produce and publish all kinds of content. With Hive I am actually getting paid real dollars not only for my writing and videos but also for expressing my opinions about other people's content. This is not known for anyone here on Hive, all of you already know this. I just had to share that Hive has fulfilled one of my oldest fantasies of being a paid writer.
Hashkings may fulfill a recent fantasy of owning a Grow Op without any legal consequences as here in the good old USA it is still a class 1 controlled substance. Playing the game if I can make a $20 profit then I will be happy to say my Marijuana Grow Op profited $20 this year lol
Speaking of Hive.Pay
Keep in mind they are not paying me to say this. Hive.Pay simplifies the nail-biting process of paying for goods and services with your hard-earned crypto. They even built an upgrade that lets you swap your Hive for Swap.Hive it is Hive.Pay/Swap
For the purposes of paying for stuff on HashKings, I will use Hive.pay just because of all the choices in tokens I have to pay with, see image below.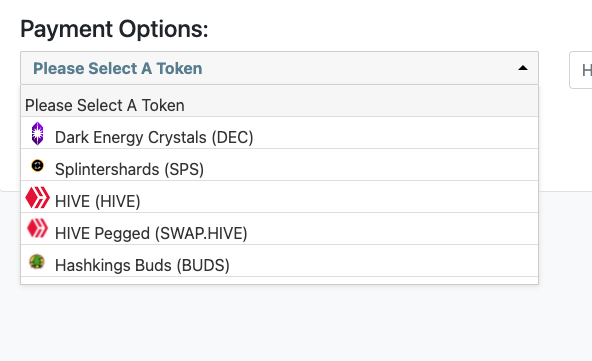 How cool is that? If you have a bunch of DEC and or SPS sitting around because you are a Splinterlands champion, it will be like you are playing for free (meaning no fiat spent) I have also noticed that HashKings has an old-school referral system. When you buy something the form will ask you for a referer.
I Have Not Even Started Yet
Keep in mind as I write this I have not bought anything or played. I am just clicking around trying to get the lay of the land, and I discovered this game has some complexity to it.
Not trying to make the same mistake I made in Splinterlands. IT was ridiculous, rather than learn about the game and the relationships between the Summoners, Monsters, and card position I just started playing and it was disastrous frustrating, and almost a waste of time, except for the lesson learned of first reading the manual.
I looked and found a manual for HashKings. Click Here For HashKings Manual
Right from the beginning, it was so simple, I just signed in with my Hive User Name, and KeyChain then boom I am in the game. There are various roles a person can take on in the game I am seriously thinking of Farmer as I was a 4-H kid and always had an interest in agriculture.
After reading this article and going through the manual above if you would like to play here is a link Click Here To Play HashKings
Thank you so very much 😃
P.S. don't forget to power up some WORKERBEE and vote chris.witness for top 20 Hive Engine Witnesses please and thank you
---
---