Why I Don't Smoke Joints.
Out of all the ways to get high, what is your favorite? For me? Cold Start dabs are probably top of the list. Laser Hits are dope, and Fresh Bong hits are always great. I might have to do a tier list…. However, if you've followed my channel for a while you've probably noticed that I don't smoke a lot of joints. I also don't smoke blunts because of the obvious reason, tobacco, but let's focus on Joints today.
So the main reason I don't smoke joints is …..paper sucks. I like to smoke weed, not paper. "Oh its made out of organic hemp.." Its paper! Think about a freshly packed bowl in a clean bong. Now think about adding a few shreds of a raw paper to the bowl before you light it…..blehhhh.(it sounds terrible right?). It's true that the fatter the joint the less paper to flower ratio you're smoking. However, a fatter joint just creates more waste for people. More flower that's just burning there in between hits.
Think about smoking a fat joint. Unless you're constantly hitting it or passing it back and forth with somebody, you're probably gonna waste a decent portion. Because a joint is constantly burning, the longer you take to smoke it…the more weed you waste. You can be way more efficient with your flower in a pipe or a bong.
So not only are joints less efficient and enjoyable in my opinion, but they're also less effective(and that's not an opinion, that's a fact). Other smoking methods like Bongs, Vaporizers, and Dry Pipes all are more effective at getting you high compared to a joint. What does that mean? You use less weed to get the same level of high or higher.
I will say there is something positive about starting with a fresh new piece of paper every time you want to roll a joint. You spend $1, you get 50 papers... In a lot of cases I believe that smoking a joint would be a better experience than smoking out of someone's rarely cleaned bong. Have you seen how dirty some people's pieces are?…Yuck. I'd much rather smoke a little paper, than smoke out of someone's never-been-cleaned-before brown water bongstrocity.
Sure there are all kinds of paper out there, different sizes and flavors, materials etc. But its all paper, you're smoking paper. Some's better than others…but it's still paper.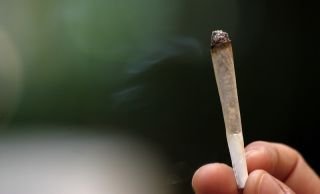 For a while when I was living in Colorado I would get a lot of moonrock or infused joints. Basically prerolls with added concentrate and kief to make them more potent. A lot of things with like 40-50% THC or so. If you put to much wax in a joint, it just drips out and you're wasting it. But a good infused joint smokes a bit slower than a regular joint and definitely hits a lot harder. But even after a while of smoking the more potent joints, I just felt like I wasn't getting as high as when I just dabbed and ripped bongs instead. I would just burn through a lot more material.
Joints definitely have some benefits like they're easy to share, they're more portable than a bong, plus a fresh paper every time versus having to clean your bong is nice…
However I really don't smoke with a lot of people in person. I do most of my seshing live on Twitch, which is a great spot to smoke with me…stop by I might be live and getting high right now. Also the portability of a joint is nice, you can roll it and take it with you somewhere. But for me I think the portable vapes and wax pens end up being a better option.
So will I never smoke a joint again? I probably will. There will always be a bit of nostalgia around smoking a joint plus who doesn't like doing smoke tricks. I feel like I just light a joint and it's 10 minutes of me doing French inhales, ghost hits, and trying to blow rings until the joint is gone.
What's your favorite way to smoke?
---
---