Project Update #8: Stage 2 Launch, STEEM Still Low, Year Coming To A Close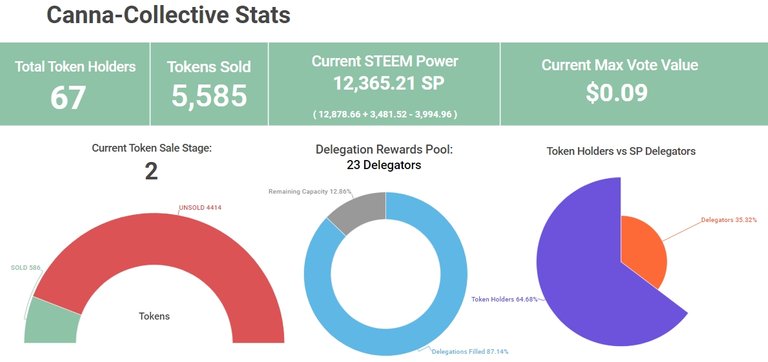 The past month has been a whirlwind! We completely Stage 1 of token sales successfully and got a nice head start into Stage 2 already. Our project has been steadily growing both in token holders and STEEM Power, but as STEEM has continued to stay low our total vote has remained relatively unchanged (9 cents). We can only hope STEEM picks up some sort of momentum in the near future and brings in more users.
I have been working hard to monitor and adjust the project Voting Power as I see fit. In order to provide the best services possible to our community I need the VP to be dynamic and to shift as necessary. This means that your vote may vary from week to week as the VP moves up or down. We are still offering some of the best returns on the market with our multiple project layers.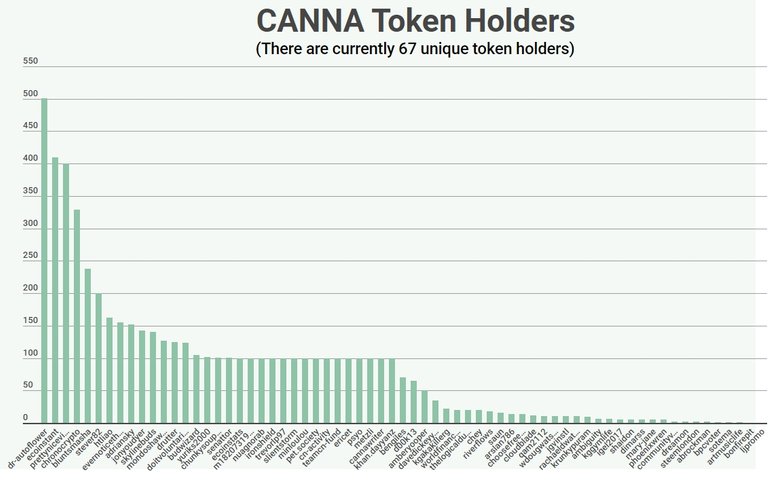 @Canna-Collective has been able to consistently offer 40% up-votes to our VIP token holders. The other tiers have been loosely defined based on this value. This allows us to offer voting service 24/7 without the need to pause, unlike other projects.
Want to know more about our @VIPservice? (CLICK HERE FOR VIPSERVICE INFO)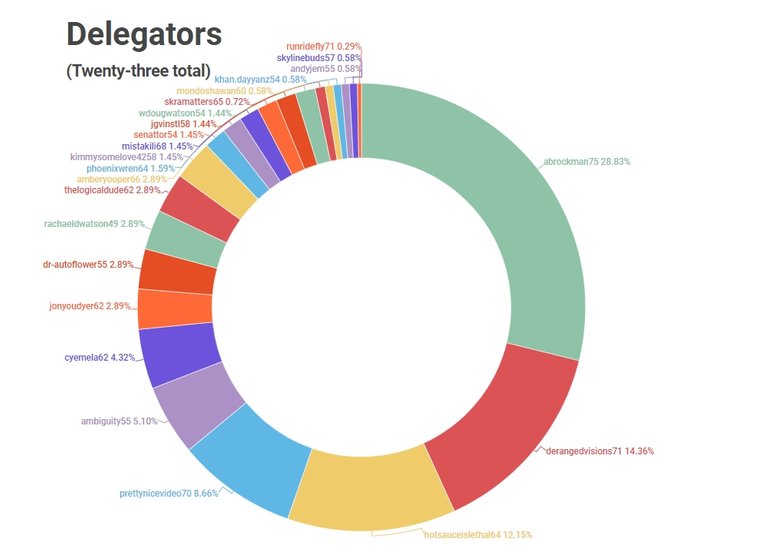 This system is designed to help out the community by bringing in a passive return on your STEEM Power, when it otherwise is not being utilized. Right now we are paying out 100% of the money being brought in, according to contribution. In the future we hope to take a small cut of these delegations in order to fund certain portions of our projects.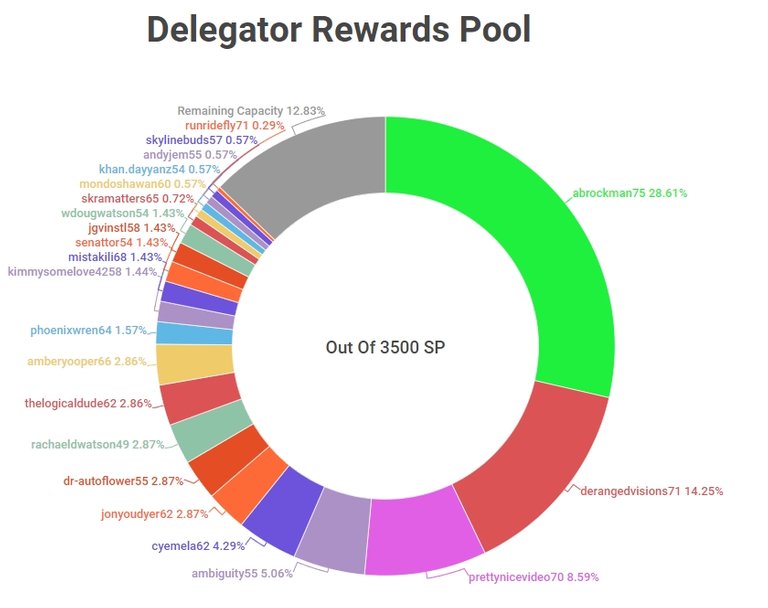 Currently we are delegating out 3500 SP in exchange for a daily STEEM payout of around 0.93 STEEM. Out of that rewards pool I have been doing bi-weekly payouts (roughly) instead of weekly now. This allows me to streamline the process and consolidate my efforts by not having to do twice the work.
Because of the dropping reward payouts as well as the spotty communication about payout times I understand why some people have revoked their delegations. I apologize for any perceived wrongdoing, I am often times too busy to remember and have a very irregular schedule (both work and sleep). Everyone has been paid what they are owed however, even after taking back delegations.
I am currently working on a new idea to increase the profitability of our delegation program so stay tuned for updates on that. We are currently sitting at around 9.7% APR return, which you can earn passively on your delegated STEEM Power with absolutely no risk to you.
We hope as this year comes to a close we can bring the community even closer together with our love and support. If you or a loved one needs anything at all please let us know either in a comment down below or in Discord. Have a fantastic day!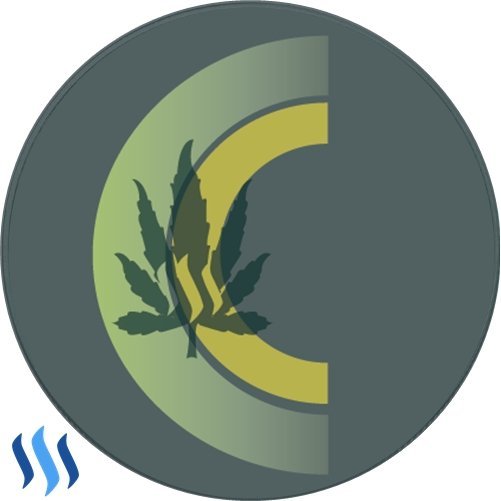 Remember that CANNA holders who have 100 or more tokens will get a VIP up-vote from @VIPservice as well as anyone who delegates 1000 SP or more to @Canna-Curate! Now go out there and get STEEMING!

CLICK THIS BANNER FOR DISCORD!
*DISCLAIMER: This Canna-Collective Project Update is for information purposes only. Canna-Collective/Canna-Curate does not guarantee the accuracy of or the conclusions reached in this Project Update, and this paper is provided "as is". Canna-Collective does not make and expressly disclaims all representations and warranties, express, implied, statutory or otherwise, whatsoever, including, but not limited to: (i) warranties of merchantability, fitness for a particular purpose, suitability, usage, title or noninfringement; (ii) that the contents of this paper are free from error; and (iii) that such contents will not infringe third-party rights. Canna-Collective and its affiliates shall have no liability for damages of any kind arising out of the use, reference to, or reliance on this paper or any of the content contained herein, even if advised of the possibility of such damages. In no event will Canna-Collective or its affiliates be liable to any person or entity for any damages, losses, liabilities, costs or expenses of any kind, whether direct or indirect, consequential, compensatory, incidental, actual, exemplary, punitive or special for the use of, reference to, or reliance on this paper or any of the content contained herein, including, without limitation, any loss of business, revenues, profits, data, use, goodwill or other intangible losses.
---
---