Project Update #2: Token Sales, New Delegations, HUGE STEEM Power Boost
Yet another successful week of increasing delegations and the number of token holders. Things are going surprisingly smoothly we just need to get out there and spread the word about Canna. Let's get into the weekly recap of the project data now.
If you would like to know more about what our project does or the services that we offer I recommend checking out the In Depth Tokenomics or our Frequently Asked Questions.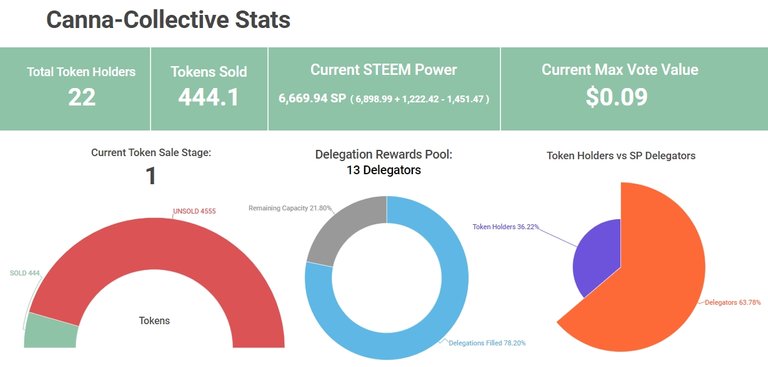 As you can probably see there has been a huge boost to the STEEM Power in the account. With STEEM prices being so low this past week I couldn't help but buy more to power up. @Canna-Collective had only 5 STEEM ten days ago and look at us now :)
We are almost 10% through with stage 1 of token sales. The next stage will have a pre-set price of 1.1 STEEM per CANNA token. The rewards pool capacity has already been doubled TWICE this week, from 250 SP to 500 SP and now to 1000 SP. Currently the delegations have been outpacing the token sales but that will probably balance out soon.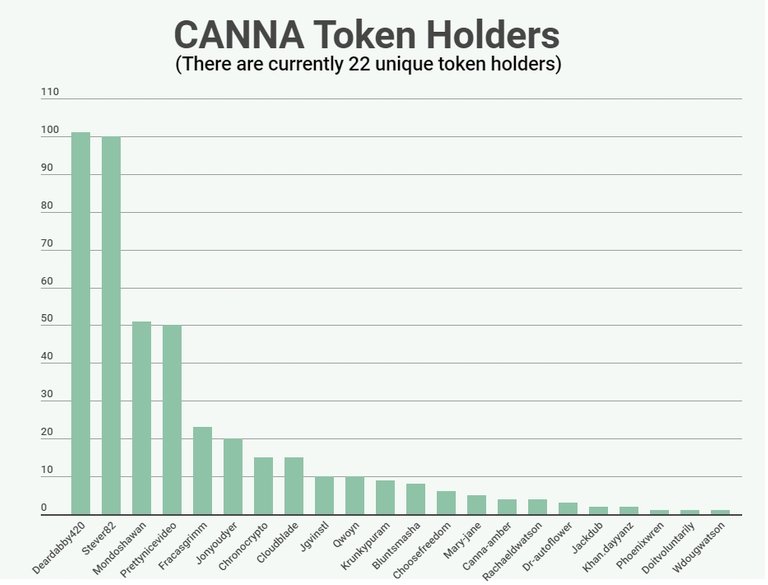 The amount of tokens held by the community range anywhere from just 1 all the way up to 101 tokens per account. The amount of tokens held determines your up-vote percentage on daily posts. The return on investment for CANNA tokens is insanely high right now because of all the extra SP we recently added, as well as the fact that there are so few people holding our token.
Current returns on investment, if you post daily, are ranging from 144% APR for our biggest token holder all the way up to 1825% APR for our smallest minnows. The more tokens you hold, the bigger your vote and faster you will earn so get your CANNA Tokens today!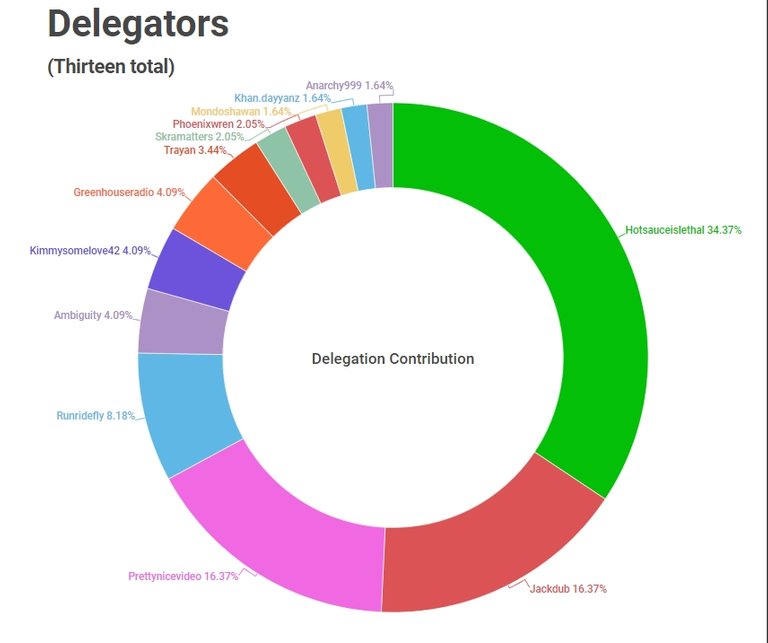 This is the graph of all delegations incoming to the @Canna-Collective account. The 420SP delegation from @Hotsauceislethal does not count towards the delegator rewards pool.
We have been getting lots of smaller delegations and they have definitely been adding up! It is nice to see the community come out to support our project and each other.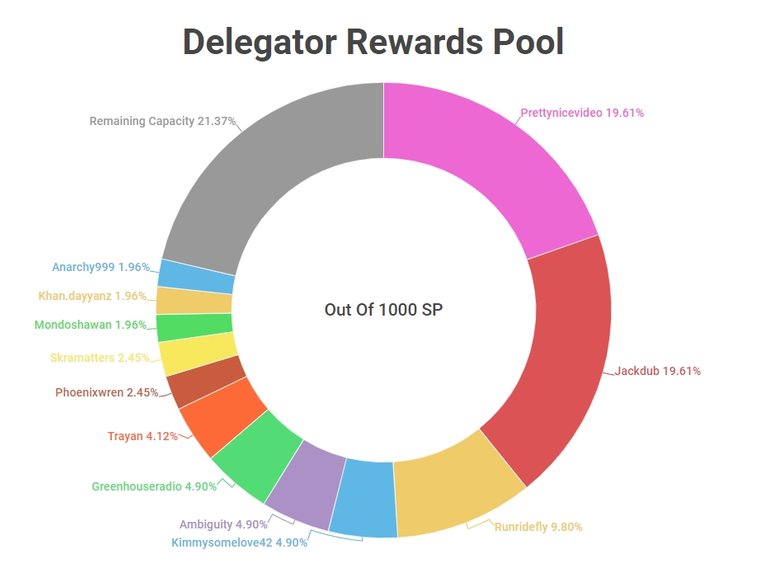 This graph is the delegator rewards pool as of 8/12/2019. We can increase the total capacity of the pool another several thousand SP so there is plenty of room for growth. It is currently set to 1000 SP capacity and incoming rewards are divided up accordingly. Additional returns are used to help contribute to weekly bonuses, depending on market conditions.
This week our contributors enjoyed an eye-popping 19.7% APR return PLUS another 10% bonus on top of their payout- amounting to nearly 22% APR for a totally passive investment. No posting required just sit back and collect your money once a week :)

Delegate 20 SP ----------------- Delegate 50 SP--------------- Delegate 100 SP---------- Delegate 200 SP
By delegating you are helping to contribute to our collective voting power and will be supporting your community- in return you will get a piece of the delegator reward pool payouts.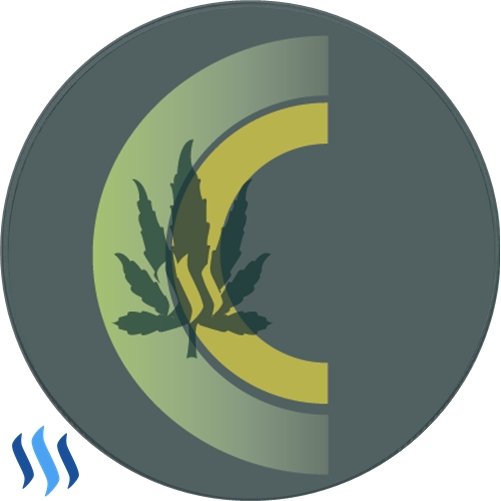 *DISCLAIMER: This Canna-Collective Project Update is for information purposes only. Canna-Collective/Canna-Curate does not guarantee the accuracy of or the conclusions reached in this Project Update, and this paper is provided "as is". Canna-Collective does not make and expressly disclaims all representations and warranties, express, implied, statutory or otherwise, whatsoever, including, but not limited to: (i) warranties of merchantability, fitness for a particular purpose, suitability, usage, title or noninfringement; (ii) that the contents of this paper are free from error; and (iii) that such contents will not infringe third-party rights. Canna-Collective and its affiliates shall have no liability for damages of any kind arising out of the use, reference to, or reliance on this paper or any of the content contained herein, even if advised of the possibility of such damages. In no event will Canna-Collective or its affiliates be liable to any person or entity for any damages, losses, liabilities, costs or expenses of any kind, whether direct or indirect, consequential, compensatory, incidental, actual, exemplary, punitive or special for the use of, reference to, or reliance on this paper or any of the content contained herein, including, without limitation, any loss of business, revenues, profits, data, use, goodwill or other intangible losses.
---
---