Canna-Collective FAQ
Frequently Asked Questions: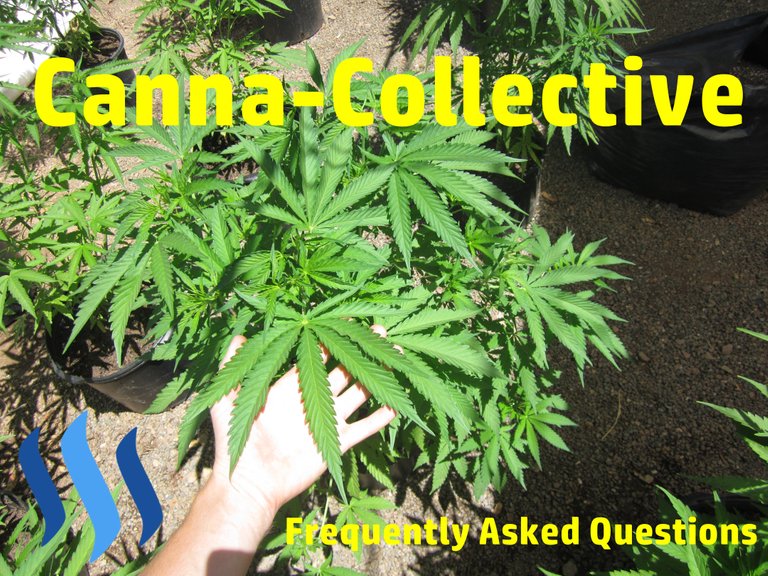 What Is Canna-Collective?
@Canna-Collective is a sister account and side project of the @Canna-Curate group, a community focused on curating and supporting exceptional Cannabis content online. We offer a unique set of services for the Steem blockchain: voting, delegation and a curation trail system.
Do You Support or Benefit Non-Cannabis Content?
Of course we do! As long as you aren't posting spam content, plagiarism, illegal/unwanted materials (against Steemit platform rules), or any specifically biased or offensive religious or political content that could potentially create problems and hatred within the community. We are all about love and support- not hate.
How Is Canna-Collective Different From Canna-Curate
We are all part of the same @Canna-Curate family but the Collective account brings new layers of value to the group through additional services and boosted STEEM Power. By introducing a second voting account we can offer more votes to an even broader user base without depleting the limited resources that we have. @Canna-Collective is also powered by the CANNA token, available on Steem-engine.com and offers an entirely different setup for delegations.
What Is The CANNA Token?
CANNA, also known as Canna Collective Token, is a Steem-engine token that was launched August 2019 and it's the central foundation of the Canna-Collective account. Each CANNA token represents STEEM Power that is locked in the @Canna-Collective account, making CANNA a financially backed asset. This creates stability and financial security for token holders because their investment is never "spent" or used for purposes other than powering up.
Token holders are entitled to a daily up-vote on their posts, with voting percentage dependent on total number of tokens held.
Where Can I Buy CANNA?
CANNA trades for STEEM on Steem-engine.com (Click HERE). You can also sell back tokens by either listing them at your own price or at 90% buy back right now. Since every token is backed by STEEM there will always be enough funds cash out token holders. We currently have market makers to cushion the selling demand but the account can be powered down if needed in order to fulfill larger sell orders in the future.
How Is CANNA Different From Other Tokens?
Our token is fully backed by STEEM in the @Canna-Collective account, unlike most other tokens that are simply based on supply and demand. This means that each and every token has a representative stake in the total STEEM Power and funds are never going to be diverted or spent. This allows your investment to compound over time as you reap the voting rewards and see our token appreciate alongside STEEM. No tokens were airdropped, given away or held by the account ahead of time.
Any delegations to the @Canna-Collective account will result in a weekly payout determined by total STEEM Power contributed to our delegator rewards pool. This is maintained through provided start-up funds in addition to any author/curation rewards that have compounded. These funds are delegated out to the most profitable services on the market in exchange for a liquid payout which is then pooled and distributed weekly in accordance to individual contribution.
The minimum STEEM Power you can delegate to receive rewards is 20 SP and anything lower will be considered a goodwill contribution. Current estimates for returns on delegation are anywhere from 16% - 19% APR before any additional bonuses.
How Does This Benefit The Cannabis Community or @Canna-Curate?
We are a sister account to @Canna-Curate and are following the curation trail, so everything that Canna-Curate up-votes we do too. Currently this account is giving 50% weighted Voting Power to our sister's trail, so for example if @Canna-Curate up-votes you at 30% VP then you will also get a 15% up-vote from us automatically. Token holder and delegators to @Canna-Collective are further helping to support their community because they boost the rewards for everyone over time. Join @Canna-Curate and @Canna-Collective so we can all grow, learn and earn together :)

Join Our Discord For More Info :)
*DISCLAIMER: This Canna-Collective Token FAQ v1 is for information purposes only. Canna-Collective/Canna-Curate does not guarantee the accuracy of or the conclusions reached in this white paper, and this white paper is provided "as is". Canna-Collective does not make and expressly disclaims all representations and warranties, express, implied, statutory or otherwise, whatsoever, including, but not limited to: (i) warranties of merchantability, fitness for a particular purpose, suitability, usage, title or noninfringement; (ii) that the contents of this white paper are free from error; and (iii) that such contents will not infringe third-party rights. Canna-Collective and its affiliates shall have no liability for damages of any kind arising out of the use, reference to, or reliance on this white paper or any of the content contained herein, even if advised of the possibility of such damages. In no event will Canna-Collective or its affiliates be liable to any person or entity for any damages, losses, liabilities, costs or expenses of any kind, whether direct or indirect, consequential, compensatory, incidental, actual, exemplary, punitive or special for the use of, reference to, or reliance on this white paper or any of the content contained herein, including, without limitation, any loss of business, revenues, profits, data, use, goodwill or other intangible losses.
---
---