Canna Collective and CANNA Token Roadmap

The future of Canna-Curate's project CANNA is looking bright! The @Canna-Collective account has been growing daily with token sales and delegations. Post and curation rewards have been adding up too.
If you would like to get up to speed on what our project does check out the In Depth Tokenomics or our Frequently Asked Questions.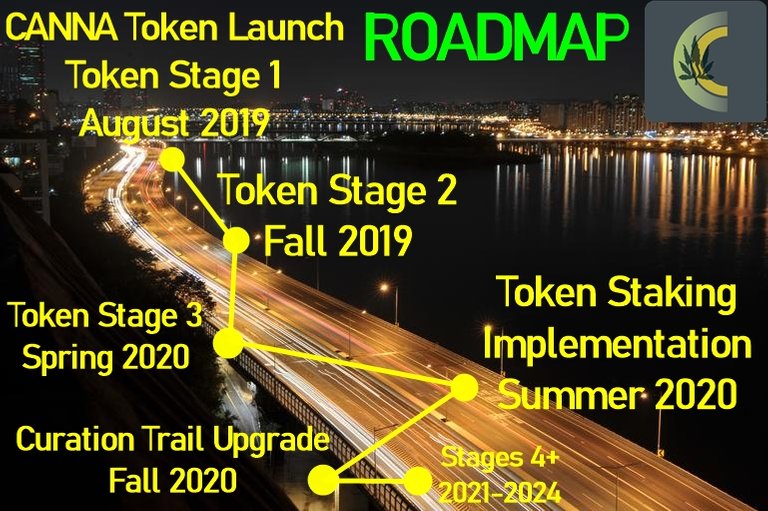 CANNA Token Launch- Token Stage 1, August 2019
Earlier this month we officially launched the Canna Collective project and put things into full swing. CANNA are available from Steem-engine.com and the first stage is a total of 5,000 in circulation. After these tokens have been locked up the next round will be minted and listed on the market.
Token Stage 2, Fall 2019
We estimate Stage 1 to sell out by the end of the year and for Stage 2 to proceed. There will be 5,000 tokens distributed during Stage 2 at a list price of 1.1 STEEM. During this Stage the delegator rewards pool will most likely be close to max capacity.
Token Stage 3, Spring 2020
During this stage there will be an additional 10,000 CANNA minted and distributed at a list price of 1.2 STEEM.
Token Staking Implementation, Summer 2020
Once token Stage 3 is nearing completion we will have the additional funds to activate the staking function for CANNA. This will be used to ensure proper vote controls and to allow a power down period on the tokens, which will help prevent abuse of the system and encourage more token holders to stake their holdings.
Curation Trail Upgrade, Fall 2020
This feature will be further explained in its own post in the future. We will have a new feature whereby users can join the curation trail and be added onto our fanbase in order to receive up-votes from the account as well as the entirety of the curation trail. There will be strict anti-spam policies in place as well as account minimums to participate. For this function to activate and roll out properly we will need a significant amount of STEEM Power in the account.
Stages 4+, 2021-2024
Over the next 5 years or so we intend to distribute our tokens to the community until we have completed all eleven stages of token sales. During this time we will update the roadmap and project extensively as well as add more use cases for the CANNA utility token.



Delegate 20 SP --------------- Delegate 50 SP-------------- Delegate 100 SP---------- Delegate 200 SP
Please consider delegating for passive rewards on your STEEM Power. Delegators will receive a bonus reward this week again. This past week they each received one @steembasicincome share (SBI) as well as a 10% bonus on payouts. In the future some of the rewards pool will be used to fund the project.
By delegating you are helping to contribute to our collective voting power and will be supporting your community- in return you will get a piece of the delegator reward pool payouts.

*DISCLAIMER: This Canna-Collective Roadmap is for information purposes only. Canna-Collective/Canna-Curate does not guarantee the accuracy of or the conclusions reached in this Roadmap, and this paper is provided "as is". Canna-Collective does not make and expressly disclaims all representations and warranties, express, implied, statutory or otherwise, whatsoever, including, but not limited to: (i) warranties of merchantability, fitness for a particular purpose, suitability, usage, title or noninfringement; (ii) that the contents of this paper are free from error; and (iii) that such contents will not infringe third-party rights. Canna-Collective and its affiliates shall have no liability for damages of any kind arising out of the use, reference to, or reliance on this paper or any of the content contained herein, even if advised of the possibility of such damages. In no event will Canna-Collective or its affiliates be liable to any person or entity for any damages, losses, liabilities, costs or expenses of any kind, whether direct or indirect, consequential, compensatory, incidental, actual, exemplary, punitive or special for the use of, reference to, or reliance on this paper or any of the content contained herein, including, without limitation, any loss of business, revenues, profits, data, use, goodwill or other intangible losses.
---
---