I bought a bong
Hello, and welcome to my page!
I decided to buy a bong a few days ago, smoking through a pipe tends to be more harsh than I want to deal with these days. I remembered from back in the past that smoking through a bong or water pipe was always more pleasant than smoking a joint or a pipe.
I went to the local grow shop to see what they had available for smoking tools. They don't have a huge assortment of these kinds of things, but they do have a decent selection.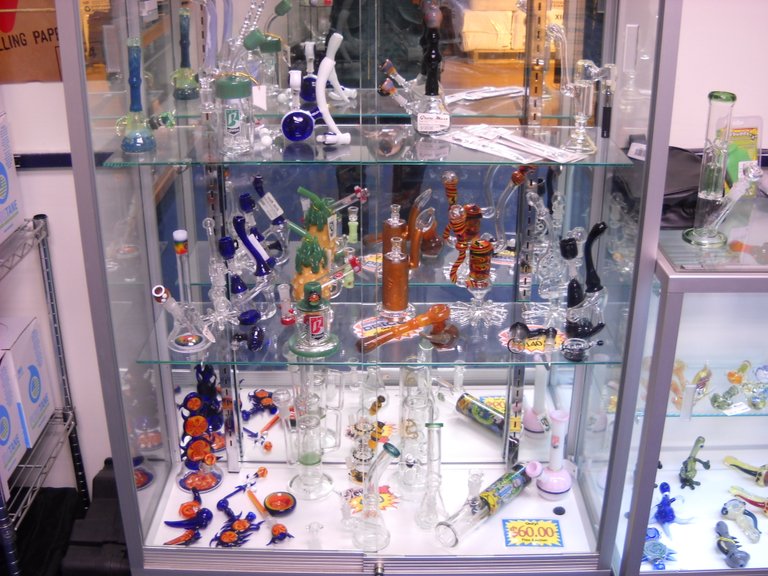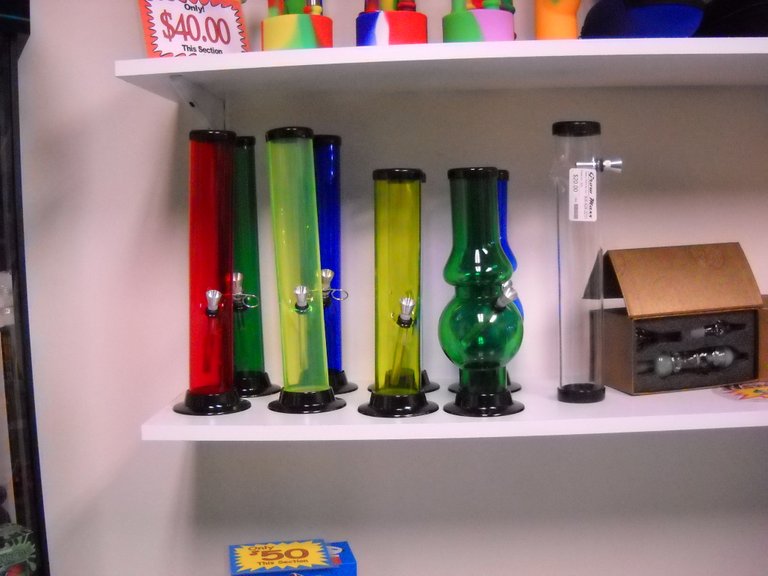 I looked at the prices of the various items and decided to go the inexpensive route. The glass bongs and waterpipes are 50 dollars and up, but the basic plastic tube bongs were 15 dollars, so that's what I went with. I wasn't ready to spend 50 bucks on a fragile glass pipe that could get broken too easily if it got dropped or something.
I decided to get the red acrylic bong.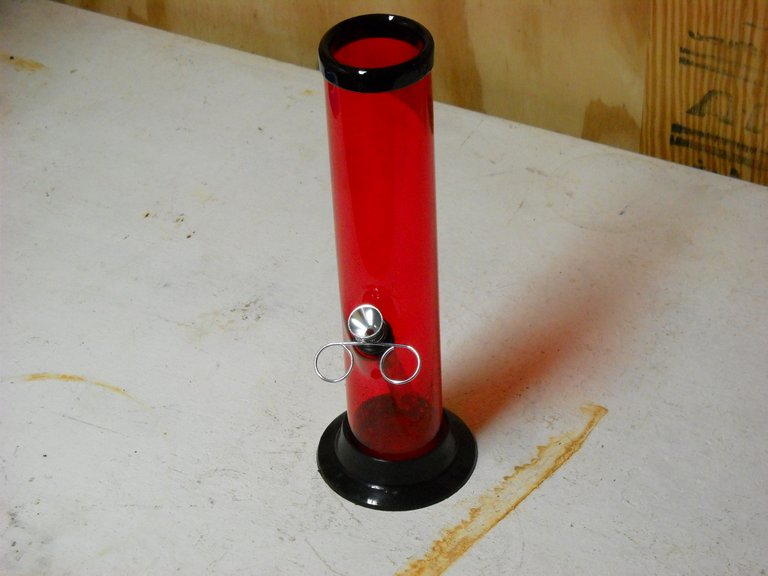 The hole through the bowl stem is fairly large, so I wanted to put a screen in the little bowl that comes with the bong, but the screen won't stay in the aluminum bowl, so I decided to see what else I could put on the bowl stem. Since the stem is removable from the bong, and the bowl unscrews from the stem, it's pretty easy to change out the stupid little aluminum bowl for something better. I dug out my little pipe that I've had for 30 some years to see if the bowl would fit on the stem for the bong.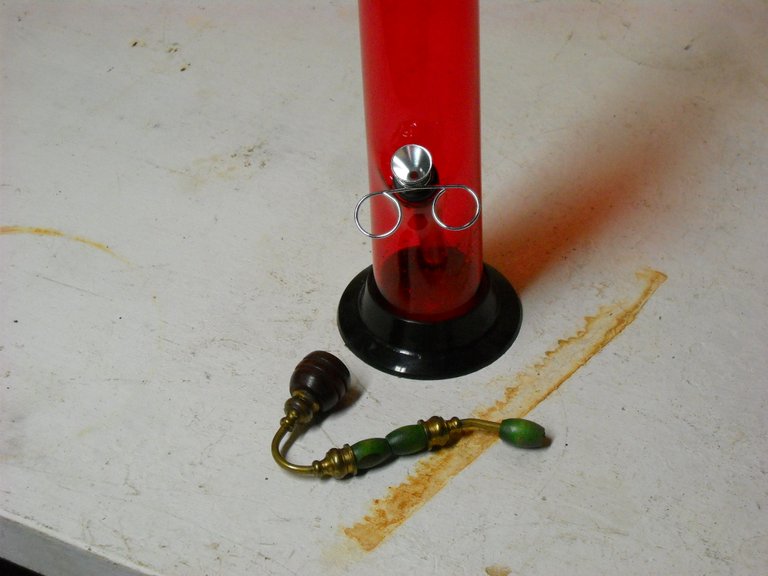 Interestingly enough, the threads are the same for both bowls, so the wood bowl screwed right onto the stem for the bong.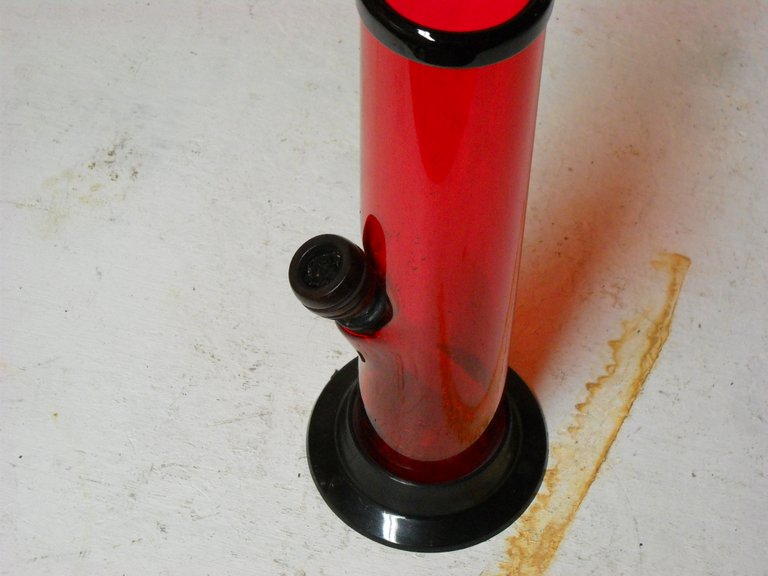 Of course, I had to test it out. I have several buds of White Widow that were given to me by a friend who grows them for his medical patients that want the high CBD-low THC cannabis. I keep the cannabis in a half pint canning jelly jar with a canning lid to keep it sealed. I dumped the water out of the bong before taking these pictures.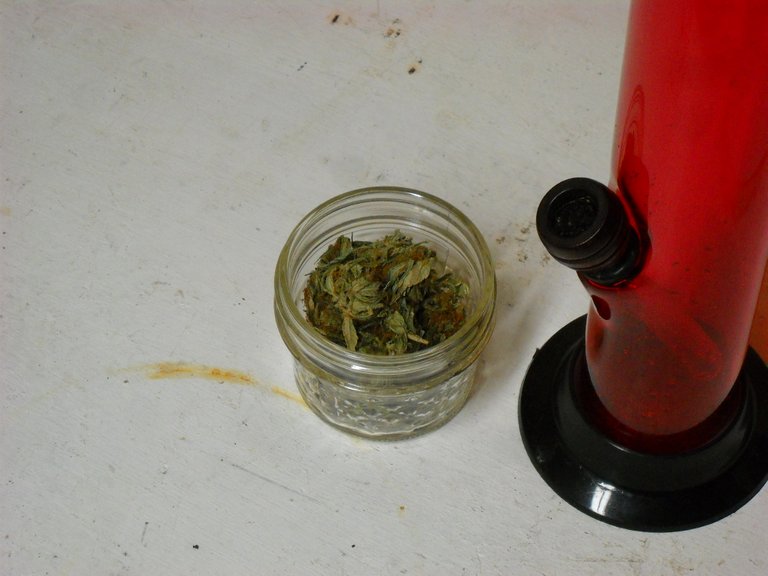 The low THC cannabis doesn't get me very stoned, but it does help with the body aches and stuff like that. I was pretty happy with how the bong worked. I didn't take any big bong rips or anything like that, because getting toasted wasn't the goal for that smoking session. I wanted to test both the bong and the buds to see what effect they would have on me. I'm careful about how much I smoke when I'm not familiar with the bud I'm smoking because high THC types tend to kick my butt way too easily, and I've gotten sick from it a couple of times. This bud agrees with me pretty well so I'll be getting more of it if I can. I'm also looking forward to trying my Cannatonic plant after it's done budding and harvested.
That's all I have for this post, thanks for stopping by to check it out!



---
---