Decarboxylating some cannabis leaves for tea
Hello, and welcome to my page!
A couple of months ago, I picked a bunch of the big leaves off my Cannatonic plant to try to encourage more side branch growth. I didn't want to just throw them away, that seemed like a waste of plant material. I decided to dry them and try using them for tea. This is the post I wrote about that.
https://steemit.com/cannabis/@canna-amber/cannabis-leaf-tea-experiment
After some further reading, I found out that in order to get the full benefit of the CBD compounds in the leaves, you need to process the leaves with a certain amount of heat to make the CBD compounds available to the body. This also is necessary for the THC compounds if you have cannabis that has a lot of THC in it and you want that to be available in tea. The heat process is called decarboxylation. This heat process neutralizes the acid molecule that is attached to the CBD and THC compounds to make it bio-available.
The tricky part is to not boil off the terpines that are also in the leaves. Some of the terpines will start to boil off at about 235 degrees or so, so you want to keep the heat under that. However, you need at least 220 degrees. The trick is to get the oven set at about 225 degrees so you have enough heat, but not too much.
Then you spread a thin layer of the cannabis material on baking paper on a baking pan, or you can use a glass baking pan. Put the pan in the oven for at least a minimum of 30 minutes. It takes a while for the heat to have it's effect on the compounds in the cannabis material. 40 to 50 minutes is better, but if you leave it in too long, the terpines start to degrade, and may produce an unpleasant taste when you use it.
This is the jar of dried cannabis leaves that I worked with.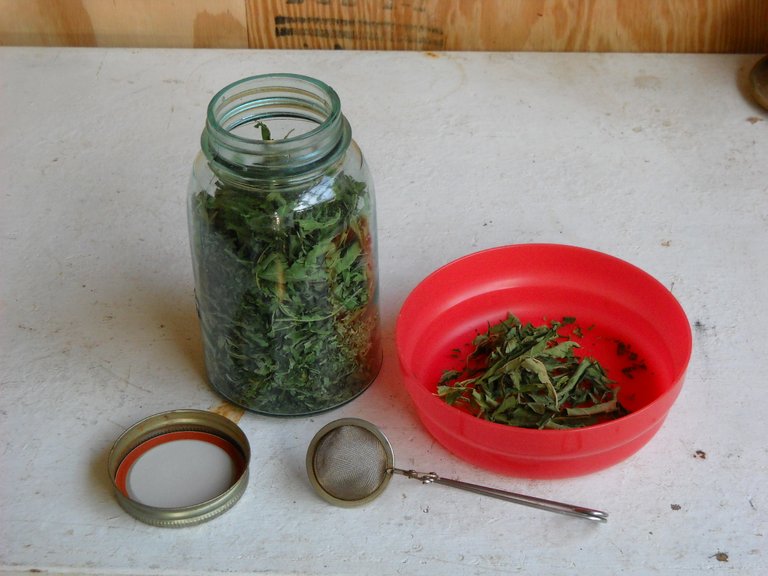 I did the decarboxylation process out in the greenhouse in the oven of the camper stove that I have there for my canning. This is what I ended up with after the process was done. I had to do 5 pan fulls to get all of it done. It was much drier and a bit less bulky when it was finished. In case you're curious, I keep the bong out in the greenhouse. :-)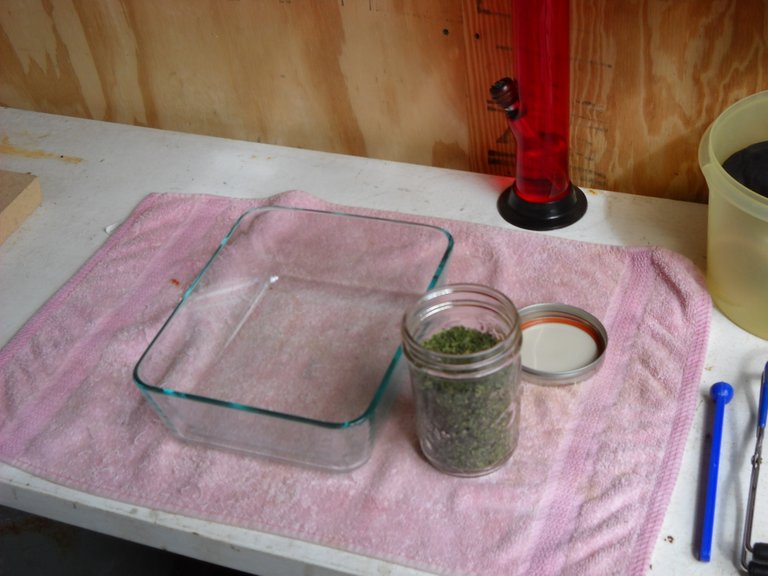 I took video of the process that I used to decarboxylate the cannabis. Hopefully I explained the process decently in the video. This is the youtube link for the video. This video is unlisted on my youtube channel, so you can only watch it through this link.

Thanks for stopping by my page to check out this post!




---
---