Cannabis chronicles #24, trimming a Cannatonic clone
Hello, and welcome to my page!
As my regular readers know, I have 2 clones from my Cannatonic plant. Those 2 plants have been doing very well so far. They're somewhere between 4 and 5 feet tall right now. Because of the change of seasons, they've both decided to go into budding phase. They're still a deep green color, so they're still feeding the big fan leaves. They're just starting to lose their bottom leaves now.
This is 1 of the 2 plants.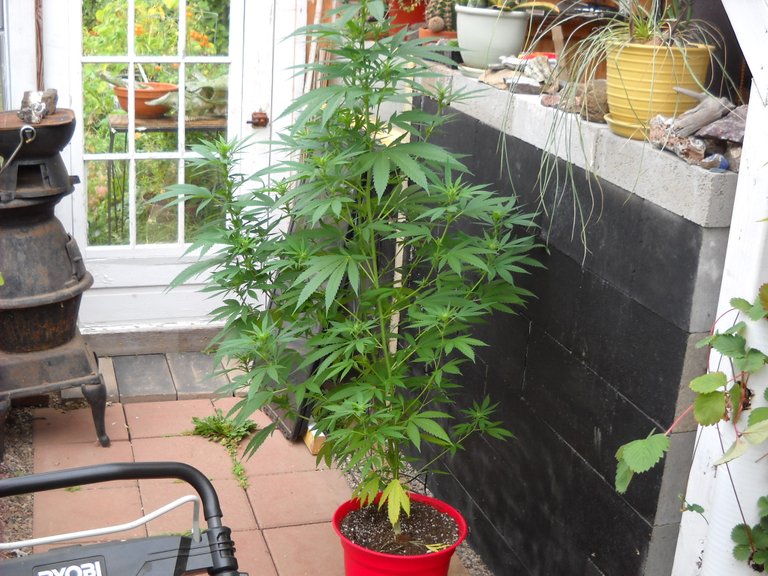 I decided to trim off all the big fan leaves while they are still green, so that I can dry them to use for tea. I brought the plant around to the back of the greenhouse to put it on a workbench to make it easier to deal with the leaves. I started trimming the one plant before I remembered to get a picture.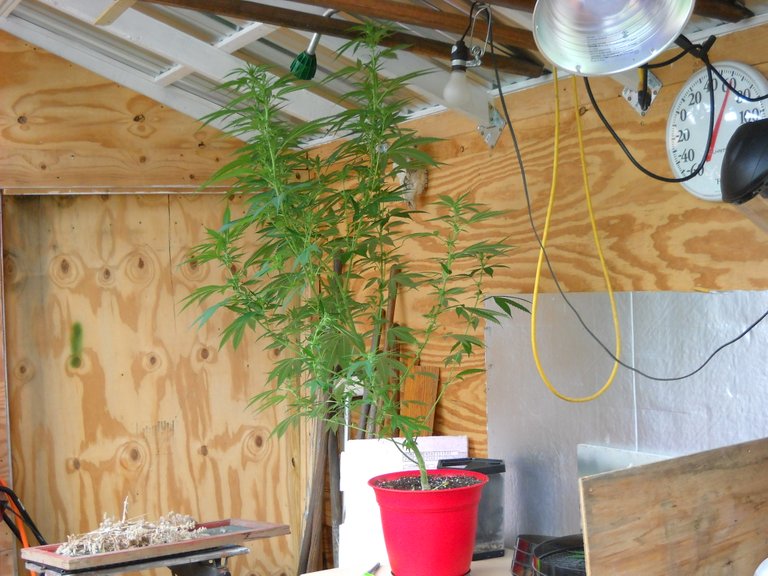 I use the trays from my dehydrator to dry the leaves on, that seems to work really well.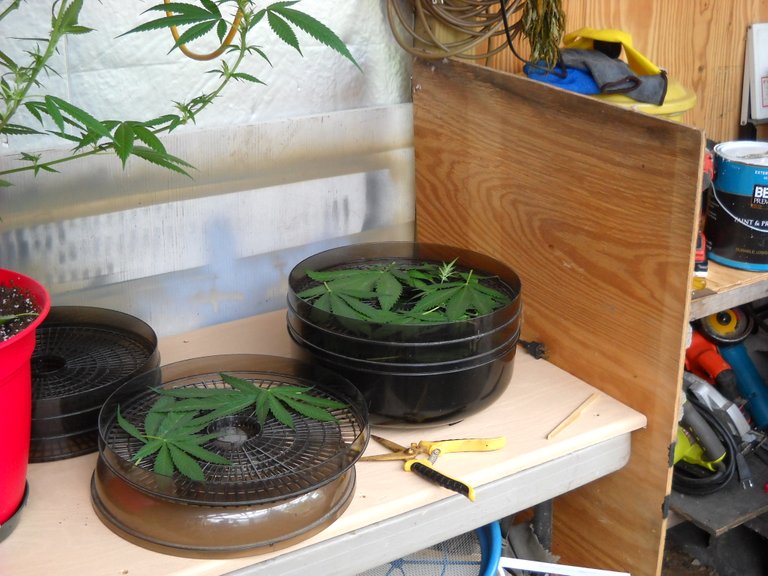 Some of the fan leaves are pretty big.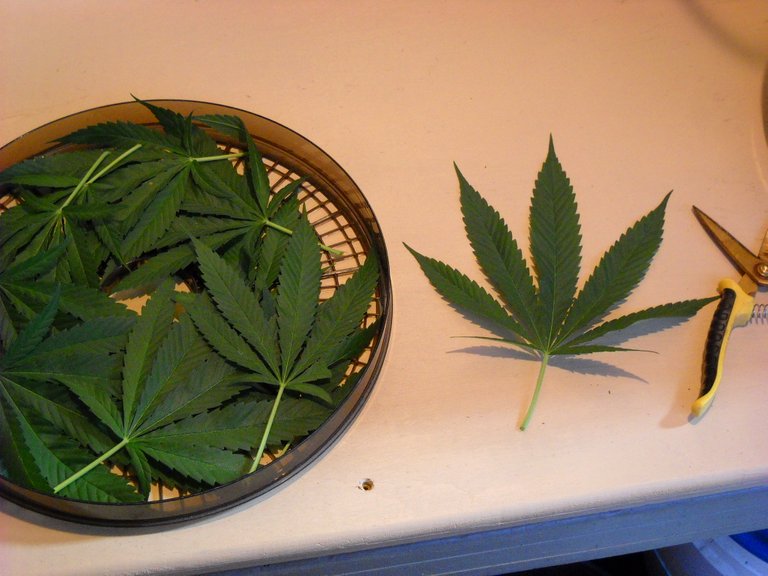 This is the plant after it's haircut.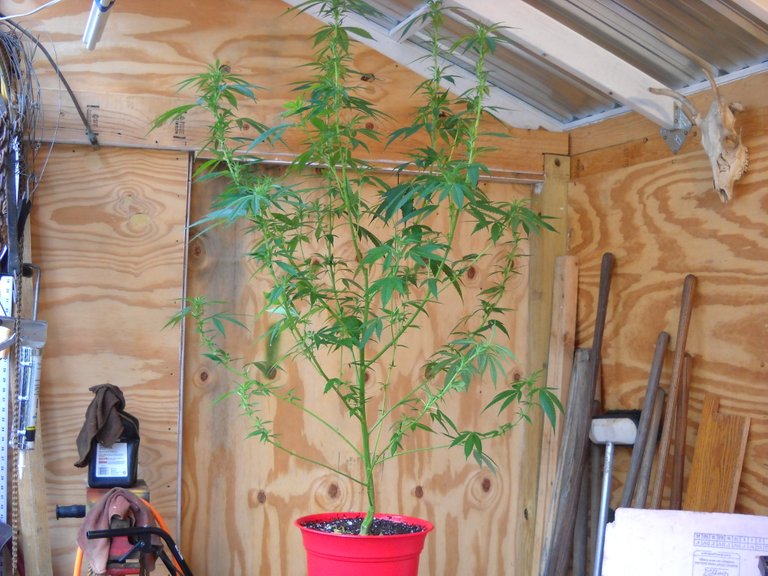 There's probably more leaves that I could take off, but I didn't want to take off too many, I don't know what that would do to the plant.
I was checking all the leaves for bugs before I put them in the dryer trays, and I found some aphids and a few whiteflies that migrated from the tomato plants to the cannabis plants. I had assumes there would be a few bugs on the plants, so I wanted to get the fan leaves off the plant before spraying the plant. I didn't want the neem oil on the leaves that I'm drying, and the plant is easier to spray without the big fan leaves.
After the trimming was done, I sprayed the plant with neem oil mixture, trying to get the underside of the leaves as much as possible. I also sprayed the large cannabis plants again, and the tomato plants again. I also cut almost all the leaves off the tomato plants to get rid as much of the whitefly infestation as possible. This happens every year in the greenhouse, but it happened later this year, and I have a better idea of how to deal with them now. Hopefully I also have the spider mites under control on the cannabis plants. The buds on the big plants are still growing, so hopefully I'll still get a decent harvest.
That's all I have for this post, thanks for stopping by to check it out!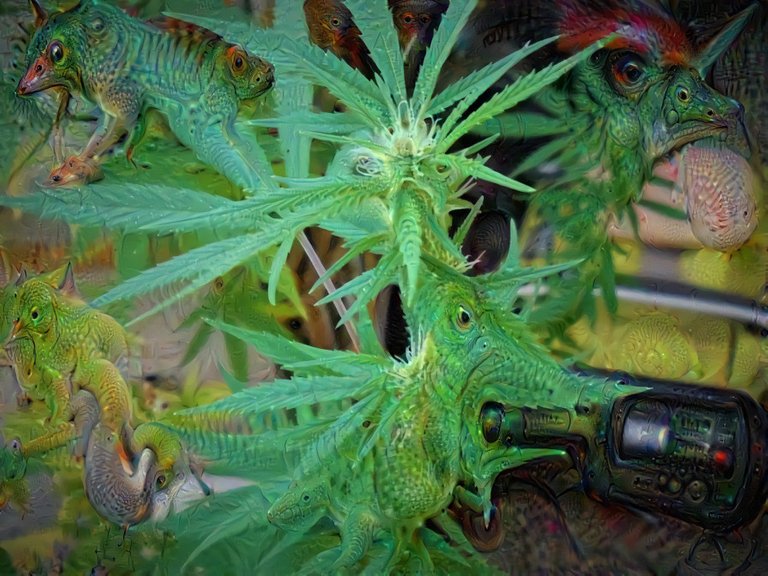 ---
---