Hive: A Decentralized Socio-Finance, Blogging Giant

Yesterday I took a tour around the Hive Ecosystem and I was completely blown away by all the discoveries I made. Now, when I say discoveries, I don't mean that I made some groundbreaking discoveries of things that didn't exist, what I really mean is, I saw the sides of the Hive Ecosysystem that I didn't know existed.
As far as decentralized blogging goes, I thought that all there was to the Hive platform were just the more popular Front-Ends like Leofinance.io, Hive.blog, Proofofbrain.io, and Peakd.com, I was so wrong.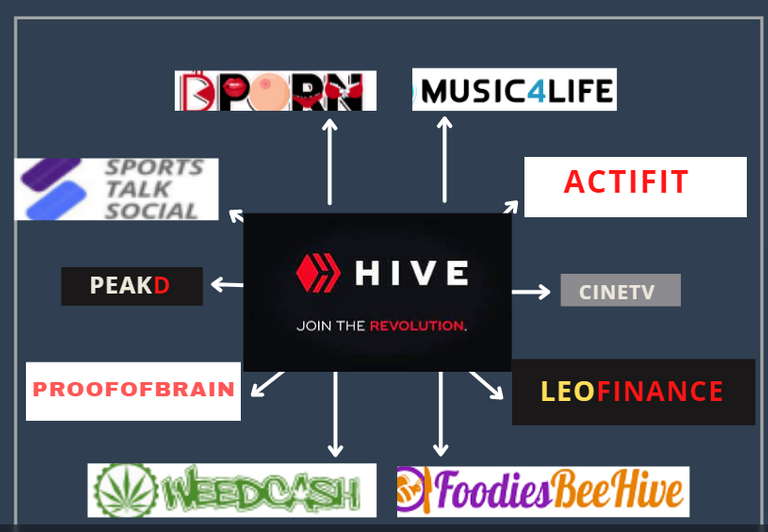 Bloggers on the Hive ecosystem are spoilt with an extensive choice of niche blogging and investment opportunities. I mean everything you'd love to write about, Hive got it and the beauty of it all is, you get to earn tokens from each of these tribes no matter where you are posting from, all you gotta do is use the appropriate tribe tag (on topics related to the tribe's niche)
I am pretty sure I am not the only one who didn't know that there is a sport-based Front-End exclusive for everything sports with its own tribe token under the Hive Blockchain. The tribe token is SPORTS and is currently trading at $0.00011 on the Hive Engine.
https://www.sportstalksocial.com
There is also a tribe for movie lovers where you can write movie reviews, write about your favorite movies of and all that and earn CINE. CINE is currently trading at $0.06504 in the Hive-Engine Market and you can post on the platform through https://www.cinetv.io/ or you could just use tags.
There are Front-Ends for Marijuana lovers, Fit Fam, and even the adult niche all with their tribe tokens.
For a summary of all the tribes under the Hive blockchain and their tokens, see https://beta.peakd.com/hive-101265/@thekittygirl/front-ends-interfaces-to-the-hive-blockchain
For a summary of all the tribe tokens native to the Hive Blockchain, see https://hive-engine.com/?p=tokens

Apart from all the new tribes, I also found out about the investment side of Hive. I swear there is free money literally laying on the Hive floor waiting to be picked up and I am happy I stumbled upon @knowhow92 and @trumpman posts because they have just made my experience here on Hive a lot more interesting. Thanks guys.
Talking about investment and compounding of earnings, apparently, you can buy the coin UTOPIS from the Hive-Engine and you get a weekly reward for just holding. The more of UTOPIS you hold, the more rewards you get.
You could also delegate any Hive token to @brofi and earn daily BRO tokens. You gotta check out the price of BRO on the Hive-Engine to actually understand how tasty this deal is.
Now, if all this new information isn't enough for a new guy on the Hive-Ecosystem to lose his shit, I don't know what is, so please pardon my over-excitement.
How much do you know about the Hive Ecosystem?
DISCLAIMER:
PLEASE DO YOUR OWN RESEARCH, DONT INVEST BLINDLY.
Posted Using LeoFinance Beta
---
---