Apeing into the Launch of HashKings Staking 🌱💰🔐 Day 1 🤑💸💰 680% APY 🤑💸💰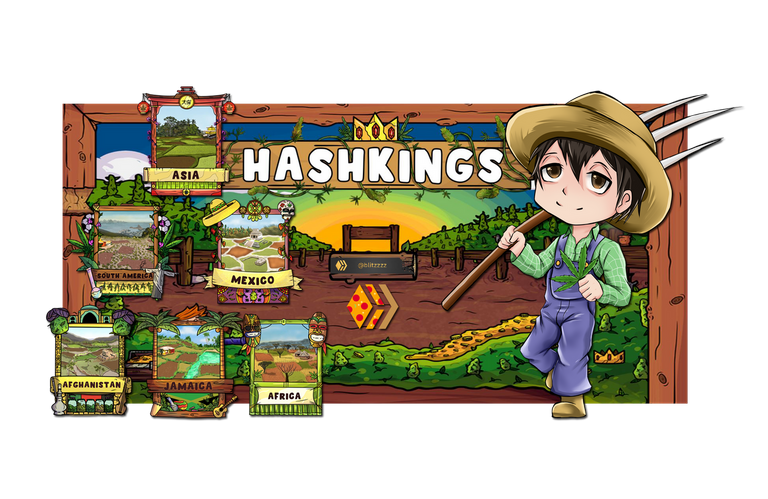 Ever since I signed up to the PIZZA Scholarship program, it exposed me to HashKings, a game which I initially found really confusing and couldn't quite grasp how the entire system worked. After all, it seemed like there were layers upon layers of options within the game itself.
Farming and harvesting 👨🏻‍🌾⛏️
Raids ⚔️🛡️
Burning of buds to produce MOTA 🔥🔥🔥
Staking MOTA to produce seeds 🌱🌱🌱
That's not to mention needing HKWater from Water Towers and the forging system for avatars, and rolling joints using buds to level avatars! 🤣 I think the casual player would have found this rather daunting too.
However, after almost 2 months, I've grasped the gist of the entire game (not fully I'll admit - but enough) to be confident in the stability of the game's ecosystem to understand why everything is set up that way. 💰💰💰
---
This brings me to the BIG announcement which shows my belief in HashKings!!! 👍🏻👍🏻👍🏻✨✨✨

🌱💰🔐Buds Staking Goes LIVE🌱💰🔐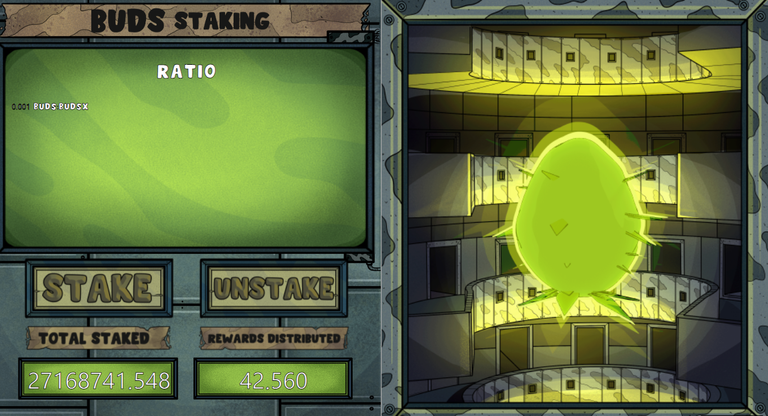 YUP! You can finally STAKE BUDS!
It doesn't quite work like the normal staking where we get a fixed amount based on the staked amount though. I'll leave the in depth details for staking to this LINK to HashKings explanation on how Buds Staking works.
---
For a brief summary though, I think liuke aka @hashkings explained it best in this discord post.

I (quote) "changed boo for BUDS and voilà! same system" as Liuke said and the paragraph below is what comes of it 🤣
You can stake your Buds to earn more Buds. When you do so, you will receive a buyback Buds token, BudsX, to represent your share in the pool. BudsX operates similarly to xSUSHI and earns a percentage of trade fees to buy back Buds. Your balance of BudsX won't change, but the ratio of BudsX to Buds will infinitely grow over time as it buys more Buds.
Hopefully all these information makes it clearer as to what's happening behind the scenes of the new staking system.
---

🤑🤑🤑APEING into the Staking Pool🤑🤑🤑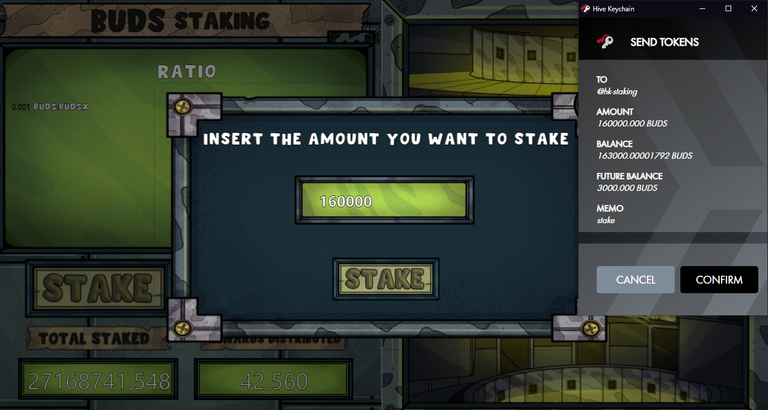 I did mention that I believed in the HashKings team and ecosystem, so obviously I'm putting my money where my mouth is.
Day 1 of the Buds Staking launch saw myself buying up 160k of BUDS to put into the pool myself! I believe getting in as early as possible will allow all the early birds to reap the greatest rewards potential. 💰📈💰📈💰📈
Of course, belief is nothing without numbers and here's the LINK to the HashKings statistics on Day 1 of Staking.
TOTAL HIVE IN REWARDS: 4436
LAST BUDS REWARDS: 173108.59395685 BUDS
TOTAL BUDS STAKED: 30,654,758.438 BUDS
APR IN BUDS BASED IN THE LAST REWARD: 206.11% APR
APY: 680.92%
Formula for APR = ((LAST BUDS REWARDS / TOTAL BUDS STAKED) * 100 ) * 365
Pretty good numbers!!! Of course as more people stake, this figure will drop, but it does show that with 30 million BUDS staked on just DAY 1, there are a lot of people other than myself who see the potential too! 💰📈💰📈💰📈

🎁🧧 MORE BONUSES❓❗❓❗❓❗ 🎁🧧

As quoted from the HashKings team in the LINK to this POST.
"We will also distribute drops of EXP tokens to all the BUDSX holders which would basically work like a MOTA pool. Distributing a certain amount of tokens between all the holders in a daily basis.
The EXP token is a new asset in our ecosystem that can be freely traded or redeemed for joints in our store in a 1:1 ratio. Basically if a pinner gives you 15 XP, you can use 15 EXP tokens to get a pinner and will be like that with all the other joints as long as you have the required level to acquire them or you can trade it with other users.
Is almost a fact that we will add more rewards for the BUDSX holders as the staking system will be the strongest reason to hold BUDS in HK."
---
It's like WOW 🤯😱❗ As if having your Buds increase via staking isn't enough, holding on to BUDSX will even offer more bonuses too! 🎁🧧🤑 If this doesn't at least make you think about getting into the action, then I guess nothing will 😉.

🔮🔮🔮The Future of HashKings🔮🔮🔮

Well, no one can tell for sure what will happen in the future, but we can all make calculated choices. I am now fully invested in HashKings and believe it has the potential to grow several times over. I will continue to monitor it closely so stay tuned for future posts from me about HashKings and my progression within the game itself 😜
---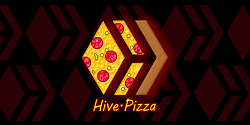 CLICK THIS LINK TO JOIN PIZZA DISCORD!!!
Never fear! Catch up on what you've missed with my brief (and hopefully entertaining) updates on the ins and outs of the PIZZA DISCORD🎉🥳🎊
As a BIG FAN of 🍕PIZZA🍕, I always suggest joining PIZZA DISCORD if you need a quick pickmeup. 👍 It's a friendly and helpful community with regular EVENTS, AIRDROPS of various crypto tokens, discussions of several GAMES on HIVE (Splinterlands, Rising Star, HashKings, Exode...), MUSIC, ART, and even bits of FINANCE ... well I think you get the idea 😄


✨✨✨This Week's Events✨✨✨


Over at PIZZA DISCORD, there are always loads of planned Events lined up (and even impromptu ones). The events listed here are localized to my Time Zone GMT +8. For the absolute latest updates, please check in the Pizza Discord.

---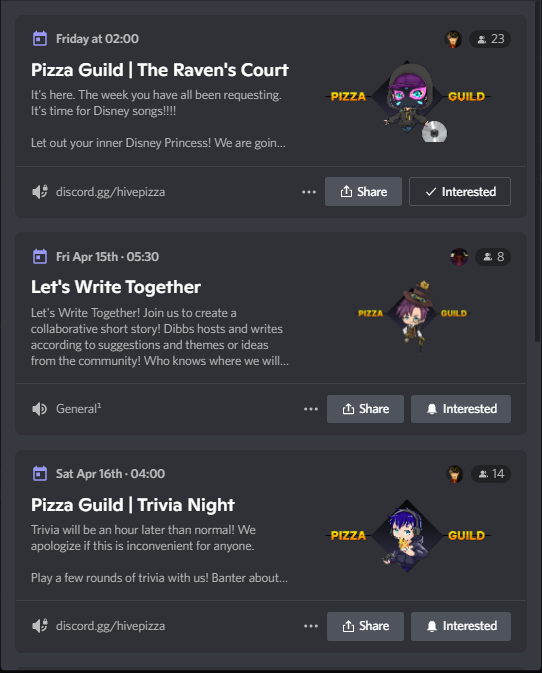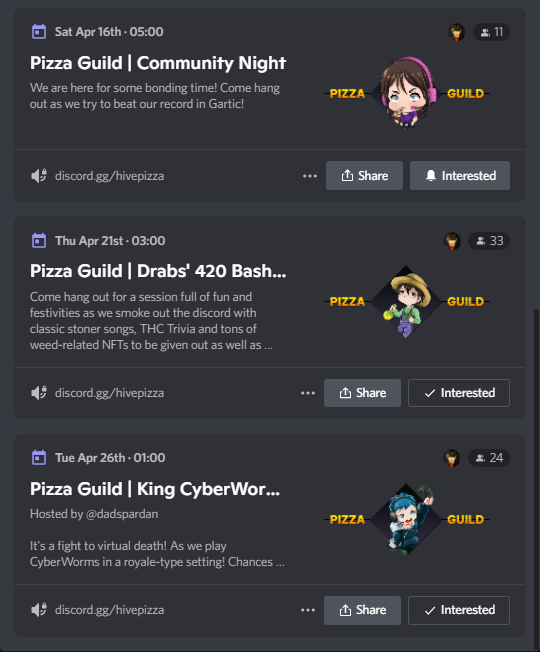 ---

🎁🎁🎁This Week's Contests & Giveaways🎁🎁🎁


A lot of FREE prizes up for grabs at the moment too! Don't miss out! 🎁🎁🎁💰💰💰 What are you waiting for? It's all here in the PIZZA DISCORD.
🤑💰🍕Added Bonus of PIZZA Token🤑💰🍕
-I will use my staked 🍕PIZZA🍕 to share a slice of 🍕PIZZA🍕 with anyone in the comments who also FOLLOWS & REBLOGS my post in the interests of spreading the Word of Pizza 🤣🤣🤣
-Just let me know if you've done that so I can double check and ensure I set aside some Resource Credits to reply back on your comments 👍
-Any fellow 🍕PIZZA🍕 connoisseurs who !PIZZA me will also receive 🍕PIZZA🍕 back from me. 😊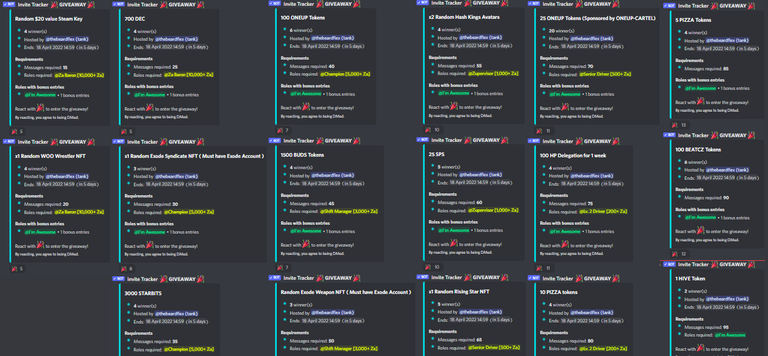 PIZZA is an active gaming and creative arts crypto community on the HIVE blockchain. Popular games on HIVE like SPLINTERLANDS, RISING STAR, EXODE, HASHKINGS, WOO, BANG!DEFENSE have their own PIZZA communities here.



Don't miss out more events that are always being organised. Join the PIZZA DISCORD. Even if you aren't interested in the 💰🍕🎁GIVEAWAYS & AIRDROPS💰🍕🎁, there is a vibrant and friendly community there awaiting you.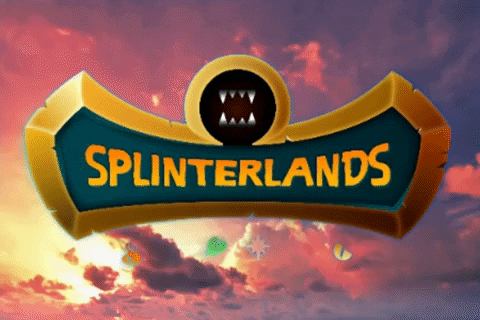 Here's to wishing everyone all the best for the upcoming week 🎉🍀.
To any new players who wish to explore the world of Splinterlands, do feel free to sign up with my REFERRAL LINK 😊.


---
---