Santa Maria and Marihuana

*I found this mural in Guanajuato, Mexico, and I want to tell you the story behind the picture. Did you know that cannabis is also used in ritual ceremonies and that there is even a "Church of Cannabis"?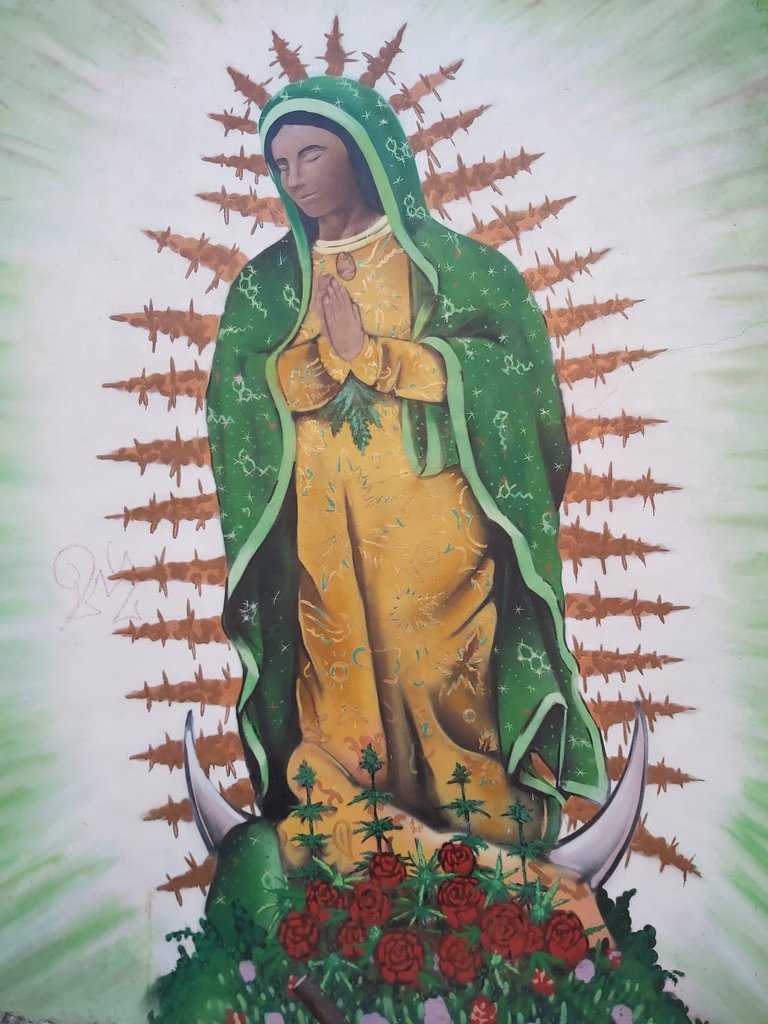 1. Photography of a mural in Guanajuato, Mexico
You may have heard about the connection between marijuana and Mother Mary. The name is already a first clue ;)
There are recognized religions that include cannabis in their ceremonies and associate the Mother Mary with the cannabis plant.
This is also referred to by "Tantra Ganja", which I introduced in an earlier post. The myth, as far as I understand it, is that by smoking marijuana ceremonially, one invokes or summons the spirit of the holy mother.
During my research on this topic, I came across the fact that there are indeed people who consume cannabis in groups in a ceremony ("group ritual"). On the other hand, there is a widespread belief or prejudice that cannabis is exclusively for personal enjoyment:
The ceremony is sometimes called "the consecration of Santa Maria" and in some cases may even involve the reciting of the Roman Catholic prayer "Hail Mary". During the ritual the partakers should remain silent and orderly while the cigarette is being consumed . It must always be passed to the person to the right of the last smoker and be kept in constant circulation until it is totally consumed and each user should limit himself to three puffs , mentally invoking the Daime symbols sun, moon and stars; make a sign of the cross and pass it on. If silence is not kept, then the smokers must at least keep the conversation on a high spiritual level, and avoid using it in parties or mixing it with the consumption of alcoholic drinks. (source)
I found one of their images in Guanajuato yesterday and sent it to my friend (Tantra Ganja). To her the green plant looks like cannabis, but I think it could also be milk thistle.
Anyway, I took this as an opportunity to work with Stable Diffusion (https://playgroundai.com/ and https://lexica.art) on some images of Mother Mary holding a cannabis leaf.
Here you can see the results. What do you guys think of them? I think they are very good in themselves, however the fingers bother me a bit.... I like the last picture best 😺
In the captions you can go directly to the original.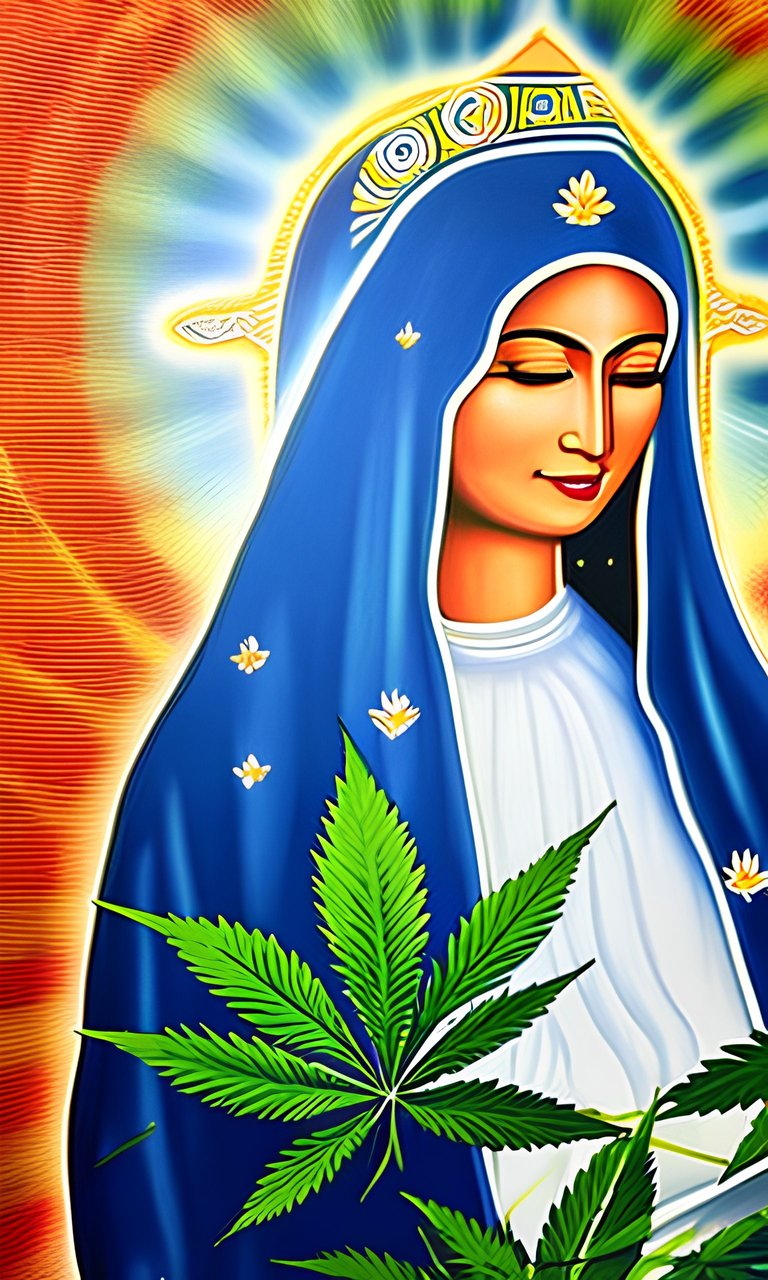 Link to image on playgroundai
Here you may find more sources about "Mother Mary Jane and Mariuhana":
https://www.refinery29.com/en-us/2015/06/88420/first-church-of-cannabis-tax-exempt
http://santodaime.nextohm.com/Santa-Maria/
https://www.infocannabis.org/la-marihuana-y-la-virgen-maria/
Edit: Meanwhile I worked on another image I'm quite satisfied with: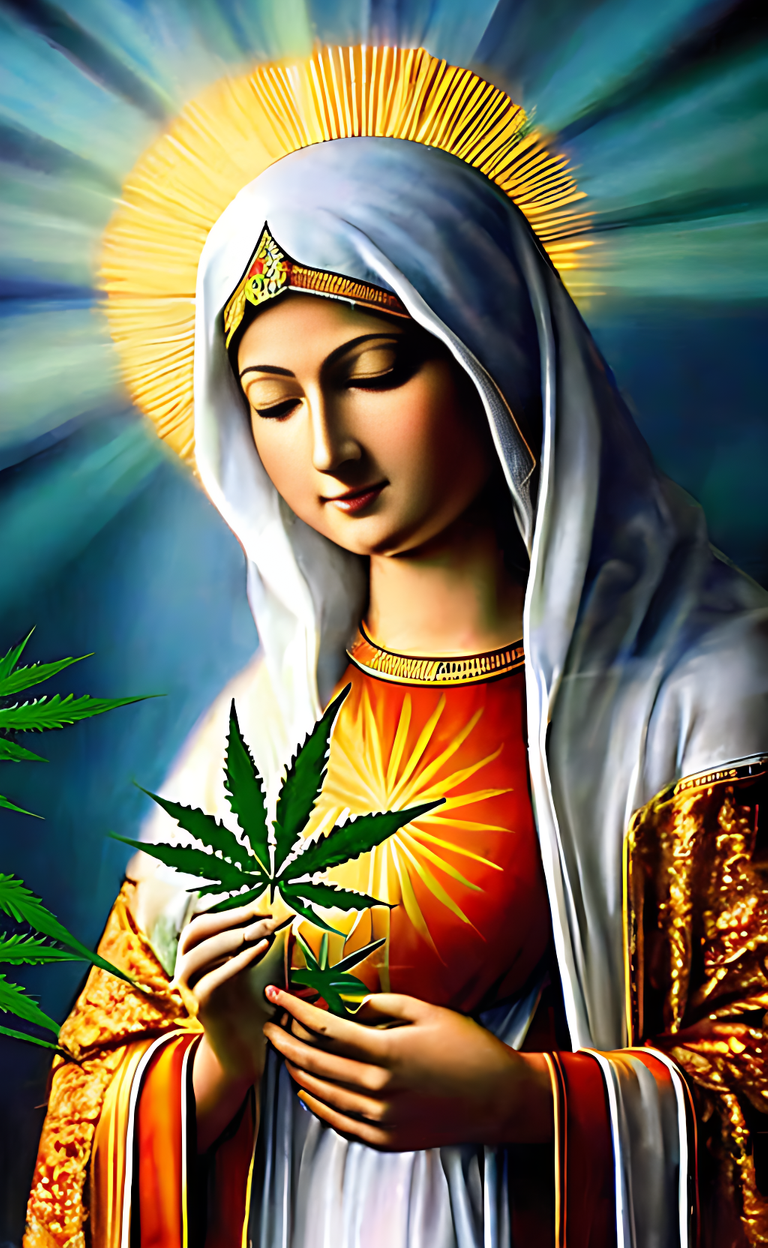 https://playgroundai.com/post/clezwyef2040xs601cq9925n4

Images 2-6: StableDiffusion in Nightcafé, My Profile & PlaygroundAI.com My Profile

Merchandise available on myspreadshop
Images available as poster art on SaatchiArt and Etsy
Productivity Cookbook available on Gumroad.com
---
Thanks for your attention ♥
Upvote & comment below
Send me a tip: https://hive.ausbit.dev/@blissfullbreaks/tip
---
---