DROP THE MIC WAS OFF TONIGHT......BUT WE DID A HANGOUT ON BEATZCHAIN AND IT WAS PRETTY COOL (: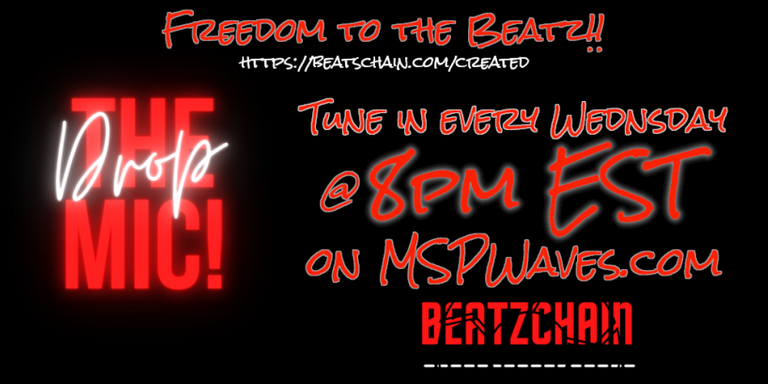 Ok so things didn't go exactly planned with the show this week on MSP WAVES. It's cool doe bruh cuz we did da show on BEATZCHAIN!!!
I decided in the last minute since @unklebonehead was sick, I FKD up on OBS, and didn't have time for answers so I moved to BEATZCHAIN for a nice chat with everyone who wanted to come in the PUBLIC CHAT https://discord.gg/Ne99a5qdvv it was cool talking with @thelogicaldude @enginewitty @nahupuku @inthenow & one of the guys from Blurt formally known on discord as "Thecryptodrive"! It was great talking with you guys about cool projects & me & Nahu having a good talk about the contest!
We're still on MSP Waves and will be on air next Wednesday and can't wait to drop more & more music, news, & talk S&%T you love to hear! (:
Be on the look out for our next show on MSP WAVES!! We'll be there https://mspwaves.com/discord can't wait to see you there!!
FREEDOM TO THE BEATZ!!
our token BEATCZ: https://tribaldex.com/trade/BEATCZ
BEATZCHAIN NETWORK: https://www.beatzchain.com/hot/beatzchain
THE BEATZ DISCORD: https://discord.gg/hSufzzQRwV

---
---