"The Herb" for Thai Chickens!!

Gotta love Thai people - only a month since the delisting of cannabis as a narcotic nationally, and we're seeing ganja food vans, all things ganja and edible, mobile dispensaries, home delivery services and ganja products popping up faster than noodle vendors at a temple fair....
But the biggest surprise? cannabis being promoted for chickens!!
The farm that is being quoted and used as the example in a lot of international media is about 45 mins from our home, in the neighbouring town of Lampang. It is part of a serious clinical study being conducted by Chiang Mai University in conjunction with the Thai Ministry of Agriculture.
Lumsangkul said the workers produce the birds' special food by adding crushed cannabis to their feed and water. The workers do not use antibiotics or medicines on the chickens during this time.
Besides healthy chickens, the experiment has also allowed the farm to sell its birds for higher prices to consumers seeking organic poultry.
The birds are fetching double the regular price — about $1.50 per pound — mostly because buyers want organic chickens that haven't been administered antibiotics, Lumsangkul said. She also claimed that the chickens' meat — which they call "GanjaChicken" — is more tender and tastes better than regular chickens. source
Ms Sirin Chaemthet, president of the Peth Lanna community enterprise, said on Saturday (June 11) that the experiment was conducted in cooperation with Chiang Mai University's Faculty of Agriculture.
She said farmers opted for marijuana after their brood was found to be suffering from avian bronchitis despite being injected with antibiotics.
Upon consuming cannabis, the chickens developed higher immunity against disease and were able to withstand inclement weather.
Eventually, the community enterprise decided to do away with antibiotics and only feed their chickens cannabis, she said. source
There has been LOTS of local speculation about whether the cannabis feed actually makes the chickens high, and lots of local, pompous (and actually hilarious) local media reports that the chickens seem sober and walking normally.
What really excites me about this, is that it draws on a very rich herbal heritage in Northern Thailand which has always included Ganja. It was seriously common - even before the decriminalization - for ancient looking Thai grandmas to drink "tea for long life" from some dried cannabis that emerged from an old brown paper bag.
But changing it up for livestock and agriculture? Actually, that practice dates back thousands of years!!
Pigs have traditionally foraged on high-plateau Ganja fields right across Bhutan, Nepal and Tibet, and those practices were introduced into Thailand via the travelling monks from mountain monasteries as Buddhism also was introduced to the dominant animist culture here. With Chiang Mai being an hour's drive from the officially southern-most peak of the Himalayas, it makes sense that the old ways are also followed here.
I'm buzzed (pun intended 😆) by Ganja and herbal medicine starting to overthrow decades worth of Big Pharma antibiotic abuse. Not just for personal health reasons, but for the health of our waterways, rivers and streams where these drugs do untold - and unseen - damage to our environmental microbiome.
And in the 2 days since I started this blog post?? I was chuckling to see THIS advertised on my mainstream social media newsfeed.
Herbal Munchies! 😆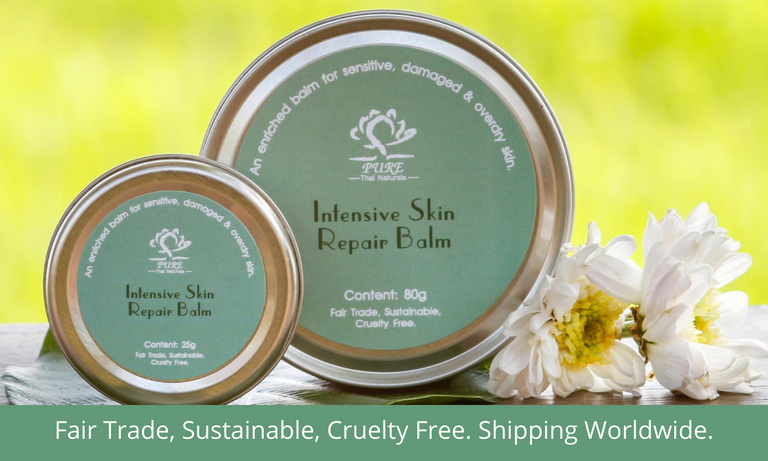 Come check out my Pure Thai Naturals online store

Find me on Twitter: Pure Thai Naturals @BreugelMarike & @HiveLift
---
---