Making Mushroom Liquid Culture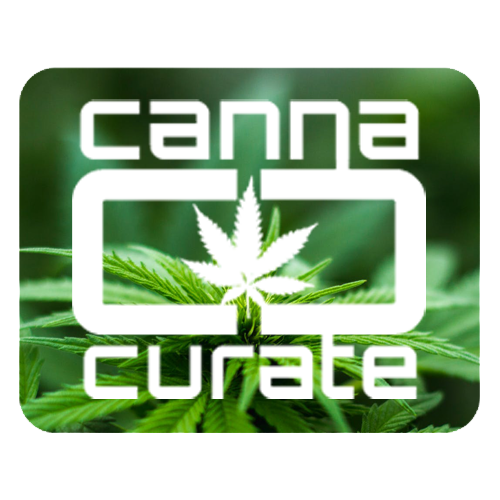 Hello growing enthusiasts and happy New Year! I hope everyone had an awesome and safe holiday! Today I will show how I make my liquid culture lids and liquid for an upcoming post. This can be used for any mushroom you desire to grow. Liquid culture is used to grow mycelium in a 3D solution instead of a 2D which would be one of my last posts when we did agar. If done right it will last for 6 months to a year even though some people say they can last even longer. Using LC can cut down the time of colonizing grain spawn by around a week. The tools and items you are going to need is pictured below.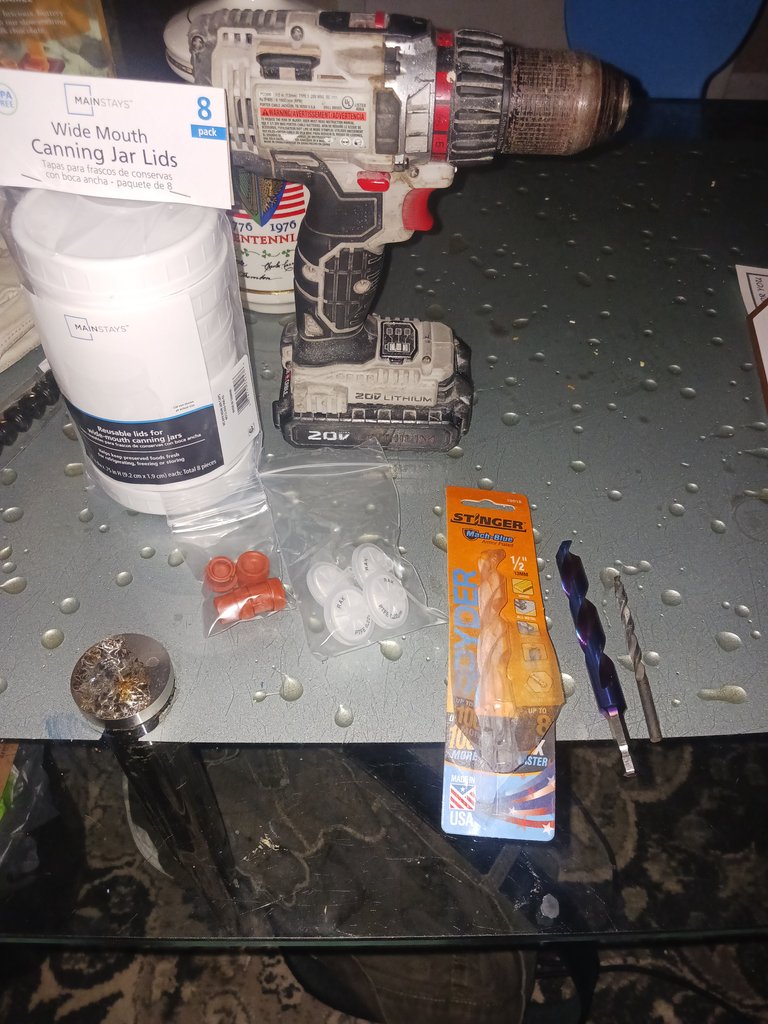 First you'll need your lids which was purchased at the local supermarket. You'll also need a filter and a self healing port for each jar you will be doing. These I'm using I ordered from shroom supply, but you can make your own self healing port by using a high temperature RTV. You will need a 1/2 inch and a 1/4 inch drill bit. The filters are a 0.22 filter which will allow the culture to breath while it grows and keeps out any contaminants.
I am only doing 4 quart jars so I started by marking two dots on each lid directly across from each other about an inch from the edge of the lids and drill the 1/2 in drill bit hole into all 4 lids.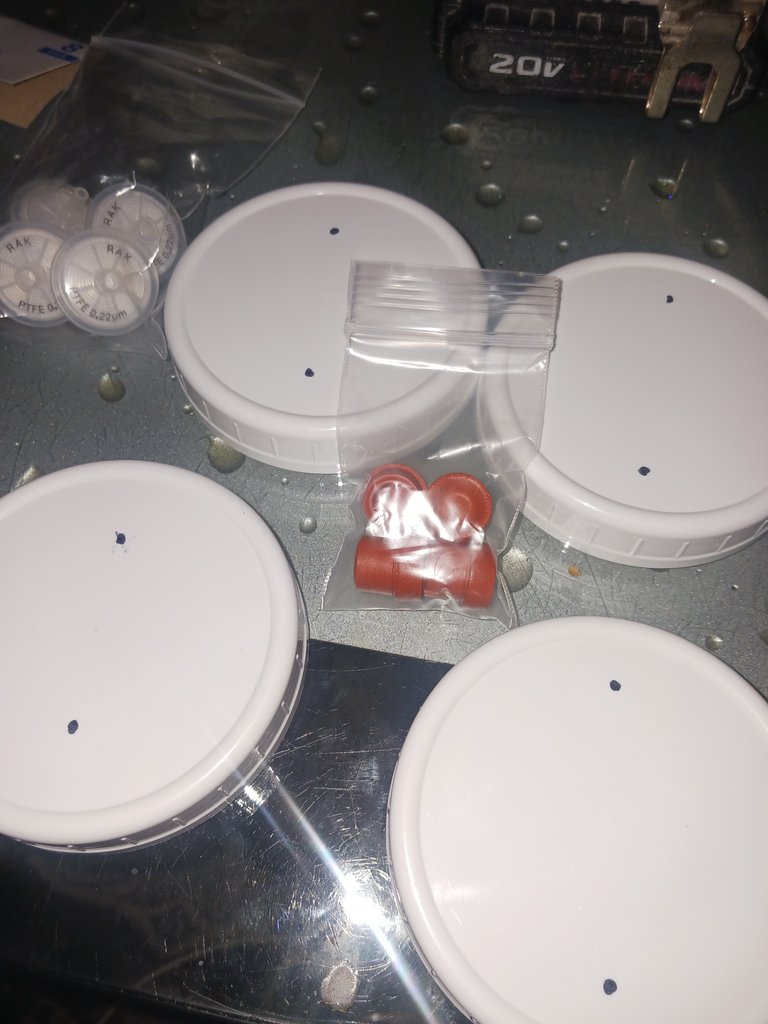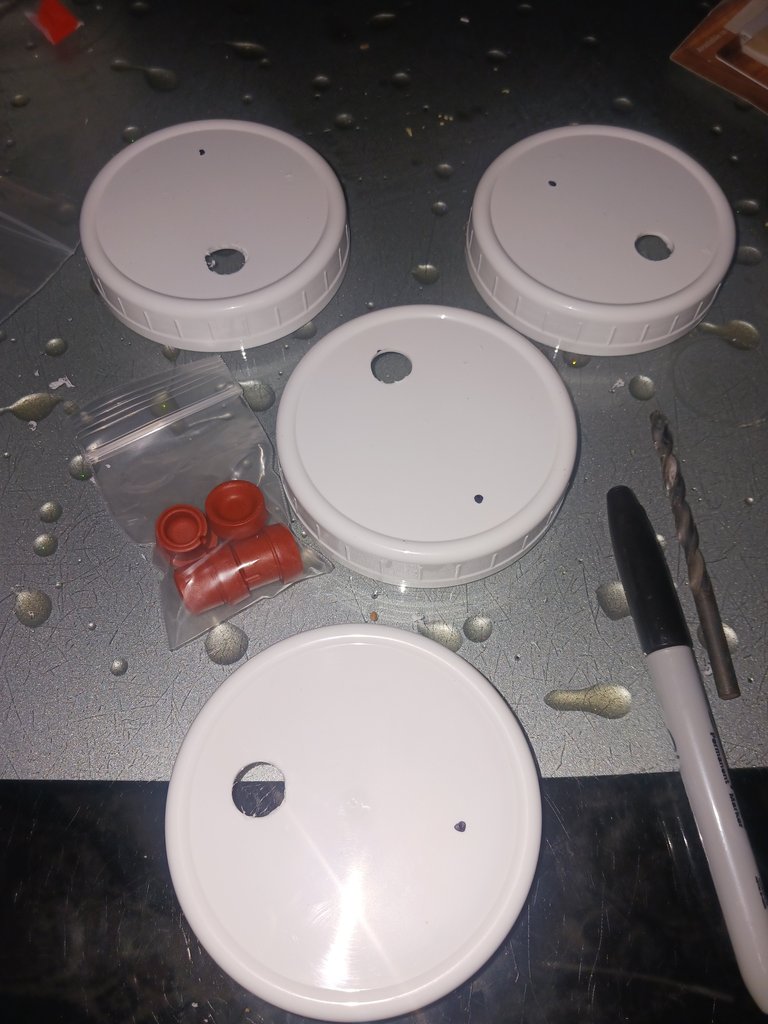 Next thing I did was fit the rubber healing ports in the hole by squeezing the back side and pulling it through until it seats itself.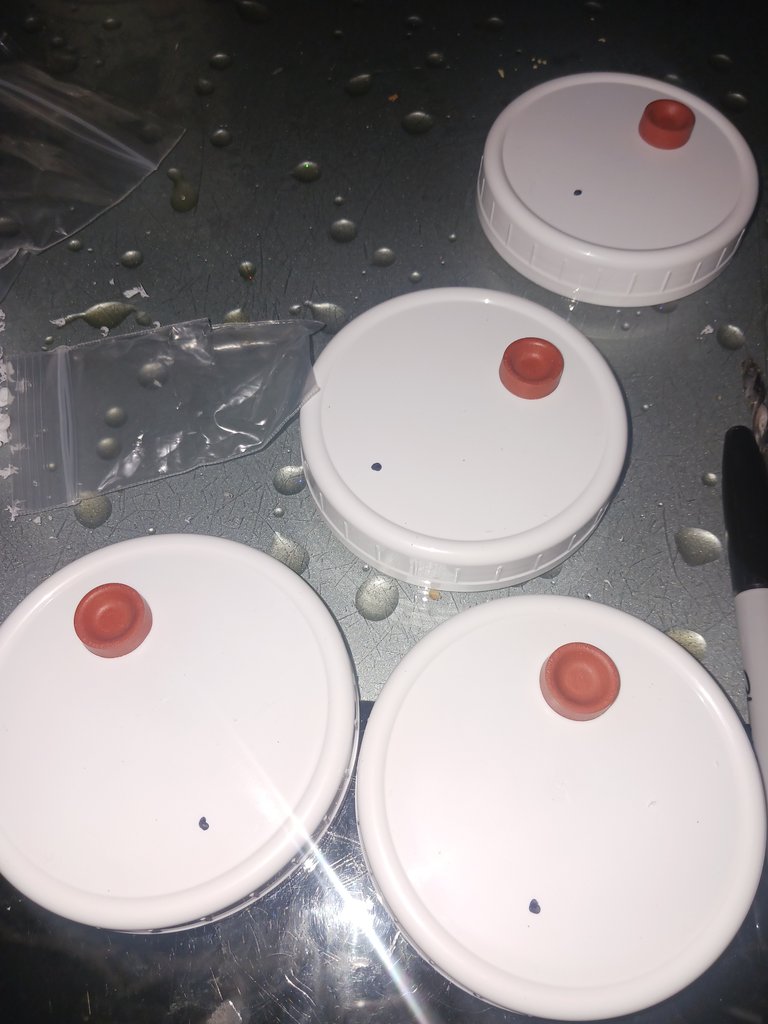 Next I changed out the drill bits and drilled each lid with the 1/4 inch bit and fit the filters in the holes and pushed until they popped on the second ring of the filter.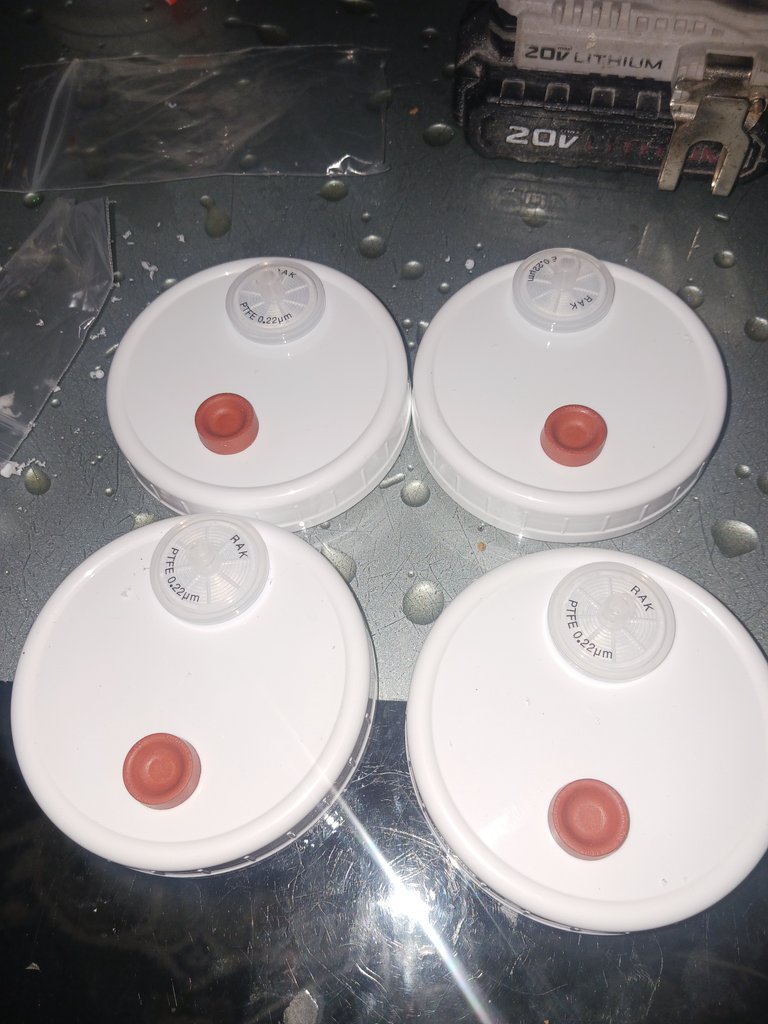 After my lids are done I get the rest of my supplies ready.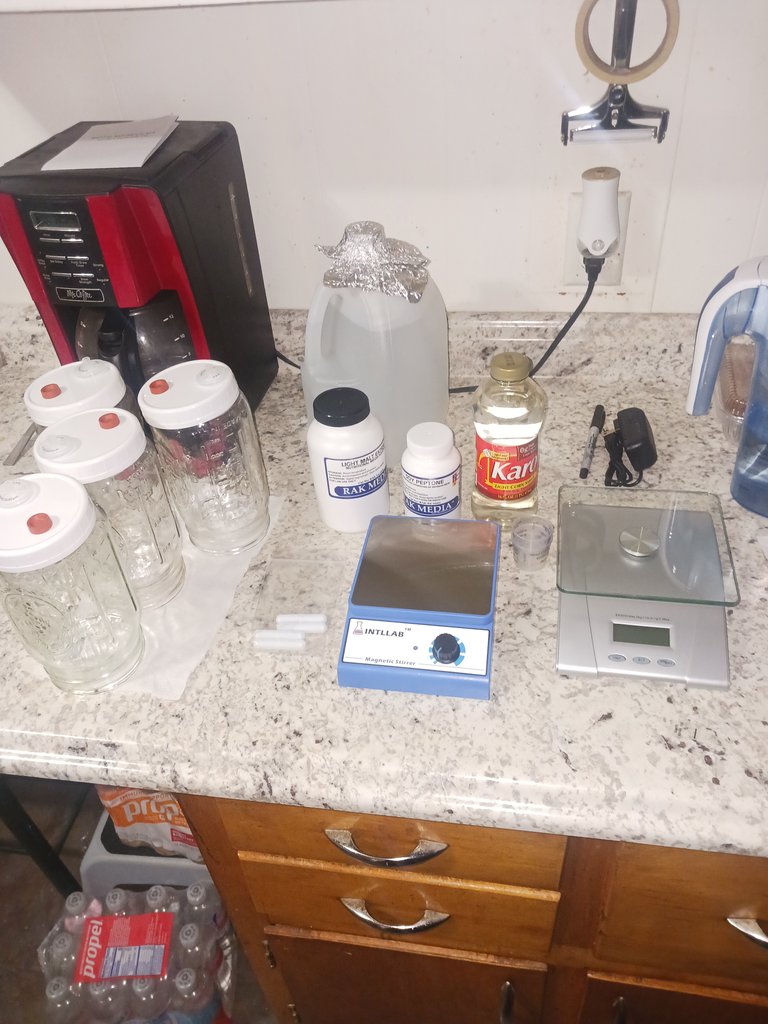 You'll need your jars with the lids we just made, a scale to measure the ingredients (which I had to use my other scale), a stir plate and stir bars or a spoon to mix the solution, distilled or purified water which I use from my Zero Water pitcher which works great, corn syrup, light malt extract and Peptone. The stir plate, Light Malt Extract and the Peptone were all purchased from Shroom Supply. The rest of the supplies can be found at your local supermarket or ordered online.
I start with 600ml of water in each jar.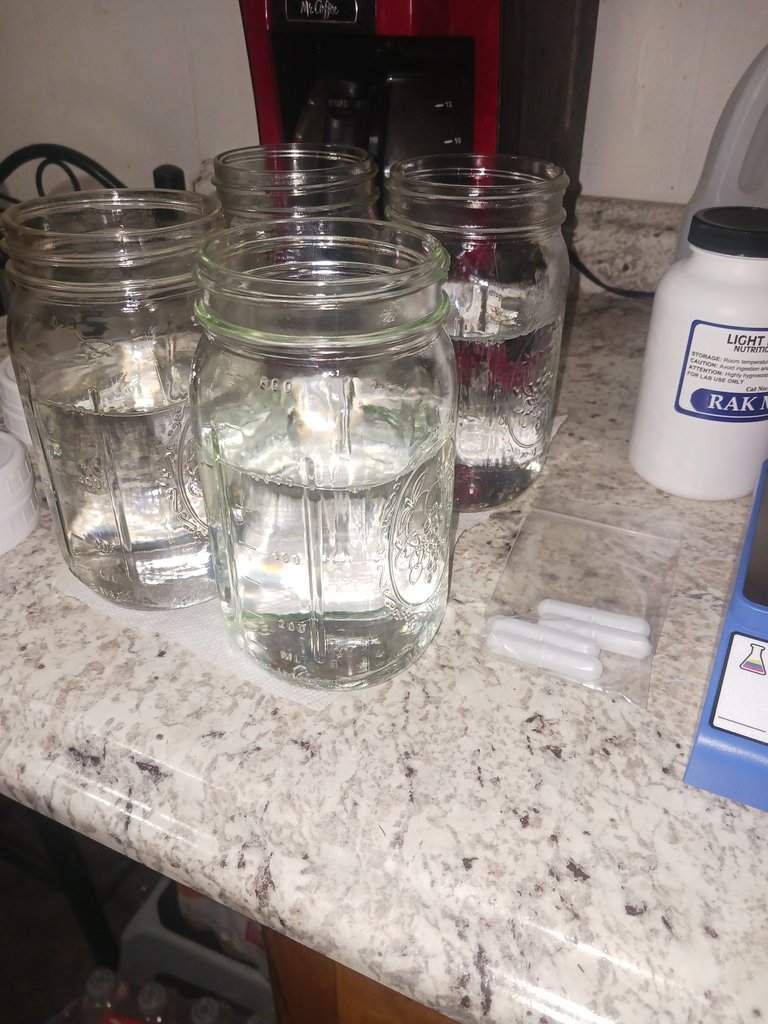 I weigh out 1.2 grams of Light Malt Extract which is just about 1/2 teaspoon and add it to the water.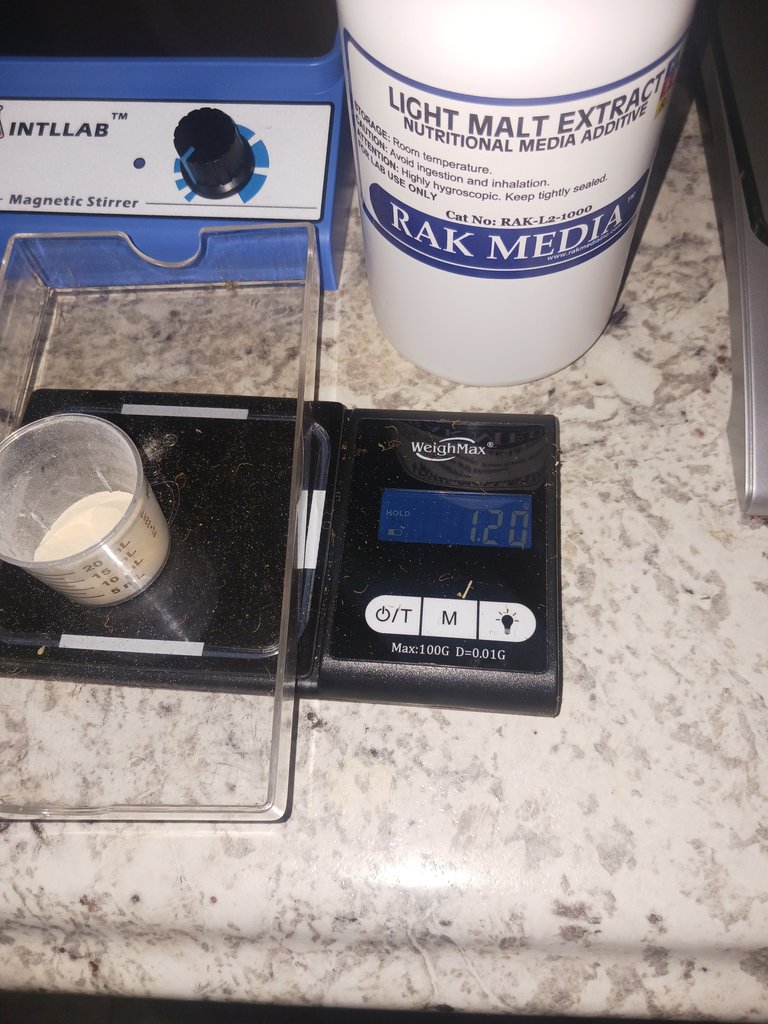 After that I weigh out 1 gram of Peptone which is just under 1/4 teaspoon and add it to the water.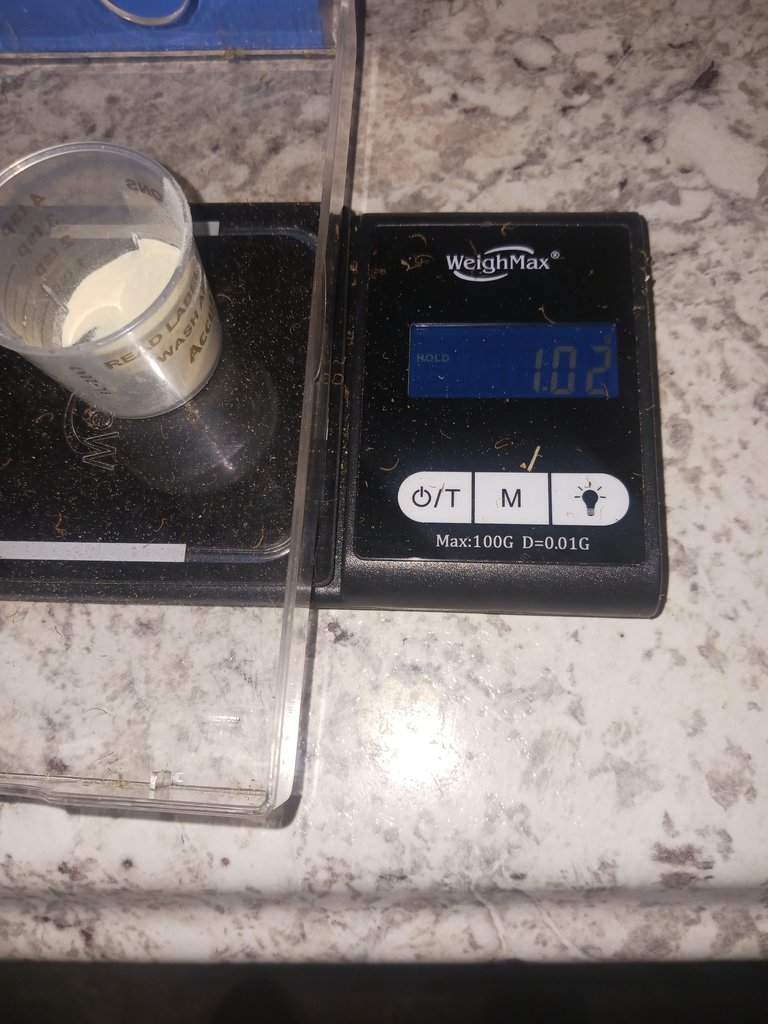 Next I weigh out 12ml which would be around 20 grams of corn syrup and put it in each of the jars.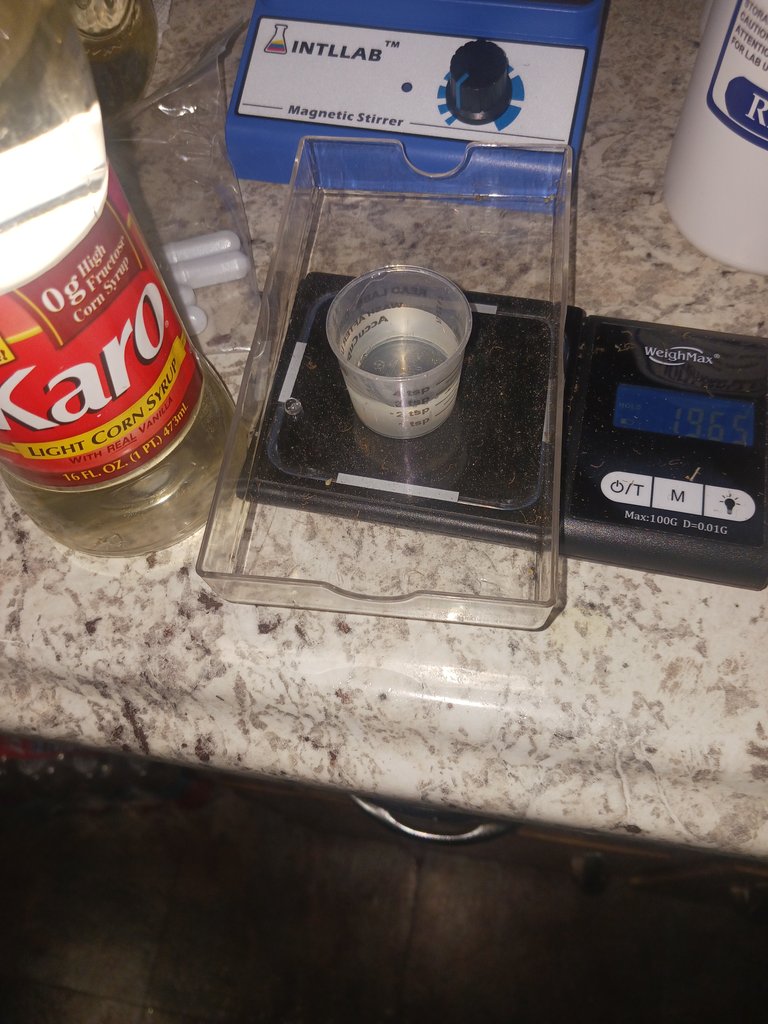 )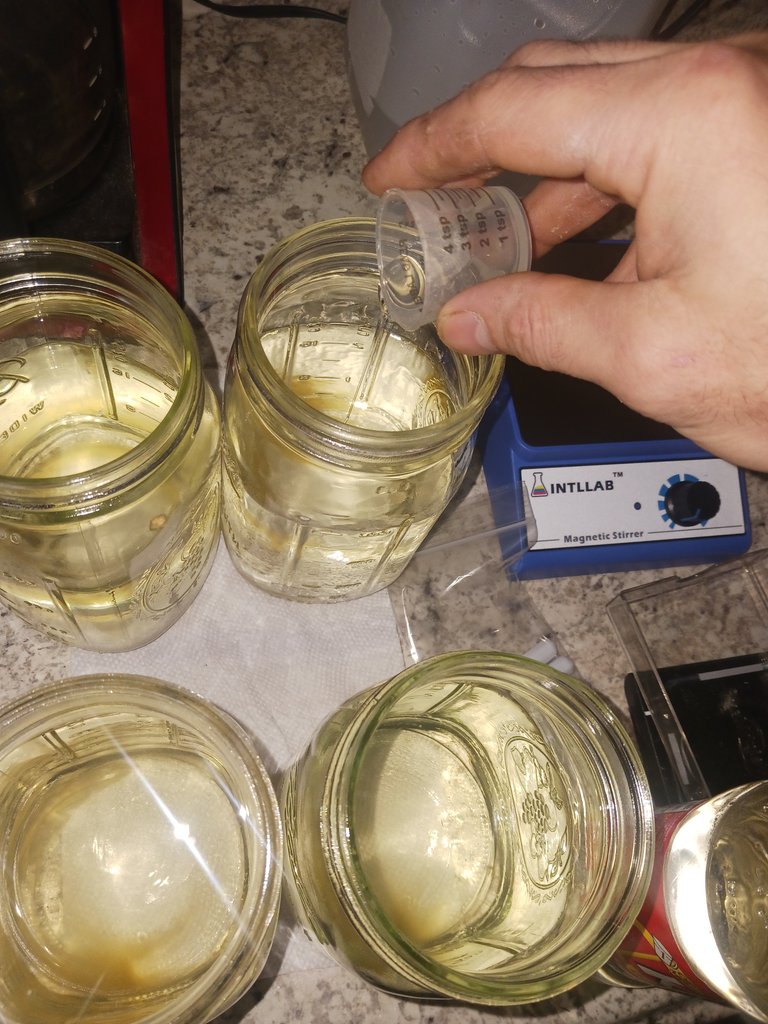 )
---
After the ingredients are in I put a stir bar in each jar, screw on each lid and put it on the stir plate. I turn it on for a couple of minutes or until everything is mixed thoroughly.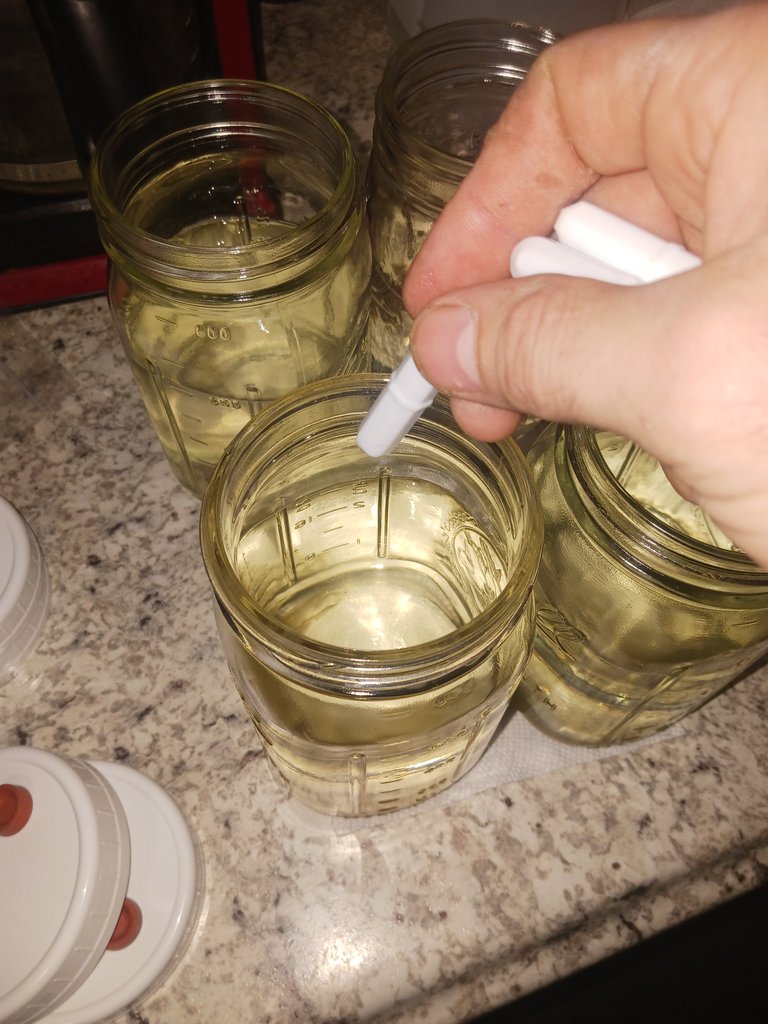 )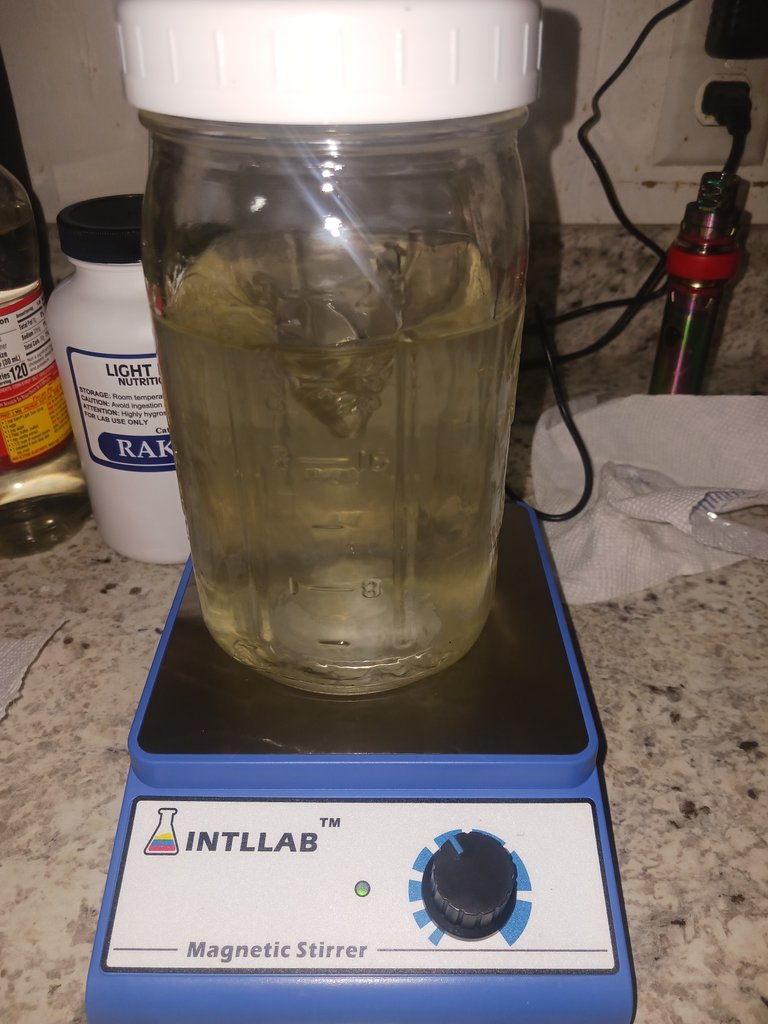 )
---
The liquid should be very clear with minor floaties. Don't worry about the floaties as that will be eaten by the mycelium as it grows.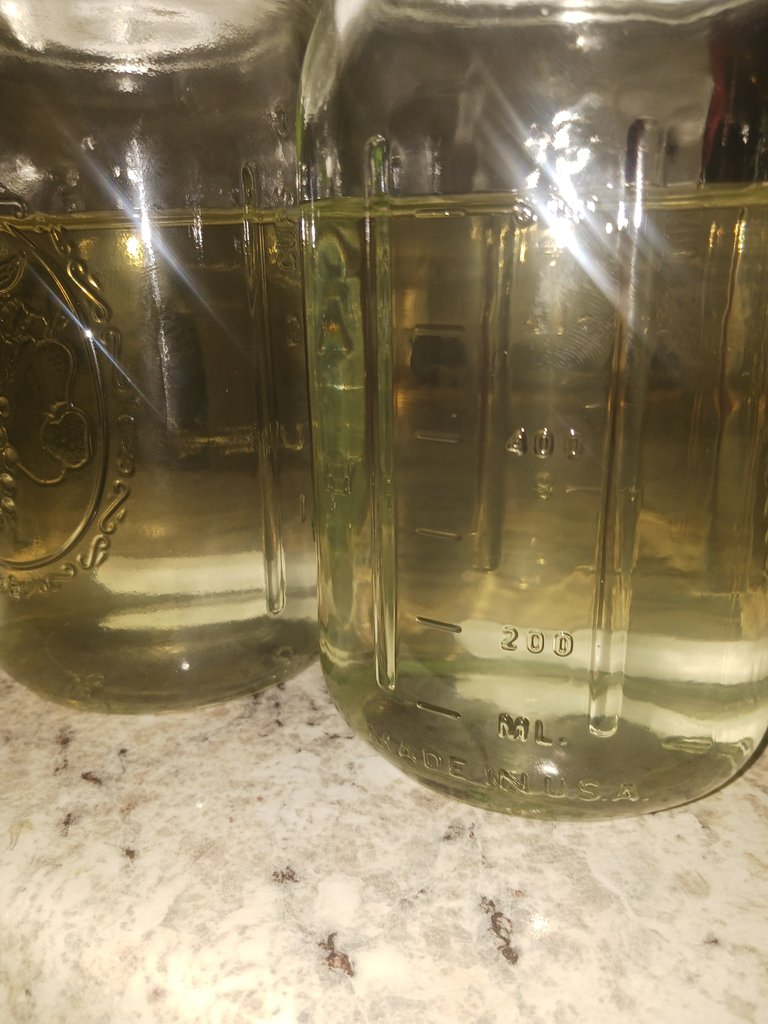 After everything is mixed it's time for the pressure cooker. I cover each jar with aluminum foil and put it in my PC.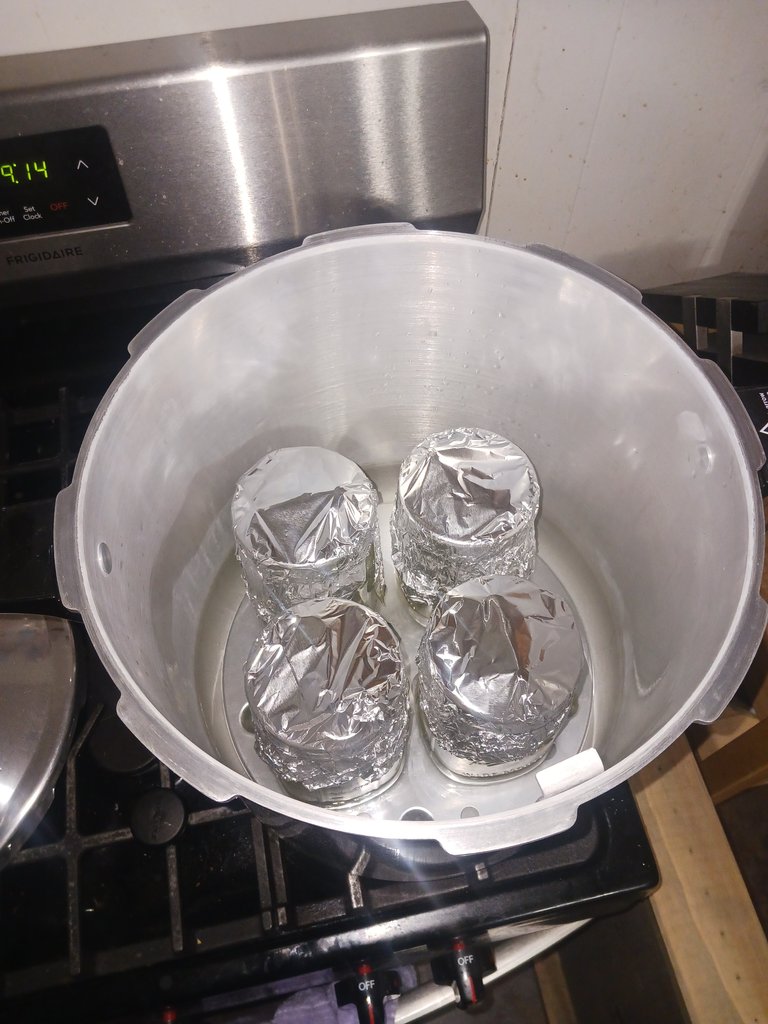 I put in 2 quarts of water from the tap and turn the stove on high. Once the pressure builds to 15psi I turn down the stove to a medium heat just to keep temp and start a timer for 30 minutes.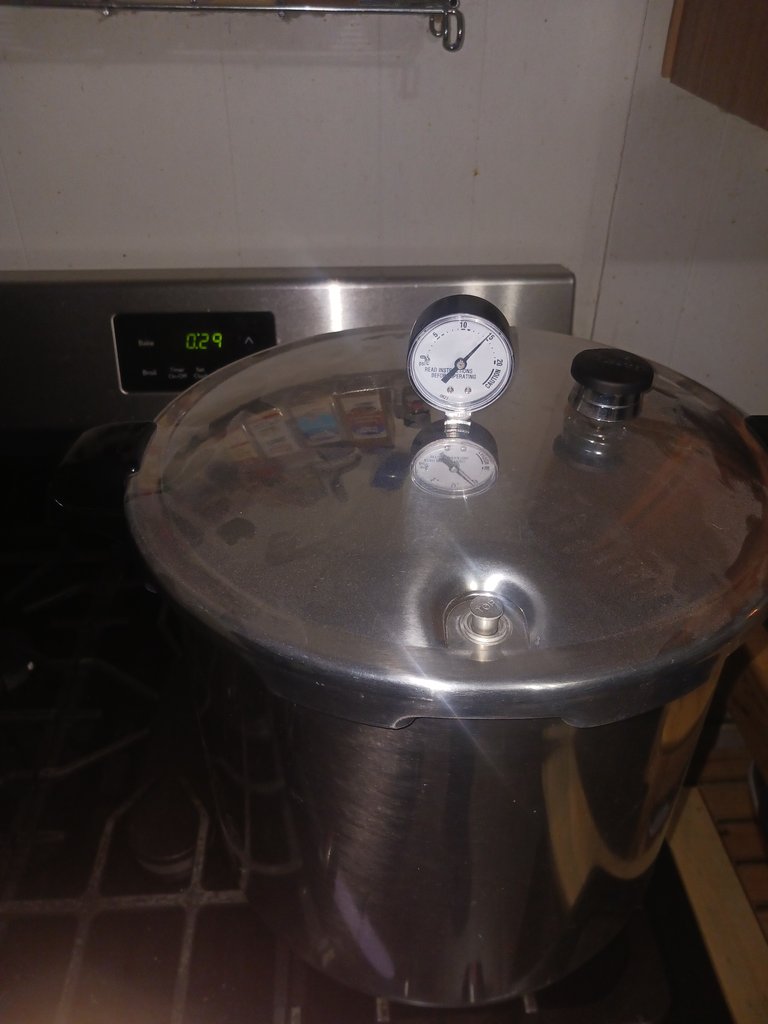 After the timer has gone off I shut off the heat and let the pressure cooker depressurize on it's own so I usually leave it overnight. The next morning I take them out of the PC and put them on the stir plate for a couple of minutes before storing them in my cupboard for the next step. Well that's it for this blog. Join us next time for another update. Have an awesome day guys!
Mush Love 🍄🍄🍄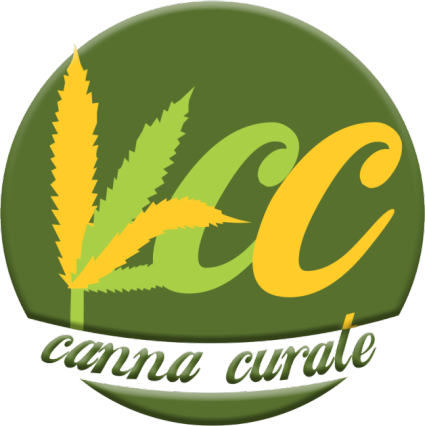 ---
---