Inoculating Liquid Culture Jars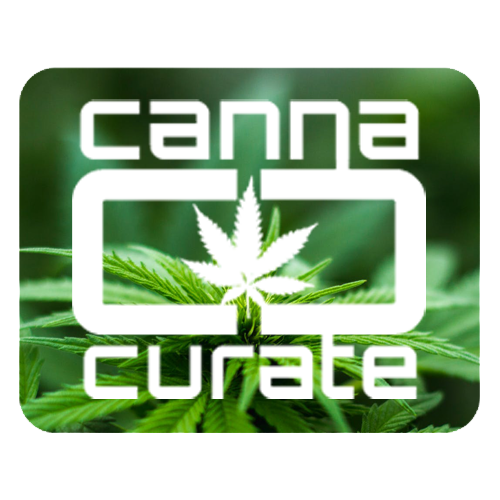 Hello growing enthusiasts! I hope everyone is having an amazing day! Today we are going to talk about injecting our Liquid Culture jars we made in our last post here and some sterilized grain spawn. You can learn how I do my grain jars in my other blog here. The jars sat in the cupboard for a few days until I created the time to do them. The culture syringes I have which has about 12cc of liquid in them are called APE and Albino Melmac.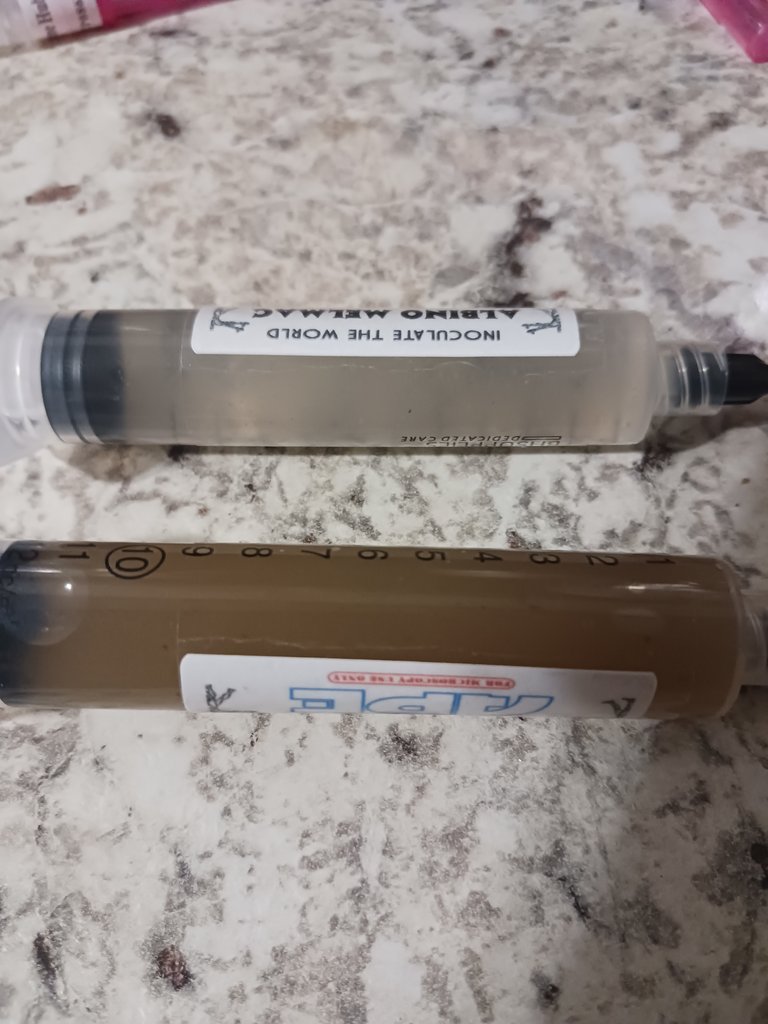 I took all my jars out from my cupboard and grabbed the torch.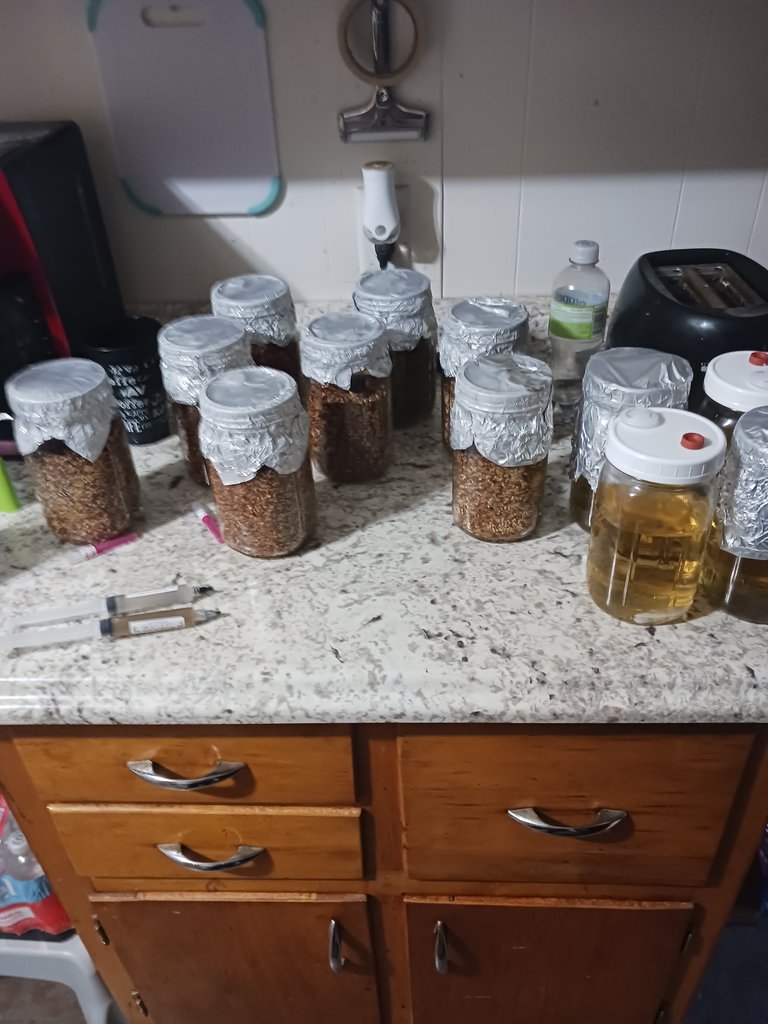 I started out by shaking the syringes really good until the culture was mixed up throughout the liquid.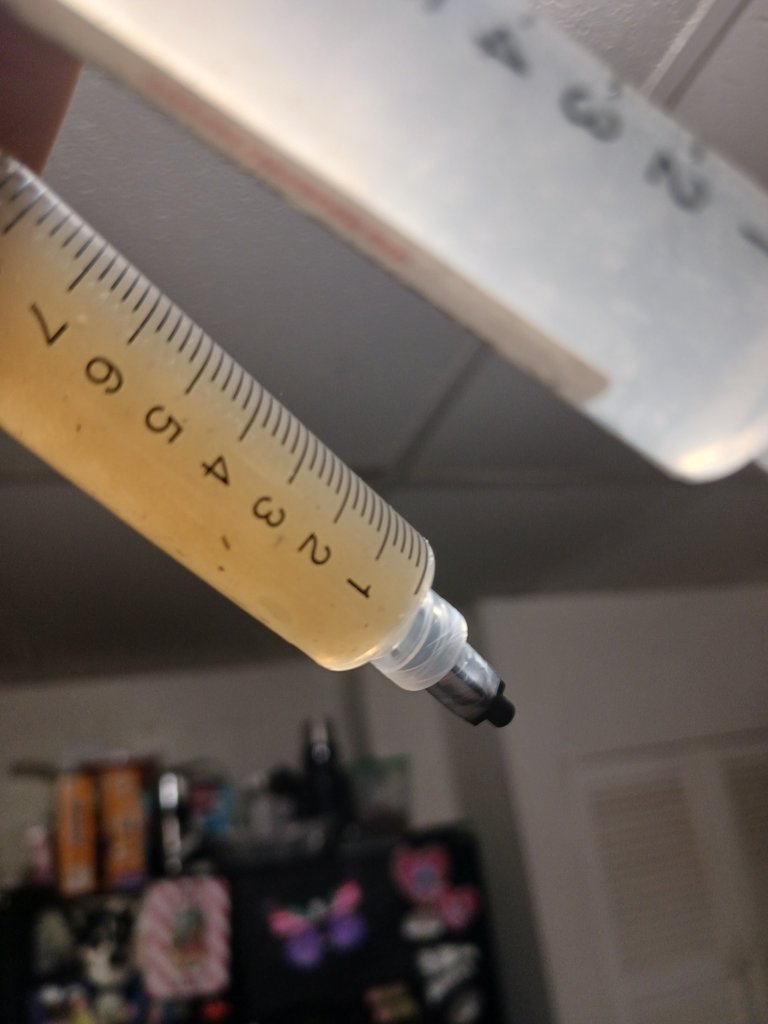 Sorry for the crappy photo but it was a little hard holding the syringes up to the light and trying to take a picture with my phone but just trust they are completely mixed up! 😉
I then took off the syringe plug and screwed on the needle. With each grain spawn inoculation I flame sterilized the needle and labeled each jar before moving on to the next. Each jar got about 15cc of liquid from the syringe. Which left me with about 6cc to split between two culture jars. After the first syringe was done I did the same process with the other syringe to the remaining jars.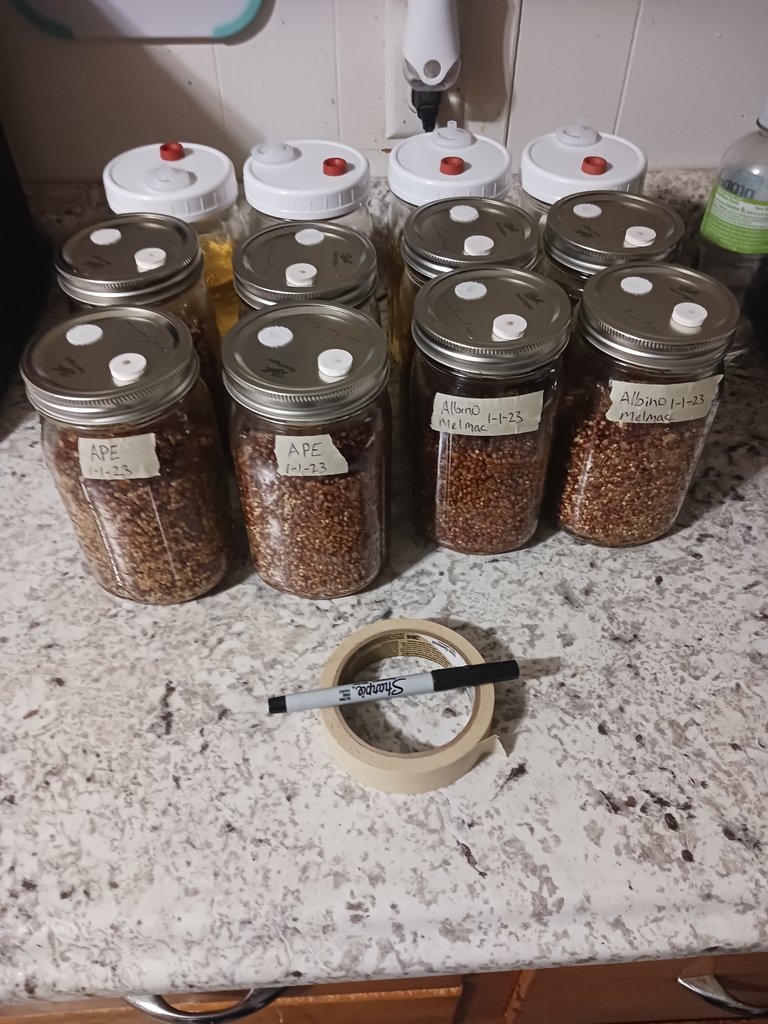 After they were all done I put the inoculated grain jars back in my cupboard, grabbed my stir plate and gave the LC jars a good stir.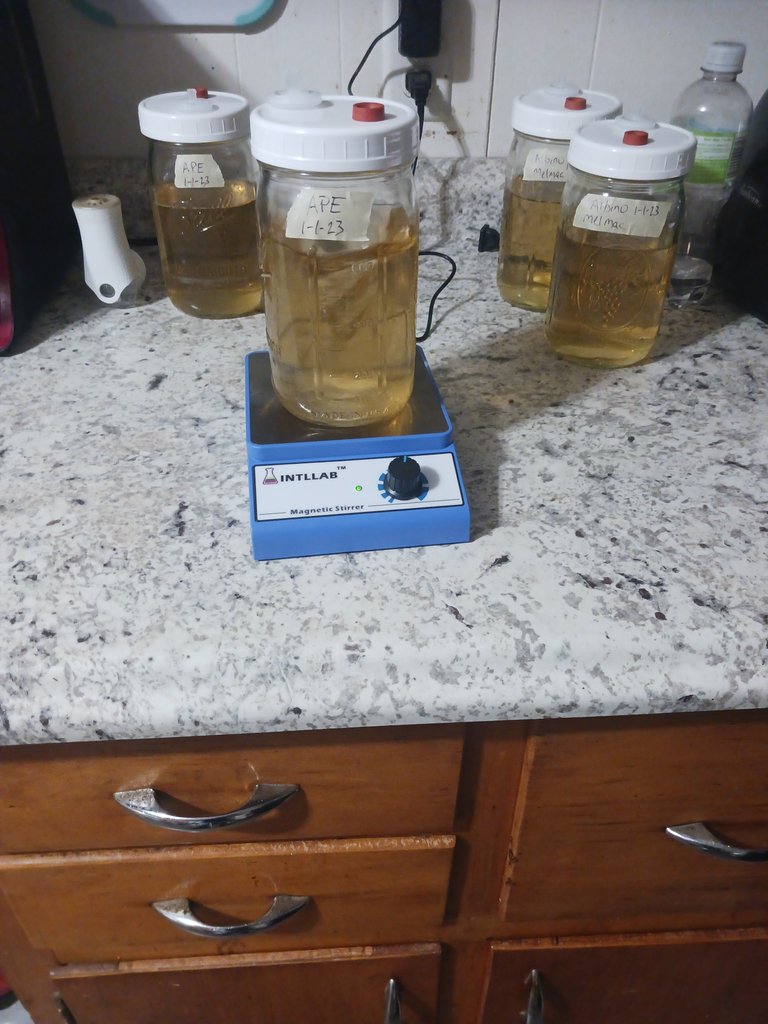 After they were mixed thoroughly I put them in my cupboard with the other jars. Each day I take them out and put them on my stir plate just to get the culture moving around. On or about day two I noticed one of my jars didn't look quite right. The liquid was a bit hazy. I put it back in the cupboard for observation and by the next day it confirmed my suspicion of somehow, someway a contaminant found it's way into one of my jars. I'm not sure how it happened but I will keep an eye one the rest. Good thing is, I did two jars for just this reason. You should always do multiple jars of the same strain so if one goes bad you'll have the other ones to grab from. Now I can prepare another liquid jar and use the liquid from the already colonized jar to inoculate the new one. This way I will never have to buy this culture strain again. If this happens to you, don't get discouraged. Even seasoned mycologists get contaminants once in a while. Trust me it will happen. Just don't let that stop you from growing mushrooms. Use it as a learning experience to try to do better next time.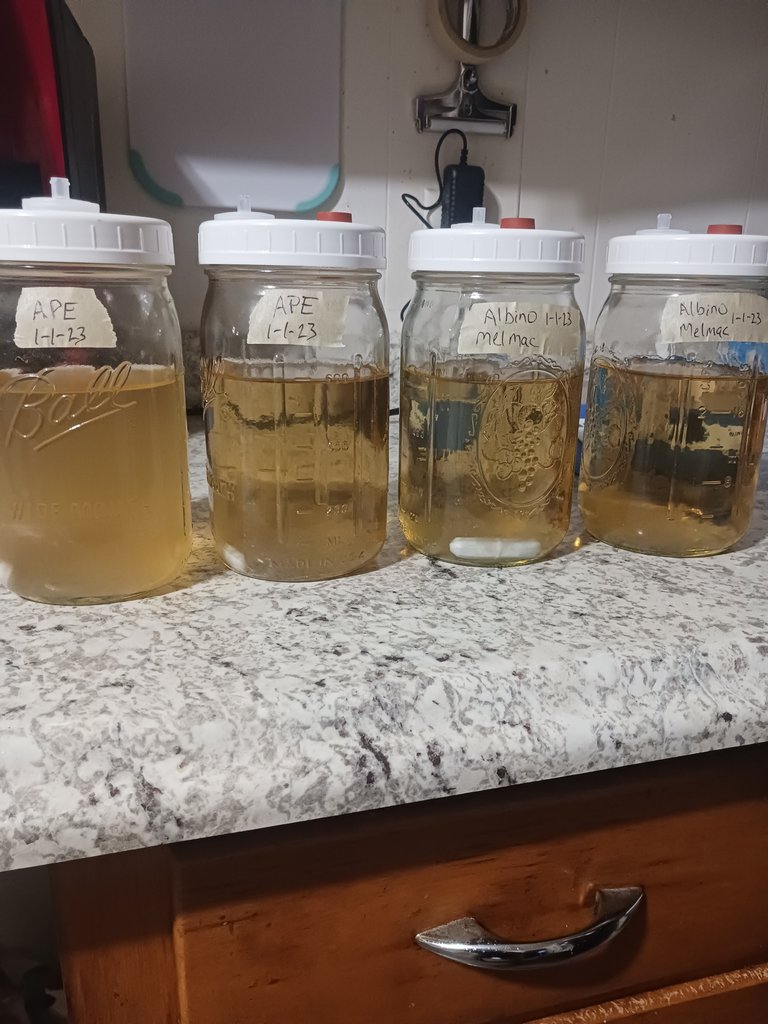 As you can see the left jar isn't as clear as the other three. This is a clear sign of a contaminant.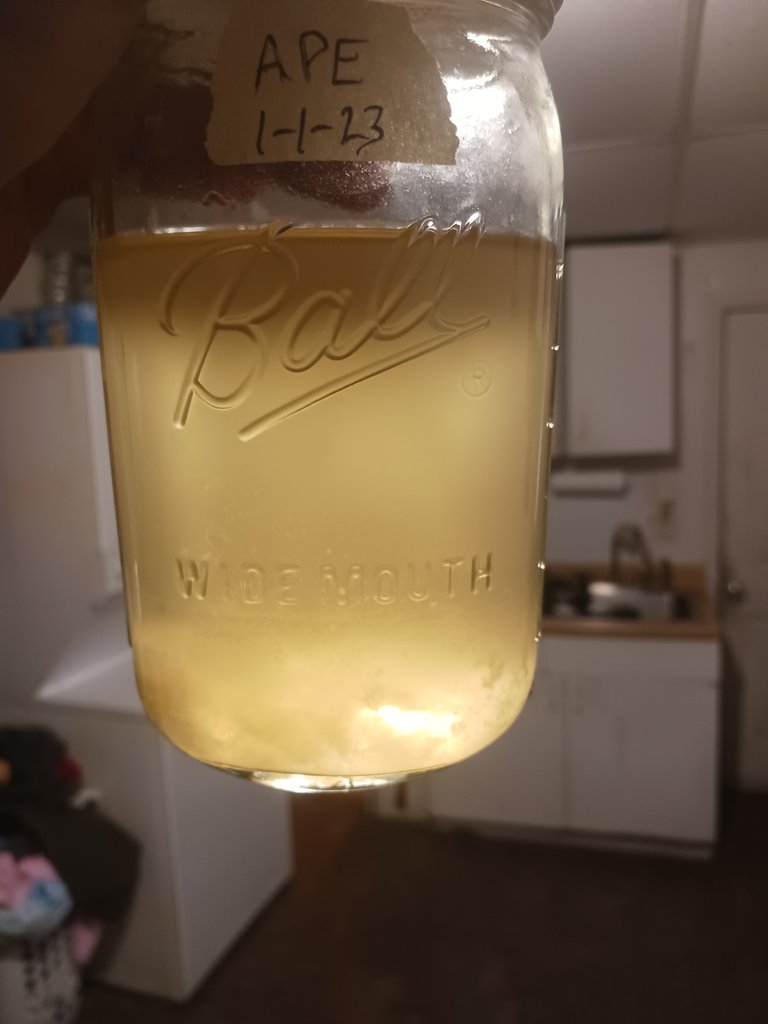 )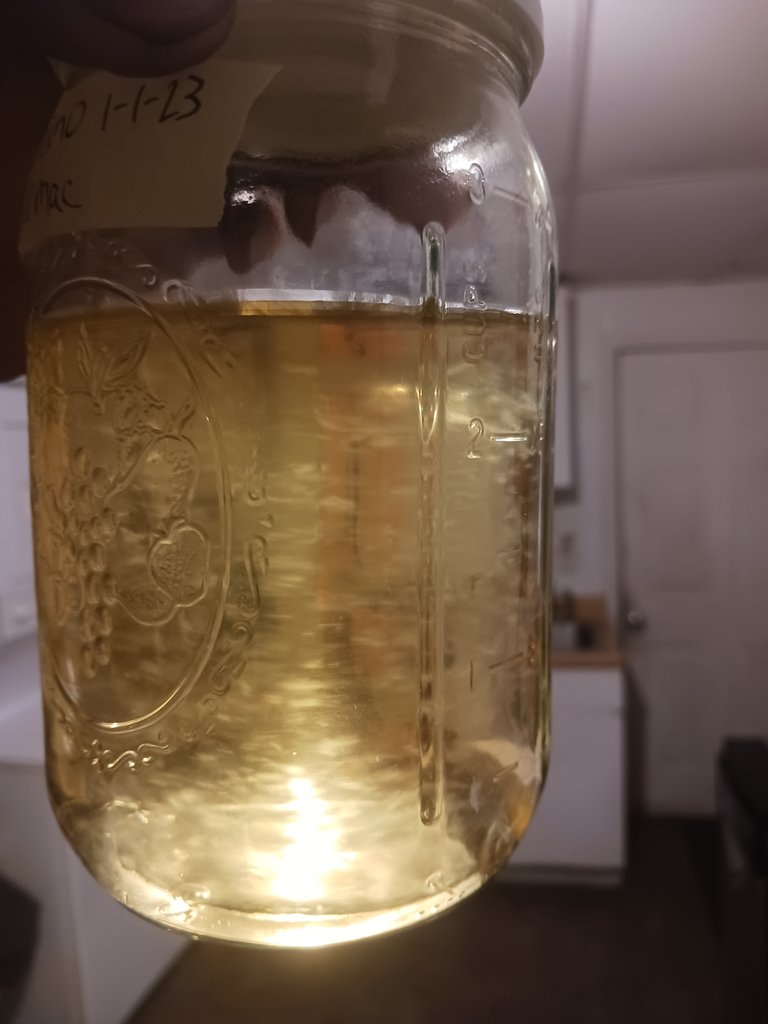 )
---
Your liquid should very clear with only the culture in it.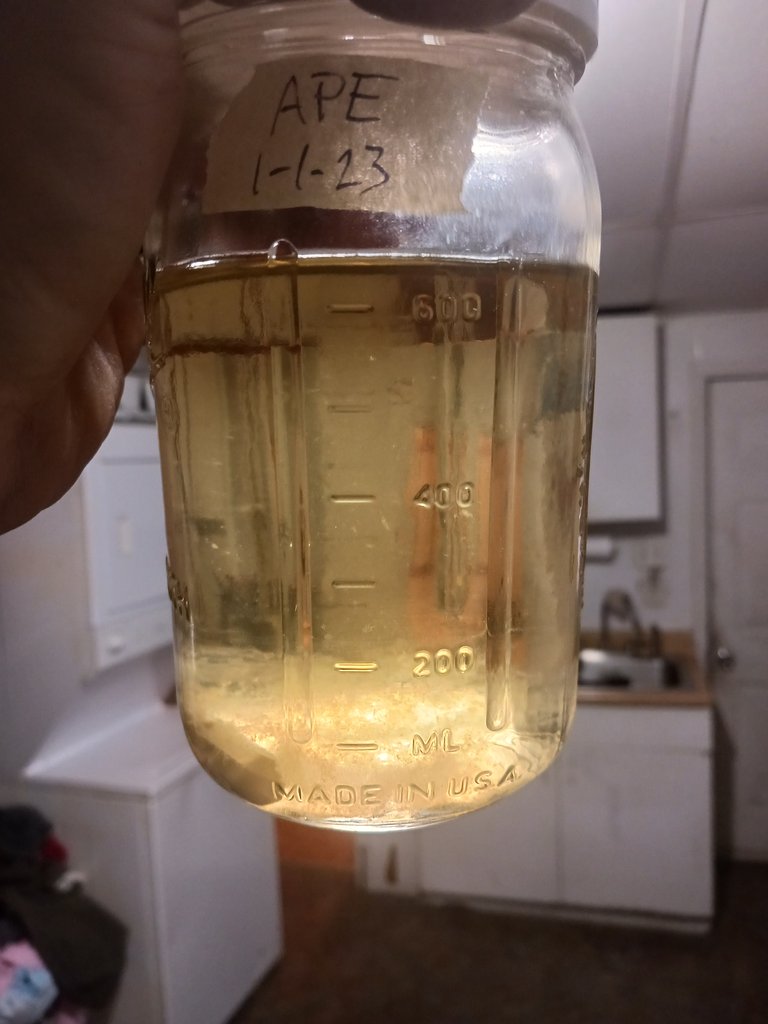 )

A special thanks goes out to the guys @canna-curate for making the logos, dividers and banners! You guys are awesome!
Well that's it for this blog. Join me next time when I talk about making my micro dosing capsules with the dried fruit. Until then have an amazing day! Mush Love!! 🍄🍄🍄


)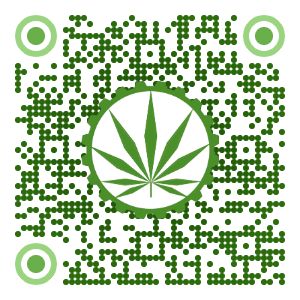 ---
---